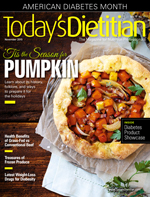 November 2015 Issue
Culinary Corner: Legumes
By Jessica Fishman Levinson, MS, RDN, CDN
Today's Dietitian
Vol. 17 No. 11 P. 66
Beans, peas, and lentils provide nutrition and great taste for a variety of dishes.
As a child, I didn't eat many legumes; in fact, I think the only ones I ate were peanuts in the form of peanut butter. Many years later my palate expanded and I now enjoy all sorts of beans, peas, and lentils, as do my children. And it's a good thing we do, since they have much to offer both in nutrition and flavor. 
Legumes are rich in protein, complex carbohydrates, and fiber, a trio that accounts for increased satiety, stable blood glucose levels, and assistance in weight management.1,2 Legumes are also a rich source of phytonutrients, with some having even more antioxidant activity than fruits and vegetables.3
The combination of these nutrients is the key to the health benefits of legumes that have been studied thus far. Increased consumption of legumes has been associated with reduced risk of various cancers, including colon, breast, and prostate.4-6 Studies also have revealed the role of legumes in decreasing risk of cardiovascular disease, type 2 diabetes, and obesity.7-9
So there are many good reasons to incorporate beans, peas, and lentils into your diet, not to mention their rich and savory umami flavor. Legumes are well known for their role in bean dips like hummus and in classic pairings like rice and beans, and come winter (and football season) they show up in crockpots of chili, such as the following hearty lentil veggie chili.
— Jessica Fishman Levinson, MS, RDN, CDN, is a New York-based nutrition consultant, writer, and recipe developer, and the founder of Nutritioulicious (www.nutritioulicious.com).
References
1. McCrory MA, Hamaker BR, Lovejoy JC, Eichelsdoerfer PE. Pulse consumption, satiety, and weight management. Adv Nutr. 2010;1(1):17-30.
2. Jenkins DJ, Wolever TM, Taylor RH, et al. Slow release dietary carbohydrate improves second meal tolerance. Am J Clin Nutr. 1982;35(6):1339-1346.
3. Campos-Vega R, Loarca-Pina G, Oomah BD. Minor components of pulses and their potential impact on human health. Food Res Int. 2010;43(2):461-482.
4. Singh PN, Fraser GE. Dietary risk factors for colon cancer in a low-risk population. Am J Epidemiol. 1998;148(8):761-774.
5. Adebamowo CA, Cho E, Sampson L, et al. Dietary flavonols and flavonol-rich foods intake and the risk of breast cancer. Int J Cancer. 2005;114(4):628-633.
6. Mills PK, Beeson WL, Phillips RL, Fraser GE. Cohort study of diet, lifestyle, and prostate cancer in Adventist men. Cancer. 1989;64(3):598-604.
7. Ha V, Sievenpiper JL, de Souza RJ, et al. Effect of dietary pulse intake on established therapeutic lipid targets for cardiovascular risk reduction: a systematic review and meta-analysis of randomized controlled trials. CMAJ. 2014;186(8):E252-E262.
8. Hoissenpour-Niazi S, Mirmiran P, Sohrab G, Hosseini-Esfahani F, Azizi F. Inverse association between fruit, legume, and cereal fiber and the risk of metabolic syndrome: Tehran Lipid and Glucose Study. Diabetes Res Clin Pract. 2011;94(2):276-283.
9. Papanikolaou Y, Fulgoni VL 3rd. Bean consumption is associated with greater nutrient intake, reduced systolic blood pressure, lower body weight, and a smaller waist circumference in adults: results from the National Health and Nutrition Examination Survey 1999-2002. J Am Coll Nutr. 2008;27(5):569-576.
---
Recipe
Hearty Lentil Vegetable Chili
This hearty chili uses lentils instead of beans and is filled with veggies high in vitamins A and C. Enjoy topped with shredded cheese or mashed avocado.
Makes 8 12-oz servings
Ingredients
1 T olive oil
2 cups chopped onion
2 cups chopped red, yellow, and orange bell peppers
1 jalapeño pepper, seeded and diced
1 T minced garlic
1 T ground cumin
2 T chili powder
1 tsp sweet paprika
1 tsp ground cinnamon
1 28-oz can crushed tomatoes (preferably no added salt)
2 cups low-sodium vegetable broth
3 cups water
1 16-oz package dried green lentils
2 cups cubed sweet potatoes
1 tsp kosher salt
Freshly ground pepper
Directions
1. Heat oil in a Dutch oven or soup pot over medium-high heat. Sauté onions and peppers for five minutes, until onions are translucent and peppers have started to soften.
2. Add garlic, cumin, chili powder, paprika, and cinnamon. Stir until vegetables are well-coated and spices are fragrant, about one minute.
3. Add crushed tomatoes, broth, water, lentils, and sweet potatoes to pot. Stir everything together and bring to a boil.
4. Reduce heat to simmer, cover, and cook for 30 minutes until the lentils and sweet potatoes are soft but not mushy. Season with salt and pepper.
Nutrient Analysis per serving
Calories: 300; Total fat: 3.6 g; Sat fat: 0 g; Trans fat: 0 g; Cholesterol: 0 mg; Sodium: 345 mg; Total carbohydrate: 55 g; Dietary fiber: 14.5 g; Sugar: 9.6 g; Protein: 15.5 g.