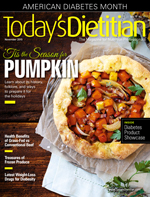 November 2015 Issue
Hosting Supermarket Tours
By Barbara Ruhs, MS, RDN, LDN
Today's Dietitian
Vol. 17 No. 11 P. 40
These 10 strategies can help dietitians plan successful nutrition store tours that can boost retail business and improve public health.
Many dietitians view the supermarket as the perfect learning laboratory to provide nutrition education to consumers. They can help shoppers identify a variety of healthful options, review nutrition facts labels and ingredients lists, and offer them opportunities to sample new foods.
These activities include some of what it takes to create successful supermarket tours (also known as nutrition store tours), which many grocery store chains are doing to engage and educate shoppers, and encourage them to live healthier lives.
The nutrition information these store tours offer shoppers can be the first line of defense in preventing and treating chronic disease, since people shop for groceries more frequently than they visit their doctors1,2 and purchase the majority of their food in supermarkets.3
The potential impact grocery stores have on purchasing behavior and dietary intake and public health has prompted supermarkets in the United States and abroad to develop various supermarket-based nutrition education programs.
Projects in the United States, Canada, Denmark, the Netherlands, South Africa, New Zealand, and Australia include developing effective strategies to increase healthful food purchases among consumers4-7 by improving the affordability of products via rebates, coupons, discounts, and loyalty rewards; increasing the availability of healthier options; and using point-of-purchase marketing tools (eg, shelf labels, signage, food demos, brochures) to influence consumer behavior.5,8,9
Dietitians who become part of such programs provide valuable opportunities to impact public health and increase retailer business. If you're interested in hosting a supermarket tour, the following tips can help you develop and execute a plan to begin making an impact on the health of your community.
1. Coordinate Efforts With Store Personnel
To improve the effectiveness and ensure the success of a nutrition store tour, contact the corporate office and store manager at your location to seek permission to host the tour. Evidence shows nutrition education, in the form of store tours, combined with increased product availability and affordability and targeted marketing can increase purchases of healthier foods.6 If you get the OK, ask to speak with the corporate RD to coordinate efforts and learn about any in-store nutrition resources, tools, or promotions of healthful foods that can enhance your tour.

Supermarket chains that employ in-store dietitians who offer nutrition education programs may not allow an outside RD to host tours. Supermarkets that have only corporate RDs may welcome collaboration with a local dietitian to offer nutrition resources to shoppers.
In addition, enlisting the support of store personnel can create in-store nutrition advocates. Linda Kapusniak, MS, RDN, LD, a dietitian who works for St. Joseph Regional Health Center in Bryan, Texas, hosts the "Fork Friendly" program in partnership with a select group of Kroger stores. This community-based program involved creating a series of shelf tags to help shoppers identify healthier options. "It's a great idea to invite store personnel to join the tour," Kapusniak says. "They can be some of your strongest advocates in getting customers involved in future programs." Wegmans, a supermarket chain based in Rochester, New York, invites local health professionals to prestore opening events, called "Medical Sneak Peak," to introduce nutrition, health, and wellness resources the chain has created that may help treat patients who shop in its stores.
2. Use Store Layout and Selling Psychology
It's a good idea to become familiar with the supermarket's layout and design before hosting a store tour. Supermarket layouts vary, even if a store is part of the same chain, so it's best to visit the store and map out the tour at least once to familiarize yourself. In most conventional supermarkets, shoppers typically and strategically enter the produce department first. The variety of colors, smells, and textures are meant to awaken the senses and prime shoppers to buy more food. Supermarkets and food manufacturers compete fiercely for shopper dollars, and as a result the retail food environment is engineered to influence consumer behavior.
Cindy Silver, MS, RDN, LDN, the dietitian for Lowes Foods, based in Winston-Salem, North Carolina, says, "Choose a food retailer that you love, where you shop, and get to know the store manager before asking to use his or her store as your nutrition education classroom." In 2013, Lowes Foods hired Martin Lindstrom, a branding expert and the author of Buyology: Truth and Lies About Why We Buy, to help the retailer redesign its stores to gain a marketing edge over the competition. Store design and layout is a science, so learning more about it can help dietitians identify strategies and tools so shoppers can overcome barriers preventing them from making healthier food purchases.
3. Plan the Tour in Key Departments
According to the Dietary Guidelines Advisory Committee report, the majority of the US population isn't consuming adequate amounts of fruits and vegetables, whole grains, and dairy, but is consuming too many refined grains and added sugars. So designing a tour around key departments where shoppers can boost their intake of the healthful food groups will be important and help you prioritize the tour.
Sheryl Hoehner, MS, RD, LD, an in-store dietitian for B Green and Food Depot Stores, based in Baltimore, says, "Starting in produce is smart. Firstly, it's usually right near the front of the store, and secondly, most people aren't eating enough fruits and vegetables." Hoehner focuses on healthful eating on a budget during her tours by highlighting sales items in the store's weekly circular and using it as a tool for meal planning and making a shopping list. She explains that including a colorful fruit or vegetable at every meal is an easy way to boost intake that can have a huge impact on health. Store tour participants are challenged to think about the variety of colors they're eating and experiment with new ones. She offers samples of avocados, kale, and other items depending on the season and availability. One of her goals is to dispel the myth that eating healthfully is expensive. In addition, many shoppers may not know how to prepare different produce items or how to select ripe varieties. Hoehner enlists the support of the produce manager and encourages recipe suggestions from other participants. Later in the tour, Hoehner discusses canned and frozen produce items considered good bargains that can easily be added to most meals.
Depending on the layout of the store, the next stop after produce can be the dairy section, where you can discuss nutrients such as calcium and vitamin D that often are lacking in the diet. This department also is a great place to discuss probiotics found in cultured dairy and in products found in other parts of the store. You also can discuss dairy-free alternatives and how to manage lactose intolerance.
After stopping in the dairy department, it's up to you where to visit next. If you want to focus on heart health, you can stop in the meat section to discuss options low in saturated fat and the seafood department to review the health benefits of varieties high in omega-3s. The canned food section, where there's canned fish and beans, is another valuable pit stop to discuss affordable sources of protein and dietary fiber.
At the end of the tour, consider distributing a free reusable shopping tote and include a sample menu plan and shopping list of healthful products available in-store to encourage participants to make healthful food purchases within their budget. Recipe cards and coupons may be available from food companies, so contact them several weeks in advance to request copies for the tour.
4. Schedule Tours to Accommodate Participants
Paying attention to the logistics, such as planning a tour during off-peak hours, can improve the store tour's success. However, it's most important to choose a time that will accommodate participants. Once you choose a convenient time, ask them to refrain from using shopping carts to avoid traffic jams in the aisles, says Ellie Wilson, MS, RD, corporate dietitian for Price Chopper Supermarkets, based in Schenectady, New York.
Limiting tours to 60 to 90 minutes usually provides enough time to walk through the store and have discussions in a few key areas. Make sure to communicate where and when the tour will begin, and end on time. Share your business card and provide a handout listing reliable nutrition websites for shoppers' future reference.
5. Customize the Tour
Since there usually isn't enough time to visit every department, it's a good idea to tailor the tour to a specific topic and audience. A one-size-fits-all tour is less likely to engage an audience or hold its attention. "The most successful tours are driven by the questions and concerns of the customers," say Lorena Kaplan, RDN, LDN, Houston regional dietitian for H-E-B, and Rita Zapien, MS, RD, LD, CDE, San Antonio and west regional dietitian for H-E-B, the largest supermarket chain in Texas. "Follow their lead by honing in on their particular health conditions. By the end, they're extremely engaged and appreciate the tailored tour."
Weis Markets, based in Sunbury, Pennsylvania, boosts participation in its store tours by tailoring them to elementary school children in second, third, and fourth grade. Called the Weis Mystery Tours field trip program, school kids are invited to venture into supermarket aisles and explore the five main food groups as part of an interactive mystery story involving a fictitious character. Program content and activities support the USDA's Dietary Guidelines for Americans and reinforce the Department of Education's health and wellness curricula, which motivates schools to participate.
Another way to increase store tour participation is to partner with organizations to form groups that may be interested in learning about specific foods in the grocery store. For example, a local celiac disease organization may be interested in promoting a gluten-free shopping tour and volunteering to sign up participants. In addition, dietitians can work with local health care organizations and offer education on a specific health topic, such as menu planning to manage diabetes or shopping smarter to lower cholesterol.
6. Build Trust With Shoppers
Boosting confidence among participants also can lead to a successful store tour, so discuss the academic preparation and skills required to become a dietitian to increase your credibility as a health practitioner, and share any work experience related to your audience. Offering this information builds trust with customers because they'll know that a qualified nutrition professional is offering health information. Few supermarket nutrition studies have evaluated the use of in-store educators (none have studied RDNs) to help shoppers; however, research shows that tailoring nutrition education has improved nutrition knowledge and increased consumer purchasing of healthier products.10-12
Ellie Wilson, MS, RDN, CDN, corporate dietitian for Price Chopper Supermarkets, begins each tour discussing her credentials as a dietitian and providing five to 10 minutes of basic nutrition education to get everyone on the same page. She explains that her job is to educate and advocate for the health of customers, and that she isn't there to sell products. Her goal is to help shoppers learn how to evaluate products based on nutrition and health information, she says. Shoppers have an opportunity to introduce themselves and share one goal or reason why they're participating in the tour, and she answers questions and addresses these goals throughout the tour.
7. Make Learning Interactive
In addition, dietitians can engage shoppers by offering samples of new, healthful products throughout the tour, such as hemp hearts, Greek yogurt, meat alternatives, and nondairy milk alternatives, which they may be reluctant to buy if they never tasted them before. "Retail dietitians have the privilege of making nutrition come alive through food during store tours," says Vanessa Yurchesyn, RD, supermarket dietitian for Loblaws, the largest food retailer in Canada, based in Brampton, Ontario, Canada.
Her colleague Amanda Li, RD, a dietitian and chef, agrees, adding that a store tour should be a sensory experience. "Let participants taste a cotton candy grape, see a variety of leafy greens, smell a feijoa (an exotic fruit also known as the pineapple guava), and feel the [texture] of a perfectly ripe avocado."
Dietitians also can make the important task of teaching shoppers how to read labels fun and interactive. For example, in the cereal aisle, RDs can ask participants to choose a favorite cereal they think is a healthful choice. Starting with grams of sugar per serving, they can ask participants to line up with a box of cereal in their hands from lowest (best) to highest (least favorable choice). Then they can ask participants to review grams of dietary fiber and line up again, from highest (best) to lowest (least favorable choice). Cereals lacking in fiber can be eliminated as healthful choices. RDs can use this opportunity to talk about daily fiber goals and other foods considered high fiber sources. It's up to the individuals to assess whether or not they need or want to switch to a better choice. Dietitians also can review ingredients (listed by weight, highest to lowest) by asking participants to identify any whole grains (or simply the word "whole") as one of the first three ingredients on the ingredients list.
RDs can tailor this type of interactive labeling exercise to any section of the supermarket by highlighting the nutrients found on nutrition facts labels or ingredients lists that either support health or increase chronic disease risk.
8. Highlight Healthful Resources
Many stores have nutrition and health education resources that can help shoppers and increase the effectiveness of nutrition store tours.3,4,6,10 For example, many supermarkets offer a nutrition shelf tag system, such as the NuVal Nutritional Scoring System in which products are rated on a scale from 1 to 100; the higher the score, the greater the food's nutritional value. Some stores have the Guiding Stars Program, a food rating system that rates food on a scale of 1 to 3 based on nutrient density. In addition, there are stores that feature nutrition shelf tags that identify gluten-free products and nutritional attributes of a variety of foods.
Hy-Vee in Des Moines, Iowa; United Supermarkets in Lubbock, Texas; and Giant Eagle in Pittsburgh, have customized shelf tags that highlight "Dietitian Picks," which help shoppers find products that are featured in dietitians' nutrition publications or recommended during in-store counseling visits. This is considered a smart strategy retail dietitians use to increase customer awareness of their expertise and product availability.
9. Offer Incentives
As part of the benefit of participating in a supermarket tour, consider giving shoppers a free reusable bag filled with coupons, product samples, recipe cards, and other giveaways. Making healthier choices more affordable can be an effective strategy to change eating behaviors and inspire future purchases of healthier foods.7,13,14
Wendy Anderson, RD, LDN, a Maryland-based in-store dietitian for Giant Food Stores, based in Carlisle, Pennsylvania, offers free tours and performs culinary demonstrations while discussing ways to use healthful ingredients to encourage shoppers to cook at home. Typically, the ingredients used in the demos are sold on an adjacent table display with a coupon.
10. Take Advantage of Resources
To learn more about how to plan a successful supermarket tour, dietitians have good resources available. For example, Share Our Strength's Cooking Matters at the Store (formerly called Shopping Matters) provides free training and materials for all store tours for individuals in any community anywhere people shop for food. Tour leaders can include staff or volunteers from local and regional social service agencies, supermarket employees, faith leaders, chefs, and nutrition experts. The program includes two specialized curricula: one for adults and one for members of WIC. For more information, visit http://cookingmatters.org/node/2274.
The Whole Grains Council Whole Grains Store Tour Kit includes everything RDs need to plan a tour focused on promoting whole grains. Dietitians can choose to host a tour focused on whole grains during Whole Grains month in September or use parts of the kit to highlight the health benefits of products found in the bread, cereal, and bakery sections of the supermarket during a comprehensive store tour. For more information, visit http://wholegrainscouncil.org/resources/whole-grains-store-tour.
Network for a Healthy California—Retail Program is an excellent resource for RDs to promote increased consumption of fruits and vegetables among low-income Californians. The program provides extensive materials on how to host a store tour, logistics, talking points, merchandising materials, recipe cards, point-of-sale signage, in-store radio recorded messages, and cooking demo instructions. For more information, visit www.cdph.ca.gov/programs/cpns/Documents/Network-FV-RP-StoreTourGuide.pdf.
Fun, Rewarding Experience
While most dietitians host store tours for eight to 20 participants, RDs also can consider offering individual store tours as a new paradigm for nutrition counseling and medical nutrition therapy, so clients can experience hands-on learning. Hosting supermarket tours is a fun, interactive, and practical way to raise awareness of healthful food choices and teach shoppers how to eat healthfully. Supermarket retailers are recognizing the impact in-store nutrition education has on improving sales and customer satisfaction. Working together, dietitians and supermarkets are a powerful team that can transform the future of public health. Additional research is needed to determine the most effective strategies to improve consumer health. However, there's strong evidence showing that improved affordability, increased availability, and in-store promotional activities of healthier foods can influence consumers. As shoppers demand more healthful products, it's likely they will rely increasingly on dietitians as the nutrition experts in retail settings. RDs are good for business and for the health and well-being of shoppers. One of the most important things to remember about hosting a store tour is to have fun. Food is a great way to connect with people in your community.
— Barbara Ruhs, MS, RDN, LDN, is a former supermarket dietitian and the owner of Neighborhood Nutrition, LLC. She's a consultant to food companies, commodity groups, and supermarkets focused on health promotion. Ruhs also coordinates the annual Oldways Supermarket Dietitian symposium.
References
1. Supermarket facts. The Food Marketing Institute website. http://www.fmi.org/research-resources/supermarket-facts. Accessed September 7, 2015.
2. Chronic disease prevention and health promotion. Centers for Disease Control and Prevention website. http://www.cdc.gov/chronicdisease. Updated September 17, 2015.
3. Glanz K, Bader MDM, Iyer S. Retail grocery store marketing strategies and obesity: an integrative review. Am J Prev Med. 2012;42(5):503-512.
4. Liberato, SC, Bailie R, Brimblecombe J. Nutrition interventions at point-of-sale to encourage healthier food purchasing: a systematic review. BMC Public Health. 2014;14:919.
5. Ball K, McNaughton SA, Ha ND Le, et al. Influence of price discounts and skill-building strategies on purchase and consumption of healthy food and beverages: outcomes of the Supermarket Healthy Eating for Life randomized control trial. Am J Clin Nutr. 2015;101:1055-1064.
6. Escaron AL, Meinen AM, Nitzke SA, Martinez-Donate AP. Supermarket and grocery store–based interventions to promote healthful food choices and eating practices: a systematic review. Prev Chronic Dis. 2013;11(10):E50.
7. Ball K, McNaughton SA, Ni Mhurchu C, et al. Supermarket Healthy Eating for Life (SHELf): protocol of randomized controlled trial promoting healthy food and beverage consumption through price reduction and skill building strategies. BMC Public Health. 2011;11:715.
8. Gittelsohn J, Rowan M, Gadhoke P. Interventions in small food stores to change the food environment, improve diet, and reduce risk of chronic disease. Prev Chronic Dis. 2012;9:110015.
9. Glanz K, Yaroch AL. Strategies for increasing fruit and vegetable intake in grocery stores and communities: policy, pricing, and environmental change. Prev Med. 2004;39(Suppl 2):S75-80.
10. Ni Mhurchu C, Blakely T, Jiang Y, Eyles HC, Rodgers A. Effects of price discounts and tailored nutrition education on supermarket purchases: a randomized controlled trial. Am J Clin Nutr. 2010;91:736-747.
11. Milliron B, Woolf K, Appelhans B. A point-of-purchase intervention featuring in-person supermarket education affects healthful food purchases. J Nutr Educ Behav. 2012;44(3):225-223.
12. Silzer JS, Sheeshka J, Tomasik HH, Woolcott DM. An evaluation of Supermarket Safari nutrition education tours. J Can Diet Assoc. 1994;55(4):179-183.
13. Sturm R, Ruopeng A, Segal D, Patel D. A cash-back rebate program for healthy food purchases in South Africa: results and scanner data. Am J Prev Med. 2013;44(6):567-572.
14. Waterlander WE, Steenhuis IHM, de Vet E, Schuit AJ, Seidell JC. Expert views on the most suitable monetary incentives on food to stimulate healthy eating. Eur J Public Health. 2010;20(3):325-331.