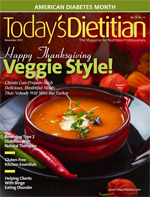 November 2012 Issue
Hearty Vegetarian — A Dish for the Holiday That Even a Meat Lover Will Like
By Jean Kressy, MS, BSN
Today's Dietitian
Vol. 14 No. 11 P. 74
 
The phrase "my life as a vegetarian" sounds like a terrific title for a book I'd love to write. I have a couple ideas about what I'd discuss between its pages. However, what stands in the way of my working on such a project are store-bought rotisserie chickens and hamburgers with extra bacon on top. But I'll get to that in a moment.
The idea of eating a vegetarian diet makes perfect sense. There's no end to the research showing that a plant-based diet is best for optimal health. My husband is a vegetarian who thrives on a no-meat, fish, or poultry diet, but this wasn't always the case. Years ago, we wouldn't think twice about putting beef ribs the size of a catcher's mitt on the grill and calling it dinner. I had a special brush for slathering mustard on a pork loin, and I'd spend the better part of an hour massaging rosemary and garlic into a leg of lamb.
At some point, we realized if we were ever going to make it to middle age, we were going to have to eat less meat. Instead of plunging into vegetarianism, which some experts say is the best way to make the change, we took baby steps.
We ate fish a couple times a week because we thought fish didn't qualify as meat. We were wrong, but believing this made us feel like we were headed in the right direction. As time passed, however, we began to miss the taste of meat.
When I learned portobello mushrooms tasted like meat, we decided to try them. Portobello mushrooms have a distinct and wonderful flavor and texture, but they're no substitute for a juicy hamburger.
We decided that if we were going to become true vegetarians, we'd have to do it correctly by eating grains, fruits, and vegetables. We didn't want to become lacto-ovo vegetarians because we wanted to always have milk and eggs in the fridge and make cheese the star ingredient in whatever we ate.
Today, my husband is perfectly happy not eating meat. He says he's lost the taste for it. As for me, I straddle the fence. I still gaze at rotisserie chickens the same way people stare at paintings in museums. Sometimes I buy one; sometimes I don't. The highlight of my eating out is ordering a hamburger topped with bacon, which tells you why my book about life as a vegetarian is on hold.
The brown rice gratin with broccoli and spinach recipe represents the new look of most of my dishes. They're vegetarian but bursting with flavor.
— Jean Kressy, MS, BSN, is a food writer and clinical nursing instructor in Massachusetts.
Brown Rice Gratin With Broccoli and Spinach
Serves 5
Ingredients
3 cups broccoli florets, cut into small pieces
1 egg
1 cup 1% low-fat milk
2 T grated Parmesan cheese
3/4 tsp Italian seasoning
Salt and pepper, to taste
One 10-oz package frozen chopped spinach, thawed and water squeezed out
2 cups cooked brown rice
3/4 cup (3 oz) shredded low-moisture mozzarella cheese
Directions
1. Preheat oven to 375˚F. Coat a 10-inch gratin dish with cooking spray.
2. Steam broccoli in a steamer rack over boiling water for 4 minutes, or until bright green and tender.
3. In a large bowl, whisk the egg, milk, Parmesan cheese, Italian seasoning, salt, and pepper. Stir in the spinach. Add the rice and broccoli. Combine with a large spoon. Transfer to the prepared dish and sprinkle mozzarella cheese on top.
4. Bake for 30 minutes or until the top is golden brown and the gratin feels firm. Let stand about 2 minutes before serving.
Nutrient Analysis per serving
Calories: 214; Total fat: 7 g; Sat fat: 3 g; Trans fat: 0 g; Cholesterol: 56 mg; Sodium: 230 mg; Total carbohydrate: 26 g: Dietary fiber: 4 g; Sugars: 3 g; Protein: 14 g