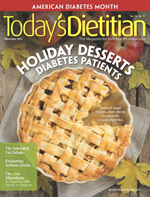 November 2014 Issue
Savory Stuffing — Classic Holiday Flavor Without the Classic Holiday Guilt
By Grace Dickinson
Today's Dietitian
Vol. 16 No. 11 P. 66
Stuffing: It gets my mouth watering every time.
When I approach the holiday dinner table, I take my seat with good intentions. I devote half my plate to the vegetables on the evening's menu and do my best to keep moderation in mind when adding more food. I chew slowly and take time to socialize with family and friends. I say "no" to the breadbasket and "yes" to my glass of water. I take all the calculated steps to eat healthfully and watch my portions.
However, in the end, I lose my willpower. The stuffing in that festive holiday serving dish calls my name for the second time. Its irresistible savory spices somehow persuade me to reach for another helping, and my fork gives in. Afterward, I'm left feeling exactly what its name implies: stuffed.
Stuffing, or dressing as some call it, always has been my weakness during the holidays, and I'm sure I'm not alone. It isn't the healthiest item on the table. Depending on who makes it, it can contain ingredients ranging from beef sausage to pork bacon, a heavy dose of butter, salt, and white bread. Once the holiday season ends, I usually don't eat it again until the following year.
Recently, I asked myself, "Does the lack of stuffing in my diet lead me to eat too much of it when it finally makes an appearance during the holidays?" This question led me to create a healthier version, one that wouldn't just help avoid that uncomfortable feeling of being stuffed, but be worthy of preparing throughout the year.
In the following recipe, quinoa takes the place of bread for added fiber and protein, while creamy butternut squash adds a colorful splash of vegetables and other nutrients. Flavored with the same traditional spices, along with cranberries and toasted pecans, it's likely you'll still want to reach for seconds. But the good news is that this lighter stuffing has double the nutritional value of its traditional counterpart, so sneaking an extra spoonful may not be such a horrible idea.
— Grace Dickinson is a photo enthusiast, food blogger, and recipe developer for FoodFitnessFreshAir.com.
Quinoa Stuffing With Butternut Squash, Cranberries, and Toasted Pecans
A lighter and significantly healthier version of a classic holiday dish, this quinoa stuffing has all the same spices as its traditional cousin so you'll be just as satisfied with its flavor. Feel free to cut the recipe in half for a family weeknight dish you can enjoy guilt-free all year round.
Serves 12 as a side dish
Ingredients
2 cups red quinoa
5 cups vegetable stock
1 tsp salt
2 T extra virgin olive oil, divided, plus more to grease baking dish
11/2 cups butternut squash, diced
3 garlic cloves, minced
1 medium onion, finely chopped
1 cup celery, diced
11/4 tsp dried sage
2 T fresh thyme leaves
1/2 tsp ground black pepper
3/4 cup pecans, toasted, and coarsely chopped
1/3 cup dried cranberries
Directions
1. Bring quinoa, vegetable stock, and salt to a boil. Cover and reduce heat to simmer. Cook 25 to 30 minutes, or until quinoa is tender and vegetable stock is absorbed.
2. Heat 1 T of oil over medium-high heat in a large skillet. Sauté squash, stirring often, until tender and lightly browned, 15 to 20 minutes. Transfer to a bowl. Turn heat down to medium and add remaining oil, garlic, onion, and celery. Cook until the onion begins to soften, about 3 minutes, and then add sage, thyme, and pepper. Cook, stirring often, for 3 to 6 minutes, until the onion is completely tender and the celery is just tender. Transfer to the bowl with the squash.
3. Add the quinoa and the remaining ingredients, and stir together. Adjust salt and pepper, to taste.
4. Preheat oven to 325˚ F.
5. Line a baking dish with aluminum foil, and grease with oil. Add squash and quinoa mix to the dish, and cover with foil. Bake 20 to 30 minutes, until top gets crispy. Serve.
Nutrient Analysis per serving
Calories: 172; Total fat: 9 g; Sat fat: 4 g; Trans fat: 0 g; Cholesterol: 0 mg; Sodium: 440 mg; Total carbohydrate: 20 g; Dietary fiber: 7 g; Sugar: 1 g; Protein: 5 g