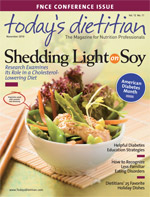 November 2010 Issue
Food Allergy Identification at Its Best — Hospital Institutes Critical Protocol
By Maura Keller
Today's Dietitian
Vol. 12 No. 11 P. 8
The topic of food allergies is a hot one. Open any parenting magazine, healthcare publication, or newspaper and you're bound to find pages devoted to identifying and managing food allergies in both children and adults. Within the medical field, healthcare professionals are increasingly aware of the critical nature of these allergies in their practices. One such group of medical practitioners—St. Mary's health system in Evansville, Ind.—has created and implemented an innovative food allergy protocol that's changing the way it cares for patients.
Identifying a Need
St. Mary's is a faith-based health ministry serving communities in Indiana, Illinois, and Kentucky that specializes in cardiac, surgical, orthopedic, rehabilitation, neuroscience, women's, children's, and emergency and trauma services. Like any health system, St. Mary's is devoted to incorporating vital patient medical information into its full-service care programs. Incorporating food allergy information into standards of care is now a fundamental component of its efforts.
"The local Tri-State Food Allergy and Anaphylaxis Support Group and local allergists approached our hospital to create a food allergy protocol," says Carol Ann Ackerman, RD, LD, a clinical dietitian at St. Mary's. "They requested that our hospital develop specific policies and procedures so that patients with severe food allergies who are admitted will be provided with a safe environment throughout the course of their hospital stay."
The need is evident. As Ackerman explains, more than 12 million Americans have food allergies and the prevalence is rising. "Each year in the U.S., it is estimated that anaphylaxis caused by food results in 150 to 200 deaths," she says.
Full Steam Ahead
The goal of St. Mary's new food allergy protocol is straightforward: to identify patients with life-threatening food allergies. As Ackerman explains, more than 90% of allergic reactions are caused by the big eight: eggs, fish, shellfish, milk, soy, peanuts, tree nuts, and wheat. The hospital's new food allergy protocol primarily addresses these food allergens. From admission to discharge, the team developed necessary procedures to ensure the safe treatment of patients with food allergies.
"We determined that the protocol would be implemented hospitalwide to cover the admission process, patient identifiers, a special dedicated food allergy menu, and strict foodservice food preparation procedures," Ackerman says. "The policy guidelines will help minimize the risk of accidental exposure to food allergens while the patients are in our hospital."
To create leading-edge food allergy initiatives, St. Mary's conducted research to better understand the existing protocols in the medical community. Preliminary research involved utilizing an American Dietetic Association pediatric listserv to invite dietitians nationwide to describe their current hospital food allergy policies. "I was disappointed to receive only two e-mails from dietitians from across the country who graciously shared their hospital policies," Ackerman says.
Michael Whitmore, RPh, MBA, executive director of pharmacy and patient flow, selected Ackerman to lead the initiative. Under the guidance of Melissa Rea, RN, MSN, a board member of the local food allergy support group, and allergist Jason White, MD, she recruited a multidisciplinary team of interested hospital staff to establish a hospitalwide food allergy protocol.
After research and deliberation, the team created a food allergy action plan algorithm as a model for the admission process and flow of the patient. Some components of this algorithm include the following:
Emergency Department
The admission form was modified to include separate lines for medication allergies and food allergies.
"Since the emergency department has extensive treatment protocols in place, we created an anaphylaxis protocol that includes establishment of intravenous access, epinephrine dosage guidelines, use of EpiPen, need for a prescription for EpiPen, [and] patient/family education on proper use of the EpiPen," Ackerman says.
Sharyn Townsend, RN, created a new anaphylaxis handout for patients who are discharged to home vs. those admitted to the hospital that includes the websites for the local food allergy support group and the Food Allergy and Anaphylaxis Network.
Admission Process
The gatekeeper is the admitting nurse, who is responsible for identifying any life-threatening food allergies during the initial assessment with the patient and/or family. "We wrote an assessment script listing appropriate questions to extract essential allergy history," Ackerman says. "The admitting nurse has a newly revised food allergy screen to document the patient food allergy information in the admission clinical history screen. Once documented in Horizon Clinicals [clinical documentation system], this information is longitudinal; it stays with the patient's medical record from the current admission to future admission."
Diet Order
The unit secretary/nursing personnel enter the primary diet order (regular, full liquid, low sodium, etc), then scroll to a comment box to type in "life-threatening food allergy" and the list of food allergen(s). When the diet office receives the diet order, the "life-threatening" notation is a trigger for diet clerks to activate a nutrition consult for the dietitian to interview the newly admitted patient. This acts as a second screen to verify that the food allergy is life threatening and confirm with food and nutrition services activation of the food allergy protocol for meal tray preparation.
Patient Identifiers
Hospitalwide, St. Mary's food allergy color is red. "On the patient's room door, we post a laminated red sign: 'FOOD ALLERGY – SEE NURSE BEFORE ENTERING'," says Susan Martin, a pediatric RN who was a vital member of the team.
In addition, the patient is provided with a red alert band. After listing the food allergy on the band, the nurse applies the red alert band to the same arm or ankle as the hospital identification band. "We also mark the front of the medical chart with a red-bordered allergy label listing the identified food allergies," Ackerman says.
Additional procedures include recording the patient's weight in kilograms on the room's white board so that staff have immediatee knowledge of it to calculate epinephrine dosage in the event of an anaphylactic attack.
"In certain cases, a private room may be necessary to reduce the risk of exposure to food allergens," Ackerman says. "Some patients may have inhalation reactions from the presence of the offending food allergen."
Food and Nutrition Services
Patients with life-threatening food allergies are given the new food allergy menu to use when ordering meal trays. Focusing on the big eight, Ackerman wrote the safe menu, which consists mostly of whole foods and foods with limited ingredients. Along with Ackerman, foodservice coordinator Suzanne Harker developed a large red binder containing a listing of the safe menu items, food labels, and food manufacturers.
"Because manufacturers can alter their products' ingredients or the hospital may change food suppliers, we developed a schedule to review and update the binder to keep product information up-to-date," Ackerman says.
The following are other steps the nutrition department takes:
• The diet office notifies the tray line supervisor of the patient's name, room number, and identified food allergies. The supervisor then takes ownership of the meal tray to prevent cross-contamination, hand delivering the tray to the patient's unit.
• Special provisions include a designated workspace for the preparation of menu items to avoid cross-contamination.
• Food trays are lined with red placemats as a visual cue to staff that the meal tray is for a patient with a life-threatening food allergy.
On the Cutting Edge of Change
"Our program is unique because it is a hospitalwide protocol, with detailed provisions to protect the patient from admission to discharge," Ackerman says. "Patient identifiers, a dedicated food allergy menu, and specific safe food preparation/delivery processes are all critical components."
As Ackerman explains, hospitals, restaurants, and school foodservice programs need food allergy protocols. "Our local allergists sparked our motivation and drive to create this protocol. Melissa Rea and Dr. Jason White were our mentors and supporters along the journey," she says. "We feel that our hospital is on the cutting edge of addressing the burgeoning issue of food allergies. We will continue to refine our food allergy menu, fine-tune foodservice procedures, and maintain the perpetual process of providing a safe environment for our patients with severe food allergies."
— Maura Keller is a Minneapolis-based writer and editor.