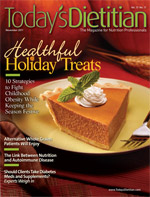 November 2011 Issue
Braised to Perfection — Kale Offers a Mildly Sweet, Earthy Flavor
By Bryan Roof, RD, LDN
Today's Dietitian
Vol. 13 No. 11 P.  66
Someone once told me about kale chips. You roast the kale until the leaves become crisp, like potato chips, and then I guess you eat them like a snack. To experience the hoopla firsthand, I made a batch myself. Let's just say you won't find me cozying up to a bowl on Super Bowl Sunday. Were they like potato chips? I suppose, if your potato chips are green, as flaky and dry as a sheet of nori, and threaten to choke you at each bite. 
Kale and all its varieties are part of the mustard family. Tuscan and curly leaf kale are the most popular in grocery stores, but you also can find other types, such as Dinosaur, Red Russian, and Carinata, each displaying a different leaf shape and color. Kale's flavor is mildly sweet and earthy, with a tinge of bitterness and a nod of spiciness that's nowhere as intense as that of its relative mustard greens.
As the cold winter months set in, kale is one of the few green species that thrives, actually faring better in the cool weather. Kale contains respectable amounts of calcium and fiber as well as vitamins A, C, and K.
The best way to cook its hearty, leathery leaves is by braising. Braising times vary to suit an individual's taste; sometimes I prefer mine with a little more texture. To complement my braised kale, I opt for pasta with a white bean sauce. The kale adds substance, and I make a sauce—a relatively healthful one at that—by puréeing the beans with a little olive oil, garlic, and water. For texture I'll garnish my bowl with toasted hazelnuts,, and some grated Pecorino ties it all together. I'll admit it's not as inventive as kale chips, but I guarantee it tastes better.
— Bryan Roof, RD, LDN, is a chef, dietitian, and food writer living in Boston.
Pasta With Kale and White Bean Sauce
Serves 6
Ingredients
3 T extra-virgin olive oil
4 garlic cloves, peeled and smashed
1/2 tsp kosher salt
1/8 tsp red pepper flakes
8 oz curly leaf or Tuscan kale (about 1 bunch), stems removed, leaves torn into bite-size pieces
1 (15-oz) can cannellini beans with their liquid
1 lb linguine
1/4 cup toasted hazelnuts, lightly crushed
Grated Pecorino Romano cheese for serving
Directions
1. Combine 2 T of oil, 2 cloves of garlic, 1/4 tsp of salt, and half of the pepper flakes in a large Dutch oven over medium heat. Cook until the garlic just begins to brown, 3 to 5 minutes. Add the kale and 1/4 cup of water, cover, and cook until the kale is slightly tender but still retains some of its chew, 10 to 13 minutes, adding more water to the pot if it becomes too dry; set aside.
2. Meanwhile, combine the remaining oil, garlic, salt, and pepper flakes in a medium saucepan over medium heat and cook until the garlic just begins to brown, 3 to 5 minutes. Add the beans with their liquid and 1/2 cup water to the pot and bring to a simmer. Transfer half of the beans to a blender and purée; return the purée to the pot with the remaining beans and bring to a simmer. Remove the bean mixture from the heat, cover, and keep warm.
3. Cook the pasta in boiling salted water until al dente; drain and return to the pot. Add the kale and white bean mixture to the pasta and toss to combine. Serve, garnished with the hazelnuts, Pecorino, and olive oil, if desired.
Nutrient Analysis per serving
Calories: 420
Total fat: 14 g
Sat fat: 1 g
Trans fat: 0 g
Cholesterol: 55 mg
Sodium: 500 mg
Total carbohydrate: 59 g
Dietary fiber: 6 g
Sugar: 2 g
Protein: 13 g