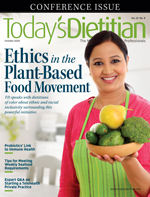 October 2020 Issue
Ethics in the Plant-Based Food Movement
By Sharon Palmer, MSFS, RDN
Today's Dietitian
Vol. 22, No. 8, P. 24
Today's Dietitian speaks with African American and other dietitians of color about racial, ethnic, and cultural inequalities within the movement and how nutrition professionals can help transition it into a more inclusive initiative for all.
The plant-based—in particular the vegan—movement is heating up. While the Vegetarian Resource Group survey finds that only about 2% of the US population is vegan,1 one trend report shows a 600% growth in veganism, from 1% to 6%, between 2014 and 2017.2 The roots of plant-based eating have been intertwined with food traditions throughout history, as these eating practices were part of beliefs surrounding religious faiths, health, and ethics in many cultures. Today, people are attracted to this lifestyle for similar reasons, which are well documented by science, including health benefits,3 lower carbon footprint,4 and reduced animal suffering.5
However, there are several ethical concerns surrounding the plant-based movement, which largely has been embraced by higher-income, well-educated, white populations, often leaving Black, Indigenous, and people of color (BIPOC) and those less educated and more food insecure out of the conversation.5,6
"Plant-based eating has grown in popularity over the years, with people being drawn to plant-based for climate, health, and animal rights [reasons]," says Los Angeles–based dietitian Sherene Chou, MS, RD, past chair of the Vegetarian Nutrition Dietetic Practice Group of the Academy of Nutrition and Dietetics (the Academy). "Even though the movement stems from Jainism and Buddhism, along with plant foods being celebrated around the world, it is seen as a largely wealthy, white, elitist movement in the United States. This is largely due to traditional flavors and cultural foods being exoticized, discovered, appropriated, and repackaged as something new for white consumers, while leaving history and BIPOC out of the mainstream conversations."
To be sure, the plant-based eating style is a positive diet philosophy that has the power to bring about beneficial changes within the food system, such as reduced carbon footprint, health benefits, and improved animal welfare.3 However, there are many opportunities to address racial, ethnic, and cultural inclusivity within the plant-based food movement to promote a more fair, successful lifestyle.
The History
Though the plant-based lifestyle may seem like the latest trend, forms of these diets have been around for thousands of years across the planet as part of religious, health, and ethical practices. Ancient cultures, such as in Egypt, China, India, Peru, Mexico, and Greece, upheld plant-based diets. Around 500 BC, Greek philosopher Pythagoras advocated benevolence among all animal species in the form of a vegetarian diet, followed by the Greek philosopher Plato, who told the townspeople to avoid meat for health reasons. Around the same time, the Buddha promoted vegetarian diets among his followers.7,8
Indeed, most traditional, indigenous diets that date back through the centuries are based on plant foods. For example, plant-based eating was common within the African diaspora, with a large intake of greens, tubers, grains, nuts, and fruits.
During the Renaissance and the Age of Enlightenment, some philosophers and artists, such as Voltaire and Jean-Jacques Rousseau, rejected the concept of eating animals for ethical reasons. Leonardo da Vinci said, "The time will come when we will condemn the eating of animals, just as today we condemn the eating of our own kind, the consuming of humans."
By the 19th century, things started happening in the United States, with John Harvey Kellogg founding a sanitarium in Battle Creek, Michigan, with the health ideals of a vegetarian diet. Albert Einstein, who became a vegetarian, said, "Nothing will increase the chance of survival for life on Earth as much as the evolution of the vegetarian diet." Today's concept of veganism was established in 1944 with the creation of the Vegan Society.
Frances Moore Lappé, who published the best-selling book Diet for a Small Planet in 1971, became a major influencer advocating for the nutritional and environmental benefits of vegetarian diets.9 About the same time, hippies started embracing the plant-based movement, as vegetarian communes in California turned to tofu and soy for plant protein sources. The health arm of the plant-based movement started growing out of the Loma Linda University School of Public Health,10 which launched the Adventist Health Studies in 1958, documenting the health benefits of the plant-based lifestyles practiced by Seventh Day Adventists.
Today, plant-based eating has evolved into a vibrant, active community of people embracing this lifestyle across the world. Americans often cite multiple reasons for why they follow this diet, including health, religious practices, animal welfare concerns, and environmental concerns. Surveys show that the leading reason people avoid animal foods is health, with animal welfare also cited as a top reason.11
Many organizations help support the growing food movement, including animal welfare organizations that promote meat reduction and/or plant-based eating, such as Mercy for Animals and the Humane Society. Health organizations that specifically advocate for plant-based diets include the Center for Nutrition, Healthy Lifestyle and Disease Prevention; Physicians Committee for Responsible Medicine; and Forks Over Knives. And many environmental organizations promote meat reduction, including the Environmental Working Group, Sierra Club, and National Resources Defense Council.
Dozens of celebrities, from Moby to Beyoncé, are open about their plant-based lifestyles, further promoting the cachet of this diet in the media. Plant-based living basks in the positive support of television shows, documentaries, magazines, books, websites, and apps. There are hundreds of plant-based restaurants in the United States and thousands of vegan products on supermarket shelves, many with Certified Vegan labels. More now than ever, people who follow a plant-based diet find a positive support system, which includes dinner clubs, societies, meetups, and online support groups. However, this support system isn't readily available to everyone.
Ethics in Plant-Based Diets
While the philosophy of plant-based eating addresses the ethical concerns surrounding animal welfare,12 other less obvious ethical concerns detract from the movement, including food insecurity, class, race, food sovereignty (the right of people to have access to healthful and culturally appropriate food), and cultural foodways (practices related to the production and consumption of food as it relates to culture, traditions, and history). Eating this way has come to suggest a privileged, white, elitist point of view.5,6 The stereotypical image of a vegan is an upper-class, thin, white woman who shops at Whole Foods while sporting a vegan T-shirt and yoga pants.
"Healthful foods are often seen as a privilege instead of a right, and the plant-based movement is also often showcased in a way that parallels that," says Wendy Castro-Harris, MS, RDN, director of nutrition at Better 4 You Meals in Commerce, California. "For many BIPOC, plant-based eating can feel disconnected from cultural foods due to lack of representation."
Food insecurity is one of the most pressing issues. As one has the financial means to make decisions and have control over one's food choices, only then do options, such as the choice of dietary pattern, become possible. For a low-income family faced with choosing adequate foods to fill their growling bellies, that dollar menu burger at the local fast food restaurant looks much more feasible than a smoothie bowl with $20 worth of trendy ingredients.
Even though plant-based diets benefit animal welfare, provide health benefits, and require less land and resources to produce food than animal-based diets, thus providing a better solution for feeding the growing planet,3 this eating pattern doesn't help address the food insecurity families may experience in real time. Though it's important to note that recent studies have shown plant-based diets may cost less than meat-rich diets, with a savings of about $750 per year.13
"Plant-based diets are a privilege in many communities," Castro-Harris says. "It's a difficult challenge because of systemic racism seen from farming practices all the way to food access. While some believe that BIPOC want to be plagued with chronic diseases and eat fast food every day, that is just not reality."
Racism has been pervasive in our food system, dating back to the dispossession of land from Indigenous populations and the enslavement of Africans for farm labor through the Jim Crow era when African Americans lost millions of acres of farmland, and is evident in the current predominantly BIPOC farm labor work force, which often is paid poverty wages and experiences high levels of food insecurity.
Issues of race and class are important to consider. In fact, the nature of this white, middle- and high-income movement is in itself a barrier. Proponents of the movement often have been critical of food choices made by BIPOC and those in poor communities, with little regard to the presence of food deserts, proliferation of fast food restaurants, and subsidies that fuel food options provided by WIC, SNAP, and the School Lunch Program.
"While plant-based eating forms the basis of cuisines amongst a variety of cultures, the actual movement promoting plant-based nutrition in the United States was started by organizations within white, middle- to upper-class communities," says Lilian Correa, MPH, RD, a dietitian at the Plant-Based Lifestyle Medicine Clinic in Bellevue, New York. "Coupled with preexistent health disparities, including access to health education within communities of color, this targeted marketing widened the cultural gap."
BIPOC suffer from the impacts of poor nutrition—obesity, heart disease, and type 2 diabetes—disproportionately than their white peers. However, there's a growing, dynamic plant-based movement among BIPOC, evidenced by the group Vegan Voices of Color and the 2017 documentary The Invisible Vegan (theinvisiblevegan.com), which features BIPOC who explore how race and class intersect within the movement.
"The younger generations, in general, including POC, seem to be gaining interest in the ethical and health benefits side of the vegan diet," says Kaelyn Johnson, MPH, RD, a renal dietitian working in Torrance, California. "With various documentaries being available, more people in communities that felt wary or not included in the plant-based movement are starting to see its benefits for themselves, the animals, and the environment."
Honoring cultural foodways and considering food sovereignty is another important challenge within the plant-based movement. People should have the right to consume healthful, sustainable foods that are culturally appropriate. Thus, a one-size-fits-all plant-based diet with tofu, soymilk, and radish sprouts may not suit the cultural diet preferences of someone who grew up in Argentina eating red meat every day. It's important to consider that certain foods may be unfamiliar (and even disgusting) to some people, eating patterns are an evolution of cultural and religious traditions handed down over the centuries, and various cultures may view animal ethics in entirely different ways.5,6
At the same time, plant-based foods have had a rich place in food cultures across the planet. "Food culture absolutely enhances links to plant-based eating," says Morgan P. McGhee, MPH, RD, director of school nutrition leadership at FoodCorps. "If we know our history, plant-based foods were a cornerstone in the diet of enslaved Africans; whether it's black-eyed peas, okra, or watermelon, the food consumed by ancestors is alive and well in the culture today. Unfortunately, through colonial rhetoric, many have fallen into the belief that many ancestral foods are 'bad' or 'unhealthy,' which leads an individual, such as a child, to think that they are then 'unhealthy' or 'bad.' Once we start to truly understand our cultural foodways, we can decolonize our diets and perhaps move to a more plant-forward way of eating."
"Plant foods have always been a major staple of all BIPOC cultures," Castro-Harris says. "For the black community, the centuries of enslavement were a time when enslaved peoples only got food scraps. Because they were creative and resilient, they turned those scraps into beautiful and delicious Southern dishes that are still cherished today. However, those meals weren't traditional dishes to Africa. Traditional African diets, though varied by country, are rich in plant foods like tubers, maize, and beans. For the Latinx and Asian communities, being immigrants in this country has resulted in a lot of our communities assimilating to American culture to belong, and eating the 'American diet.' The recent growth in the plant-based movement among BIPOC is our people finally deciding to take back what was taken from us—the liberation to eat healthful foods that sustain us and increase our longevity. For many BIPOC, it's a road to liberation."
Recommendations for Fairness
The growing plant-based movement can be more vibrant and successful by creating a fair, just initiative, accounting for issues such as food security, nutrition, science, innovation, cultural foodways, diversity, and community. This is a complicated issue that involves food policy action to ensure that communities have access to healthful plant-based foods through the availability of farmers' markets, community-supported agriculture, and supermarkets that provide healthful plant-based foods, as well as food assistance programs, such as WIC, SNAP, and school programs.
More images and stories of people of color need to be shared. Communities need to offer culturally specific support groups and meet-ups to promote healthful eating. Educators need to address the ways that culturally significant foods can fit into plant-based patterns. And most importantly, dietitians need to dig into the indigenous plant-based roots of cultures, such as in Africa, Asia, and Central America, to help make healthful eating compelling to all. For example, learning the traditions of eating wild greens in West Africa, tofu in Asia, and the three sisters (beans, squash, and maize) in Central America can inspire pride and interest among people from these cultural backgrounds.
"It's important to note that access alone doesn't change food selection; we, as dietitians, have to advocate for policy change to increase funding for farmers of color, funding for further farm-to-school and gardening grant opportunities, and for relevant community nutrition education," Castro-Harris says. "Most importantly, we must also be willing to enter communities, asking them what their needs and goals are and how plant-based eating fits into that."
Correa says, "We can learn to listen to our patients more, and be curiously engaged with their culture and traditions. When patients share the ingredients in their kitchens, the foods they grew up with, and foods of their cultures, we often find the answers we were looking for right in the conversation. In addition, we can also get into the kitchen ourselves and try out new recipes from different cultures, or go to restaurants with an aim to explore various cuisines. Such experiential learning better equips us to suggest substitutions, if necessary, that will be familiar or similar in texture and flavor while providing healthier options for patients."
Castro-Harris says, "Food is rooted in our familial and cultural traditions, so as dietitians, it is our job to listen and learn from the communities we work in and with. It's important for us to not try to erase their cultures by asking them to conform to Eurocentric diets. This is a tricky thing, because a majority of dietitians are white, and care needs to be had so that cultural appropriation does not occur."
Castro-Harris offers some helpful suggestions for white dietitians:
• Understand that you're not the expert when it comes to a different community's culture and overall eating pattern.
• Know that all people within a culture aren't a monolith; if working with a Mexican community, don't assume that all Mexicans are alike, let alone eat the same foods.
• Find dietitians who belong to the community or who are of the same ethnicity and race of the community you're working with, and read and listen to what they share. Use search engines to lead you to answers to questions you may have after reading and listening to their content. Be sure to focus on sources created by BIPOC.
• If recreating a recipe, consider whether you're changing it simply to "healthify" it. If so, a more culturally competent approach is to discuss balanced eating with the community so they understand that all foods fit.
• If you're making recipes and need to modify them based on ingredient availability or adding in more veggies (when it makes sense), make sure to use recipes originally shared by BIPOC, and be sure to give them credit.
McGhee says, "Educate yourself and clients on the cultural foodways as told by folks from those cultures. Empower communities through food sovereignty. Agricultural practices are prevalent in many cultures, and food sovereignty can empower communities to define their own sustainable system. As you go on this journey with your client or community, recognize that unless you are a member of that community, you are a guest. This does not mean that you don't ask questions to spark conversations on exploring various preparation methods, seasonings, or more plant-forward alternatives, but if you're truly there to 'serve' the community, you have to do just that on their timeline and in their way."
— Sharon Palmer, MSFS, RDN, is nutrition editor of Today's Dietitian, associate faculty in the MS of Sustainable Food Systems Program at Prescott College, and a blogger at SharonPalmer.com. .

References
1. How many people are vegan? The Vegetarian Resource Group website. https://www.vrg.org/nutshell/Polls/2019_adults_veg.htm. Published 2019.
2. Forgrieve J. The growing acceptance of veganism. Forbes. November 2, 2018. https://www.forbes.com/sites/janetforgrieve/2018/11/02/picturing-a-kindler-gentler-world-vegan-month/
3. Tai Le L, Sabate J. Beyond meatless, the health effects of vegan diets: findings from the Adventist cohorts. Nutrients. 2014;6(6):2131-2147.
4. Sabate J, Soret S. Sustainability of plant-based diets: back to the future. Am J Clin Nutr. 2014;100:476S-482S.
5. Thompson PB. From Field to Fork: Food Ethics for Everyone. New York, NY: Oxford University Press; 2015.
6. Alkon AH, Agyeman J. Cultivating Food Justice: Race, Class, and Sustainability. Cambridge, MA: MIT Press; 2011.
7. Leitzmann C. Vegetarian nutrition: past, present, future. Am J Clin Nutr. 2014;100:496S-502S.
8. History. The Vegan Society website. https://www.vegansociety.com/about-us/history. Updated 2020.
9. Lappé FM. Diet for a Small Planet. New York, NY: Ballantine Books; 1971.
10. History of the Adventist Health Studies. Loma Linda University School of Public Health website. https://publichealth.llu.edu/adventist-health-studies/about/history-adventist-health-studies. Updated 2020.
11. Why do people eat vegetarian and vegan meals when eating out? The Vegetarian Resource Group website. http://www.vrg.org/nutshell/Polls/2016_eating_out.htm. Published 2016.
12. Elischer M. The Five Freedoms: a history lesson in animal care and welfare. Michigan State University Extension website. http://msue.anr.msu.edu/news/an_animal_welfare_history_lesson_on_the_five_freedoms. Published September 6, 2019.
13. Flynn MM, Schiff AR. Economical healthy diets (2012): including lean animal protein costs more than using extra virgin olive oil. J Hunger Environ Nutr. 2015;10(4):467-482.