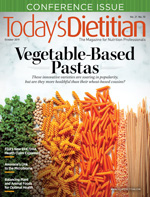 October 2019 Issue
Editor's Spot: Eating Right to Reduce Pain
By Judith Riddle
Today's Dietitian
Vol. 21, No. 10, P. 4
Some of my friends and family members who are well into their 50s have begun to complain of chronic back pain, joint pain, and neck pain. If they're not engaged in regular exercise that involves muscle strengthening or stretching to alleviate it, their discomfort remains—and sometimes worsens. According to the American Chronic Pain Association, chronic pain is defined as "pain that continues a month or more beyond the usual recovery period for an injury or illness or that goes on for months or years due to a chronic condition."
The sources of chronic pain run the gamut. It can result from injury, surgery, rheumatoid arthritis and osteoarthritis, fibromyalgia, and several other disease states such as autoimmune and digestive disorders, cancer, and type 2 diabetes complications. The quest to alleviate pain has contributed to the opioid crisis and physical dependency on other classes of drugs to improve quality of life. According to the US Pain Foundation, chronic pain affects 50 million Americans, not including children, and severe chronic pain affects about 19.6 million Americans, costing the nation upwards of $635 billion annually in medical treatments, disability payments, and lost productivity. This certainly is not good news by any stretch, but there may be a silver lining.
Recently, I learned that the foods we eat may help relieve some sources of chronic pain—foods that compose an anti-inflammatory diet. Research shows that an anti-inflammatory diet pattern contains a variety of nutrients from foods and supplements that may reduce pain associated with inflammation and oxidative stress. Specifically, a diet rich in fruits and vegetables, legumes, whole grains, extra virgin olive oil, and omega-3 fatty acids has been found to contain vitamins, minerals, antioxidants, and bioactive compounds that reduce inflammation associated with chronic pain. The Mediterranean diet is rich in these foods and nutrients, and, therefore, also may play an important role. To learn more about how nutrition may help clients with chronic pain, read the feature article "Pain — The Role of Nutrition," on page 38.
Also in this issue are articles on the relationship between anorexia nervosa and the gut microbiome, the FDA's new EPA/DHA health claim, the latest vegetable-based pastas, and the balance between plant and animal foods for optimal nutrition. Please enjoy the issue!
Judith Riddle
Editor
TDeditor@gvpub.com