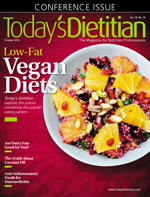 October 2016 Issue
TD Exclusive: Meet Dawn Jackson Blatner
By Juliann Schaeffer
Today's Dietitian
Vol. 18, No. 10, P. 42
The dietitian behind the winner of the ABC reality TV show My Diet Is Better Than Yours discusses what sets her diet plan apart, how she makes career decisions, and why authenticity is the best card you have—so why not play it?
Dawn Jackson Blatner, RDN, CSSD, isn't new to the TV game, but her viewership recently skyrocketed with her involvement in the ABC reality TV series My Diet Is Better Than Yours. The show paired 37-year-old Jasmin Queen with Blatner and her Superfood Swap Diet, as the duo competed against other contestant-trainer pairs in eight episodes' worth of challenges, weigh-ins, and a final half-marathon race to see whose diet plan had the chops to stand above the rest.
Winning the final weigh-in and the half-marathon, Queen took home the prize: $50,000 in cash, $20,000 for groceries, and a feature in People magazine. Having lost more than 50 lbs and gained a whole new set of healthful habits, Queen's winning ways may have been only beginning with the show's ending.
While the ABC show may have increased Blatner's name recognition, her accomplishments over the past almost 20 years deserve credit in their own right. Currently in private practice in Chicago, she's run the gamut in media work, from serving as a spokesperson for the Academy of Nutrition and Dietetics (the Academy) to writing for various publications, including two books of her own, her first being The Flexitarian Diet. She also works as the dietitian nutritionist for the Chicago Cubs.
How lucky she must be. Or is she? Read on as Blatner talks about her time on My Diet Is Better Than Yours and gives insights into how she got to where she is today. As you'll see, it was much less happenstance than good old-fashioned passionate hard work. The good news, according to Blatner, is her accomplishments are reachable for any aspiring RDN—as opportunity tends to find you when you're enthusiastically hard at work.
Today's Dietitian (TD): To start off, why did you become a dietitian, and what would you like people to know about the path you took to becoming an RD?
Blatner: Early in college [at the University of Illinois at Urbana-Champaign], I didn't know what I wanted to do for a living. One day I heard in the background on a TV set (it was probably Oprah, right?): "Do for your career what you do in your spare time." That is powerful career advice.
When I looked around at what I was doing, I would cook tofu shepherd's pie out of my Moosewood Cookbook and wait for my friends to come home from parties to taste-test my creations. I hung out at the health food store, smelling patchouli and looking at food labels. So I sought out a counselor's guidance and the closest major that matched my spare-time activities was dietetics.
Looking back, I'm glad I didn't know all the details (including so many chemistry classes and an unpaid internship) and just let passion drive me.
TD: How did you first break into media work, and what led you to it?
Blatner: When I look back on my career, I definitely credit a lot to my mentors. Most people get to where they are with the help of others. Of course, my parents are my first mentors, teaching by example a strong work ethic, positive attitude, and creativity. Outside of my parents, my first mentor was a high school teacher, Savka Mladenovich. She saw leadership potential in me, something I hadn't seen in myself, and wanted me to run for student council president. Speaking at student assemblies is where I first realized I loved microphones and public speaking.
I encountered my second mentor, Lisa Herzig [PhD, RD, CDE], in New Mexico. She worked as a dietitian in a national health food store (my favorite place in the world!) and took me under her wing. She opened my eyes to jobs outside of a hospital in dietetics.
I also worked at Northwestern Wellness Institute, where I met my third mentor, Dr. Robert Kushner [MD]. His strong science base and media involvement really pushed me to think I could do that, too. It didn't come easy, though. I pitched the hospital PR department weekly with ideas for how to get me on TV. For 21/2 years, I heard "no" after "no" after "no." One day, all the regular TV experts were out sick, so they let me do a segment since I had been patiently pitching myself for years. What a great lesson of the power of persistence and being so comfortable with the word "no"—just because someone says "no" today doesn't mean that won't change tomorrow.
The segment was for NBC in Chicago on marathon running. It was a two-part series, and the first time I got on television, I said the words "hog wild" three times. Looking back, I didn't do such a great job, but I gave helpful advice and I was totally myself. The station was impressed with my authenticity and expertise and asked me to come back regularly, and then other stations soon followed.
After many interviews under my belt, Dr. Kushner encouraged me to apply to become an Academy spokesperson. Even without enough experience or extra degrees, he told me to go for it. I got the gig, and that's really where my entire career changed. The Academy is the spot in which I see the fork in the road. It helped mold me into a book author, a spokesperson, and more.
TD: Was there any one part of being a spokesperson that really led to that career change, or was it the entirety of the experience?
Blatner: I put my heart and my soul into all the work I was doing as a spokesperson, and opportunities began to find me.
I truly feel like opportunity finds you when you're hard at work, enthusiastically. Today's Dietitian was actually one of the first places that afforded me the opportunity to write an article, which was on meal replacements, and it made the cover. Some people say to me, you're so lucky to get all of these opportunities. I don't believe in luck. Instead, I believe when you put in the hard work, enthusiastically, anywhere and everywhere you can, opportunity will find you. Hard work and passionate enthusiasm are opportunity magnets!
TD: What made you take the leap into the world of reality TV?
Blatner: I started getting unknowingly ready for this opportunity about two years before I was approached by a talent agent for My Diet Is Better Than Yours. My preparation started when I began working with my fourth mentor, business coach Melissa Black Ford, to help me put more joy into my career. At some point, my passion career had become more of a job. I was all about accomplishing things and forgot how to enjoy the daily tasks of being a dietitian.
You can create anything in your life, and I want to live a very impassioned, fun life, so I hired my coach and started infusing more joy into my work and more of "me" into my website. People throw around the word "authentic" a lot, but I really wanted my website to showcase me—the clothes that I actually wear and the places that I like. Instead of pictures of me cutting vegetables, I used pictures of me shopping at my own farmers' market or eating tacos at my favorite neighborhood spot. And it was my website where the talent agent found me and called to ask me to audition for the reality show.
I have a three-step system of questions I ask myself when making all business decisions:
1. Do I get an immediate 'Hell yeah' reaction in my gut? Like, 'Yes, this sounds awesome!'
2. Do I want more of this in my life? If I say yes to this opportunity, more of these things will start coming. Do I want that?
3. Is there any way I can say yes and make this even more awesome? What can I change about this opportunity to make it even better?
For the reality TV opportunity, I personally love reality TV. I'm a devotee of [Bravo's] Real Housewives. But I had some reservations because I'm also a professional who does not want to come off like a circus act. I didn't want to put my reputation from two decades' worth of hard work in jeopardy. But my gut was all in. And I'd love more of this type of opportunity in my life, so that was a yes. How could I make this more awesome? I could make sure they were going to treat the contestants and me with the utmost respect and that this was a science-based, doctor-driven experience—with a lot of fun.
After talking with the executive producer and team, my gut said these people were really in it for the right reasons. This reality TV was actually based in full-on reality. The experts were going to work with contestants for seven weeks, and then the contestants had their real lives to live for seven weeks—no gimmicks, just what you do with real clients. So I hired a big-time lawyer for help with navigating the contract and sought guidance from dietitian friends who had ventured into reality TV themselves (Katie Cavuto [MS, RD,] and Felicia Stoler [DCN, MS, RDN, FACSM]). And then I really had to believe in myself. My life changed the minute I signed that contract, because it was proof that I believed in myself.
I knew that I could be sent home an embarrassment to not just my family and friends but my entire profession. This really had the potential to be career suicide. But I believed enough in myself to not let that happen.
TD: How important was it for you that a dietitian be among those represented on this show?
Blatner: In the beginning, I didn't know if this was even the right place for a dietitian. Was it going to be a ridiculous show that puts our profession on the line? Or is it the best show ever that showcases our profession? You never know with reality TV. For me, when I signed on, I was thinking not just of myself but the RDN after my name. I wanted to do my colleagues and profession proud. Once I figured out the show was legit, it became important to me to show that in a world full of junk science gurus that a dietitian is the real food and nutrition expert—with real standards, expertise, and ethics.
TD: Did you know whom you were up against?
Blatner: I didn't know! I didn't know early on if my competitors were other dietitians or bikini models eating baby food.
TD: So you had to be even more confident in your own background, then.
Blatner: That ended up being a big common denominator for me. I've been helping people lose weight for years, and now I got to do it with a national TV audience watching. I knew that actually having an education, my RDN credentials, and more than a decade of experience would be an advantage.
I also had to use the negotiation skills I've practiced in business to work with the production crew. They would throw ideas out at me of what would make great TV, but I had to make sure it was true to how I actually practice dietetics and in the best interest of my contestant. For example, I worked hard to nix a pool scene with my contestant because although it may play well on TV, it wasn't professionally the right thing to do.
TD: It sounds like you really made an effort to frame your aspect of the show vs letting the production crew frame it for you.
Blatner: That was a big thing for my contestant Jasmin and me. If you saw the show, we were all very well matched. And that's no accident, because the experts got to rank the contestants based on how much they wanted to work with someone. And the contestants did the same by looking at the different diet plans.
The minute I saw Jasmin's video, I knew she was ready to work. I've worked with clients long enough to know readiness when I see it. First and foremost, I put all my effort into helping Jasmin. I tried hard not to focus on making a TV show or worrying about how I'm going to come off on TV. My focus was always Jasmin.
TD: Can you talk about what life was like filming? What advantages or disadvantages did reality TV provide compared with everyday nutrition practice?
Blatner: It was super fun. I moved to Atlanta for two months to film, and the weather was great. The day we arrived, we got a key to our own condo and a key to an automobile, which gave us a lot of freedom to live and work how we wanted. I had a blast. I lived a mile away from the BeltLine running trail, Piedmont Park running trail, and Whole Foods. It was a great area to live in.
For the show, Jasmin and I would do 12-hour filming days together. Then, we still had two 12-hour days where the whole group was together to do a physical challenge one day and a weigh-in another day. Filming was going on all the time. When we weren't on camera with a mic, we were planning for the next shows. It was a lot of work but a lot of fun.
This experience really helped me believe in myself and my system. I have a specific style and philosophy I teach clients, and winning the show makes me believe in that even more. Even though it can be very stressful and scary to be under that microscope, it turned out to be a big confidence boost.
TD: Speaking of your system, can you talk a bit about the specifics of the Superfood Swap Diet? What does the diet involve and why does it work?
Blatner: While it's not in print yet, The Superfood Swap book came before the reality show. I got the book deal in 2014, and it's scheduled to come out December 2016. The principles in the book are what landed me the reality show gig.
The Superfood Swap is based on the idea that you can eat what you crave without the CRAP. CRAP is an acronym that I use that refers to foods that are generally overprocessed. I recognize processed food in general is not all bad. But the overly processed CRAP refers to:
C: chemicals that you don't use in your own kitchen;
R: refined sugars and flour;
A: artificial flavors, colors, and sweeteners; and
P: preservatives.
With The Superfood Swap, I help people cut out the CRAP and eat more superfoods (basically any whole foods dietitians are accustomed to promoting such as fruits, vegetables, whole grains, lean proteins, and healthful fats).
Whereas most books just tell you what to eat without addressing what you actually want, this plan asks what you actually want to eat and then makes it with superfoods. People get excited about this "eat what you want" mindset, and magical things happen when people are excited about what they're doing.
Whatever Jasmin wanted to eat, we'd find the best way to do that using real, wholesome foods. For example, on the show, Jasmin's family wanted macaroni and cheese. So we chose brown rice noodles and real cheese blended with cauliflower. We balanced portion size by adding a BBQ chicken breast and green bean fries instead of eating a big bowl of pasta.
I think the plan did so well on the show because it has the secret ingredient of adding fun to the process of healthful eating and weight loss. If you're not having fun, you're doing something wrong. I practice living my entire life by that philosophy.
TD: Draw us a picture of the contestant with whom you were paired. Who is she? What was it about her personality and efforts that helped her to win, paired along with your nutrition know-how?
Blatner: My contestant was Jasmin Queen. She's a wife and mom to a (now) 9-year-old daughter who lives in an Atlanta suburb. When we started she was really at a fork in the road healthwise. She was overweight and on the verge of blood sugar, cholesterol, and blood pressure problems. If she continued with her current habits, she was likely heading into a host of health issues. Or she could make a switch, which she did.
I knew she was ready because she didn't want a quick-fix-bootcamp-style weight loss plan. She was ready to make real life and mindset shifts. That's when you know you have someone ready to play. It wasn't just about outcomes.
You have to enjoy the process in order to get the outcome. I've had to relearn that in my business life a million times. I used to be very outcomes oriented, and that's how you lose joy. You have to enjoy the process of what you're actually doing. I picked up on that in Jasmin early on in that she wanted to learn to live better, not just lose weight.
Today, she has normalized her blood sugar, cholesterol, and blood pressure numbers. She lost 53 lbs and is now maintaining a healthy weight, not by struggling but by using the healthful habits she learned through the show (going to the gym, trying new exercise classes, having a good time, making recipes).
She's a huge inspiration for other people, and she inspired me. As much as she said I was a motivation for her, she changed my life, too. She didn't just run the half-marathon at the end of the show; she won it. I actually ran my first half-marathon after seeing her run hers. I ran it with my husband a few weeks after the show's completion.
TD: What have you learned so far, in your career and through the reality show, about creating opportunities?
Blatner: I love the question, "If I could create anything, what would I create?" Because I believe if you can imagine it, you can create it, at least in some form. And for me, it all falls back on that saying that opportunity finds you when you're enthusiastically hard at work. Whenever I'm feeling stuck, I know I have to just start doing. Doors open, but not when you're sitting at home doing just planning and thinking. You have to get out there and do stuff that lights you up, even if it's not for much money or not at the level you want to be doing it.
TD: What's the secret to creating more meaningful content?
Blatner: When creating content, I always ask myself the same question: What problem am I solving? At the end of the day, people want to read about things that will help them. Content will move people, it will change people, if you're solving a problem for them. Green popsicles became very popular on the show. What problem am I solving? People want sweets they feel good about. I also love to do a final gut check on my content: Do I actually find this cool? If I don't think what I wrote is awesome, interesting, or something I'd actually love to do, I delete it and start again.
TD: How important is authenticity, particularly for dietitians today?
Blatner: Your biggest advantage is that you're the only you. We all have the same science-based information at our fingertips. The only thing differentiating all of us is that there's only one of each of us. What I say (and how I say it) definitely doesn't resonate with everybody. So it's good that we can put our own personality spin on information because different people will like it, hear it, and learn it in different ways.
TD: On a personal note, what would you like readers to know about what your life looks like in your off hours? What brings you meaning, and where do you find joy outside of work?
Blatner: That's a funny question, because my husband just quit his job to work with me, so my personal life and business often get very intertwined. Happiness for me is finding joy in daily, mundane things just like drinking coffee in the morning and running in my neighborhood park. In a world full of social media sharing, I focus on not comparing myself to others. It can be instinctual to compare yourself and wonder why you don't measure up and that's a recipe for misery. I enjoy spending time with friends and family and exercising, and I love going to farmers' markets and being outside in the fresh air. And finally, when I am having a bad day I try to remember, gratitude changes everything.
When she's not working (which isn't often), you might find Blatner jogging to pop music in her Chicago neighborhood. At home, she likes to enjoy a tequila with fresh lime and club soda. She might have a taco in the other hand or have her eyes set to the latest Real Housewives episode. What would the Bravo superfan's own housewife tagline be? That's simple, she says: "If you're not having a good time, you're doing something wrong."
— Juliann Schaeffer is a freelance health writer and editor based outside of Allentown, Pennsylvania, and a frequent contributor to Today's Dietitian.