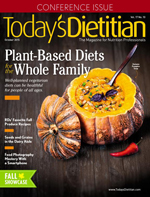 October 2015 Issue
Community Matters: Restoring Connection to Food Sources
By David Yeager
Today's Dietitian
Vol. 17 No. 10 P. 12
Urban and suburban farms are emerging to make healthful foods more accessible to underserved communities.
Based on significant changes in demographics in the United States over the past century, one could argue that Americans are more disconnected from the sources of their food than they've ever been. At the beginning of the 20th century, 60% of the United States population lived in communities of 2,500 people or fewer, which the United States Census Bureau classifies as rural areas, and most of these people were involved in farming.1,2 The combined population of America's 10 largest cities was 9 million.1 From 1900 to 1950, the size of American suburbs doubled, and from 1950 to 2000, they doubled again.1 By 2010, more than 80% of Americans lived in urban or suburban areas, bringing the total to nearly 250 million people.2 Today, fewer than 1% of the US population are farmers, and only about 2% live on farms.3
Along with these demographic shifts, today's busy world prioritizes convenience over home cooking. In many grocery stores, highly processed and packaged convenience foods have claimed ever-expanding swaths of space. People also dine out more than they ever have, and portion sizes at restaurants have been increasing since the 1970s. The increases in portion sizes mostly have included calorie-dense foods, rather than fruits and vegetables.4 Too often, the convenience individuals seek negatively affects their health. More than two-thirds of US adults are overweight or obese, increasing their risk of a host of medical conditions.5,6
The Centers for Disease Control and Prevention (CDC) lists community environment, such as whether a person can walk or bike to work, as a significant risk determinant for overweight and obesity.6 According to the CDC, community, home, child care, school, health care, and workplace settings all can influence individuals' daily behaviors.6 For this reason, the CDC recommends creating environments that make it easier for people to both engage in physical activity and eat healthfully.6
Restoring the connection between people and food sources may help address the obesity epidemic. Across the country, community food systems, such as urban and suburban farms, community gardens, and agrihoods, loosely defined as communities that incorporate a farming component, are sprouting. These community food systems aim to make fresh, whole foods more accessible to more people, although it isn't easy.
Anna Ricklin, manager of the American Planning Association's (APA) Planning and Community Health Center, says small, urban farms can face difficulties selling food within their communities because they have to compete with large agribusinesses, which makes it harder to turn a profit. The APA is a membership-based association of community planners. It partners with several organizations to help people develop and expand community food systems.
One of the organizations the APA works with, Growing Food Connections, is attempting to strengthen community food systems by helping local and regional governments institute policies that promote access to healthful, affordable food and support agriculture in their communities. The APA also is working with the CDC on a project called Plan4Health, which issues grants to communities around the United States to support a variety of health and wellness initiatives. Some of those communities are addressing food access issues; others are working on community gardens and food hubs; still others are making connections between farms and consumers through farmers' markets, local grocery stores, and even corner stores that traditionally haven't sold produce.
"We're looking at this grant opportunity as a way to support human health and nutrition," Ricklin says. "But the way to get there is through actually growing local food and making the small changes that seem small but are actually major changes—to zoning codes, for example—to allow for this kind of activity."
Life in Agritopia
One community that has embraced the community food systems ethos is Agritopia.
Located near Gilbert, Arizona, the fifth largest city in the state, Agritopia encompasses 160 acres. Ten percent of that land is dedicated to permanent organic farming. What sets it apart from many other communities is that it's also home to around 1,500 residents, from ages 0 to 100, of varying socioeconomic levels. Agritopia's residents have access to the food that's grown in their community, as well as plenty of opportunities for physical activity.
"I started thinking, 'What kind of community do I want to live in?'" says Joe Johnston, who developed Agritopia on his family farm. "And that started the progression of reading, designing, and thinking about the places that we had lived in, and the plusses and minuses of those places. I started reading a lot, like James Howard Kunstler's The Geography of Nowhere, which is about some of the issues with suburbia and how they could be remedied. So we tried to implement some of those ideas. We also looked at what had worked in the past and tried to implement [some of those practices] in a modern way."
In Agritopia, there's a restaurant and a coffee shop. Many residents work in nearby Gilbert. The local public school is one-half mile away, and there's a private school in the neighborhood. A community garden of 50 20-ft x 20-ft plots is set aside so residents can grow some of their own produce. There's also a garden onsite that grows foods that are mentioned in the Bible, such as figs and sumac.
A head farmer and five field hands, some of whom are paid and some of whom are unpaid interns, run the farm. Johnston says some people volunteer at the farm to learn about urban farming before moving on to other farms. Because of Arizona's long growing season, the farm can produce a variety of crops.
During the warm summer season, they grow foods such as tomatoes, peppers, and eggplants. In the fall, they grow items such as lettuce, broccoli, cauliflower, cabbage, carrots, onions, and beets. There's also an orchard that has more than 300 citrus trees, ranging from grapefruits to juice oranges to lemons; peach, apricot, and plum trees; and five kinds of olive trees. Their largest single cash crop is medjool dates. In addition, there are bees for honey; chickens and ducks for eggs; a small number of turkeys for Thanksgiving; and eight hairy Mangalitsa pigs (pink pigs get sunburned), which are preallocated to local chefs and fed a diet of grain from the local brewery and rinds from a nearby pizza place.
Soon there will be two new restaurants opening in the community. Johnston says the additional restaurants will enable Agritopia to keep more of the produce it grows within the community, rather than having to sell it within the 20-mile radius outside the community. He says his farm is built on three principles: production, beauty, and education. He's pleased with the farm's production and beauty, but he wants to expand Agritopia's educational outreach. His goals are to educate people about where their food comes from, how farming works, and how to convert raw ingredients into meals.
Johnston is committed to farming in perpetuity. He owns his own land, but he notes that farming in an urban setting can be very expensive because using the land for agricultural use is often deincentivized. For example, his land is worth about $200,000 an acre for commercial development, but only about $8,000 an acre for agricultural use. He says many urban agriculture initiatives are run by farming families who want to make sure farming continues. And he's found that there's increasing interest in farming.
"I think that, as more and more people work at high-tech jobs, there's more of a desire for a simpler life or a farming life," Johnston says. "The more people get involved in high tech, the more interest there seems to be in basic industries such as farming, pickling, brewing, and baking."
That's good news, Ricklin says, adding that new farmers are critical for American health. The average age of farmers has been rising for decades, with about 60% of American farmers aged 55 or older.3 The average age of a principal farm operator increased from 54 years in 1997 to 57 years in 2007.3 In 1969, roughly 17% of principal farm operators were aged 65 or older.3 In 2002, more than 25% were.3 There's some reason for hope, though. Ricklin says more young farmers are starting farms.
"We still have a crisis in our big farm belt with aging farmers, but there's been growth in people wanting to grow and produce food for local economies and, hopefully, increase access to healthful food for the people who most need it," Ricklin says.
— David Yeager is a freelance writer and editor in southeastern Pennsylvania.
References
1. Population: urban, rural, suburban. PBS website. http://www.pbs.org/fmc/book/1population6.htm. Accessed August 18, 2015.
2. Frequently asked questions. United States Census Bureau website. https://ask.census.gov/faq.php?id=5000&faqId=5971. Accessed August 18, 2015.
3. Ag 101: demographics. United States Environmental Protection Agency website. http://www.epa.gov/agriculture/ag101/demographics.html. Updated April 14, 2013. Accessed August 18, 2015.
4. Ledikwe JH, Ello-Martin JA, Rolls BJ. Portion sizes and the obesity epidemic. J Nutr. 2005;135(4):905-909.
5. FastStats: obesity and overweight. Centers for Disease Control and Prevention website. http://www.cdc.gov/nchs/fastats/obesity-overweight.htm. Updated June 2, 2015. Accessed August 12, 2015.
6. Division of Nutrition, Physical Activity, and Obesity: adult obesity causes & consequences. Centers for Disease Control and Prevention website. http://www.cdc.gov/obesity/adult/causes.html. Updated June 16, 2015. Accessed August 12, 2015.
RESOURCES
• Agritopia: http://agritopia.com
• Growing Food Connections: http://growingfoodconnections.org
• Plan4Health: www.plan4health.us