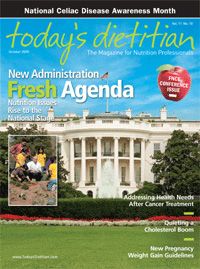 October 2009 Issue
Cooking With Heart for the Heart
By Chef Kyle Shadix, MS, RD
Today's Dietitian
Vol. 11 No. 10 P. 80
When time is of the essence, it's easy to turn to fast foods and packaged entrées. Many people resort to these options because they're convenient, but they often come at the expense of nutrient density, which can be, quite literally, heartbreaking news.
The news is especially heartbreaking for people with diabetes, who are at high risk for heart disease. Heart-smart eating is essential to managing diabetes, and it's critical for protecting everyone against heart disease, the leading cause of death globally.
Of course, saturated fats, trans fats, and cholesterol should be replaced with healthier unsaturated fats, especially monounsaturated and omega-3 fats. When used in place of saturated fat, monounsaturated fat can help lower LDL cholesterol, thereby decreasing the risk of heart disease. Alpha-linolenic acid (ALA), a plant-based omega-3 fat, may also help protect the heart. People must get ALA from dietary sources because the body cannot produce ALA on its own.
One way people can control their intake of dietary fats is by choosing a heart-smart everyday cooking oil such as canola. With the least saturated fat and most omega-3 content of any common cooking oil, canola oil is ideal from a nutritional standpoint. The FDA authorized a qualified health claim* for canola oil based on its ability to help reduce the risk of heart disease when used in place of saturated fat, and canola oil is also a good source of vitamins E and K. At just pennies per serving, it protects both the heart and wallet. In addition, canola oil has a neutral taste and light texture that brings out the flavors of ingredients while offering a high smoke point (468˚F), which is ideal for any culinary application.
A new cookbook from the American Diabetes Association and CanolaInfo called The Heart-Smart Diabetes Kitchen: Fresh, Fast, and Flavorful Recipes Made With Canola Oil discusses how to use fresh ingredients efficiently for a wide range of flavors. It has 151 recipes, including the one that accompanies this article, and tips for simplifying healthy cooking. The cookbook is ideal for anyone interested in cooking for the heart and a great way to celebrate National Diabetes Month this November. 
* Limited and inconclusive scientific evidence suggests that eating about 1 1⁄2 tablespoons (19 grams) of canola oil daily may reduce the risk of coronary heart disease due to the unsaturated fat content in canola oil. To achieve this possible benefit, canola oil is to replace a similar amount of saturated fat and not increase the total number of calories you eat in a day.
— Chef Kyle Shadix, MS, RD, is director of Nutrition + Culinary Consultants, an advertising, marketing, and culinary full-service agency in New York City.
Grill-Pan Chicken with Fiery Mango-Ginger Salsa
This dish offers a medley of flavors. Using salsa in place of more salt lowers the sodium content and boosts taste!
1 tablespoon canola oil
1 teaspoon curry powder
1 teaspoon sugar
1⁄2 teaspoon coarsely ground black pepper
1⁄4 teaspoon salt
4 boneless, skinless chicken breast halves (4 ounces each), rinsed, pat dry, and flattened to 1⁄2-inch thickness
Canola oil cooking spray
1 lemon, cut into quarters
Salsa
1 cup finely chopped mango
2-3 tablespoons chopped fresh mint leaves
1 teaspoon grated fresh ginger
2 tablespoons finely chopped red onion
1⁄2 teaspoon lemon zest
1 tablespoon fresh lemon juice
1 teaspoon canola oil
1. Combine 1 tablespoon canola oil, curry, sugar, pepper, and salt. Brush over chicken and let marinate for 15 minutes.
2. Meanwhile, stir together salsa ingredients in a small bowl.
3. Coat a grill pan with canola oil cooking spray, and place over medium-high heat until hot. Add chicken, discarding any marinade. Cook chicken 4 minutes on each side or until no longer pink inside and juices run clear. Transfer to a serving platter. Squeeze lemon juice over chicken; serve with salsa.
Yield: 4 servings. Serving size: 1 chicken breast and 1⁄4 cup salsa.
Nutrient Analysis:
Calories: 205
Total fat: 7 g
Saturated fat: 1 g
Trans fat: 0 g
Cholesterol: 65 mg
Sodium: 175 mg
Total carbohydrate: 11 g
Dietary fiber: 1 g
Protein: 25 g
— Recipe used with permission from The Heart-Smart Diabetes Kitchen: Fresh, Fast, and Flavorful Recipes Made With Canola Oil (American Diabetes Association, 2009)