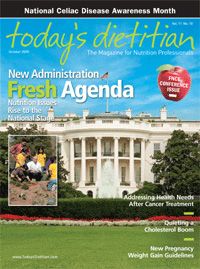 October 2009 Issue
Give 'Em Options — RDs Can Help Restaurants Cater to Gluten-Free Customers
By Lindsey Getz
Today's Dietitian
Vol. 11 No. 10 P. 10
Not long ago, most people had not heard of a gluten-free lifestyle. In fact, many probably didn't know what gluten was. Many suffered with undiagnosed celiac disease, left ill and without answers.
While many remain undiagnosed today (according to health professionals, possibly two thirds of affected individuals), it seems that an increasing number of people are joining the gluten-free movement. Elisabeth Hasselbeck's new book, The G-Free Diet: A Gluten-Free Survival Guide, and Betty Crocker's release of gluten-free dessert mixes are two results of the public's interest in gluten-free foods. Even stars such as Jennifer Aniston, who does not have celiac disease, are reportedly expressing a desire to go gluten free to lose weight and be "healthier."
With all of this focus on gluten-free lifestyles, it's no surprise that the restaurant industry has taken notice. Many restaurants are beginning to recognize the potential for attracting a whole new market. While that is fantastic news for those with celiac disease, it also raises the need for awareness of other issues—namely, that going gluten free isn't a simple feat. Restaurants that wish to add gluten-free items to their menu have much to consider, and dietitians may have new educational opportunities as a result.
Gluten Guidance
Many restaurant owners who are interested in the gluten-free movement are turning to dietitians for help—and those who aren't should be, according to celiac experts. "If a restaurant is going to offer a gluten-free menu or even highlight gluten-free menu options, they should ideally work with a dietitian who is well versed in celiac disease and the gluten-free diet," says Tricia Thompson, MS, RD, an independent nutrition consultant for celiac disease and the author of The Gluten-Free Nutrition Guide. "Restaurants must know how to read labels for gluten and prevent cross-contamination in their kitchen. They also must educate all of their staff. I've had numerous occasions where my gluten-free sorbet was served with cookies or my gluten-free entrée or salad had a piece of bread stuck in it."
Cross-contamination is perhaps one of the biggest issues challenging restaurants' ability to be truly gluten free. Restaurants without a thorough understanding of the disease may believe that simply adding gluten-free items to their menu makes them celiac friendly. Doing so will attract customers with celiac disease, says Shelley Case, RD, author of Gluten-Free Diet: A Comprehensive Resource Guide and a member of the Celiac Disease Foundation Medical Advisory Board, but the restaurant had better get it right. "The celiac community is very connected, and if someone finds what claims to be a celiac-friendly restaurant, they will tell everyone," she says. "But the restaurant then has to deliver. If diners get sick after their meal, they'll spread that news like wildfire, which can, of course, be very bad for business."
The problem is that cross-contamination can occur very easily. Restaurants may have the best of intentions and take certain precautions, but they can still make an error, says Tiffany Janes, a patient with celiac disease and the owner of Gluten Free Promotions in Atlanta. "It doesn't take much to contaminate an otherwise safe item," continues Janes, who started her gluten consulting firm when she realized restaurants were interested in—and willing to pay for—her advice. She also writes a popular gluten-free lifestyle column on Examiner.com. "For instance, some restaurants don't realize you can't cook gluten-free items in the same fryer, or even same vicinity, as the gluten items."
Melissa Pickell, RD, owner of New You Nutrition, a private practice in New Jersey, and author of the gluten-free/vegetarian cookbook Melissa's Marvelous Meatless Meals: Everyday Recipes That Are Free of Gluten, Dairy and Refined Sugar, agrees that there are countless ways cross-contamination can occur in a restaurant kitchen. "Gluten-free pasta needs to be cooked in a separate pot with new water, and grilled items have to be cooked on a totally clean surface," she says, naming only a couple of the ways contamination can occur. "Restaurants using regular flour also need to be aware that cross-contamination can easily occur when flour gets in the air or is left on surfaces."
Besides creating a safer kitchen, including a separate area for gluten-free items, Janes says the most important thing a restaurant can do is properly train its staff. It's crucial that all staff members are on board and understand the issue. "It's definitely not as easy as simply taking the croutons off of a salad," emphasizes Janes. "And while the kitchen or a chef might understand that, it's important the entire waitstaff does, too."
That's where Janes comes in, helping ensure that the entire staff is trained thoroughly—and pointing out areas where common mistakes are made. It's an opportunity that dietitians may want to consider. "There is a huge market for dietitians to consult with local restaurants who want to go gluten free," says Case. "Restaurants need someone who really understands the issue and can translate it into practical information they can apply to their operation. Any restaurant that is looking to go gluten free should seek out a dietitian who is an expert in celiac [disease] and really understands the issues involved."

Successful Changes
A variety of well-known chains already offer gluten-free menus, including Legal Sea Foods, Bonefish Grill, Carrabba's Italian Grill, and Outback Steakhouse. The problem is that the experience at these chains can vary greatly at each restaurant, depending on how the staff are trained and how kitchen operations are handled. "I have heard from clients who ate at a chain restaurant that offered a gluten-free menu, but the server didn't even know what they were talking about," says Pickell. "They were even served a salad with croutons. You can never assume anything, and you always have to be prepared."

The Outback Steakhouse in Roswell, Ga., is one location that's got gluten-free dining down pat, but it wasn't always that way. Assistant manager Julie Arens says that when she first started working there, she discovered that the restaurant offered a gluten-free menu and, out of curiosity, she asked what that meant. "There wasn't a lot of information about what this menu was or that we even offered it," she recalls. "But I found someone who could explain it to me." For Arens, the explanation set off an epiphany, and she suddenly realized why she had been getting sick for years. "I like to say that Outback saved my life," she says.
After she was diagnosed with celiac disease, Arens became determined to help the restaurant produce the necessary changes to make their gluten-free offerings safe for diners. "Here I worked for this company that wanted to do things right—evidenced by the fact that they had created a gluten-free menu as many as 10 years ago—but they just weren't doing it the right way," she says.
The Roswell location's managing partner, Thomas Propp, listened to what Arens had to say and started making some crucial changes in his kitchen. "We started out slowly," he says, "and used the gluten-free menu we already had in place. The main reason that Outback was even able to be successful at this is because we still make everything from scratch. All of our ingredients are fresh, and when I make something like a dressing, I know exactly what goes into it."
It didn't take long for word to spread that this local Outback was taking gluten-free dining seriously, and table after table of diners with celiac disease began showing up. Then one day, someone requested gluten-free coconut shrimp, and Propp said, "Let's try it!" That one item alone brought in several new tables of business the following day, leading Propp to decide to offer Outback's signature Bloomin' Onion as a gluten-free item. Little did he know it would change his whole business. "The response was enormous," remembers Arens. "People started coming from all over."
Propp says that the key to mastering gluten-free dining has been experience, which came as more customers with celiac disease began showing up. "It's definitely difficult for other restaurants that aren't getting regular gluten-free diners because they're not in practice," he admits. "Practice makes perfect, and it's something we now do every day."

Arens agrees that the regular flow of gluten-free diners has ensured that every staff member is familiar with the issue. "There is not a server, hostess, busser, or member of the kitchen staff that doesn't know what gluten free means," she says. "We have all witnessed diners come in and cry over the fact that they're eating a Bloomin' Onion, and experiencing that makes it personal for the staff. Servers get excited about having a gluten-free table because they know it's more than just serving food to those diners—it's making a difference for them."
With the success that the Roswell location was having, Propp and Arens wanted to help Outback make some necessary changes on a national level. The answer was a training video, which they helped create and is now distributed to Outback restaurants nationwide. In the video, Arens speaks about what it means to have celiac disease, what gluten is, and what it feels like for a person who has to dine gluten free. Propp focuses largely on some key training points that would make the kitchen safer, such as avoiding cross-contamination. The video doesn't get into all the "extras" that the Roswell location offers, such as the gluten-free Bloomin' Onion, but instead takes Outback's already-existing gluten-free menu and explains how it can be put into better practice.
Proper Guidance Makes It Possible
As the general public becomes more educated about the gluten-free movement and more people receive a celiac diagnosis, the demand for gluten-free dining is sure to grow alongside the need for education. This presents great opportunities for dietitians to offer their services to local restaurants and means that all RDs—whether or not they specialize in celiac disease—must stay up-to-date on the research.
There are a multitude of resources available to dietitians. Thompson suggests: "It is very important for dietitians who counsel persons with celiac disease to familiarize themselves with ADA's [the American Dietetic Association's] evidence-based nutrition practice guidelines for celiac disease. These guidelines are available free of charge to members of ADA and are available at www.adaevidencelibrary.com." Also helpful for those who need guidance on dining out is the Gluten-Free Restaurant Awareness Program, run by the Gluten Intolerance Group of North America and online at www.glutenfreerestaurants.org. This organization helps facilitate a relationship between individuals with celiac disease (and other forms of gluten intolerance) and restaurants.
While some may argue that it's impossible for restaurants to offer both gluten-containing and gluten-free items on the same menu—that the issues of cross-contamination and staff knowledge make it too difficult to accomplish—Roswell's Outback success story proves that with the right effort and much guidance, restaurants can do it. "I'm happy to say that while we may have had some small errors here and there as we got more accustomed to doing this, we have never had a major mistake that's made someone sick," reports Propp.
In addition, Pickell adds that many patients live in a household with people who do not have celiac disease and are able to make it work. "The difference is that the people in the home are properly trained," she says. "At home, we are used to doing food preparation a certain way, and it becomes a habit to follow certain guidelines and avoid cross-contamination." With the proper guidance from knowledgeable dietitians, many believe it's possible for restaurants to reach this point as well.
— Lindsey Getz is a freelance writer based in Royersford, Pa.