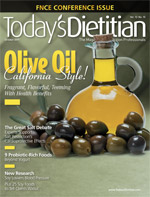 October 2011 Issue
Zucchini — The Endless Summer (Squash)
By Bryan Roof RD, LDN
Today's Dietitian
Vol. 13 No. 10 P. 90
I honestly can say my kids are good eaters. No, not at every meal, but at most, and they're willing to taste a little of everything on their way to eventually not liking anything. Green vegetables, it turns out, are like kryptonite to toddlers. Fortunately, there's zucchini. While a discussion on zucchini, also known as summer squash, may seem more suitable in, well, the summer rather than October, it actually keeps growing until the first deep chills of fall. Even after that, most people will seek it out year round regardless of seasonality, especially those with children, because it's uncomplicated and easy to cook.
You can eat zucchini raw or shaved thin in a salad. Restaurant chefs praise its yellow-orange flower blossoms in the summer, which they often stuff and steam or—gasp—fry! But truth be told, zucchini is a watery beast, and rather bland at that. This blandness does little to interrupt a child's sophisticated Play-Doh-loving palate, but it leaves something to be desired for more adventurous eaters. Nonetheless, zucchini has something to offer everyone when correctly prepared. I begin by selecting medium-size zucchini since they tend to contain less water and fewer seeds than large varieties. To cook it, I turn to the grill, where the high heat caramelizes its natural sugars. And finally, I pair it with bold flavors to give it legs. The trick with zucchini is to treat it as simply as possible. Kind of like a toddler.
— Bryan Roof, RD, LDN, is a chef, dietitian, and food writer living in Boston.
Grilled Zucchini With Mint and Feta
Serves 4 as a side dish
Ingredients
4 medium zucchini, each sliced lengthwise into 3 planks
2 T extra-virgin olive oil
1/4 tsp kosher salt
1/4 tsp pepper
2 oz feta cheese, crumbled (1/2 cup)
1/4 cup fresh mint leaves, sliced thin
Lemon wedges for garnish
Directions
Heat grill to medium-high. Toss zucchini with 1 T of oil, salt, and pepper. Grill zucchini until well browned all over, 3 to 5 minutes per side. Transfer zucchini to platter, and top with cheese and mint. Drizzle with remaining T of oil, and serve with lemon.
Nutrient Analysis per serving
Calories: 130; Total fat: 10 g: Sat fat: 2.5 g; Tran fat: 0 g; Cholesterol: 5 mg; Sodium: 310 mg; Total carbohydrate: 7 g; Dietary fiber: 2 g; Sugars: 4 g; Protein: 5 g