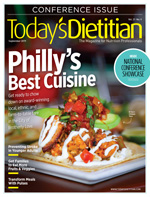 September 2019 Issue
Philly's Best Cuisine — So Much More Than Cheesesteaks
By Carrie Dennett, MPH, RDN, CD
Today's Dietitian
Vol. 21, No. 9, P. 18
If you're headed to FNCE®, peruse this dining guide for critically acclaimed, award-winning restaurants to visit that are sure to satisfy a diversity of palates.
Who doesn't think of Philadelphia and think of cheesesteaks and soft pretzels? While these Philly favorites are worth sampling, to get the full picture of the city's food scene, you need to think about farms (both urban and rural) and food halls, melting pots and James Beard winners, artisan butchers and inventive vegan cuisine. And then there's the growing craft beer and distillery culture.
"Philadelphia has an amazing food scene," says Philadelphia dietitian Erin McNamara, RDN, LDN, CLT, owner of Erin Dishes Nutrition. "What makes it stand out is the diversity among each neighborhood. Even though Philly is a large city, each neighborhood has a small-time charm."
To help guide your taste buds and your stomach while you're in town for the Food & Nutrition Conference & Expo™ (FNCE®), Today's Dietitian talked to Philly-area dietitians and sleuthed out what top food reviewers had to say about this emerging foodie paradise.
Local Favorites
Now, about those cheesesteaks. "You can't come to Philly and not experience the city's favorite food," says New Jersey corporate health and wellness coach Mandy Enright, MS, RDN, RYT, who spends a lot of time exploring the Philly food scene. "The greatest citywide debate is between Pat's (www.patskingofsteaks.com, 1237 E. Passyunk Avenue, Philadelphia, 215-468-1546) and Geno's (www.genosteaks.com, 1219 S. 9th Street, Philadelphia, 215-389-0659). There are not a lot of options on the menu (basically just cheesesteaks and fries), but what they do, they do exceptionally well," she says. "The biggest difference between the two is Pat's slices its steaks while Geno's chops." For a true Philadelphia experience, Enright says you need to get it with Cheez Whiz—just forget about nutrition for a moment—and, to order like a true Philadelphian, ask for "Whiz wit" or "Whiz wit out" (wit means "with onions"). They accept cash only, and be prepared to wait. For a slightly closer option, Enright suggests Jim's Steaks South Street (www.jimssouthstreet.com, 400 South Street, Philadelphia, 215-928-1911), or, for chicken and vegetarian options, try Tony Luke's (www.tonylukes.com, several locations, including 39 E. Oregon Avenue, Philadelphia, 215-551-5725).
Old Original Bookbinders was a beloved Philly institution that shuttered its doors in 2009, but it was revived in 2015 by James Beard Award–winning Iron Chef Jose Garces as The Olde Bar, a contemporary oyster bar (http://theoldebar.com, 125 Walnut Street, Philadelphia, 215-253-3777). Another celebrity chef, Michael Solomonov, is one of the founders of Federal Donuts (www.federaldonuts.com, several locations, including 1632 Sansom Street, Philadelphia, 215-665-1101), uber-popular for its twice-fried chicken and fresh baked cake donuts, enhanced by Middle Eastern spice mixes. "Somehow, it works!" says Philadelphia dietitian Angela Grassi, MS, RDN, LDN, owner of the PCOS Nutrition Center.
Markets, Neighborhoods, and Food Halls
With a group, and can't agree on a restaurant? Head to a food hall. Reading Terminal Market (https://readingterminalmarket.org) has occupied its National Historic Landmark building since 1893 and is directly adjacent to the Convention Center. "This is a great place to duck out of the convention for a quick bite and great experience," Grassi says. "It's definitely one of my spots to take out-of-town visitors."
But with more than 50 food vendors, how to choose? McNamara recommends Philly favorite DiNic's (http://tommydinics.com) for its roast pork sandwich: "How can you go wrong with roasted pork, provolone, and broccoli rabe on a crusty hoagie roll?"
Need a sweet treat? "Every stand has something unique and delicious to offer, but if you have to pick one, a donut from Beiler's (www.beilersdoughnuts.com) is a must," says Minneapolis-based Lizzie Streit, MS, RDN, LD, whose hometown is Philadelphia.
The Bourse (https://theboursephilly.com, 111 S. Independence Mall E., Philadelphia) is an artisanal food hall in what was once the nation's first commodities exchange market, and Chinatown Square (https://chinatownsq.com, 1016 Race Street, Philadelphia) offers curry, ramen, bibimbap, and more from 10 vendors.
If you want to see what's trendy, make a trip to Fishtown. Enright says, "This is Philly's newest up-and-coming neighborhood, with restaurants like Wm. Mulherin's Sons (http://wmmulherinssons.com, 1355 N. Front Street, Philadelphia, 215-291-1355) and Heritage (see "From the Farm to Your Table"), and amazing breweries like Evil Genius (http://evilgeniusbeer.com, 1727 Front Street, Philadelphia, 215-425-6820) and Yards (https://yardsbrewing.com, 500 Spring Garden Street, Philadelphia, 215-525-0175)."
Streit recommends Liberty Kitchen (www.libertykitchenphl.com, 1244 N. Front Street, Philadelphia, 215-309-2241), a market and deli with hoagies, salads, and fast-casual meals made from local ingredients, opened by the owners of Brine Street Picklery (brinestreetpicklery.com). "Be sure to pick up a jar of their zing beans (spicy pickled green beans) if you're there!" Fishtown is also home to the La Colombe flagship store (www.lacolombe.com, 1335 Frankford Avenue, Philadelphia, 267-479-1600). "If you're familiar with La Colombe coffee, then you know it's the best!" Streit says. "The pastries are fantastic, and the draft latte can't be beat!"
Enright suggests walking along the Italian Market (www.italianmarketphilly.org, 919 S. 9th Street, Philadelphia, 215-278-2903), America's oldest continuously operating outdoor market, which runs several blocks along 9th Street in South Philly. If you want to sit down and dine, she recommends Villa di Roma (www.villadiroma.com, 936 S. 9th Street, Philadelphia, 215-592-1295) for classic Italian dishes done well—"best Italian food in the Italian Market," she says. Reservations are recommended.
Patricia Ziegenhorn, MS, RDN, works for Aramark in Atlanta but travels to Philadelphia monthly for work. She points to the small chain of restaurants near the Convention Center that helped revitalize 13th Street. "Grocery (http://grocery13.com, 101 S. 13th Street, Philadelphia, 215-922-5252) has excellent takeout, Bud and Marilyn's (http://budandmarilyns.com, 1234 Locust Street, Philadelphia, 215-546-2220) excellent 1950s with a twist, Jamonera (http://jamonerarestaurant.com, 105 S. 13th Street, Philadelphia, 215-922-6061) excellent Spanish tapas. Right next door to Bud and Marilyn's is their Italian restaurant Little Nonna's (http://littlenonnas.com, 1234 Locust Street, Philadelphia, 215-546-2100)." The restaurant group also includes Lolita (www.lolitaphilly.com, 106 S. 13th Street, Philadelphia, 215-546-7100), which offers Mexican cuisine, and the Mediterranean-inspired Barbuzzo (http://barbuzzo.com, 110 S. 13th Street, Philadelphia, 215-546-9300).
Philadelphia Stars
Looking for something really special? McNamara calls Laurel (www.restaurantlaurel.com, 1617 E. Passyunk Avenue, Philadelphia, 215-271-8299) a must. "This is owned by Top Chef winner Nicholas Elmi, and another Top Chef alum heads the kitchen. It's small and intimate with a six- or nine-course seasonal menu." Eater, a website that provides food news and dining guides for major US cities, says Elmi's French-influenced cooking is "intricate, refined, and inventive, with each dish a graceful balance of flavors." It's BYOB with no corkage fee, although they do offer a full wine list and cocktails. Reservations are needed. For an easier-to-get-into Elmi restaurant, try Royal Boucherie (www.royalboucherie.com, 52 S. 2nd Street, Philadelphia, 267-606-6313), a lively French-American brasserie in Old City. The locally sourced menu gives you the option of drinks and nibbles, a burger and beer, or four courses with wine pairings. Eater recommends the outstanding housemade charcuterie.
Pittsburgh-based Jessica DeGore, RD, LDN (www.dietitianjess.com), is a fan of Serpico (https://serpicoonsouth.com, 604 South Street, Philadelphia, 215-925-3001), which received the James Beard Award for Best New Restaurant in 2009 and continues to receive high praise for its imaginative and daring dishes, especially the raw diver scallops. Chef Peter Serpico is the former head of David Chang's Momofuko restaurant empire, and he co-owns Serpico with acclaimed restaurateur Stephen Starr. Eater suggests trying to get a seat at the chef's counter circling the open kitchen to watch the cooks making gorgeous Asian-influenced plates such as dry-aged sirloin tataki and Japanese eggplant with pistachio and feta mousse. There are many vegan entrées on the menu. Reservations are needed.
Chad and Hanna Williams ditched everything but the name at Friday Saturday Sunday (www.fridaysaturdaysunday.com, 261 S. 21st Street, Philadelphia, 215-546-4232) when they took over and revamped this 40-year-old Rittenhouse Square institution. Enjoy what Eater calls "imaginative new American fare" in the second-floor dining room or a creative cocktail at the street-level bar. Another Rittenhouse favorite, Vernick Food & Drink (www.vernickphilly.com/vfd, 2031 Walnut Street, Philadelphia, 267-639-6644), serves up new American dishes from chef Greg Vernick, named Best Chef: Mid-Atlantic by the James Beard Foundation on the restaurant's fifth anniversary in 2017. Bon Appétit praised the "honest, compelling food made with great ingredients and cooked with genuine soul." Eater recommends starting with a glass of orange wine and one of the toasts, such as the scallop with black truffle butter or the cheese and pickled kumquats. Reservations are highly recommended.
The popularity of Fork (https://forkrestaurant.com, 306 Market Street, Philadelphia, 215-625-9425) in Old City, with its sophisticated vibe and locally sourced, modern American fare, is going strong two decades in. Owner Ellen Yin was a finalist for the James Beard Outstanding Restaurateur award this year, and Chef Eli Kulp was Food & Wine magazine's best new chef in 2012. "This is a Philly classic," Grassi says. "Really good food, open kitchen. You can't go wrong." Make a dinner reservation or head here for the Sunday brunch. There are many vegan entrées. For another Philly classic, visit Vetri Cucina (https://vetricucina.com/restaurant, 1312 Spruce Street, Philadelphia, 215-732-3478), one of the country's best Italian restaurants. Eater says 20 years after the restaurant opened, it "shows its age like a fine wine," and that every course of the tasting menu–only meal provides an example of what modern Italian food aspires to be. Grassi credits James Beard Award–nominated Chef Marc Vetri with launching Philly toward food mecca status. "What I love about Vetri Cucina is its intimate dining room and amazing fresh authentic Italian food," she says. Vetri Cucina sources much of its food locally, and the grains used in its pastas, breads, and pastries are house-milled and sustainably grown. Reservations are needed.
"The food is good, but the atmosphere is amazing," McNamara says about Parc (https://parc-restaurant.com, 227 S. 18th Street, Philadelphia, 215-545-2262). "Want to feel like you've been transported to Paris? Grab a table here and enjoy delicious baguettes and cheese while sipping wine and people watching," she says. Parc's ode to French café culture includes a menu with classics like onion soup, steak frites, and towering platters of fruits de mer (seafood). McNamara also recommends the Mediterranean bistro and cocktail bar Spice Finch (www.spicefinchphilly.com, 220 S. 17th Street, Philadelphia, 215-309-2238) from Top Chef alum Jennifer Carroll. "The Mediterranean-inspired small plates are amazing!" Many of the dishes—inspired by the spices and herbs of the Mediterranean region—are vegetable centric.
For an upscale entry to the restaurant universe of Garces, visit Volvér (http://philadelphia.volverrestaurant.com, 300 S. Broad Street, Philadelphia, 215-670-2302). This test kitchen for the Garces Group offers 18-course global tasting menus, as well as à la carte options. Much of the produce comes from Garces' Luna Farm, a sustainable, organic 40-acre plot in Ottsville, Pennsylvania, named for his family's dog. Reservations are needed. Zahav (www.zahavrestaurant.com, 237 St. James Place, Philadelphia, 215-625-8800) is universally recommended, but it's all-but-impossible to get a reservation—and a chance to glimpse Chef Michael Solomanov in the kitchen—especially since being named this year's Best Restaurant in America by the James Beard Foundation. "I love the homemade hummus and warm laffa bread made in their wood-fired oven," Grassi says.
She isn't alone. Eater says "the real showstopper is the pomegranate lamb shoulder, but even something as simple—and now ubiquitous—as hummus is genuinely eye-opening here." No reservation? Try to get a seat at the bar when they open at 5 PM—you still get the full menu.
Dining Around the World
Attempt and fail to make a reservation at Zahav, and Abe Fisher (http://abefisherphilly.com, 1623 Sansom Street, Philadelphia, 215-867-0088) will pop up as an alternative. Chef Yehuda Sichel was Michael Solomonov's sous chef at Zahav for several years. "Dubbed contemporary Jewish food, the plates here are super creative as well as delicious," McNamara says. "You may need to be a little more adventurous for this one, but it's worth it." Eater says Sichel's cuisine will give any diner an entirely new appreciation of the genre, from the potato latkes to the veal schnitzel tacos, to the Montreal-style smoked short ribs, which take pastrami to a whole new level.
For inventive Asian-Jewish fare (think brisket ramen with matzo balls and coconut-curry ramen) try Cheu Fishtown (www.cheufishtown.com, 1416 Frankford Avenue, Philadelphia, 267-758-2269), housed in a former horse stable. Reservations are recommended, but they save room for walk-ins. By day, Michael Schulson's Double Knot (www.doubleknotphilly.com, 120 S. 13th Street, Philadelphia, 215-600-0714) is a street-level coffee shop serving build-your-own Vietnamese-inspired sandwiches and bowls. At night, the main floor becomes a bar, while below-ground rooms offer a Japanese menu of sushi, dumplings, and skewers. For delicious, authentic Vietnamese food at a reasonable price and just a short walk from the Convention Center, Enright recommends the Chinatown location of Vietnam Restaurant (http://eatatvietnam.com/restaurant, 221 N. 11th Street, Philadelphia, 215-592-1163), which offers inventive vegetable cooking and a bar featuring natural wines, plenty of craft beers, and a creative cocktail list.
DeGore particularly recommends Garces' first restaurant, Amada (http://philadelphia.amadarestaurant.com, 217-219 Chestnut Street, Philadelphia, 215-625-2450), which serves authentic Andalusian tapas along with custom cocktails named after Pedro Almodóvar films, a gin and tonic bar, sangria, and an extensive selection of Spanish wine. DeGore and McNamara like Garces' Tinto (https://philadelphia.tintorestaurant.com, 114 S. 20th Street, Philadelphia, 215-665-9150), a cozy tapas restaurant with small plates inspired by the Basque country of northern Spain. House specialties include duck montadito (crostini), shrimp and chorizo brochettes (skewers), short ribs bocadillo (finger sandwiches), and a 60-bottle wine list from the Basque region. Craving modern, authentic, fresh Mexican food? Try Garces' Distrito (http://philadelphia.distritorestaurant.com, 3945 Chestnut Street, Philadelphia, 215-222-1657), which celebrates the cuisine of Mexico City with tacos, burritos, enchiladas, hurachitos, starters, and sides … and Mexican poutine. It has a full bar with 100-plus tequilas. All three restaurants offer several vegetarian options, as well as amazing 5 to 7 PM happy hours. For Mexican fast casual, try Buena Onda (http://buenaondatacos.com, 1901C Callowhill Street, Philadelphia, 215-302-3530), which means "good vibes," with fresh tacos and margaritas in a laid-back, beach-bum décor. Order-ahead carryout is available.
DeGore likes the "Mex-eclectic" El Vez (https://elvezrestaurant.com, 121 S. 13th Street, Philadelphia, 215-928-9800), which marries authentic Mexican cuisine of Tijuana with unexpected, Las Vegas–worthy interpretations of those classics—plus one of the biggest tequila selections in the city. There are several vegetarian options, including cauliflower tacos. Reservations are recommended.
A three-level restaurant (lounge, mezzanine, and rooftop patio) with a Mad Men vibe, The Continental Mid-Town (https://continentalmidtown.com, 1801 Chestnut Street, Philadelphia, 215-567-1800) offers a diverse menu with Asian, Mediterranean, and Latin influences, including grilled pizza, a bulgogi bowl, and braised short ribs with refried beans. There are vegetarian options and retro cocktails. A block away, The Dandelion (https://thedandelionpub.com, 124 S. 18th Street, Philadelphia, 215-558-2500) offers seasonal interpretations of British cuisine in a sophisticated pub setting.
If you're seeking Mediterranean cuisine, Kanella Grill (www.kanellarestaurant.com, 1001 Spruce Street, Philadelphia, 267-928-2085) offers a short, seemingly simple Greek Cypriot menu, yet Eater calls the flavors of Konstantinos Pitsillides' grilled pork, chicken and halloumi kebabs, lamb shawarma, and falafel addictive. Enjoy with a sage-infused lemonade, or bring along a bottle of wine—the restaurant is BYOB. For Lebanese fare, swing by Suraya (https://surayaphilly.com, 1528 Frankford Avenue, Philadelphia, 215-302-1900), a sprawling all-day market, daytime café, and nighttime restaurant in Fishtown that was Philadelphia magazine's Best New Restaurant of 2018. There's a long bar inside and a large garden out back for outdoor dining. Try man'oushe—Lebanese flatbread—for lunch, kebabs and grilled fish for dinner, or a rose-pistachio cruller anytime.
From the Farm to Your Table
Cadence (www.cadencerestaurant.com, 161 W. Girard Avenue, Philadelphia, 215-419-7537) was Food & Wine's pick for Best New Restaurant of 2019: "Simple pleasures and serious food are the point here at Cadence. And for once, you don't have to choose between them." Eater calls dishes like tuna crudo with caramelized yogurt and pork with leek fondue "creative new American fare." Reservations are strongly recommended. The restaurant is BYOB, and you can visit Bottle Bar East (www.bottlebareast.com, 1308 Frankford Avenue, Philadelphia, 267-909-8867), a takeout retail shop and innovative gastropub specializing in beer, wine, cocktails, and food, to choose from the Cadence wine collection.
From its sleek industrial digs in Fishtown, Kensington Quarters (www.kensingtonquarters.com, 1310 Frankford Avenue, Philadelphia, 267-314-5086) works directly with small, local farms to source its whole animals, heritage grains, seasonal produce, local dairy, and artisanal products. The menu includes lots of meat-centric dishes such as burgers, sausages, and the not-to-miss charcuterie, as well as some intriguing meatless options. Similarly, Enright calls Fishtown's Heritage (https://heritage.life, 914 N. 2nd Street, Philadelphia, 215-627-7500) a "great spot with something for everyone, meat eaters to vegans." The seasonal, "modern-rustic," locally sourced menu pairs nicely with the 30 rotating craft beers on tap.
Closer to the Convention Center, Talula's Daily (https://talulasdaily.com, 208 W. Washington Square, Philadelphia, 215-592-6555) is a café by day, offering coffee, local artisanal groceries, fresh-baked bread, and grab-and-go breakfasts and lunches. By night, it's a supper club accepting reservations. Next door is Talula's Garden (https://talulasgarden.com, 210 W. Washington Square, Philadelphia, 215-592-7787), which offers Mid-Atlantic cuisine with a light and modern touch. "After a long day of workshops and exhibits, Talula's Garden is the ideal place to unwind due to its airy setting in Philly's Washington Square with a large outdoor patio," Grassi says. "Enjoy unique farm-to-table eats based on what's in season from chef Aimee Olexy."
Enright agrees, adding one detail: "For all my fellow cheese lovers out there, they have a cheese bar!" You can also find an amazing cheese plate at another Olexy/Stephen Starr partnership, The Love (https://theloverestaurant.com, 130 S. 18th Street, Philadelphia, 215-433-1555). The fried chicken, the whole smoke-roasted branzino, and the expansive bar get raves.
Casual, Elevated
High Street on Market (https://highstreetonmarket.com, 308 Market Street, Philadelphia, 215-625-0988) is an all-day neighborhood restaurant and bakery located in Old City. Stop in for a morning pastry or breakfast sandwich, or grab a seasonal salad or sandwich on fresh-baked bread for lunch. At dinner, High Street offers seasonal New American cuisine from the open kitchen, using ingredients from local farmers and producers. The bar offers Pennsylvania spirits, local beer, and American natural wines, as well as alcohol-free cocktails. Bon Appétit named High Street its No. 2 restaurant for 2014, saying, "The 'Best Grilled Cheese Ever,' served on housemade roasted potato bread, delivers on its inflated claim."
The Good King Tavern (https://thegoodkingtavern.com, 614 S. 7th Street, Philadelphia, 215-625-3700) offers fantastic wines, friendly service, and expertly prepared French bistro fare, all in a relaxed neighborhood spot that Eater calls "effortlessly cool enough to draw diners in from far and wide." Named for Garces' favorite spirit, Village Whisky (https://philadelphia.villagewhiskey.com, 118 S. 20th Street, Philadelphia, 215-665-1088), has a casual menu that includes what has been called the country's best burger (they have a veggie burger, too), along with more than 200 whiskeys. Walk-ins only.
Plants Forward — Way Forward
Need to squeeze in a quick, healthful, delicious bite between educational sessions and trips to the Expo Hall? DeGore recommends HipCityVeg (https://hipcityveg.com, several locations, including 121 S. Broad Street, Philadelphia, 267-296-9001, and 127 S. 18th Street, Philadelphia, 215-278-7605). Its fast food–inspired menu is 100% vegan, with fresh, often local and organic ingredients. It serves burgers, sandwiches, salads, sides, and breakfast options, too. Similarly convenient for a tasty, healthful, grab-and-go lunch is sweetgreen (www.sweetgreen.com, several locations, including 924 Walnut Street, Philadelphia, 215-454-6770; 1601 Market Street, Philadelphia, 215-447-7200; and 1821 Chestnut Street, Philadelphia 215-665-9710), offering salads and bowls using seasonal ingredients with an emphasis on those locally sourced. There are vegan options, and you can order ahead with their app. Need even more quick plant-forward and vegan-friendly options? "Whole Foods in the Fairmount neighborhood (2101 Pennsylvania Avenue, Philadelphia, 215-557-0015) has a huge dining area with multiple restaurants," DeGore says.
At Vedge (www.vedgerestaurant.com, 1221 Locust Street, Philadelphia, 215-320-7500), James Beard–nominated husband-and-wife chefs Rich Landau and Kate Jacoby offer what Bon Appétit calls "vegan food that the whole world can love." Food & Wine magazine went so far as to call it one of the 40 most important restaurants of the last 40 years. "This is Philly's top-rated vegan restaurant, and even my meat-loving husband and his friends rave about this spot," Enright says. "The menu changes with the season, but they have some year-round staples to enjoy."
Eater says Vedge is one of Philly's best restaurants, period, and the best meat-free restaurant in America, where "the focus is on vegetables, treated with reverence and sophistication."
McNamara recommends the rutabaga fondue. "I swear it's one of the most delicious nondairy 'cheeses' I've ever had," she says.
Streit says get a reservation—and don't forget dessert—but if tables in the dining room are booked, a few high-tops and bar seats are available for walk-ins. California-based Jill Nussinow, MS, RDN, The Veggie Queen, enjoyed Vedge during a Philly eating tour. "The food and atmosphere were both amazing. I ate at the bar, and it was still fantastic."
Nussinow also recommends Soy Café (http://mysoycafe.com, 630 N. 2nd Street, Philadelphia, 215-922-1003) for its "great vegan food that is very nourishing. As high end as Vedge is, Soy Café is low key, and the owner, Alice Leung, really cares." The expansive menu includes wraps, vegan mac n' cheese, and smoothies using housemade soymilk. Stock (www.stockphilly.com, 308 E. Girard Avenue, Philadelphia, 215-425-5307, and 1935 Chestnut Street, Philadelphia, 215-988-9480), Tyler Akin's modern little BYOBs—the original in Fishtown and the fast-casual location in Rittenhouse—offer an exciting range of Southeast Asian dishes, from pho and banh mi to Cambodian pork dip and Lao-style coconut curry soup. The chicken pho is delicious, but so is the "meaty" mushroom version. Both locations offer many dishes that happen to be vegan, and others that can be prepared vegan upon request. Walk-ins only.
— Carrie Dennett, MPH, RDN, CD, is the nutrition columnist for The Seattle Times, owner of Nutrition By Carrie, and author of Healthy for Your Life: A Holistic Guide to Optimal Wellness.