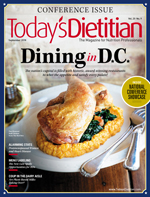 September 2018 Issue
Ask the Expert: Counseling Clients From Diverse Cultures
By Toby Amidor, MS, RD, CDN
Today's Dietitian
Vol. 20, No. 9, P. 10
Q: How can RDs help clients from various cultural backgrounds consume a well-balanced diet?
A: If you look at many meal plans RDs create, grilled chicken, steamed broccoli, and brown rice are without a doubt on the menu. However, because the United States is a mecca of cultural diversity, a one-size-fits-all approach is no longer appropriate. By educating ourselves and being sensitive to the needs, desires, and challenges of clients from a variety of cultural backgrounds, RDs can more effectively counsel them to improve their diets.
The Statistics
There were nearly 326 million people in the United States as of July 2017,1 and almost 1.2 million people were estimated to legally and permanently immigrate to the United States in 2016. Close to 43% of these immigrants came from the Americas (eg, the Caribbean region, Central America, South America), 39% from Asia, about 10% from Africa, and roughly 8% from Europe.2 The top five countries of origin of US immigrants are Mexico, India, China, the Philippines, and El Salvador.3
Eating Patterns
The 2015–2020 Dietary Guidelines for Americans (DGA) is the first edition of the DGA to recognize the importance of healthful eating patterns over individual healthful foods. Although cultural diversity isn't explicitly addressed, the DGA exemplify how RDs easily can use the eating patterns as templates for a healthful diet that includes culturally appropriate foods. However, before RDs make these recommendations, they must be culturally competent regarding the populations they work with and be able to identify barriers to health within these cultures.
Cultural Competency
Dietetics professionals must be able to identify and address cultural characteristics and preferences of ethnic groups to provide optimal care to clients.4 This equates to not only having an understanding of beliefs and behaviors of the culture but also being able to reflect on one's own attitudes, values, skills, and attributes that may impede interactions with another culture. According to Transcultural C.A.R.E. Associates, an organization that offers cultural competence consulting to health care providers, the following are the five constructs of cultural competency that health care professionals should strive to achieve5:
Cultural awareness: Self-reflect on one's own biases towards other cultures.
Cultural encounters: Engage in cultural interactions to better understand the culture and eliminate stereotyping.
Cultural knowledge: Use reputable sources to develop an understanding of diverse groups, including health-related practices, cultural values, and common diseases.
Cultural skill: Provide a culturally tailored assessment of clients.
Cultural desire: Have a genuine interest in understanding the culture(s) you work with, as opposed to making it a task.
Identifying Barriers to Health
With the United States' diverse population and wide variety of cultural cuisines (even when clients originate from the same country), practitioners must get to know their clients, including meal and snack patterns, food likes and dislikes, and cooking styles. RDs also must identify cultural food and health beliefs to be able to develop a rapport with individuals they counsel.
Recommendations for Practitioners
When RDs work with culturally diverse populations, the following are good practices:
Build a rapport with clients, showing an understanding of their foods, culture, and ingredients.
Conduct extensive research on countries of origin to determine influences on unhealthful dietary practices.
Use motivational interviewing to empower clients to work with you to make joint decisions, which respects clients' individual needs and preferences. This includes asking open-ended questions, providing clients with affirmations, reflective listening, and summaries of discussions.
Develop culturally appropriate assessment forms to help identify barriers to healthful eating within the population.
— Toby Amidor, MS, RD, CDN, is the founder of Toby Amidor Nutrition (http://tobyamidornutrition.com) and a Wall Street Journal best-selling author. Her four cookbooks are Smart Meal Prep for Beginners, The Easy 5-Ingredient Healthy Cookbook, The Healthy Meal Prep Cookbook, and The Greek Yogurt Kitchen. She's a nutrition expert for FoodNetwork.com and a contributor to US News Eat + Run, Muscle&Fitness.com, and MensJournal.com.
References
1. QuickFacts: United States. United States Census Bureau website. https://www.census.gov/quickfacts/fact/table/US/PST045217. Updated July 1, 2017. Accessed July 20, 2018.
2. Legal immigration to the United States, 1820-present. Migration Policy Institute website. https://www.migrationpolicy.org/programs/data-hub/charts/Annual-Number-of-US-Legal-Permanent-Residents?width=850&height=850&iframe=true. Accessed July 20, 2018.
3. Largest U.S. immigrant groups over time, 1960-present. Migration Policy Institute website. https://www.migrationpolicy.org/programs/data-hub/charts/largest-immigrant-groups-over-time?width=900&height=850&iframe=true. Accessed July 20, 2018.
4. Miller A, Brown-Riggs C. Ethnic disparities in diabetes care. Today's Dietitian. 2016;18(11):48-55.
5. The process of cultural competence in the delivery of healthcare services. Transcultural C.A.R.E. Associates website. http://transculturalcare.net/the-process-of-cultural-competence-in-the-delivery-of-healthcare-services/. Accessed July 14, 2018.