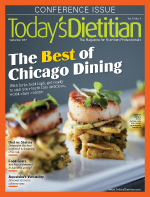 September 2017 Issue
Aquafaba's Versatility
By Jessica Levinson, MS, RDN, CDN
Today's Dietitian
Vol. 19, No. 9, P. 36
Instead of pouring aquafaba down the drain, clients can put it to good use in many of the foods they enjoy.
Canned beans are a staple of most pantries, but if dietitians ask clients what aquafaba is, there's a good chance they won't know. That's because for years RDs have advised people to drain and rinse their canned beans. But recently that recommendation has changed as the popularity of bean juice, otherwise known as aquafaba, has skyrocketed.
History of Aquafaba
The ability to cook and bake with the liquid from canned beans was discovered only two years ago by Goose Wohlt, a vegan American software engineer who was attempting to create eggless meringues for his mother's Passover seder. Wohlt found that the liquid from garbanzo beans, or chickpeas, could be whipped and used as an egg replacer. He called the bean liquid aquafaba, a combination of the Latin words aqua (water) and faba (beans). Out of nowhere, a trend to use the liquid from cooked beans of all kinds was born.
In short time, the humble chickpea liquid has grown in fame among vegan bakers, home cooks, and chefs alike. Cookbooks devoted to this "miracle ingredient," as some have called it, are hitting bookshelves; food bloggers are developing new aquafaba-based recipes; and well-known chefs such as Dan Barber are starting to incorporate aquafaba into their restaurant dishes. Even bartenders are using this vegan ingredient in place of egg whites to add a foamy top to cocktails.
While there aren't many commercial products made with aquafaba just yet, it's only a matter of time before more of them will take up space on grocery store shelves. Leading the charge in that domain is Fabanaise, a vegan mayonnaise made with aquafaba produced by Sir Kensington, a condiment manufacturer.
Nutrition and Culinary Uses
The balance of starch and protein in aquafaba is responsible for its ability to be used in several ways. However, it isn't a powerhouse nutritionally. Each tablespoon of aquafaba has roughly 3 to 5 kcal and trace amounts of carbs, protein, fat, vitamins, and minerals.
Despite its minimal nutrition profile, RDs enjoy cooking and baking with aquafaba for many reasons. Gretchen F. Brown, RD, a culinary nutritionist in Oakton, Virginia, likes using aquafaba "because eggs are a common allergy, so it's nice to have a delicious and easy way to make traditionally egg-based desserts safe for everyone."

Emily Kyle, MS, RDN, owner of Emily Kyle Nutrition, uses aquafaba "to reduce food waste and because of the unique plant-based cooking and baking properties [it] offers." A popular topic on food blogs, decreasing food waste is a huge issue for restaurants, supermarkets, and farms. Using aquafaba helps reduce food waste because "you're utilizing a part of the food that traditionally gets discarded," Kyle says.
Making use of an ingredient that would otherwise be poured down the drain is wonderful, but keep in mind that for some people beans can cause intestinal distress and gas. These side effects are due to the presence of oligosaccharides, complex sugars that are difficult to digest because humans don't produce the enzyme required to properly break down these sugars. Studies have shown that soaking and cooking beans reduces the oligosaccharides that leach into the soaking and cooking water—which is what we now call aquafaba. As a result, aquafaba is the gaseous part of beans, which can be problematic for some clients.
This raises the question "should clients who are sensitive to bean sugars use aquafaba?" The simple answer is no. However, Serena Ball, MS, RD, a food writer and owner of Teaspoon Communications, a food-focused nutrition communications organization in St. Louis, who blogs about Healthy Kitchen Hacks at TeaspoonOfSpice.com, says that "if the total amount of aquafaba used in a whole recipe is three tablespoons, the amount in an individual serving is very small" and may not cause a gaseous response.
Since aquafaba acts much like eggs and egg whites, it's used as a binder, thickener, and emulsifier in a variety of recipes. Unlike other ingredients that have been used as egg replacements, such as applesauce, mashed bananas, and prunes, aquafaba can be whipped into soft or stiff peaks, thereby making it a vegan substitute for meringues, mousse, custards, and whipped cream. It can even be added to pancake and waffle batter for a lighter, fluffier end result.
Brown, who loves making baked meringues with aquafaba, plans to try her hand at a quick chocolate mousse, which she says "requires no baking and no worries about foodborne illness from uncooked eggs. That's a win-win."
When using aquafaba as an egg replacement, roughly three tablespoons is equivalent to one whole egg, and two tablespoons is equivalent to one egg white. If using aquafaba as a binder or to replace whole eggs, as in a quiche or most baked goods, it should be slightly whipped with a fork just until it's foamy. "Baked goods using aquafaba don't always brown as deeply as those using an egg, but the texture is often very similar," Ball says.
When using aquafaba to replace egg whites in recipes such as meringues, macaroons, and mousses, it should be whipped with a small amount of cream of tartar, lemon juice, or vinegar for five to 10 minutes until stiff peaks form. The addition of cream of tartar or other acids helps stabilize the whipped aquafaba, Ball says.
Putting Aquafaba to the Test
Aquafaba is an ingredient all clients can use, but it's especially useful for those who follow a vegan diet or have an egg allergy or intolerance. Clients can look on Pinterest or do a Google search for a multitude of recipes to try. While many aquafaba recipes are for desserts and on the sweeter side, there are savory applications, too. For example, clients can add aquafaba to homemade hummus in place of some oil, or use it to make vegan mayonnaise, various sauces, crepes (which can have savory fillings), and even pasta dough.
When discussing the use of aquafaba with clients, recommend no-salt-added or low-sodium canned beans. If reduced-sodium beans aren't available, Ball recommends using only one-half the amount of salt specified in the recipe to keep sodium levels down. As with other baked goods, it's also important to reduce the total amount of added sugars—usually the sugar can be reduced by one-fourth, sometimes by one-half. And don't forget to remind clients of all the ways they can put beans to use.
— Jessica Levinson, MS, RDN, CDN, is a New York-based culinary nutrition expert and recipe developer. You can read more of her articles and find her recipes at JessicaLevinson.com.

Recipes
Beet & Apple Salad in an Edible Walnut Salad Bowl
Serves 2
Ingredients
Edible Walnut Bowl
11/2 cups walnuts
1/4 cup ground flaxseeds
6 pitted dates
2 T aquafaba
Pinch of salt
1/2 tsp coconut oil
Salad
3 cups spring mix greens
1 apple, diced
1 beet, diced or spiralized
1/4 cup dried cranberries
1/4 cup walnuts
1/2 cup balsamic vinaigrette
1 tsp whole flaxseeds
Directions
1. Preheat oven to 400° F.
2. In a food processor, add the walnuts, ground flaxseeds, pitted dates, and salt. Pulse until the ingredients begin to come together to a fine consistency.
3. While the food processor is still running, very slowly pour in the aquafaba. Pulse for another 60 seconds before removing mixture from the processor.
4. Divide the mixture in half and place each half on a separate sheet of parchment paper. Roll each half into balls.
5. Lightly coat a nonstick rolling pin with a dab of coconut oil. With the rolling pin, quickly flatten out the ball. (Note: You don't want to overwork this. Use the rolling pin to get the basic flat shape, but then use hands to get the crust flat.)
6. Working from the inside out, gently flatten the crust to approximately 1/4-inch thickness. You don't want the crust to be too thin, but you do want it to have a uniform thickness so it cooks evenly. Smooth any cracks with your fingers.

7. When ready, drape the parchment paper over a small, upside down, oven-safe bowl to create your "bowl." Use your fingers to mend any cracks. Place the bowl on a cookie sheet and cover the crust with a sheet of foil.
8. Bake in the oven for 30 minutes. Remove the foil and bake for another 3 minutes. Watch carefully to be sure the crust doesn't get too dark.
9. Remove from the oven and let cool completely, while still molded over the bowl. When the crust is completely cool, gently remove the parchment paper and set right side up.
10. Fill each salad bowl with spring mix, apples, beets, dried cranberries, and walnuts. Drizzle with balsamic vinaigrette, and sprinkle with flaxseeds.
Nutrient Analysis per serving
Calories: 470; Total fat: 32 g; Sat fat: 3.5 g; Sodium: 75 mg; Total carbohydrate: 45 g; Sugars: 32 g; Dietary fiber: 9 g; Protein: 10 g
— Recipe and photo courtesy of Emily Kyle, MS, RDN, owner of Emily Kyle Nutrition
---
Aquafaba Very Berry Pavlova
Serves 6
Ingredients
Aquafaba liquid from one 15-oz can chickpeas, chilled (chickpeas strained out and used for another purpose)
1/2 tsp apple cider vinegar
3/4 cup sugar
2 tsp vanilla paste
1 T arrowroot starch (or cornstarch)
Sweetened whipped cream
Berries (strawberries, blueberries, red raspberries, yellow raspberries)
Strawberry jam, melted
Mint leaves (optional)
Rose petals (optional)
Directions
1. Preheat oven to 275° F.
2. Combine aquafaba and apple cider vinegar in the bowl of a stand mixer or large bowl. Beat with whisk attachment until soft peaks form.
3. Add sugar, one tablespoon at a time, beating with whisk attachment, until mixture reaches stiff peaks. Stir in vanilla and arrowroot starch.
4. Spread meringue into a large circle on a parchment lined baking sheet (leaving room for circle to spread slightly while baking).
5. Place baking sheet in oven and reduce temperature to 250° F. Bake for 2 hours or until meringue is set and hollow. Allow to cool.
6. Spread whipped cream evenly over cooked meringue. Top cream with berries. Drizzle melted jam over berries and sprinkle with mint leaves and rose petals, if desired.
Nutrient Analysis per serving
Calories: 159; Total fat: 3 g; Sodium: 10 mg; Total carbohydrate: 31 g; Sugars: 30 g; Dietary fiber: 1 g; Protein: 0 g
— Recipe and photo courtesy of Gretchen F. Brown, RD
---
Vegan Chocolate Cherry Mousse
Serves 4 to 6
Ingredients
3 cups frozen cherries, thawed
3/4 cup aquafaba (drained from one 15-oz can)
1/4 tsp cream of tartar
1/3 cup confectioners sugar
1/3 cup almond milk
14 oz chopped chocolate (can use mix of dark and regular; use dairy-free for vegan)
Directions
1. Place the thawed and drained fruit in a medium saucepan over medium heat. Cook the fruit, stirring and mashing often for 10 to 12 minutes, until reduced and thick. There should be enough liquid in the frozen fruit to prevent the fruit from sticking, but if it becomes too thick, add in a tablespoon or two of orange juice or cherry juice. Set aside and let cool.
2. In the bowl of a stand mixer, place the aquafaba, cream of tartar, and sugar. Beat on medium-high speed for 13 to 15 minutes until liquid has tripled in volume and has formed stiff peaks.
3. While the aquafaba is being whipped, melt the chocolate. Heat almond milk in a double boiler along with the chocolate over medium-low heat. Stir to combine until chocolate is smooth and completely melted. Alternatively, melt the milk and chocolate in a microwave-safe bowl in 30-second intervals.
4. Place the cooled chocolate in a large bowl. Then fold in the aquafaba, being as delicate as possible.
5. Divide half the cherry mixture from step 1 in the bottom of 4 to 6 small bowls, then dollop the chocolate mousse on top. Place in the refrigerator to set for at least one hour.
6. Before serving, dollop the remaining cherry mixture and more shaved chocolate, if desired.
Nutrient Analysis per serving (1/6th recipe)
Calories: 147; Total fat: 5 g; Sat fat: 3 g; Sodium: 27 mg; Total carbohydrate: 25 g; Sugars: 22 g; Dietary fiber: 2 g; Protein: 2 g
— Recipe and photo courtesy of Alexandra Caspero, MA, RD, author of Fresh Italian Cooking for the New Generation, recipe developer at Delish Knowledge, and nutrition consultant
* Note: The sodium content of the recipes may vary depending on whether the aquafaba comes from no-salt added, low-sodium, or regular cans of beans.