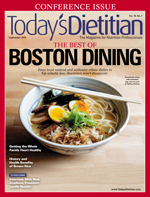 September 2016 Issue
Editor's Spot: Better School Nutrition
By Judith Riddle
Today's Dietitian
Vol. 18 No. 9 P. 4
As the new 2016–2017 school year unfolds, more than 52 million children will enjoy an even healthier school environment than ever before. In July, the Obama administration announced four final rules that implement key requirements of the Healthy, Hunger-Free Kids Act of 2010, aimed to further improve children's nutrition and health in this country. With the high obesity rates among our nation's youth, this is good news.
The final rules add to the progress school districts already have made to include greater varieties of fruits, vegetables, and whole grains served as part of the National School Lunch Program and School Breakfast Program; lower sodium targets; and serve beverages and snacks with stricter limits on sugar and fat content. The progress made, however, didn't come without challenges: Food waste and food costs increased, school lunch participation suffered, and children complained of being hungry at the end of the school day. But strides have been made to work through these issues. The four final rules, which are key components of First Lady Michelle Obama's Let's Move! Initiative, include 1) Smart Snacks in School, which ensures all snacks sold in school are as nutritious as the lunches and breakfasts served; 2) Local School Wellness Policy, which ensures all foods and beverages marketed to students in school meet the same nutrition standards as smart snacks, breakfast, and lunch; 3) Community Eligibility Provision, which allows schools and local educational agencies with high poverty rates to offer free breakfast and lunch to all students; and 4) Administrative Review, an update of the review process state agencies use to monitor federally funded school meal programs.
As the Obama administration comes to a close, dietitians can rejoice in the fact that an ambitious plan was established to help improve the nutrition and health of children who face ever-increasing risks of developing and dying from type 2 diabetes and various cardiovascular diseases (CVD).
In light of these final rules, Today's Dietitian is featuring the article "Getting Heart Healthy: It's a Family Affair," which offers strategies for addressing a family's eating habits to encourage behavior change in individual patients with CVD and reduce chronic disease risk in children. Other features include our exclusive interview with new Academy of Nutrition and Dietetics President Lucille Beseler, MS, RDN, LDN, CDE, FAND, and our annual dining guide, which profiles the best eateries in Boston, also known as Beantown, noted for its mouth-watering local seafood, farm-fresh produce, ethnic and eclectic fare, and award-winning chefs. With forks and knives held high, get ready to experience a delicious smorgasbord as you attend the Food & Nutrition Conference & Expo® next month. Visit us at booth 2748. I look forward to seeing you there. Please enjoy the issue!
Judith Riddle
Editor
TDeditor@gvpub.com