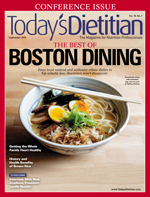 September 2016 Issue
The Best of Boston Dining
By Sharon Palmer, RDN
Today's Dietitian
Vol. 18 No. 9 P. 26
If you're heading to Boston next month for the Food & Nutrition Conference & Expo (FNCE®), get ready to experience this city's dynamic food scene. From local seafood and farm-fresh produce to authentic ethnic eateries and hip, eclectic fare, Beantown won't disappoint.
When you think of Boston dining, seafood and baked beans may be the first thing that comes to mind, but while these options are indeed delicious, this city's food scene has kicked it up a few notches in recent years. Case in point: The 12th season of the TV show Top Chef was taped in Boston, and James Beard award-winning chefs, such as Joanne Chang, pastry chef at Flour Bakery + Café (www.flourbakery.com, 12 Farnsworth Street, Boston, 617-338-4333; 1595 Washington Street, Boston, 617-267-4300; 190 Massachusetts Avenue, Boston, 617-225-2525; and 131 Clarendon Street, Boston, 617-437-7700), are based in this classic American city.

Boston offers a dining experience for everyone, including local food markets, food neighborhoods, fresh seafood, ethnic hole-in-the-wall establishments, hippy vegetarian eateries, old world dining, award-winning fare, hipster pubs, and tables with a killer view. In this article, Today's Dietitian asks a team of Boston food experts and dietitians to weigh in on the best of Boston dining just in time for FNCE®.

"Boston is much more than just lobster and clam chowder," says David O'Donnell, senior manager of media relations at Greater Boston Convention & Visitors Bureau. "While we are proud of these staples, the city has become a world-class culinary destination with great ethnic enclaves, shared plate offerings, locally sourced farm-to-table options, al fresco delights, and an array of neighborhoods that feature their own vibe and culinary character, from the South End to the North End."
Liz Weiss, MS, RDN, a Boston suburb-based dietitian, cofounder of Meal Makeover Moms and the blog Meal Makeover Moms' Kitchen, and cohost of the podcast Cooking with the Moms, says, "Boston has had a food evolution in recent years, with many new restaurants popping up, offering various types of cuisine."
Jason Ladd, chef and co-owner of Ferry Street Food and Drink (www.ferrystreetmalden.com, 118 Ferry Street, Malden, 781-321-0265), describes Boston cuisine as "kind of a hodgepodge of different cultures, styles, and multiethnic traditions, of course combined with its own rich tradition, which is a unique New England style of cuisine. Boston, like any other metropolis, has a multifaceted dining scene. It has the predominant trends, such as hyperlocal, sustainable, farm to table, and ethnic influence."
But while the cuisine has morphed into a more diverse range of offerings and celebrated fare, there's no denying that Boston is, first and foremost, famous for its seafood. According to Boston-based dietitian Janice Newell Bissex, MS, RDN, cofounder of Meal Makeover Moms, this city is all about the seafood, including lobster, fried clams, Wellfleet oysters, and cod (scrod). Kara Lydon, RD, LDN, RYT, a Boston-based dietitian and author of Nourish Your Namaste and The Foodie Dietitian Blog, says, "You can't beat the seafood in Boston. Dining in a city that's situated right on the Atlantic Ocean, you can be sure to find some of the freshest seafood."

Daniel Myers, co-owner of the restaurant Loyal Nine (www.loyalninecambridge.com, 660 Cambridge Street, Cambridge, 617-945-2576) adds, "We have accessibility to the most amazing shellfish in the world, right in our front yard. Some of the greatest restaurants in the world prepare their dishes by bringing in the shellfish from our waters here. It's truly remarkable."
Must-Taste in Boston
So, while you're in Boston, are there any foods that are simply must-taste experiences? Our experts seemed to agree on two things: lobster rolls and clam chowder, actually pronounced by locals as "lobstah rolls" and "clam chow-dah," according to Skylar Griggs, MS, RD, LDN, a Boston-based dietitian working at Boston Children's Hospital and in private practice.
"I would argue that lobster rolls are an iconic Boston food, as well as clam chowder and Boston cream pie," adds O'Donnell, who says that Union Oyster House (www.unionoysterhouse.com, 41 Union Street, Boston, 617-227-2750) is probably the most iconic restaurant serving up this fare.

"New England clam chowder is a New England staple comfort food not to be missed. For one of the best chowders served in a homemade bread bowl, head to Joe's American Bar and Grill (www.joesamerican.com, 100 Atlantic Ave, Boston, 617-367-8700; 181 Newbury Street, Boston, 617-536-4200)," Lydon says.

Lydon also adds another classic Bostonian food to the list: oysters. She says the finest are found off the shore of Cape Cod in Wellfleet, Massachusetts. But for the best oyster selection in the city, head to Row 34 (http://row34.com, 383 Congress Street, Boston, 617-553-5900) or Island Creek Oyster Bar (http://islandcreekoysterbar.com, 500 Commonwealth Avenue, Boston, 617-532-5300), both owned by award-winning chef Jeremy Sewall, author of The New England Kitchen. "Or, if you're okay with a long wait time, check out the intimate Neptune Oyster (www.neptuneoyster.com, 63 Salem Street, Boston, 617-742-3474) in the North End," Lydon says.

The Stars Are Out
Don't leave Boston out of the conversation when it comes to celebrity chefs and hot new culinary talent. Our food experts rave about plenty of culinary stars in this destination city. O'Donnell rattles off a long list of highly acclaimed chefs in Boston, including Barbara Lynch, Ken Oringer, Chris Coombs, Matt Jennings, Jasper White, Chang, Lydia Shire, Ming Tsai, Daniel Bruce, and Ana Sortun.
One of the most beloved local chef icons is Chang. Kelly Toups, MLA, RD, LDN, Whole Grains Council program director at Oldways in Boston, says, "Joanne Chang has been a local celebrity in the Boston food scene since her award-winning sticky buns beat out Bobby Flay during an episode of the Food Network program Throwdown, and now she just won the 2016 James Beard Foundation Award for Outstanding Baker." You can try Chang's famous pastries and delicious lunch menu at Flour Bakery + Café (see page 26), which has multiple locations around the city. Chang is also behind Myers + Chang (www.myersandchang.com, 1145 Washington Street, Boston, 617-542-5200), a funky South End spot serving up fresh Asian dishes.

Griggs says James Beard-award winning chef Oringer (www.kenoringer.com) does amazing work, and encourages FNCE® attendees to visit his top spots in Boston. Oringer teamed up with James Beard award-winning chef Jamie Bissonnette to create Toro (www.toro-restaurant.com, 1704 Washington Street, Boston, 617-536-4300), which serves tapas with a traditional yet modern Spanish vibe, and the South End intimate enoteca Coppa (www.coppaboston.com, 253 Shawmut Avenue, Boston, 617-391-0902). Lydon says Oringer also reopened his hotspot—and one of her fan favorites—Uni (http://uni-boston.com, 370 Commonwealth Avenue, Boston, 617-536-7200), which focuses on a seasonal, Tokyo-inspired sashimi menu, and Little Donkey (www.littledonkeybos.com, 505 Massachusetts Avenue, Cambridge, 617-945-1008), which serves globally minded small plates, charcuteries, and a raw bar.

Lynch (www.barbaralynch.com) also is a well loved, James Beard award-winning chef and restaurateur who has several restaurants in Boston. "Her casual, Italian diner-style restaurant Sportello (www.sportelloboston.com, 348 Congress Street, Boston, 617-737-1234) is fairly close to the convention center," says Weiss, who notes that downstairs from Sportello, Lynch owns the welcoming bar Drink, (www.drinkfortpoint.com, 348 Congress Street, Boston, 617-695-1806), which serves craft cocktails, wine, and a small selection of beers.
Where the Locals Go
Award-winning, name-dropping restaurants aside, where do the locals like to gnosh? Our experts shared lots of insider knowledge on the inside track for the best of Boston dining.
O'Donnell has a long list of local favorites, which include Union Oyster House (see page 28), the old-world Grill 23 (http://grill23.com, 161 Berkeley Street, Boston, 617-542-2255), Italian hotspot Giacomo (http://giacomosblog-boston.blogspot.com, 355 Hanover Street, Boston, 617-523-9025; 431 Columbus Avenue, Boston, 617-536-5723), and the uncomplicated French restaurant Mistral (http://mistralbistro.com, 223 Columbus Avenue, Boston, 617-867-9300).
Ferry Street Food & Drink (see page 26) chef Ladd has too many favorites in Boston to itemize, but he highlights the neighborhood restaurant Eastern Standard (www.easternstandardboston.com, 528 Commonwealth Avenue, Boston, 617-532-9100) for dishes such as moules Provençale, Highland Kitchen (http://highlandkitchen.com, 150 Highland Avenue, Somerville, 617-625-1131) for American comfort food, the comfy pub The Independent (www.theindo.com, 75 Union Square, Somerville, 617-440-6022), Tavern Road (http://tavernroad.com, 343 Congress Street, Boston, 617-790-0808) for street-food inspired small plates, and Citizen Public House & Oyster Bar (www.citizenpub.com, 1310 Boylston Street, Boston, 617-450-9000), a modern neighborhood tavern located behind Fenway Park.

And the list of favorites keeps coming. Weiss loves Row 34 (see page 28) for the lively, hip vibe and fresh seafood. Toups calls Oleana (www.oleanarestaurant.com, 134 Hampshire Street, Cambridge, 617-661-0505) one of Oldways' favorite restaurants. "Many a holiday party has been celebrated in Chef Ana Sortun's cozy Cambridge restaurant over her inventive, Mediterranean-inspired menu," Toups says. One of Lydon's favorites is Alden & Harlow (http://aldenharlow.com, 40 Brattle Street, Cambridge, 617-864-2100), a modern, thoughtfully sourced eatery. Bissex adds Sortun's restaurant Sarma (www.sarmarestaurant.com, 249 Pearl Street, Somerville, 617-764-4464), to the list, which serves a selection of small seasonal plates.

Best of the Best
The Boston dining critics are constantly busy, providing their scoop on the best eateries in town. Boston Magazine put Babbo (http://babbopizzeria.com, 11 Fan Pier Boulevard, Boston, 617-421-4466) on its 2016 "Best Fest" list for its approachable Italian cuisine. Chef Mario LaPosta describes the cuisine as seasonal local food made with passion and simplicity. He points to the Margherita pizza as a dish that defines the restaurant, adding, "We use organic whole wheat flour in our pizza—a blend of flours I spent eight months developing—organic tomatoes, great whole milk mozzarella, all natural and fresh local basil, and it's truly spectacular."
The Boston Globe reported that Shepard (www.shepardcooks.com/home, 1 Shepard Street, Cambridge, 617-714-5295) is "setting things on fire." That's quite literal, according to Chef de Cuisine Peter McKenzie, who says the restaurant is built around a stone hearth. "We build a fire every day, and it's the focal point of the room. We do the cooking around this fire, and we channel the primitive feeling in the food, while maintaining an elevated refinement," McKenzie says. He highlights one particular dish that represents the restaurant: "whipped chamomile ricotta, with wild chamomile-infused milk broken into curds, simply seasoned with dried lemon, served with rye crackers that we make from rye berries cooked in the wood oven."
At critical darling Banyan Bar + Refuge (www.banyanboston.com, 553 Tremont Street, Boston, 617-556-4211), Seth Yaffe, partner and chief operating officer, says you'll find "well-balanced Asian-inspired dishes that introduce guests to flavors or ingredients they may not be very familiar with, while at the same time having fun and not being pertinacious or too precious." One dish that showcases the culinary style of Banyan is the rock shrimp, green curry remoulade, and crispy rice lettuce cups.
Both The Boston Globe and Eater Boston mention Loyal Nine (see page 26) on their best dining lists. Co-owner Myers says, "Our restaurant focuses on reviving traditional New England recipes and preparation techniques. Boston has a great variety of cuisines, but so much of our true New England culinary tradition has faded away long ago. We are working to bring that back. One dish that exemplifies our aesthetic is our brown bread dish, which is our housemade brown bread baked in a can. We take a thick slice and quickly griddle it on both sides. We top that with our horseradish cultured cream, then thick-sliced Bluefish. The bluefish has been soused or pickled with hard cider, then topped with slices of raw radishes from our garden, then finished with our housemade sea salt. The dish is at once hot and cold, raw, pickled, and caramelized."
At Ferry Street Food & Drink (see page 26), which got a nod from The Boston Globe, you can expect to find "traditional comfort food, based in homestyle cooking. One of the top trends in the past few years [includes] really simple, natural ingredients prepared in a way that's not too complicated. This is the food I like to make," Ladd says. He notes the dish that really "says Ferry Street" is barbecue pork meatballs served with grits.

Farm and Sea to Table
Like most food cities, Boston has a thriving local and even hyperlocal food scene. This applies to everything from the produce and artisanal food products to the seafood. Griggs says the city enjoys a thriving local farm-to-table movement; it's represented by notations on many restaurant menus, which let you know the farm the food came from. "It's very common to notice a strong emphasis on 'local' here," she says.
While local foods may be prevalent in restaurants sprinkled throughout the city, some do it exceptionally well. Toups highlights Saltbox Kitchen (www.saltboxkitchen.com, 84 Commonwealth Avenue, Concord, 978-212-3585), a cafe and brewery that offers seasonally inspired dishes using produce from its own Saltbox Farm; Cambridge Brewing Co (www.cambridgebrewingcompany.com, 1 Kendall Square, Building 100, Cambridge, 617-494-1994), which offers a "seasonally driven menu with a number of items sourced from local farms, as well as house-brewed beer," Toups says. In addition, she points to award-winning chef Sortun's acclaimed Mediterranean restaurants as examples of eateries that incorporate local produce from Siena Farms, the farm run by Sortun's husband, including Oleana (see page 29), which serves inventive Turkish-infused fare; Sarma (see page 29); and the casual café Sofra Bakery (www.sofrabakery.com, 1 Belmont Street, Cambridge, 617-661-3161), where you can grab a Turkish coffee and a tahini-brown butter doughnut.
Bissex notes a few other restaurants that are especially dedicated to local foods, including Craigie on Main in Cambridge (www.craigieonmain.com, 853 Main Street, Cambridge, 617-497-5511), where Chef Tony Maws first finds the ingredients, then creates the menu, which includes dishes such as olive oil–poached dayboat halibut served with braised little gem lettuce, manila clams, and sake; and Ten Tables (http://tentables.net, 597 Centre Street, Jamaica Plain, 617-524-8810), where sausages and meats are cured in-house and the menu is sourced from local farms.
Other restaurants focusing on local fare, O'Donnell says, include Harvest, (http://harvestcambridge.com, 44 Brattle Street, Cambridge, 617-868-2255), which provides a full list of local farms supplying ingredients to this classic, 40-year-old restaurant; and Henrietta's Table (www.henriettastable.com, 1 Bennett Street, Cambridge, 617-661-5005) for fresh and honest New England cooking using native ingredients sourced sustainably.

Weiss also suggests you visit the Boston Public Market (https://bostonpublicmarket.org, 100 Hanover Street, Boston, 617-973-4909, Monday to Saturday 8 AM to 8 PM, Sunday 10 AM to 8 PM), adding "For fresh, local ingredients, it's the place to be. There, you'll find everything from locally grown fruits and vegetables to local cheeses and meats. The kitchen offers year-round cooking classes."
Trip Around the World With Your Fork
Thanks in part to Boston's famous institutions, such as Harvard University and the Massachusetts Institute of Technology, people from all over the world have converged upon this city. So it's no surprise that you can find just about any ethnic food here, Bissex says. O'Donnell says you can find great French bistros in the South End; Mediterranean (see Oleana, Sarma, and Sofra Bakery), Middle Eastern, and Brazilian offerings in Somerville and Cambridge; and Greek options as well.

In particular, Boston is known for its Italian food, which you can find in the North End, Weiss says. Lydon adds, "Bostonians argue whether Modern Pastry (www.modernpastry.com, 257 Hanover Street, Boston, 617-523-3783) or Mike's Pastry (www.mikespastry.com, 300 Hanover Street, Boston, 617-742-3050) has the best cannoli." While there are lots of authentic Italian restaurants from which to choose, you can start with Carmelina's (www.carmelinasboston.com, 307 Hanover Street, Boston, 617-742-0020), called the top Italian restaurant in the North End by Travel + Leisure.
Bissex points to Casa Romero (www.casaromero.com, 30 Gloucester Street, Boston, 617-536-4341), a delightful 45-year-old Mexican restaurant, as one of her favorite Boston eateries. Cha Yen Thai Cookery (http://chayenthaicookery.com, 613 Mount Auburn Street, Watertown, 617-393-0031), singled out as one of the best restaurants in Boston by The Boston Globe, uses fresh ingredients cooked to order to create popular Thai dishes, such as grilled calamari and pohpiah (cucumber, bean sprouts, spiced tofu, scallions, and eggs in soft rice wrappers), says chef and restaurant owner Manita Bunnagitkam.

Plant-Forward Dining
Boston always has been a haven for the health-minded; therefore, there are many plant-forward dining options from which to choose, including vegetarian and vegan.

"If you're looking for somewhere that screams 'namaste,' Life Alive (www.lifealive.com, 765 Mass Avenue, Cambridge, 617-354-5433) is your best bet. The umami-driven menu features several vegetarian bowls, wraps, and juices, and also has kombucha on tap," Toups says. She also suggests Beat Brasserie (www.beatbrasserie.com, 13 Brattle Street, Cambridge, 617-499-0001), "a lively restaurant and jazz bar in Harvard Square, which offers a pleasantly surprising number of plant-forward options. There are many creative, plant-based grain bowls and vegetable sides on the frequently changing menu, such as the Bowl Azteca, the Hippie Salad, and seasonal Grilled Asparagus with Spicy Carrot Harissa. Their sister restaurant The Beehive in the South End (www.beehiveboston.com, 541 Tremont Street, Boston, 617-423-0069) also is fairly veggie friendly."
Lydon points out FoMu (www.fomuicecream.com, 481 Cambridge Street, Allston, 617-903-3276; 617 Centre Street, Jamaica Plain, 617-553-2299; 655 Tremont Street, Boston, 617-982-7955), "a vegan ice cream shop" that sells ice cream with a "creamy, gelatolike texture—it's made from coconut milk—in creative flavors like avocado, chocolate pudding, and bourbon maple walnut that is so heavenly that even the most devoted dairy enthusiasts rank FoMu on par with the city's best scoops."

True Bistro (http://truebistroboston.com, 1153 Broadway, Somerville, 617-627-9000) is another plant-based recommendation of Lydon's; the restaurant serves elegant vegan fare, such as saffron pasta ravioli with cashew cheese and brandy-braised tempeh with winter squash and green mole.

Great Ambience, Views, and Fine Cuisine
If you're looking for swoon-worthy ambience, views that go on for days, or a truly impeccable dining experience, Boston has those places, too. Our foodies unite to recommend Top of the Hub (http://topofthehub.net, 800 Boylston Street, 617-536-1775) as offering the city's best vistas, in addition to fine cuisine. Located 52 floors above the Back Bay at the top of the Prudential Center in Copley Square, this award-winning restaurant serves contemporary New England dishes, such as steamed native lobster with blood orange Hollandaise sauce and asparagus.

Joe's American Bar & Grill (see page 28) and Legal Sea Foods Harborside (www.legalseafoods.com/restaurants/boston-legal-harborside, 270 Northern Avenue, Boston, 617-477-2900) also have amazing views on the waterfront, according to O'Donnell. Bissex says gorgeous glimpses of the waterfront also can be enjoyed at Meritage (www.meritagetherestaurant.com, 70 Rowes Wharf, Boston, 617-439-3995) at the Boston Harbor Hotel, which serves elegant wine and food pairings, as well as Rowes Wharf Sea Grille (www.roweswharfseagrille.com, 70 Rowes Wharf, Boston, 617-856-7744), which serves local, fresh catches of the day.

Jaw-dropping views aside, if you're looking for an extraordinary dining experience, our experts offer a few additional suggestions. All agreed that Lynch's multiaward-winning Menton (www.mentonboston.com, 354 Congress Street, Boston, 617-737-0099) is a culinary jewel of Boston, serving beautifully executed dishes, such as "clam bake in three parts" (ie, three unique versions), on the tasting menus. No. 9 Park (http://no9park.com, 9 Park Street, Boston, 617-742-9991), another of Lynch's noteworthy restaurants, is a refined, intimate restaurant serving regionally inspired Italian and French dishes.
O'Donnell suggests the contemporary Mediterranean seafood restaurant Ostra (http://ostraboston.com, 1 Charles Street South, Boston, 617-421-1200), and L'Espalier (www.lespalier.com, 774 Boylston Street, Boston, 617-262-3023) for sophisticated New England-French dishes, such as East Coast halibut with Florida sweet corn, chanterelles, and lime.

So, bring your appetite and passion for discovery along with you as you pack your bag for Boston and enjoy all of the delights the city has to offer.

— Sharon Palmer, RDN, is a food enthusiast, nutrition editor at Today's Dietitian, and author of Plant-Powered for Life, and was thrilled to work on her 8TH annual FNCE® dining guide.
DINING RESOURCES
To learn more about the best of Boston dining, visit the following: