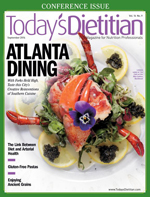 September 2014 Issue
Making Peace With Beets — A Root Vegetable Messy to Prepare but Oh So Flavorful
By Grace Dickinson
Today's Dietitian
Vol. 16 No. 9 P. 82
It wasn't until last year that I decided how I felt about beets. This slow decision-making process stemmed from having two parents who held diametrically opposed opinions about this root vegetable.
Beets were my mom's worst nightmare. The juice stained her cutting boards, tie-dyed her kids' white T-shirts, and left her scrubbing the kitchen counters until her hands turned pink. On the other hand, beets were my dad's favorite vegetable. They were one of his continuously best-growing crops in the family garden. He loved nothing more than staining his hands as he pulled the beets out of the ground each year, and he had an affinity for their taste that my mom couldn't match. And unfortunately, my mom had cleaning skills that my dad couldn't match, so every summer there was a comical bone of contention that surrounded beets.
These opposing views left me baffled, and over the years I didn't experiment with the veggie even as I developed my own interest in cooking. The flavor of beets was one I could do without as well as the mess that came with preparing them. Last year, however, I decided to throw a small beet into a bowl of summer tabbouleh. Instantly, the grain salad turned a majestic pink, and from that day forward, I officially became a beet lover.
For me, the key is to use beets in small amounts. That way, there are fewer to chop and less of a mess. But the bottom line is that beets lend a sweet, earthy flavor when added to a dish. I prefer just a hint of this flavor, and only a hint is needed to transform an entire dish into a beautiful, pink presentation. You'll find that's the case with the following burger recipe, where one small beet makes the whole batter pop with color and taste. The beet also adds a hint of sweetness that goes perfectly with the smoky paprika and parsley herb sauce. Serve on a whole wheat bun alongside a simple cucumber and onion salad for a light meal.
— Grace Dickinson is a photo enthusiast, food blogger, and recipe developer for FoodFitnessFreshAir.com.
Smoky Black Bean Burgers With Herb Yogurt Sauce
Beets add a touch of sweetness yet a vibrant color to these bean burgers. Feel free to use basil or cilantro instead of parsley in the yogurt sauce, as they make excellent alternatives.
Makes 6 medium-sized burgers
Ingredients
3 cloves garlic, chopped
1 onion, chopped
1 small beet, chopped
3 cups cooked black beans, 1 cup set aside
2 tsp smoked paprika
1 lime, juiced
1 tsp salt plus a pinch
Pepper, to taste
1 cup cooked bulgur wheat (can use short grain brown rice instead)
1 large egg
1 T olive oil
3/4 cup low-fat Greek yogurt
1 T parsley, minced
6 whole wheat buns
Directions
1. Place garlic, onion, and beet in a food processor and process until veggies are grated. Add 2 cups of black beans, smoked paprika, half of the lime juice, salt, and pepper. Process until fairly smooth. Use a spatula to stir in remaining beans, bulgur, and egg.
2. Preheat oven to 400˚F. Shape burgers into 6 circular patties. Line a baking sheet with aluminum foil and lightly grease with olive oil. Bake 30 to 40 minutes until lightly browned on the outside.
3. While burgers are baking, whisk yogurt with remaining lime juice and parsley. Add a pinch of salt.
4. Place burger on bun. Top with a dollop of yogurt sauce and serve.
Nutrient Analysis per serving
Calories: 360; Total fat: 5 g; Sat fat: 1 g; Trans fat: 0 g; Cholesterol: 32 mg; Sodium: 600 mg; Total carbohydrate: 58 g; Dietary Fiber: 8 g; Sugar: 2 g; Protein: 17 g