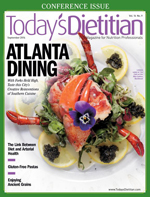 September 2014 Issue
Enjoying Ancient Grains
By Lindsey Getz
Today's Dietitian
Vol. 16 No. 9 P. 46
From amaranth to quinoa, they offer a wealth of nutrients and can add much-needed variety to your clients' and patients' diets.
When it comes to eating grains, most Americans limit themselves to only a few choices, but there's a whole world of grains out there of which many have never heard. The so-called ancient grains, such as amaranth, spelt, and quinoa, are referred to as such because they've been around, largely unchanged, for millennia.
Incorporating more grain varieties into one's day not only makes meals more interesting but also rounds out a well-balanced and nutritious diet. The key is getting more people on board with trying these unknown foods.
"If you were told to eat more vegetables, you wouldn't just eat carrots. You'd eat a variety of veggies," says Cynthia Harriman, director of food and nutrition strategies for Oldways/The Whole Grains Council. "But for some reason, we do that with grains. We mostly eat wheat, corn, and rice. Even oats is a mainstream grain, but we don't consume as much of it. Therefore, ancient grains are totally off the radar. A lot of people don't even know what they are."
Ruth Frechman, RDN, author of The Food Is My Friend Diet, agrees and says that getting a variety of foods—whether fruits, vegetables, or grains—always is beneficial. It's one of the best ways to obtain a well-rounded diet with all the necessary nutrients. "Each ancient grain offers different amounts of nutrients," she says. "Many of the ancient grains are consumed as whole grains, thus providing varying amounts of protein, vitamins, minerals, phytonutrients, and fiber. For example, 1 cup of teff contains 123 mg of calcium."
With the rising popularity of gluten-free diets, ancient grains also are a nice way to add variety to what may feel like a restrictive diet. "Because some of the ancient grains are gluten-free, they can add variety for someone who's allergic to wheat or sensitive to gluten," Frechman says.
Hurdles to Overcome
While ancient grains can pack a nutritional punch, there are several barriers preventing some people from trying them, one of which is accessibility. "There are still many grocery stores that don't carry a variety of ancient grains," says Janice Newell Bissex, MS, RD, cofounder of MealMakeoverMoms.com. "While quinoa has become more available, other ancient grains like farro, kamut, or freekeh are harder to find. In addition, the cost of these grains can be higher than what some people are willing to spend."
Harriman says unfamiliarity also has prevented people from trying ancient grains since people often are uncomfortable with trying something new. In fact, they may not even know what's out there, but this is a problem dietitians can help tackle. They can introduce their clients to some of the ancient grains and suggest ways to cook with them. Harriman says that if you can get comfortable cooking rice, you can get comfortable cooking almost any grain.
But clients still may need some convincing. Maria Speck, author of Ancient Grains for Modern Meals and the forthcoming Simply Ancient Grains, says she believes people are curious about ancient grains, but there are two misperceptions about cooking them that stand in the way: People assume ancient grains are hard to cook and take too long to cook. "Nothing could be further from the truth," Speck says. "I always say that ancient grains are as easy to cook as a pot of pasta, and many can be on the table as quickly as white rice."
"It's important to suggest simple recipe ideas so that people know what to do with ancient grains," Newell Bissex says. "They'll be much more likely to try the grains if they know how to prepare them."
First and foremost, suggest clients begin thinking about incorporating grains into all three meals, says Vandana Sheth, RDN, CDE, a spokesperson for the Academy of Nutrition and Dietetics. So often clients think of grains as a stand-alone side dish to dinner, such as a side of rice. But grains aren't just for dinner and easily can be incorporated into a dish as opposed to just being a side.
Sheth recommends three ways to use quinoa for breakfast, lunch, and dinner: "With milk, fruit, cinnamon, and nuts as a hot breakfast; with seasonal greens, beans, herbs, and spices as a side or entrée salad; and used in place of rice within a stir fry.
"Be creative and adventurous," she adds. "Challenge yourself and your clients to try one new grain per week and look for different recipes for each grain in order to keep it interesting."
Liz Weiss, MS, RD, cofounder of MealMakeoverMoms.com, agrees that ancient grains make interesting toppers for salads. Their crunchy texture and sometimes nutty flavor add appeal. They also work well when added to soups. "Cooked farro, for example, can easily be incorporated into soups instead of rice or pasta for an instant flavor and nutritional boost," Weiss says. "Replacing traditional grains with an ancient grain is another easy way to incorporate them into the diet. You can make risotto with barley or farro vs. the usual Arborio rice. And quinoa mixed with diced veggies and a simple vinaigrette can be served as a simple side dish."
"Maybe you grew up adding oats to your meatloaf, but try using bulgur as a replacement next time," Harriman suggests. "So often we think of grains as our side, but we can make it the main dish. I work with a lot of amazing chefs who have come up with creative ways to make grains the center of the plate. Barley tacos or black bean bulgur burgers are just two examples."
Of course making grains the main dish may be intimidating to clients and patients who view this as a big change. Harriman suggests people start slowly when introducing ancient grains into their diet. "Stick to your comfort level of having the grain as a little side dish that replaces white rice," she says. "That's a good place to start. But when you cook the grain, cook extra and set it aside. With that extra, you have a whole array of possibilities. Warming it up with some milk and dried fruit or nuts makes a great breakfast, or eating it cold with some vinaigrette and veggies makes a delicious salad."
While Harriman says there's some debate over what grains are considered ancient, she says the big-picture idea is to eat more of a variety and not split hairs over technicalities such as which are ancient and which are modern. The following are some of the grains often considered ancient that you can recommend to clients and patients:
• Amaranth: This South American grain is both gluten- and wheat-free and offers a nice boost of protein, calcium, and iron. It's also the only grain documented as containing vitamin C. Amaranth is easy to cook (requires gentle boiling) and never fully loses its crunchy texture, making it a nice addition to salads or soups. This cooked grain even can be tossed into cookie batter to pack in some crunch and nutritional power.
• Barley: This excellent source of fiber, manganese, selenium, and thiamine does take a while to cook, but it can be used in place of rice for a variety of meals, such as stir-fry dishes, soups, or casseroles. Consider cooking a large batch at once to save time. Look for hulled or hulless barley; pearl barley isn't a whole grain.
• Bulgur: Bulgur is a quick-cooking form of whole wheat. High in manganese, 1 cup of cooked bulgur also provides about 33% of the recommended dietary allowance of fiber and 5.6 g of protein. Clients can toss it into virtually everything from soups and salads to burgers and casseroles.
• Einkorn: Thought to be the most ancient of wheat varieties, einkorn is higher in protein and key nutrients, such as beta carotene and lutein, than modern wheat. It also has a mild flavor.
• Farro: This savory wheat variety comes in both pearled and semipearled form. Look for whole farro; the semipearled is missing some of the bran and isn't a whole grain. Farro is a staple in Italy and often prepared as a risotto dish or as part of a salad. It's rich in fiber and magnesium and, like other wheat varieties, it can provide many benefits in its whole grain form, including reducing the risk of stroke, type 2 diabetes, and heart disease.
• Freekeh: Freekeh is a young green wheat typically sold toasted and cracked. It's full of fiber and contains minerals such as selenium, potassium, and magnesium. Freekeh can be incorporated into stir-fries, risottos, and soups.
• Kamut brand Khorasan wheat: Kamut has a nutty flavor and packs in fiber and protein as well as several minerals, including selenium and manganese.
• Millet: This small, whole grain is a staple in many Asian and African countries but thought of mostly as bird food in the United States. While it's the main ingredient in birdseed, millet is a heart-healthy grain rich in copper, manganese, phosphorus, and magnesium.
• Sorghum: Sorghum is an ancient cereal grain that was collected 8,000 years ago in southern Egypt and later domesticated in Ethiopia and Sudan. Because of its natural drought tolerance, it's an important crop in many parts of Africa and Asia. Sorghum is easy to substitute for wheat flour in a variety of baked goods and has a neutral, slightly sweet flavor. Some specialty sorghums are high in antioxidants.
• Spelt: Commonly eaten in medieval times, spelt is part of the wheat family and is high in protein and fiber. Spelt has a distinctive nutty chewiness that makes it appealing not only as a substitute for rice but also for pasta in some dishes.
• Teff: This is known for being tiny in size, but it's still a nutritional powerhouse and leads all of the grains by a wide margin in calcium content. Just 1 cup of cooked teff offers 123 mg of calcium. It's often ground into flour but also can be cooked to sprinkle atop vegetables or salads or mixed in with soups or casseroles.
• Quinoa: Perhaps the best known ancient grain, quinoa is a complete protein since it has all nine essential amino acids. A 1-cup serving also provides approximately 20% of the iron and phosphorous needed on a daily basis. It cooks quickly and because it has become so popular, it's easy to find on grocery shelves. There are also a multitude of recipes out there that call for quinoa.
In addition to giving clients and patients more information about ancient grains, Today's Dietitian has provided some recipes to share with them.
— Lindsey Getz is a freelance writer based in Royersford, Pennsylvania.
Peanut Butter and Chickpea Soup With Farro
Serves 6

Ingredients
1 T canola oil
1 small onion, cut into 1/4-inch dice (about 1 cup)
1 medium red or orange bell pepper, cut into 1/4-inch dice (about 11/2 cups)
2 cloves garlic, minced
1 32-oz container all-natural vegetable broth
1 15-oz can tomato sauce
1/2 tsp curry powder
1/2 tsp ground cumin
1/4 tsp chili powder
1/4 tsp ground cinnamon
1/4 tsp celery seed
1/8 tsp freshly ground black pepper
1 15-oz can garbanzos (chickpeas), drained and rinsed
2/3 cup creamy peanut butter
1/2 cup 10-minute farro
Roasted peanuts, chopped (optional)
Directions
1. Heat the oil in a large Dutch oven or saucepan over medium heat. Add the onion and cook, stirring frequently, until softened (about 7 minutes). Add the bell pepper and garlic and cook, stirring frequently, until the pepper softens, an additional 5 minutes.
2. Stir in the broth, tomato sauce, curry powder, cumin, chili powder, cinnamon, celery seed, and black pepper. Cover, raise the heat, and bring to a boil. Reduce the heat and simmer, covered, until the flavors meld, about 15 minutes.
3. Add the chickpeas, peanut butter, and farro and stir well until the peanut butter melts into the soup. Cover, return to a simmer, and cook until the farro is tender, about 10 minutes. Season with kosher salt and pepper to taste. Top each serving with peanuts as desired.
Nutrient Analysis per serving
Calories: 310; Fat: 15 g; Carbohydrate: 34 g; Dietary fiber: 7 g; Protein: 12 g
— REPRINTED WITH PERMISSION FROM THE MEAL MAKEOVER MOMS' KITCHEN (WWW.MEALMAKEOVERMOMS.COM/KITCHEN)
Kamut Minestrone Soup
Serves 8 to 10

Ingredients
1 qt water
2 cups beef broth
1 (28-oz) can diced or crushed tomatoes
1 (15-oz) can tomato sauce
2 large carrots, peeled and sliced
1 T dried parsley
1 tsp dried oregano
1/2 tsp dried basil
1/4 tsp pepper
1/4 tsp garlic powder
Sea salt, to taste
1 (15-oz) can garbanzo beans, rinsed and drained
1 (15-oz) can kidney beans, rinsed and drained
2 cups frozen green beans
11/4 cups Kamut Khorasan elbows (or whole grain pasta of choice)
Parmesan cheese, grated, for garnish
Directions
1. In a large pot combine water, broth, tomatoes, tomato sauce, carrots, parsley, oregano, basil, pepper, garlic powder, and sea salt, to taste. Bring to a boil. Cover and simmer over low heat about 20 minutes.
2. Add garbanzo beans, kidney beans, and green beans. Return to a boil. Add Kamut pasta. Cook 10 minutes or until pasta is tender.
3. Garnish with Parmesan cheese.

Nutrient Analysis per serving
Calories: 240; Fat: 1.5 g; Sat fat: 0 g; Sodium: 820 mg; Carbohydrate: 47 g; Protein: 12 g; Dietary fiber: 9 g
— REPRINTED WITH PERMISSION FROM THE KAMUT ASSOCIATION AND THE WHOLE GRAINS COUNCIL
Simple Spelt Pancakes
Makes 16 (4-inch) pancakes

Ingredients
2 cups (7 oz) whole spelt flour
2 T (7/8 oz) sugar
1 T baking powder
3/4 tsp salt
13/4 cups (14 oz) milk
2 T (1 oz) unsalted butter, melted
2 T vanilla (optional)
Directions
1. In a medium bowl, whisk together the spelt flour, sugar, baking powder, and salt.
2. Combine the milk and melted butter, and the vanilla if you're using it.
3. Form a well in the center of the dry ingredients and pour the wet ingredients into the dry. Stir the batter just until the dry ingredients are thoroughly moistened. It will seem very wet but will thicken as it sits. Let the batter sit for about 15 minutes before using it.
4. Heat a nonstick griddle or a heavy skillet, preferably cast iron. If your surface isn't nonstick, brush it lightly with vegetable oil.
5. When the surface of your pan is hot enough that a drop of water sputters across the surface, give the pan a quick swipe with a paper towel to eliminate excess oil and spoon the batter on the hot surface, 1/4 cupful at a time.
6. Let the pancakes cook on the first side until bubbles begin to form around the edges of the cakes, about 2 to 3 minutes. You may need to adjust your heat up or down to get the pancakes to cook through without scorching the surface or being too pale.
7. When the cakes are just about to set, flip them and let them finish cooking on the second side, about 1 minute more, until they're golden brown on both sides.

Nutrient Analysis per serving (2 pancakes)
Calories: 137; Fat: 4 g; Carbohydrate: 20 g; Protein: 5 g; Dietary fiber: 4 g
— REPRINTED WITH PERMISSION FROM THE KING ARTHUR FLOUR COMPANY AND THE WHOLE GRAINS COUNCIL