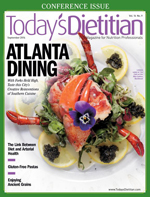 September 2014 Issue
Atlanta Dining — A New Twist on Southern Cuisine
By Sharon Palmer, RDN
Today's Dietitian
Vol. 16 No. 9 P. 24
If you're headed to FNCE next month, get ready to discover Atlanta's intriguing dining scene. This city has reinvented Southern food, with a mischievous wink to ethnic inspiration and a reverent nod to history. We asked some of Atlanta's top food experts to weigh in on what's hot on Atlanta's food scene.
When you think of Atlanta's culinary aesthetic, what comes to mind? That's a question the city's inhabitants have been asking for years. After all, Atlanta doesn't have quite the same food cache as other Southern locales, such as New Orleans, Memphis, or Charleston.
However, a new culinary identity is organically beginning to form in this pulsing metropolis, which boasts the sixth largest economy in the United States. This culinary vision is rooted in Southern food traditions and history—this is where the civil rights movement was born. But this seat of the New South also has a bold splash of eclectic, ethnic flavors, thanks to Atlanta's melting pot population. Throw in a few award-winning celebrity chefs, and you've got an exciting food scene.
"Atlanta is always searching for an identity. In many ways, restaurants are one of Atlanta's strongest facets," says Krista Reese, dining editor for Georgia Trend Magazine and author of two Atlanta cookbooks.
Reese notes that while other cities may have signature foods and restaurants, Atlanta is different. "Atlanta is a port city, an airport city, a crossroads," she says. "It has an interesting mix of cultures. That is its strong point. It's a restless commuter-driven city. There aren't a whole lot of Atlanta-born natives here."
"Compared to other Southern cities, Atlanta is a new city, and we don't have a lot of the really old traditional restaurant stalwarts," says Susan Puckett, former food editor for The Atlanta Journal-Constitution, a food writer for Atlanta Magazine, and the author of Eat Drink Delta: A Hungry Traveler's Journey Through the Soul of the South. "Yet the restaurant scene is very alive and very exciting. The chefs have a tremendous amount of integrity and individuality that I think is really interesting and exciting. When you come to Atlanta, you can choose basically whatever kind of dining experience you want."
According to Rachel Peavy, director of communications for the Atlanta Convention and Visitors Bureau, "In the past five years alone, 45 Atlanta chefs have been nominated as semifinalists for the James Beard Awards. Atlanta is known for Southern hospitality, and that translates into a very approachable dining scene that's not at all pretentious. I think that's what makes our dining scene unique; our local chefs open restaurants that cater to each neighborhood, providing a warm welcome and inviting ambiance that makes their food—even high-end food—very accessible."
Getting Around the Dining Neighborhoods
"What makes the Atlanta dining scene unique are the various pockets of restaurants," says Mara Davis, cohost of Atlanta Eats TV and host of Atlanta Eats radio. "Each area has it's own culinary personality."
Susan Nicholson, RDN, LD, an Atlanta-based syndicated columnist and the author of 7-Day Menu Planner for Dummies, says there are several great places within an easy taxi ride from your conference hotel. The Atlanta Beltline Eastside Trail is a great walking and biking trail that connects Midtown Atlanta to other in-town neighborhoods. You also can use Uber (http://www.uber.com), a transportation network company that allows users to request a chauffeur via mobile app, or MARTA (http://www.itsmarta.com), Atlanta's public transit, to get you to your dining destination for the evening. And the Atlanta Streetcar, which just opened this summer, provides easy access from downtown hotels to restaurants. Check out the Atlanta Convention and Visitors Bureau's neighborhood map guide at http://www.atlanta.net/explore/neighborhoods.
To wrap your mind around the food scene of Atlanta, Peavy gives a crash course on some of the city's neighborhoods, including a few restaurant highlights.
Downtown, where the Georgia World Congress Center and nearby hotels are located, offers more than 300 restaurant options within walking distance. While you can find several familiar chain restaurants right across from the convention center, you may want to try something more quintessential Atlanta. Alma Cocina (191 Peachtree Street NE, 404-968-9662, http://alma-atlanta.com) is a local favorite, offering modern Latin cuisine featuring fresh ingredients. Sundial (210 Peachtree Street NW, 404-659-1400, http://www.sundialrestaurant.com), a gorgeous revolving restaurant with a 360-degree panoramic view of the Atlanta skyline, offers seasonal, local cuisine such as wild Gulf shrimp with house-cured bacon and warm potato salad.
Midtown is just minutes up Peachtree Street, where you can find some of the hottest restaurants in the city, such as Empire State South (999 Peachtree Street, 404-541-1105, http://www.empirestatesouth.com), where chef, owner, and Top Chef judge Hugh Acheson takes a modern approach to creating authentic Southern dishes, relying on regional foods. South City Kitchen (1144 Crescent Avenue, 404-873-7358, http://midtown.southcitykitchen.com) boasts authentic yet sophisticated Southern cuisine, where you may even spot a celebrity or two since this eatery tends to be a favorite for stars in town filming movies.
Buckhead, known as the "Beverly Hills of the East," lies further up Peachtree Street. There you'll find high-end shopping and dining, including King + Duke (3060 Peachtree Road NW, 404-447-3500, http://www.kinganddukeatl.com), run by one of Atlanta's hottest chefs, Ford Fry, who helms other buzzworthy restaurants throughout the city (eg, St. Cecilia, 3455 Peachtree Road NE, 404-554-9995, http://stceciliaatl.com, for Italian coastline fare; and JCT Kitchen & Bar, 1198 Howell Mill Road, 404-355-2252, http://www.jctkitchen.com, for Southern farm stand cooking). King + Duke, which GQ named one of this year's best new restaurants in America, focuses on local, seasonal fare with a nod to American traditions.
Another Buckhead must-see is Bistro Niko (3344 Peachtree Road, 404-261-6456, http://www.buckheadrestaurants.com/bistro-niko), which Peavy describes as "a piece of Paris in the heart of Buckhead."
Atlanta's Eastside is just a few minutes east of downtown by taxi, where you'll encounter some of Atlanta's oldest original neighborhoods. Check out Rathbun's (112 Krog Street, 404-524-8280, http://www.kevinrathbun.com), one of the most popular steakhouses in the city, run by Iron Chef America contestant Kevin Rathbun.
Atlanta's Westside, a few minutes west of Midtown, is the city's historic meatpacking district, now transformed into a destination for dining and design. This is home to Bacchanalia (1198 Howell Mill Road, 404-365-0410, http://www.starprovisions.com/bacchanalia.php), one of Atlanta's most celebrated restaurants, where chefs and owners Anne Quatrano and Clifford Harrison offer a seasonal five-course prix fixe menu for $85, featuring seasonal organic ingredients sourced from their own farm.
Beyond Atlanta proper, Decatur, located seven miles from the convention center, awaits your discovery. "Decatur used to be considered an Atlanta suburb, but now it's considered an in-town neighborhood. There's a wonderful walking neighborhood feel. A lot of people talk about Decatur like it's Atlanta's Berkeley. It has wonderful food," Reese says.
"Decatur is a foodie heaven. You can walk to a dozen different really great dining options, some of which are on the James Beard Award–winning chefs list. There are also more inexpensive local options—more neighborhood joints—that are really good," says Puckett, who lives in Decatur.
Leon's Full Service (131 E Ponce De Leon Avenue, 404-687-0500, http://www.leonsfullservice.com), which is housed in an old gas station, offers casual fare with a fresh, elegant touch, such as pan-seared trout with baby bok choi, broccoli, and jicama hash.
Nearby sits No 246 (129 E Ponce De Leon Avenue, 678-399-8246, http://www.no246.com), where Fry serves up local, seasonal foods with an Italian flair.
Chai Pani (406 W Ponce De Leon Avenue, 404-378-4030, http://www.chaipanidecatur.com) is a small restaurant serving contemporary, vibrant Indian street food, and Paper Plane (340 Church Street, 404-377-9308, http://www.the-paper-plane.com) offers modern classic dishes sourced locally, such as Creekstone ribeye cap flat iron steak with kale and fingerling potatoes.
Past Meets Present
Atlanta, the home of Gone With the Wind, also has its fair share of romantic historical intrigue. While you're there, visit the Margaret Mitchell House (http://www.atlantahistorycenter.com/mmh).
But probably most notable is that the city's gaining attention as the cradle of the civil rights movement. The historically black colleges in Atlanta, such as Spelman, Morris Brown, and Morehouse, helped develop black leadership during the civil rights movement. And let's not forget that it's the birthplace of Martin Luther King, Jr. You can visit the Martin Luther King Jr National Historic Site (http://www.nps.gov/malu/index.htm) and the brand new Center for Civil and Human Rights museum (http://www.civilandhumanrights.org) during your trip.
Today, Atlanta's historic past blends into its cuisine. "Atlanta has an interesting take on preserving the past; they're bringing back the plate foods that go beyond typical fried chicken, which is always wonderful," says Suzanne Corbett, a freelance food writer and food historian who studied Atlanta cuisine while on assignment for the St Louis Post-Dispatch. "But new restaurants are taking an updated Southern bistro chic approach to food."
Corbett was particularly drawn to Swan Coach House (3130 Slaton Drive NW, 404-261-0636, http://www.swancoachhouse.com), a restaurant serving lunch in the historic carriage house of the Swan House mansion, now on the grounds of The Atlanta History Center. "It's a great retro tea room, which is something you just don't see anymore, with a fascinating 1950s 'ladies who lunch' menu that's just delightful. Their signature dessert is a meringue base with a light milk chocolate whipped mousse decorated with puff pastry shaped like a swan—it's one of those beautiful things that used to be the norm 50 or 60 years ago."
And the history lesson doesn't stop there for Corbett, who raves about Livingston Restaurant and Bar (659 Peachtree Street NE, 404-897-5000, http://www.livingstonatlanta.com), located in The Georgian Terrace hotel, famous for its white marble columns, crystal chandeliers, and long list of glittering celebrities who have been gracing its doors since 1911, including the cast of Gone With the Wind and F. Scott Fitzgerald. With its stunning space and evocative dishes, such as sweet tea pressed crispy duck and sorghum and sea salt brick chicken, Corbett says this restaurant "just knocks it out of the park."
New South Cuisine
"Atlanta's take on Southern [cuisine] raises the standard with high-end creativity," Davis says. Chef Kevin Gillespie, of the popular Atlanta restaurant Gunshow, adds that "many Atlantans aren't from the South, so it tends to be a mix of both popular Southern dishes as well as more modernized variants."
"We're seeing a lot more restaurants with an ethnic flavor that also combine Southern flavors. We have Mexican chefs incorporating turnip greens and barbeque into their menus, and Asian chefs doing really interesting things with okra. This really is the flavor of Atlanta; we're Southern, but we're also international," says Puckett, who calls this style of cuisine "ethnic Southern mashup."
So which restaurants fully exemplify Atlanta's distinctive take on Southern food? Davis nominates Gillespie's restaurant Gunshow (924 Garrett Street, 404-380-1886, http://www.gunshowatl.com), with its unique Southern dim sum–style fixings, as one of the city's brightest stars. Puckett agrees: "Kevin Gillespie was a Top Chef finalist, and his style of dining is unique. He has a team of energetic, young, talented chefs who cook something different and bring out trays of foods in tapas portions on a tray. You either take it or pass on it. It's a really fun way to dine."
Many of our food experts point to Sobban (1788 Clairmont Road, 678-705-4233, http://www.sobban.com) for its inspired Korean Southern diner–style food, such as okara hushpuppies and shrimp and rice grits served with miso kale. "It's a really clever Korean diner run by a couple—she's Korean and he's Southern. Their heirloom barbeque is traditional Southern, but they serve it with kimchi coleslaw. They seamlessly slip in Korean flavors in a natural way because that's how they cook as a couple," Puckett says.
Another Southern mashup winner is Cardamom Hill (1700 Northside Drive, 404-549-7012, http://cardamomhill.net). "Asha Gomez is from India, and she's a fascinating chef who's getting a lot of media attention—and for good reason. She combines Southern and Kerala [the southwestern-most state of India] flavors in a brilliant way," Puckett says. Davis says you'll find an Indian twist on Southern classics, such as fried chicken and waffles and shrimp étouffée.
Poor Calvin's (501 Piedmont Avenue, 404-254-4051, http://poorcalvins.com) "proudly embraces its Vietnamese roots and serves Thai-Southern dishes," Reese says. Chef Calvin Phan's menu includes everything from mac and cheese and fried chicken to his popular "duck dynasty," which features maple duck breast, tiger shrimp, kale mashed potatoes, and seasonal greens. As an added bonus, Poor Calvin's offers a free Uber ride to and from any downtown hotel.
Southern Comfort
If you're craving some good ole Southern comfort food, you'll find that in Atlanta, too. Puckett recommends Busy Bee Café (810 Martin Luther King, Jr Drive SW, 404-525-9212, http://www.thebusybeecafe.com) for a "memorable, traditional soul food experience in a historic neighborhood." An Atlanta tradition since 1947, the menu includes classics, such as fried chicken, pork chops, collard greens, and Georgia peach cobbler.
Though it's touristy, Mary Mac's (224 Ponce De Leon Avenue NE, 404-876-1800, http://www.marymacs.com) is "the real deal—it's a Southern institution," Puckett says. This is where you can get your fill of comfort food, including fried green tomatoes and okra, shrimp and cheese grits, and of course, fried chicken.
The Varsity (61 North Avenue, 404-881-1706, http://www.thevarsity.com), a hot dog place dating back to 1928, claims the title of the world's largest drive-in. Puckett says it's one of "the old stalwarts that people in Atlanta go to" for chili cheese dogs, onion rings, a frosted orange, and fried pies.
Then there's Paschals (180-B Northside Drive, 404-525-2023, http://www.paschalsatlanta.com), located in the Castleberry Hills Art District. "The original location [on West Hunter Street] is where Martin Luther King, Jr planned his strategy," Reese says. Called the unofficial headquarters of the civil rights movement, it was one of the first restaurants to seat black and white patrons together during the segregation era. "The fried chicken is still the same," she says, and the collard greens, mac and cheese, black-eyed peas, and candied yams aren't bad either.
If you're looking for a more refined take on Southern cuisine, try Watershed on Peachtree (1820 Peachtree Road NW, 404-809-3561, http://watershedrestaurant.com). Located in a historic neighborhood, this award-winning restaurant employs a farm-to-table philosophy to deliver Georgian flavors in dishes such as Cajun-style beignets with country ham, jambalaya with butter-poached shrimp, and hot milk cake with caramel icing—washed down with a mint julep, of course.
Pure Ethnic Inspiration
What if you feel like authentic ethnic food with nary a Southern touch in sight? Don't worry because Atlanta's got that, too. "We've got it all, from Persian to Peruvian," says Carolyn O'Neil, MS, RDN, LD, author of Southern Living's The Slim Down South Cookbook and a columnist for The Atlanta Journal-Constitution. "It's pretty amazing to experience authentic global cuisine without a trip out of town."
And, luckily, much of the best ethnic food is located in one thoroughfare: Buford Highway. "Buford Highway is just one ethnic hole in the wall after another," Puckett says. "Buford Highway is endless: Chinese, Thai, Vietnamese, Malaysian, Mexican, Indian, Peruvian, and the phenomenal Buford Highway Supermarket," Davis adds.
Gu's Bistro (5750 Buford Highway, 770-451-8118, http://www.gusbistro.com) serves award-winning authentic Szechuan cuisine, such as Zhong-style pork dumplings, Chengdu cold noodles with bean sprouts and scallions, and Luo Jiang dried tofu with sweet and spicy sauce.
Co'm Vietnamese Grill (4005 Buford Highway, 404-320-0405, http://www.comgrillrestaurant.com) is a local fan favorite for fresh Vietnamese dishes such as rice vermicelli with grilled beef and shrimp, pho, and grape leaf rolls.
Outside of Buford Highway, Desta Ethiopian Kitchen (3086 Briarcliff Road, 404-929-0011, http://www.destaethiopiankitchen.com) has excellent Ethiopian food within a comfortable setting. It's a great option for vegetarian palates, with dishes such as shiro (chickpea stew) and gomen (spiced collard greens).
Taqueria del Sol (1200-B Howell Mill Road, 404-352-5811, http://www.taqueriadelsol.com) can help you satisfy your Mexican food cravings. Owner Eddie Hernandez throws a little Southern heat into his signature Mexican dishes, such as Memphis BBQ tacos, fried chicken tacos, and spicy turnip greens.
Local Food Movement
If you're wondering how the local food movement is coming along in Atlanta, it's doing just fine, according to O'Neil, who says, "There's an active farm-to-table, ranch-to-table, and coop-to-table movement. This is where all the farms are, as well as farmers' markets, Southern-made cheeses, charcuterie, and even house-canned, pickled, and preserved produce."
Executive Chef Franck Steigerwald at The Café at the Ritz-Carlton, Buckhead (3434 Peachtree Road NE, 404-237-2700, http://www.ritzcarlton.com/en/Properties/Buckhead/Dining/TheCafe), which serves fresh cuisine inspired by Italian and French flavors, says, "There's a strong farm-to-table trend in Atlanta, and restaurants have the ability to create dishes using local and farm-fresh ingredients."
Many restaurants have local food artisans, including High Road Craft Ice Cream & Sorbet, Doux South Pickles, H&F Bread Co, Sweet Grass Dairy, Grassroots Farms (poultry), and The Spotted Trotter (meats). O'Neil suggests visitors check out the Preserving Place (1170 Howell Mill Road, 404-815-5267, http://www.preservingplace.com) "where they sell house-made preserves and even do classes on home canning."
"Local food is super important to the dining community here," Davis says. "We have so many great purveyors and chefs who make it a point to showcase local food on their menus." This is true of Atlanta's most famous chefs, such as Acheson and Fry, and many more chefs join their ranks. For example, Miller Union (999 Brady Avenue NW, 678-733-8550, http://www.millerunion.com) does "a very plant-focused menu," according to Puckett. "The chef puts produce first and foremost and works very seasonally and closely with local farmers." This is easy to see in dishes such as field pea hummus and farro ravioli with squash blossoms and duck egg.
Chef Billy Allin, who got his culinary start at Chez Panisse in Berkeley, California, and later Napa Valley, helms Cakes & Ale (155 Sycamore Street, 404-377-7994, http://www.cakesandalerestaurant.com). His appreciation for local seasonal foods shines through on his menu, which includes a rainbow of produce from fennel and pole beans to squashes and kohlrabi.
Led by Linton Hopkins, Restaurant Eugene (2277 Peachtree Road, 404-355-0321, http://www.restauranteugene.com) "is a wonderful place, and the chef has won many awards. It's gorgeous and elegant, offering craft cocktails and heirloom vegetables," says Reese of its farm-to-table fare. You can even find a vegetable tasting menu here with delectable dishes such as wild blackberry gazpacho with sorrel and clay pot Vidalia onion with parsley and cracklin.
More Noteworthy Dining
"We've got breadth and depth in our dining scene," Reese says. While it's impossible to list all of Atlanta's finest restaurants in the confines of this article, a few more deserve special mention.
At the top of that list is Polaris (265 Peachtree Street NE, 404-577-1234, http://www.atlantaregency.hyatt.com), a great revolving blue restaurant perched atop the Hyatt Regency. "For someone visiting, it's one of the most exciting things to see. It goes back to the '60s, but it's just been given a huge makeover, and it's straight out of Mad Men," Puckett says. "It's a great place to have small bites and cocktails, and it's great fun," Reese adds.
The General Muir (1540 Avenue Place B-230, 678-927-9131, http://www.thegeneralmuir.com) is a modern Jewish deli, with house-cured meats and two-fisted deli sandwiches that transport you back to Brooklyn. "They're incorporating modern flavors with really classic foods, such as pastrami and house-made bagels," Puckett says.
And the list goes on, according to O'Neil, who says, "You'll find the millennial crowd at artisanal pizza places, such as Ammazza (591-A Edgewood Avenue SE, 494-228-1036, http://ammazza.com), and sushi fanatics and a real sexy crowd at Umi (3050 Peachtree Road NW, 404-841-0040, http://umiatlanta.com). And no trip to Atlanta, if you're a foodie, would be complete without checking out Holeman & Finch Public House (2277 Peachtree Road, 404-948-1175, http://www.holeman-finch.com), where you'll find everything from oyster po' boy to fried lacinato kale with blueberry preserves in this sophisticated pub."
"For a special occasion, Aria (490 East Paces Ferry, 404-233-7673, http://www.aria-atl.com) never misses. It has a sleek, sexy atmosphere with excellent food from Chef Gerry Klaskala," Davis says. Menu offerings have included herb-crusted fillet of red snapper with Tucker Farms basil emulsion and preserved lemons.
La Tavola (992 Virginia Avenue NE, 404-873-5430, http://latavolatrattoria.com) "is my favorite neighborhood spot for simple, fresh Italian," Davis says. And Gillespie adds BoccaLupo (753 Edgewood Avenue NE, 404-577-2332, http://boccalupoatl.com) to the neighborhood Italian eatery list, "for their handmade pastas. They're very passionate about the craft of cooking."
Our experts also enthuse over Ecco (40 7th Street NE, 404-347-9555, http://www.ecco-atlanta.com), which serves award-winning, seasonally inspired European fare, such as wood-fired pizzas and cured meat and cheese plates.
Your eating choices are endless in Atlanta, so make sure to carve out time to experience at least a few of them. For additional guidance, check out our Atlanta Dining Resources.
— Sharon Palmer, RDN, is a contributing editor to Today's Dietitian and the author of The Plant-Powered Diet and Plant-Powered for Life.
ATLANTA DINING RESOURCES
• Access Atlanta (http://www.accessatlanta.com)
• Atlanta Downtown Improvement District Downtown Atlanta Dining (http://www.atlantadowntown.com/guide/dining)
• Atlanta Eats (http://www.atlantaeats.com)
• Atlanta Eater (http://www.atlanta.eater.com)
• Atlanta Journal-Constitution (http://www.ajc.com)
• Atlanta Magazine (http://www.atlantamagazine.com)
• Food & Wine Atlanta Travel Guide (http://www.foodandwine.com/atlanta-travel)
• Zagat, Atlanta (http://www.zagat.com/atlanta)