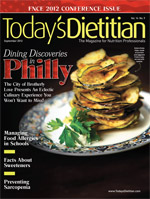 September 2012 Issue
Whole Grain Goodness
By Densie Webb, PhD, RD
Today's Dietitian
Vol. 14 No. 9 P. 56
Editor's Note: A diverse group of international scientists, business representatives, and health professionals convened in Minneapolis this past May for the 2012 Whole Grains Summit. They shared the latest information on processing, promoting, and consuming whole grains. Today's Dietitian contributor Densie Webb, PhD, RD, was there, and this article focuses on some of the barriers and solutions to increasing Americans' whole grain consumption.
Most Americans come nowhere near consuming the recommended amount of whole grains. Experts share advice on ways to change that.
The 2010 Dietary Guidelines for Americans suggest that three of the recommended six daily servings of grains be whole grains.1 Surveys indicate that the whole grain message is largely falling on deaf ears. Americans fall far short of the Dietary Guidelines' recommendations, with an average intake of less than one serving of whole grains per day.2 But the US government hopes to change that.
Through the efforts of public and private partnerships, the USDA's Center for Nutrition Policy and Promotion is leading a coordinated messaging program to inform consumers to "make at least half your grains whole grains." According to Robert C. Post, PhD, deputy director of the Center for Nutrition Policy and Promotion, a kick-off event to the program that runs into December of this year will include high-level government officials, noted chefs, and officials from First Lady Michelle Obama's Let's Move! campaign. There are 92 national strategic partners and 6,000 community partners who will be working together to get the whole grain message to the public via cooking demos, recipes, and MyPlate makeovers.
Despite the recent emphasis, the connection between whole grains and health didn't begin with the latest edition of the Dietary Guidelines. Evidence has been building for decades that consuming whole grains, in appropriate portions, may reduce the risk of cardiovascular disease, diabetes, metabolic syndrome, some types of cancer, and obesity. Some of the benefits of whole grains are believed to be due to the synergistic action of compounds, such as fiber, minerals, trace elements, vitamins, carotenoids, polyphenols, and alkylresorcinols, which are contained mainly in the bran and germ fraction of cereal grains. Other compounds, such as phytic acid, lectins, protease inhibitors, and tannins, contribute to the low-glycemic properties of whole grain foods.3 Epidemiologic data show that consuming two to three servings of whole grain cereals per day, as the guidelines recommend, is enough to provide health benefits.4 Three servings is equal to about 48 g of whole grain cereal.
From Recommendations to Practice
It's simple to instruct patients and clients to eat more whole grains; it's much harder to get them to enthusiastically jump on board the whole grain bandwagon. A recent survey conducted by the Academy of Nutrition and Dietetics found that in the last five years, 45% of those surveyed said their consumption of whole grains had remained the same, and 7% said it had actually decreased during that time.5
While nine in 10 people don't meet the whole grain recommendation of three servings per day, 71% report they believe they're consuming enough whole grains. When a survey from the International Food Information Council Foundation presented consumers with the Dietary Guidelines recommendations and asked which ones they were interested in acting on, only 37% cited increasing whole grains consumption, highlighting the disconnect between recommendations and action.6
To complicate matters, the whole grains recommendations themselves can be confusing. The simplest recommendation is to consume whole grain foods for one-half of your daily grains. But then there's the 48 g-per-day recommendation, the ounce-equivalent recommendation (a leftover from the 2005 Dietary Guidelines) and, of course, the recommendation to consume three servings of whole grains per day—presenting the problem of knowing what exactly constitutes one serving.
"I'm not much for the number thing," says Janice Newell Bissex, MS, RD, cofounder of MealMakeoverMoms.com and a consultant for the Whole Grains Council. "My recommendation to clients would be just to eat more whole grains and that eating white bread is OK, but if you have a choice, choose whole grains."
According to the Whole Grains Council, a nonprofit association that promotes broader consumption of true whole grain foods, nearly 3,400 new whole grain products were introduced to supermarkets in 2011. Among all those products, it's incredibly easy for consumers and even health professionals to be fooled by healthful-looking grain products, such as breads labeled as "wheat bread" or "12-grain bread" or by dark brown breads or crunchy cereals.
If clients are numbers oriented and want to count grams of whole grains, advise them to look for the Whole Grain Stamp. The 100% whole grain stamp certifies that the product contains at least 16 g of whole grains per serving and that all the grains used in the product are whole grains. Products not participating in the Whole Grains Council program may or may not be whole grain. Many products contain a mix of whole grain flour and other flours, but bread cannot be legally labeled 100% whole wheat unless all the flour used is 100% whole grain flour. The Whole Grains Council offers a basic stamp, certifying that the product contains at least 8 g of whole grain per serving but isn't 100% whole grain. A product doesn't have to be 100% whole grain to contain a significant amount of whole grains.
 If counting grams is a nonstarter, advise your clients to simply look for products that list whole grains as the first ingredient. Like coins in a jar that can add up, consuming products that contain smaller amounts of whole grain ingredients will boost overall whole grain intake.
Barriers to Whole Grain Consumption
Health professionals agree that whole grains are an important component of a healthful diet and a smart overall strategy to lower the risk of several chronic diseases. So why are most Americans less than enthusiastic about whole grains? The reasons range from cost and availability to an unwelcome difference in taste and texture and a lack of choice, especially when eating out.
According to Jesse Ziff Cool, chef and owner of Flea Street restaurant in Menlo Park, California, and a strong proponent of whole grains, "There's a barrier that has to be overcome for any food that's unfamiliar." The key, especially when preparing whole grains at home, she says, is to "keep it simple." She offers the following tips for doing just that:
• Start with a quick-cooking grain, such as quinoa. Because of its ease of preparation, versatility, nutty taste, and good nutrition, she calls it the "ultimate grain."
• Try a different breakfast whole grain, such as barley, wheat berries, or sorghum, besides the usual cold cereal or oatmeal. Add a bit of low-fat milk, honey, and yogurt for a nutritious whole grain breakfast.
• Start with the basics and dress them up. Cook a basic grain, whether it's wheat berries or brown rice, and dress it up with herbs such as chopped parsley, oregano, basil, salt, and freshly ground pepper and drizzle olive or truffle oil on top. This is easy, even for whole grain beginners.
• Cook more than needed and store the extra in the refrigerator for later. She suggests adding a handful of refrigerated grains to other dishes being prepared, such as vegetables or salads.
Kids and Whole Grains
Kids present a special challenge when it comes to getting more whole grains in their diets. "For adults, it's a bias against hearty whole grain products from 10 or 20 years ago," Cool says. "For children, it's a visual thing; they don't like that brown color."
Bissex and her business partner, Liz Weiss, MS, RD, performed a small blind taste test with kids, offering them both whole grain and traditional versions of several kid-friendly foods, such as Goldfish crackers, Fig Newtons, cinnamon swirl bread, and mini bagels. The children studied seemed more affected by appearance than taste. "We were surprised at the results," Weiss said. "When blinded, the kids didn't reject the whole grain products the way they would have if they had seen them."
Schools will increase their offerings of whole-grain foods during the 2012-2013 school year to meet requirements in the Healthy, Hunger-Free Kids Act of 2010. To meet the whole grain-rich criteria for the federal school meal and child nutrition programs, foods must contain at least 50% whole grains.
Food companies and restaurants also are offering more whole grain options. General Mills, for example, began making whole grains the basic ingredient in all its cereals in January. McDonald's is test marketing whole grain buns without promoting them as a whole grain product, a stealthy approach to increasing whole grains in the American diet. (See sidebar for other restaurants' whole grain choices.)
Final Thoughts
Dietitians and nutrition counselors have a tough job ahead when it comes to increasing the consumption of whole grains among clients and patients. The average person's intake is less than one serving per day, leaving plenty of room for improvement. Making clients and patients aware of the benefits and growing number of whole grain options available for them and their families shows the whole grain choice can be the easy choice.
— Densie Webb, PhD, RD, is a freelance writer, editor, and industry consultant based in Austin, Texas.
Whole Grains in Restaurant Chains
The Whole Grains Council (www.wholegrainscouncil.org) has provided this list of restaurant menu items made with whole grain foods:
• Arby's: breads and wraps
• Au Bon Pain: whole wheat multigrain bread, sesame brown rice orange salad, cinnamon walnut quinoa
• Burger King: oatmeal
• California Pizza Kitchen: whole grain pizza crust
• Carrabba's Italian Grill: whole grain spaghetti
• Caribou Coffee: oatmeal
• Chipotle Mexican Grill: whole grain tortillas, wraps, and brown rice
• Cracker Barrel: whole wheat sourdough bread, whole grain breakfast cereals
• Jamba Juice: oatmeal
• Jason's Deli: whole grain breads, wraps, and tortillas
• Olive Garden Italian Restaurant: whole wheat linguini
• Panera Bread: whole grain bread, bagels, and ciabatta rolls
• P. F. Chang's China Bistro: brown rice
• Romano's Macaroni Grill: whole wheat penne pasta
• Ruby Tuesday: brown rice pilaf
• Starbucks Coffee Company: oatmeal
Sprouted Grains
Mention the word "sprouts," and bean sprouts and alfalfa sprouts are likely the first foods to come to mind. But all cereal grains that start from a seed, such as wheat, oats, rye, barley, corn, rice, and millet, can produce sprouts under the right conditions. Grains are typically soaked to sprout, then ground and used as the primary ingredient in sprouted grain breads, buns, rolls, bagels, flours, and pretzels. The products that contain sprouted grains carry the unique flavor of the original whole grain.
Some research suggests that health benefits from sprouted grains range from improving glucose metabolism and reducing inflammation to lowering blood pressure. In addition, research shows that vitamins such as folate, and phytonutrients such as quercitin and rutin, are higher in sprouted grains than in traditional grain-based products.
Sprouted grain products are relatively new and may be hard to purchase locally. Here are some online resources for sprouted grain products:
• Alvarado Street Bakery (www.alvaradostreetbakery.com)
• Food For Life (www.foodforlife.com)
• Shiloh Farms (www.shilohfarms.com)
• Silver Hills Sprouted Bakery (www.silverhillsbakery.ca)
• The Sprouted Bakehouse (https://thesproutedbakehouse.com)
Resources
Cookbooks
A good cookbook can go a long way to helping your clients and patients give whole grains a go in the kitchen. There are many to choose from, but here are a few for starters:
• Bob's Red Mill Baking Book: More Than 400 Recipes Featuring Whole & Healthy Grains by John Ettinger and the Bob's Red Mill Family
• The Complete Whole Grains Cookbook: 150 Recipes for Healthy Living by Judith Finlayson
• King Arthur Flour Whole Grain Baking: Delicious Recipes Using Nutritious Whole Grains by King Arthur Flour
• Whole Grains for Busy People: Fast, Flavor-Packed Meals and More for Everyone and Whole Grains Every Day, Every Way by Lorna Sass
Websites
• Whole Grains Council: For everything you ever wanted to know about grains—definitions, how to promote the use of whole grains in schools, all about the whole grain stamp, educational materials, names of food companies that provide their own whole grains materials and posters, buttons, and stickers promoting whole grains—go to www.wholegrainscouncil.org.
• WIC: For information on how whole grains fit into the WIC program, along with links for recipes and handout sheets, go to www.nal.usda.gov/wicworks/Learning_Center/FP/wg_resource.pdf.
• USDA Resource Library: For links to a variety of sources on ways to include whole grains in the diet, go to http://snap.nal.usda.gov/resource-library/eat-healthy-every-day/whole-grains. For getting more whole grains in kids' diets, visit http://healthymeals.nal.usda.gov/resource-library/whole-grains.
Milo (Sorghum) Salad
Makes about 11 cups
Ingredients
1 cup milo (sorghum)
3 cups water
1/4 cup chopped fresh oregano
2 green onions, chopped
1/4 cup olive oil
3 T fresh lemon juice
1 T grated lemon zest
1 cup peeled, chopped English cucumbers
1/3 cup toasted pine nuts
1 cup crumbled feta cheese
1/4 tsp cayenne pepper
1/3 T sea salt
Instructions
1. Bring the water to boil in a medium saucepan, then add the milo (sorghum).
2. Simmer for 30 to 40 minutes or until somewhat soft, similar to cooked rice.
3. Cool sorghum to room temperature, fluffing with a fork occasionally.
4. In a large bowl, combine the remaining ingredients.
5. Add the cooked sorghum.
6. Adjust salt and pepper to taste.
— Recipe courtesy of Jesse Ziff Cool, author of Simply Organic: A Cookbook for Sustainable, Seasonal, and Local Ingredients
References
1. US Department of Agriculture, US Department of Health and Human Services. Dietary Guidelines for Americans, 2010. 7th ed. Washington, DC: US Government Printing Office; 2010.
2. O'Neil CE, Nicklas TA, Zanovec M, Cho S. Whole-grain consumption is associated with diet quality and nutrient intake in adults: the National Health and Nutrition Examination Survey, 1999-2004. J Am Diet Assoc. 2010;110(10):1461-1468.
3. Thompson LU. Antinutrients and blood glucose. Food Tech. 1988;42:123-132.
4. Fardet A. New hypotheses for the health-protective mechanism of whole-grain cereals: what is beyond fibre? Nutr Res Rev. 2010;23(1):65-134.
5. American Dietetic Association. Nutrition and you: trends 2011 Survey. http://www.eatright.org/nutritiontrends. Accessed June 26, 2012.
6. International Food Information Council Foundation. 2011 Food & Health Survey: Consumer Attitudes Toward Food Safety, Nutrition & Health. http://www.foodinsight.org/Content/3840/2011 IFIC FDTN Food and Health Survey.pdf. May 5, 2011. Accessed June 26, 2012.