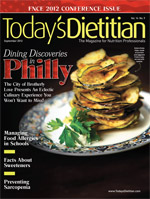 September 2012 Issue
Fresh Herbs — Pick Through the Garden of Possibilities
By Bryan Roof, RD, LDN
Today's Dietitian
Vol. 14 No. 9 P. 110
When I was 19, I traveled overseas to visit family I hadn't met before. I was out of sorts and quickly realized the cuisine was remarkably different from what I was used to. For one of my first dinnertime meals, my uncle prepared turkey kebabs marinated in a little soy sauce with a handful of freshly picked parsley, sage, rosemary, and thyme (no relation to Simon and Garfunkel), as well as salt and pepper, and grilled them over a wood fire. In retrospect, it was probably a great meal, as it captured many of my future food passions in one dish: meat on a stick, cooking over an open fire and, of course, fresh herbs. But to my young, inexperienced palate, the flavors were aggressive, unusual, strange, and nearly inedible. Any hopes I had of finding immediate comfort around the dinner table quickly faded.
That day I learned that fresh herbs require a bit of an introduction. On a basic level, you can break them down into two categories: tender herbs and woody herbs (my nomenclature may differ from others, but you should always listen to me). Tender herbs include basil, chives, cilantro, dill, mint, parsley, and tarragon and are so named for their tender stems and delicate nature. These herbs usually are best added near the end of cooking, used as a garnish, or added raw to salads or relishes to maintain their pungency and retain their green color. You should cut them gently, and not too finely, with a sharp knife. Dull knives bruise herbs and when furiously chopped into fine sawdust, much of their flavor is left as a green stain on the cutting board—and what's left tastes like lawn clippings.
Woody herbs are much heartier and can withstand long cooking times. These include lavender, oregano, rosemary, sage, and thyme. While you can use them in a similar fashion to fresh herbs, these herbs in particular impart a noticeable aroma to sauces, braises, and roasts through extended cooking. They're sturdier beneath the knife, but you should still treat them with the same consideration as tender herbs.
When experimenting with fresh herbs, it's best to incorporate a single herb at a time to better understand its flavor and characteristics. From there you can branch out into herb combinations, taking note of which ones work well together and with certain foods. For example, if you notice that dill works well with fish for one recipe and cilantro works well with the same fish for another recipe, you can assume the two herbs work well together. And since fish is a relatively mild backdrop that benefits from these flavors, you can assume the same herb combination also will benefit chicken, which tends to be equally as mild. The more you explore the garden of herbs at your disposal, the better you'll get at building combinations and the more confidence you'll gain in the kitchen. Just remember, food is about memories and, like herbs, you always want them to be as fresh as possible.
— Bryan Roof, RD, LDN, is a chef, dietitian, and food writer living in Boston. Follow him on Twitter @bryanroof.
Roasted Chicken With Herb Sauce
Serves 6
Buy the best-quality chicken you can afford.
Ingredients
Chicken
One 4-lb whole chicken, giblets reserved for another use
1 T extra-virgin olive oil
1 tsp fine sea salt
1 tsp ground black pepper
Herb Sauce
1 cup fresh parsley leaves, chopped fine
1/2 cup fresh tarragon leaves, chopped fine
1/4 cup extra-virgin olive oil
3 T water
2 tsp fresh lemon juice
1 large garlic clove, minced
1 tsp Aleppo pepper (or 1/4 tsp red pepper flakes)
1/4 tsp fine sea salt
Directions
1. For the chicken, adjust the oven rack to the middle position and heat the oven to 450˚F. Tie the chicken legs together and tuck wing tips behind the back. Rub the chicken with the oil and then season with the salt and pepper. Place the chicken in an ovenproof 12-inch skillet and transfer to the oven. Roast until the thigh registers 175˚F, 50 to 60 minutes. Remove chicken from oven and let rest for 20 minutes.
2. For the herb sauce, while the chicken cooks, combine all the herb sauce ingredients together in a small bowl. (This sauce is best made as soon as the chicken goes into the oven so the flavors have time to meld.)
3. To serve, cut the chicken into 10 pieces (two thighs, two drumsticks, four breast pieces, and two wings). Remove and discard skin from chicken.* Spoon the herb sauce over the chicken and serve.
*You can leave the skin on the chicken (as I do) if you'd like, but I suggested removing it in the interest of reducing calories.
Nutrient Analysis per serving (calculated without chicken skin): Calories: 330; Total fat: 20 g; Sat fat: 4 g; Trans fat: 0 g; Cholesterol: 105 mg; Sodium: 590 mg; Total carbohydrate: 1 g; Dietary fiber: 0 g; Sugars: 0 g; Protein: 34 g