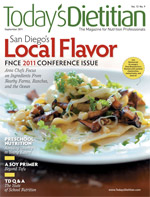 September 2011 Issue
Tofu — From Bean to Block, an Omnivore's Delight
By Bryan Roof, RD, LDN
Today's Dietitian
Vol. 13 No. 9 P. 86
Most of us would label tofu as strict vegetarian fare and even then favored only as a quick, down-and-dirty protein source. However, aside from the protein perk, regular consumption of tofu has been shown to reduce overall cholesterol, LDL cholesterol, and triglyceride levels.
A product of coagulated and pressed soymilk, tofu is used internationally in everything from soups to desserts and boasts a range of textures and flavors to fit every occasion. But here in the United States, even tofu would admit that tofu is a hard sell at times. In fact, even I had written it off as a viable food source in favor of something, I don't know, less albino and more animal based—until I tasted Mapo Tofu.
A combination of silken tofu, minced beef (sometimes pork), broad bean chili paste, and a bracing slick of roasted chili oil, this Szechuan Chinese classic offers layers of flavor, folded in with heat, and the numb of Szechuan peppercorns. The silken tofu, only slightly coarser than the chili oil, is the texture of the dish, and here the meat is the afterthought.
Since my first taste, I've recreated Mapo Tofu more times than I care to remember, tweaking every element of the dish along the way. And when left with little more in my fridge than the odd humble block of tofu, I'll opt for this healthier spin on the classic, carnivores optional.
— Bryan Roof, RD, LDN, is a chef, dietitian, and food writer living in Boston.
Mapo Tofu
Serves 4 to 6
If you like spicier foods, choose the higher amount of chili paste. Firm tofu may be substituted for the soft tofu if preferred. Broad bean chili paste, chili oil, and Szechuan peppercorns can be found in Asian markets.
Ingredients
2 tsp water
1 tsp cornstarch
1 T toasted sesame oil
1 to 2 T broad bean chili paste
1 T minced ginger
1 T minced garlic
1/4 cup low-sodium chicken broth (to make this dish vegetarian, use vegetable broth)
2 T Shaoxing cooking wine or dry sherry
1 T low-sodium soy sauce
1 lb silken or soft tofu
1/2 cup shelled, frozen edamame, thawed
1 T Asian chili oil
2 tsp ground Szechuan peppercorns
4 scallions sliced thin
1/4 cup packed fresh cilantro leaves
Directions
1. Combine water and cornstarch in small bowl and set aside. Heat sesame oil in 10-inch skillet over medium heat until shimmering. Add chili paste, ginger, and garlic and cook until fragrant, about 1 minute.
2. Add chicken broth, wine, soy sauce, and cornstarch mixture and bring to boil. Gently stir in tofu, edamame, and chili oil, and bring to boil; reduce to simmer and cook for 3 minutes to heat tofu through. Transfer to serving dish and top with Szechuan pepper, scallions, and cilantro. Serve with rice.
Nutrient Analysis per serving
Calories: 180
Total fat: 11 g
Sat fat: 1.5 g
Trans fat: 0 g
Cholesterol: 0 mg
Sodium: 370 mg
Total carbohydrate: 10 g
Dietary fiber: 2 g
Protein: 8 g