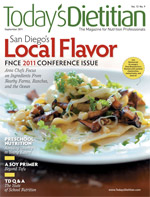 September 2011 Issue
Effectively Using Dietetic Technicians — Building the Right Relationship Can Boost Your Practice
By Lindsey Getz
Today's Dietitian
Vol. 13 No. 9 P. 20
DTRs go through considerable training and put in many hours to get their certification, yet they're often overlooked as critical members of a patient's care team. Many RDs are unfamiliar with what a DTR does, and many RDs have never had the opportunity to work with one. But that may be changing. As dietetics become more complex, the strong support of a DTR can optimize the work of an RD.
One thing RDs may not be aware of is just how much a DTR can enhance their practice, says Corliss Cowan, DTR, chair-elect of the executive committee for the Dietetic Technicians in Practice Dietetic Practice Group (DTP DPG) of the American Dietetic Association (ADA). "It's a true team approach," she says. "As the RD is supervising the DTR, he or she can see how much the trained DTR can assist her and allow the RD to work at an elevated level."
In many cases, DTRs do the prep and fill-in work for RDs, allowing an RD to achieve even more than he or she could alone. It's a supporting role that often goes unnoticed but still deserves credit.
DTRs conduct screenings, gather data, perform assessments, and assist in ways that help RDs provide the best possible care for their patients. "RDs are expected to be the front line for the doctor and nursing staff, but we're that technical backup," says Grace A. Burney, DTR, past chair of the DTP DPG. "Many times the RD is on the front line with the doctor while we're on the front line with the patient."
That's the case at the large Ohio-based teaching hospital where Mary Marshall, RD, LD, CNSC, works. She says the staff of 12 RDs relies heavily on support from its four DTRs. "We have DTRs screening and assessing generally low-moderate nutrition risk floors," Marshall explains. "Every day the DTR provides the RD with a list of patients who are high risk, and that list becomes the RD's responsibility. The DTRs also play a big role in educating patients, freeing up that time for the RD to focus on high-risk populations."
Marshall offers this recent example where strong support from a DTR has optimized the RD/DTR relationship: "We have a DTR teaching nutrition for a pre-op hip replacement class. Together the RD and DTR formulated the initial outline, but the DTR has been teaching the weekly class. Since implementing this, patients are more aware of bone health and nutrition before coming in for their surgery. It also gives us an opportunity to have a 'head's up' for any major food allergies or intolerances when these folks are in our beds. I believe it would be impossible for the RDs on our staff to function alone."
Batman and Robin
RDs and DTRs should work together as a team. Burney calls it a "Batman and Robin relationship" with a working partnership. While the RD may take the lead, the DTR plays a vital role in assisting. "Batman also had respect for Robin," Burney adds, "and every once in a while he let Robin drive the Batmobile for him."
But Alberta Scruggs, RD, LD, DTR, a certified group fitness instructor and older adult instructor, says allowing a DTR to get more experience and to assist RDs with more hands-on aid may not be happening as much as it could. She believes the statement "DTRs can't do that" is used too often in the field and that RDs need to be more willing to let their DTRs on staff get involved.
"It's a misconception that 'DTRs can't do that' when it comes to specific skill sets, like assessing feeding tube rates, evaluating protein and specific nutrients needed of patients with skin issues, or having the ability to determine what type of supplement is needed for a patient with renal or pulmonary issues," she says. "I learned how to do these things when I was a dietetic technician student. I began to do them as a practitioner. And the more I did them, the better my skills and performance became."
Scruggs theorizes some RDs may be reluctant to let their DTRs do some of these hands-on tasks for fear they may do them better. But she says that "teaching others to shine allows you to shine too."
Marshall agrees and says DTRs are "only as expert as you allow them to be." She urges more RDs to rely on vital DTR support. "Many DTRs have degrees beyond an associate level," Marshall adds. "Get to know your DTR and the knowledge base they have and then build from there. Training should go both ways. At our institution, DTRs are a strong asset when it comes to education for patients, teaching classes, and obtaining complex food preferences from patients. Encourage your DTR to be a presence on their floor/unit, but always make an effort to be available for questions."
Communication is the key to a successful RD/DTR relationship, Marshall notes. "By having clearly defined responsibilities, each player knows his duty," she says. "That being said, it's also important that DTRs know they can contact the RD whenever they feel something is beyond their scope."
Looking Ahead
Some believe the misconceptions about DTRs may be holding back the field. Some regions don't offer DTR programs, and others have had to close because of lack of participation. The hope is that as dietetics continues to grow and becomes increasingly more complex, the importance of the supporting DTR role will move to the forefront. Dispelling some of the myths is a first step.
Burney wants RDs to know that DTRs aren't out to steal their jobs. She believes this is one of the commonly held misconceptions.
"We don't replace the RD; we complement them," Burney says. "My hope is that as more RDs find their niche and expertise that they'll realize a DTR can only help make them better and that they're not out to replace you. Another misconception is that we're 'mini RDs,' and that's not the case either. We're DTRs, and we have our own skill sets. Working together with an RD, we can form a great team."
— Lindsey Getz is a freelance writer based in Royersford, Pa.