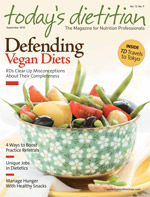 September 2010 Issue
Go Fish — Four Strategies to Increase Practice Referrals
By Lindsey Getz
Today's Dietitian
Vol. 12 No. P. 40
There are many fish—or potential clients—in the sea. You just need to know how to catch them!
Finding ways to garner more referrals is a hot topic among dietitians. After all, knowing that potential clients are seeing endocrinologists, oncologists, bariatric surgeons, psychologists, and various other specialists but not you, even when their medical issues involve an important nutritional component, can be frustrating.
"I'm really passionate about this topic," says D. Milton Stokes, MPH, RD, CDN, owner of One Source Nutrition, LLC, a nutrition counseling and consulting firm in southern Connecticut. "And I've done a lot of things that don't work. But there's no question that finding ways to get new referrals, especially from other professionals, is important for growing your business."
The following are four suggestions for increasing referrals to your practice:
1. Establish Partnerships
Forming a sort of partnership with other local professionals, sending referrals back and forth, is a tried-and-true method of increasing clientele.
"According to the law of reciprocity, when you give, you receive," says Larina Kase, PsyD, MBA, a marketing psychologist and author of The New York Times best seller The Confident Speaker, among other titles. "When you provide true value for your referral partners, they do the same for you. The value you provide needs to be authentic and the giving needs to be from a place of inspiration—without necessarily the expectation of something in return right away."
Stokes points out that anyone who interacts with a potential patient is someone to whom you may want to introduce yourself and your business. He focuses on meeting professionals who are therapists, licensed counselors, social workers, and other mental health professionals since his practice specializes in eating and weight disorders.
"I seek out the other professionals who would be working with the same type of clientele," he explains. "I send an e-mail [or] letter or call them and request a meeting, and I always phrase it that I want to get to know that individual so that I would feel comfortable referring my patients to them. When you refer your own patients to a professional, they are more inclined to refer back to you as well. It means setting up a cross-referral network."
Setting up a partnership is one of the best ways to generate referrals because you build on the other person's credibility, adds Kase. "If a client trusts a professional and that professional says you are the best, the client is more likely to contact you and also more likely to hire you," she continues. "Referral partnerships are also fun because you get to collaborate with like-minded professionals and add value to their practices and patients as well."
What Works
Stokes says meeting with other professionals for a quick coffee, tea, or lunch is an effective way to establish a cross-referral network. Meeting face to face is often more productive and ultimately more successful. Make initial contact by e-mail, letter, or phone and request a meeting. And remember: Always offer to treat since you're the one who arranged the meeting, urges Stokes.
What Doesn't
In trying to build more relationships with other professionals, Stokes says he invested hundreds of dollars in creating "antioxidant gift baskets" for local physicians. "I bought really nice baskets and loaded them up with wine, dark chocolate, green tea, fresh fruits, dry fruits, recipe cards, and more," he says. "And I included plenty of my pens and business cards. I had them delivered to local offices, but I only got one patient referral from all that hard work and money. It may be that I didn't target the right doctors, and perhaps it might be something another RD would be successful with, but it didn't work for me."
2. Use Snail Mail to Your Advantage
Anytime a new client seeks your services, inquire about how he or she found your practice. It may be that another professional referred you without your knowing—and that's an opportunity for future business.
"I always make a point to ask where my clients found me," says Bonnie R. Giller, MS, RD, CDN, CDE, president and medical nutrition therapist at BRG Dietetics & Nutrition, PC in West Hempstead, N.Y. "I also always send a letter to the patient's physician to let them know I'm seeing that person. It's just one more way to help keep my name in front of local physicians."
Keri M. Gans, MS, RD, CDN, nutrition consultant, speaker, and author of The Small Change Diet (due out in 2011), uses this tactic herself. "Regardless of whether that physician specifically referred their patient to me or just to a registered dietitian in general, I always send a note to let them know their patient is now under my care," she says. "When that patient does well, the doctor now knows my name and who to refer future patients to." Just be certain that all communications are within HIPAA guidelines.
What Works
Sending a professional letter to keep your name on local physicians' radar is easy. But Gans advises keeping it short and sweet to ensure the letter is effective.
"In the letter, I let the physician know their patient was seen in my office, and I briefly describe what we worked on," she says. "It should be a short and concise letter—more of an introduction. Otherwise, the physician won't have the time to actually look at it. I also always enclose plenty of business cards so the doctor has my information and can pass it on."
Dietitians can take this idea one step further without investing too much time or money. If Giller sees an article, a new study, or some research that may be of interest to a local specialist, she sends it along. But, she adds, like the introductory letter, the material should be more of a blurb or summary, not a full-text article; otherwise, the physician may not read it. Include your information and a quick note explaining that you suspected the enclosed material may be of interest.
What Doesn't
Mass mailings or mass-produced postcards or brochures didn't work well for Stokes. "As clever as they look, I really advise against this," he says. "It's like casting a really wide net and catching a lot of nothing. This is another thing I invested a lot of money in and only got a handful of referrals from. I made very nice, high-end postcards and brochures, but it ended up being expensive and ineffective."
3. Create a Strong Online Presence
Many dietitians say that nowadays, direct referrals are more difficult to get than ever before and that many of their clients found their practices online.
"When I ran my former practice, sold in 2001, it was very much healthcare provider referral based," says Beverly Price, RD, MA, E-RYT, principal of Jump Start Consulting, LLC in Huntington Woods, Mich. "Physicians, especially, were very invested in all facets of their patients' health and were committed to referring. You could count on many regular referrals from physicians. But as time went on and the economy changed, everyone seems to be protecting their own turf. In my current practice, I find it is very driven by self-referrals, primarily through the Internet."
Of course, turning to the Web for referrals can be an overwhelming venture, so knowing where to begin is vital. "The Internet is huge and dietitians need to capitalize on it," says Price. "A dietitian with a niche will more likely have his or her website picked up on search engines more frequently due to key words such as 'celiac,' 'eating disorders,' or 'diabetes.' Dietitians can also cross-link with other websites within their practice specialty."
What Works
Get your name on the Web with social media and a website, advises Gans. "Even if a patient is already planning to come see you, before they do, they'll likely Google your name," she says. "So I always recommend that dietitians in private practice have an updated website. It makes a good first impression."
You can also list your name and practice in hundreds of online directories. "It can be hard to know which one is the right one, so start with those that are most popular," says Stokes. "Then be sure to always ask your patients where they found you. If it was online, ask them to be specific so you can see what online presence has had the most impact."
What Doesn't
Don't continue to post your name and business information anywhere and everywhere, warns Stokes. You can cast a wide net to start with, but try to rein it in, he says. The Internet is a massive venue and you can easily start attracting the wrong clientele. If your e-mail address is out there, you can also start expecting a lot of spam, and wading through junk mail can waste valuable time.
To avoid attracting people who are not your ideal clients, Kase says it's important to be as specific as possible. "Paint the picture of who you work with and how you can help them," she says.
4. Get an 'In' From Insurance
"For all the ups and downs of dealing with private insurance, I'd say that about half of my referrals end up coming from it; so in the end, it's worth it for me," says Stokes. "Clients look up [which] dietitians are within their plan and in their area and see my name on that list."
Price says she acquires many clients in the same way. "I run a yoga-based eating disorder treatment program and we contract with several insurance companies. Unfortunately, insurance ends up driving many decisions in the economy today. It is helpful to network with case managers at insurance companies, along with employer groups that offer the insurances we can service."
What Works
Many dietitians in private practice are wary about getting involved with insurance, but our interviewees contend it's one of the biggest referral sources. In fact, Gans says the majority of her business comes from insured clientele.
What Doesn't
Stokes says there are some things to know before getting started with insurance. "Don't assume that because you accept a particular insurance that the patient who calls with that insurance will automatically have nutrition benefits," he warns. "Ask the patient to confirm benefits. You may also want to confirm benefits yourself."
It's also important to know which Current Procedural Terminology codes you're allowed to use. "Ask the insurance company for the codes and the reimbursement structure," says Stokes. "Don't use the wrong codes! If you do, insurance may come back and request return of past payments."
Worth the Time and Effort
Increasing the number of referrals you receive does require extra time and energy, but the payoff may be well worth the effort. And while success will vary based on your practice location, specialty, and other factors, giving these tried-and-true methods a shot just may help you reel in some new patients.
— Lindsey Getz is a freelance writer based in Royersford, Pa.
Dos and Don'ts of Referral Partnerships
When it comes to establishing referral partnerships, there are some specific things you should do—and some things you shouldn't do—to make the relationship work.
"When you network with other professionals, your goal is to look for strategic referral partners," says Larina Kase, PsyD, MBA, a marketing psychologist and business expert. "These are people who will receive a specific benefit from referring to you. And, of course, you get the benefit of the referrals."
Kase provides the following dos and don'ts for forming these partnerships:
• Do have a specific niche or way to be memorable. And be specific in your introduction. For example, "I work with teenage girls who struggle with anxiety, depression, and low self-esteem because of their weight."
• Don't try to be overly "professional." It's actually more important to be likeable and show your personality.
• Do get the courage to meet in person. You'll be more memorable and they'll feel comfortable referring to you once they feel that they know you and can trust you.
• Don't take up a lot of time. Ask the professional to meet for coffee or stop by for a 10-minute meeting.
• Do look for the benefit they will receive and share it with them. It may be that they're seeking new clients or patients, too.
• Don't make the meeting all about you. Learn about their practice, clients/patients, goals, etc.
• Do take something to leave behind in addition to your business card, such as a copy of an article you wrote or an educational pamphlet. It makes you more memorable.
— LG