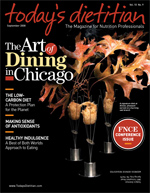 September 2008 Issue
Healthy Indulgence:
A Best of Both Worlds Approach to Eating
By Sharon Palmer, RD
Today's Dietitian
Vol. 10 No. 9 P. 62
Consumers are spoiled: They want to eat gourmet, decadent foods without the guilt. Enter the age of enlightened indulgent foods.
What do pomegranate and dark chocolate ice cream bars, organic kettle potato chips, and vanilla latté granola bars have in common? These foods are prime examples of the hot new trend that food marketing experts are dubbing "healthy indulgence." You see, consumers want scrumptious foods with a healthy twist to drain away any residual guilt.
The landscape of healthy indulgent foods is deep and wide. While some healthy indulgent foods may qualify as an oxymoron, there are others with which even a dietitian might have a hard time finding fault.
"Consumers' perceptions about what is healthy and indulgent vary greatly," says Sheila C. Weiss, RD, LD, director of nutrition policy at the National Restaurant Association (NRA). People may view healthy indulgence as a way to satisfy cravings, pursue hedonism, splurge on special occasions, dine out, enjoy premium products, experiment with food culture, use food as a status symbol, or follow organic, local, slow, and artisan food movements. The combination of rising affluence, growing product choice, vivid marketing messages, and an individualistic society that allows people to think "it's all about me" has culminated in rising expectations about food.
"Consumers are looking for indulgent products that provide a health benefit. They want [to have] their 'indulgent cake and eat it, too.' They want to indulge in these products without feeling the associated guilt and possible negative health effects. Consumers are looking for ways to incorporate these types of products into their diet so they feel satisfied without compromising taste, convenience, and health," says Joy Dubost, PhD, RD, food science communicator for the Institute of Food Technologists (IFT) and principal nutritionist at PepsiCo.
Both food manufacturers and foodservice operators have been following the trajectory of increasing demand for healthier foods for some time. According to a 2008 report in Food Technology, 57% of shoppers make a sincere effort to eat healthier. As people have become more aware of the connections between health and diet, their desire for healthier products has risen. Thus, more foods promoting their healthy appeal are appearing on supermarket shelves and restaurant menus. According to a 2008 Business Insights report, the global healthy food market is growing in value and volume each year, pushed by rising levels of diet-related illnesses, consumer interest in nutrition, and technological advances in the food industry.
Dubost reports that there are several key trends prompting the development of healthy indulgent foods. Indulgent snacks account for nearly two thirds of the snack sales market, but in the last few years, healthy snacks have begun to outpace traditional snacks by a 3-to-1 ratio. Consumers are looking for healthy indulgent snacks that are lower in calories and total fat, including trans and saturated fat, yet also provide a positive addition to the diet, such as whole grains. Indulgent products that are linked to premium foods are in high demand, such as those labeled all natural or organic. Consumers are persuaded by health and indulgence, which can be seen in their willingness to indulge in dark chocolate because of its potential health benefits. And there is a trend toward new ethnic cuisine and flavors within the healthy category, with food companies now hiring chefs to create products with unique spices and seasonings that provide a complete culinary experience.
According to Datamonitor's Productscan Online database, top trends for packaged foods in 2008 include bolder flavors, organic foods for younger consumers, fresh foods, superfruits, exotic and ethnic tastes, foods with a health focus, and green food production.
Redefining Healthy
Public opinion about what puts the "healthy" into food is broadening. After all, what is the true definition of a healthy food? Is it healthy because it's good for the planet, fresh and packed with nutritional benefits, or low in fat and sugar? In the past, health experts might have defined healthy foods mostly based on their stripped-down levels of fat, sugar, sodium—and flavor. But today, there is a new focus on powering up foods with nutrients and flavor.
"I think that now there is more emphasis on what people should be eating rather than what they should not be eating. There is an emphasis on healthy foods like whole grains, nuts, dark chocolate, avocados, and pomegranates," says Weiss.
Many people have a give-and-take relationship with food. To keep things in balance, they compensate every decadent food choice with a healthy choice. According to the 2005 Datamonitor report "Profiting From Consumers Desires for Healthy Indulgences," the healthy indulgence trend represents a great opportunity for the food and beverage industry because consumers have been dealing with their busy lifestyles by eating in a "debits and credits" fashion. Healthy indulgence is a way for manufacturers to straddle both fields and hit a bulls-eye with consumers.
At the Just Ask for Whole Grains Conference sponsored by the Whole Grains Council in November 2007, Kate Peringer, marketing communications manager at The Hartman Group, reported that balance allows for indulgences instead of more restrictive behaviors. Balance helps reconcile healthy ideals with the everyday realities of life. This can be observed in the philosophy, "I'll have to go for a run later to work off this Whopper and fries I'm having for lunch." Peringer predicts that consumers' interest and participation in indulgent products will continue unabated and that it is not necessary to downplay or otherwise compromise a product's indulgent qualities for the sake of being or appearing healthier.
The Flavor King
Flavor is king is a long-respected rule in the food world that prevails to this day. You can't sell a healthy product if it doesn't taste good. As upscale, gourmet, and fresh ingredients reign supreme, healthy has to taste better than ever. The ice cream purveyor Cold Stone Creamery is using "Healthy Indulgences" as a tagline in a new frozen dessert line with the slogan, "Healthy and flavorful don't always go hand in hand. At Cold Stone however, they do." Cold Stone Creamery offers healthy indulgence with mix-ins such as crunchy nuts, fruits, and nutritional supplements for their products.
The net result is that people are no longer equating healthy with boring, dry, flavorless foods. Gone are the days when "diet" platters at restaurants were limited to a scoop of cottage cheese with fruit cocktail. In a 2006 Hazelnut Council survey of 1,000 adults conducted by an independent research firm, 95% of those surveyed believed a food can be both healthy and indulgent. A 2005 Datamonitor report found that freshness is an increasingly desired quality that could help bridge the health vs. flavor gap. The survey of Europeans and Americans found that 62% of consumers simultaneously associated freshness with health and tastiness. Peringer reports that the foodie/gourmet category is perceived by consumers to have a unique combination of health and indulgence attributes and will continue to grow in importance.
Super "It" Ingredients for Health
With nutrition research increasingly splashed across the pages of mainstream media outlets, the healthfulness of superfoods and ingredients has reached epic proportions, leading people to ferret out key ingredients in products in earnest. Thus, products such as dark chocolate 100-calorie bars and pomegranate- and blueberry-spiked green tea have become enormously appealing. According to the Food Technology report, two thirds of adults made an effort to buy more fortified foods last year, up 17% from 2005. With 69% of Americans pursuing a preventive lifestyle, the sales growth of foods that offer specific health benefits is exploding.
Today's superstar ingredients include probiotics, whole grains, antioxidants such as lycopene and lutein, dark chocolate, omega-3 fatty acids, herbal extracts, and green tea. Blueberries, açai, goji, mangosteen, noni, pomegranate, sea buckthorn, dragon fruit, Indian gooseberry, and yumberry are among the marketing darlings of the superfruit world. And if there's a whiff of vegetables in a food product, the health perception comes to life. Look no further than the popularity of products such as Flat Earth Chips, in which "nutritious and delicious have finally come together" in varieties such as Tangy Tomato Ranch and Garlic and Herb Field.
Mary Ellen Camire, PhD, a professor in the department of food science and human nutrition at the University of Maine and member of the IFT, reports that two years ago, the student product development team in her department won an IFT product development competition with a chocolate-covered frozen blueberry yogurt dessert called Yo Bons (yobononline.com) and created a company to market it to restaurants with the slogan "health savvy indulgence."
Leading segments in healthy indulgence can be found in baked goods, frozen desserts, confectionaries, yogurts, bars, cereals, snack foods, and beverages. Healthy confectionaries might have been a laughable term in the past, but with consumers' interest in all things healthy and tasty, it has been identified as a rich opportunity for growth in the food industry. Thus, products such as Simply Wicked Confections Ginger Bears and Crystallized Naked Ginger candies, made with real ginger and less sugar, have a competitive edge in the market.
Healthy indulgent beverages are making their mark as well. Between 2005 and 2010, retail healthy drink sales are estimated to grow from $119.4 billion to $145.4 billion across Europe and the United States. Sales of purely indulgent drinks are predicted to experience a slower rise. Forecasts indicate that by 2010, healthy drink sales will outnumber indulgent drink sales. And the healthy indulgent drinks sales are targeted to increase at a steady rate of 2.9% in Europe and the United States. For example, Campbell's V-8 V-Fusion Strawberry Banana drink combines 10 fruits and vegetables in each tasty serving.
Dining Out, the Healthy Way
In the restaurant world, the old paradigm of healthy menu options being restricted to rubbery chicken breasts, iceburg lettuce, and acidic fat-free dressing are quickly giving way to a new form of healthy cuisine. Weiss reports that restaurants are offering healthier items such as wraps, pitas, entrée salads, chicken sandwiches, side fruit/salads/vegetables, vegetarian entrées, bottled water, tea, and fruit juice.
Chefs are also putting a new spin on cuisine that makes healthy equal tasty. California cuisine has its roots in local produce, herbs, ethnic fusion, and olive oil. Mediterranean cuisine is highlighted as a healthy lifestyle that includes sensual, flavorful foods and wine. The popular tapas movement is quintessential healthy indulgence, with its emphasis on small plates of divine food. Bold flavors such as wasabi, ginger, chiles, and curry are packing flavor without the calories. Cleaner, simpler foods are in, and rich, creamy, over-the-top sauces are out. According to Weiss, the NRA's 2007 Chef Survey notes that top food trends seem to back up the healthy indulgence factor. The No. 1 trend is bite-sized desserts followed by locally grown produce, organic produce, small plates, and specialty sandwiches.
"People are interested in healthier ingredients. I am looking at serving 50% of my menu as seafood and lighter fish. It's heading that direction. People have been 'creamed' to death. The nouvelle French cuisine has sauces that are a lot lighter. Foods are not as complex; they are more simple and speak for themselves," says Bill Troyanoski, who oversees all culinary aspects at the Saddle Creek Resort in California's Sierra Foothills as the general manager. Troyanoski notes that the most popular appetizer-sized dish at Saddle Creek Resort is prawns served in a mustard, shallot, and Chardonnay reduction sauce with crostini.
Weiss reports that the NRA's 2008 Restaurant Industry Forecast provides insight into what consumers are interested in when they dine out: "People are eating a lot of different foods in restaurants than they have in the past. According to the NRA's October 2007 consumer survey, three fourths of adults are trying to eat healthier in restaurants than two years ago. Eighty-seven percent of consumers say that healthier food options are available in sit-down restaurants and 83% say that healthier food options are available in fast-food restaurants compared with two years ago.
"Americans want more healthful items available when they dine out. It goes both ways. People will always use restaurants as a place for celebrations and to indulge. But we are also seeing more people looking for healthy options when dining out; they want to take their healthy habits with them when they eat out," says Weiss.
Cutting Through the Hype
Many of the healthy indulgent products in the marketplace are definitely worth splurging on, but some add up to clever marketing ploys that create misperceptions among consumers. "Some products will advertise their content of a particular nutrient or groups of nutrients, but the amounts of the compounds in the foods are not necessarily stellar. Recently, I saw a product that touted its non-GMO [genetically modified organism] wild blueberries—quite ironic, since there are no GMO wild blueberries in existence," says Camire, who suggests that the Nutrition Facts panel is the best place for people to get a sense of the relative merits vs. drawbacks of any food.
Dubost warns, "Depending on the product, these products can still be high in calories, fat, sugar, and sodium. As with all foods, moderation is key. Even though these products may be a healthier choice for indulgence, there is still the tendency to overconsume. Typically, if the product or ingredient has been made into a 'miracle food,' then the tendency to overconsume will be there."
At the end of the day, dietitians are in a prime position to help guide consumers through the ever-changing culinary marketplace toward leading healthier lives. Weiss says, "I think one of the most important things for dietitians to understand is that people eat food, not nutrients. People are getting their health messages from a hundred different sources. No matter how ridiculous something is, the more people hear it, the more they think it's true. It's important for dietitians to keep up with the trends out there and understand how their clients react to these messages. It's easy for dietitians to dissect these health messages, but for the average consumer, it can be difficult."
— Sharon Palmer, RD, is a contributing editor at Today's Dietitian and a freelance food and nutrition writer in southern California.