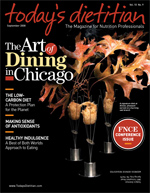 September 2008 Issue
The Art of Dining in Chicago
By Sharon Palmer, RD
Today's Dietitian
Vol. 10 No. 9 P. 34
If you're heading to the American Dietetic Association's (ADA) Food & Nutrition Conference & Expo in Chicago next month, get ready to be blown away. The city wasn't labeled America's "new culinary star" by Saveur last year for nothing. "Chicago is the avant-garde food capital of the world," says Shane Kost of Chicago Food Planet, a company that hosts food tasting and cultural walking tours in Chicago.
The Windy City's draw for world-class dining is becoming legendary. What makes this city's culinary vision so unique? Chicago has it all—from old city diners and mom-and-pop ethnic eateries to hearty steakhouses and sleek critic's darlings. Your problem won't be finding a place to eat while you're in town; it will be trying to narrow your choices to a single restaurant each night.
Perhaps Chicago's love affair with food can be traced to its long connection with feeding people. You might say that Chicago has food running through its veins—from its bountiful crops and stockyards to major food companies and culinary associations. "There are a lot of big food company headquarters here," says Serena Ball, MS, RD, the ADA Food & Culinary Professionals Dietetic Practice Group treasurer and a culinary and nutrition communication consultant in Chicago. "The Institute of Food Technologists and Research Chefs Association's largest regional chapter is here. Two leading futuristic, modernistic chefs from Moto and Alinea are here."
Taking Fine Dining to a New Level
"Chicago has long been known as the 'meat-and-potatoes town,' [and] we claim to have invented deep-dish pizza. We are identified with big, heavy foods that can last you all day long," says Penny Pollack, dining editor of Chicago Magazine. "But a funny thing has been happening in the last few years. We are leaders of the techno chef revolution. We are on the cutting edge of this scene."
Celebrity chefs can be credited with reshaping the culinary landscape in Chicago. Ever heard of Homaro Cantu, Rick Bayless, or Grant Achatz? These stars helped put Chicago on the fine dining map. According to Kost, Charlie Trotter, the godfather of Chicago chefs, opened the door to the city's dining revolution 20 years ago with his eponymous restaurant (Charlie Trotter's, 816 West Armitage, 773-248-6228), and left it wide open for other hot, new chefs to make their entrance. Restaurants such as Spring (2039 West North Avenue, 773-395-7100), Alinea (1723 North Halsted Street, 312-867-0110), and Moto (945 West Fulton Market, 312-491-0058) are examples of some of the city's—and country's—most revered restaurants. "We are getting more chefs from all over the world with a new take on food," says Kost.
Chicago's star chefs are not just putting out fine food; they are elevating it to an experimental art form. Achatz, chef at Alinea who won the 2008 James Beard Outstanding Chef Award, calls his culinary style "performance art." Last fall, one of his dishes featured tempura-fried pheasant skewered on a burning oak branch complete with weathered leaves. The branch was set on fire, and moments before the dish was served, the fire was extinguished so that the pheasant was served amid the aroma of a smoldering oak branch, thus engaging all of the eater's senses. Pollack considers Alinea a jewel in Chicago's culture, in which chefs introduce gadgetry to food. "There are chefs applying magic with all of these wonderful new ideas that are almost experimental," she notes. "You have to keep an open mind and palate to what kind of things they will do with the food."
"A lot of people come to Chicago expecting Chicago-style hot dogs and pizza, but they will be blown away by what chefs are doing and preparing at high-end restaurants. Take Alinea and Moto; they're not just doing American fusion. These people are doing scientific experiments with food, and people are lining up and down the block and making reservations months in advance to get in," says Kost.
Numerous superb restaurants can be added to Chicago's hot dining list. Pollack calls Blackbird (619 West Randolph Street, 312-715-0708) led by Paul Kahan, the genius behind Avec (615 West Randolph Street, 312-377-2002), "cutting edge." Two Chicago chefs were nominated for the 2008 James Beard Best Chef Great Lakes Award: Bruce Sherman of North Pond (2610 North Cannon Drive, 773-477-5845) and Graham Elliot Bowles of Avenues (The Peninsula Chicago, 108 East Superior Street, 312-573-6754), and another, Carrie Nahabedian of Naha (500 North Clark Street, 312-321-6242), was the award winner. Boka's chef, Giuseppe Tentori, was named by Food & Wine as one of this year's best chefs (1729 North Halsted Street, 312-337-6070). Table Fifty-Two (52 West Elm Street, 312-573-4000), NoMI (Park Hyatt, 800 North Michigan Avenue, 312-239-4030), TRU (676 North Saint Clair Street, 312-202-0001), Mercat a la Planxa (638 Michigan Avenue, 312-765-0524), Tallulah (4539 North Lincoln Avenue, 773-942-7585), Sepia (123 North Jefferson Street, 312-441-1920), and Les Nomades (222 East Ontario Street, 312-649-9010) have all garnered critical accolades for their culinary experiences.
In the Hood
"We are a city of neighborhoods," says Pollack. Many of the most celebrated restaurants aren't found downtown; they are tucked away in the boroughs of Chicago. She says, "We embrace it all," with neighborhoods that you might not have wanted to set foot in 10 years ago transformed into charming streets bustling with boutiques and a variety of dining experiences.
"Take a cab or public transportation and get out of the downtown area to the north, west, and south—visit the neighborhoods. You won't be disappointed," says Ball. "You see it all in Chicago—a mix of old style, Chinese, Armenian, Lithuanian, Polish, then a great new, vibrant mix of eclectic American restaurants. There are the really old restaurants that have been here for the last five decades and the brand-new vibrant restaurants. In every neighborhood, there is a renaissance. Yet even with gentrification, you see the staid-and-true lunch counters still running."
Check out these dining destination neighborhoods, a short cab ride from your hotel.
Lincoln Park
Named for its park, Lincoln Park is now known for its eclectic mix of restaurants—from fast-food joints and old-fashioned diners to award-winning and ethnic eateries. Try Café Ba Ba Reeba (2024 North Halsted Street, 773-935-5000) for a "Sex and the City-meets-tapas" experience and L20 (2300 North Lincoln Park Avenue, 773-868-0002) for a seafood splurge.
Bucktown
Local artists have rejuvenated this trendy neighborhood. Originally a neighborhood of Polish immigrants, Bucktown is filled with art galleries, music clubs, boutiques, and a variety of restaurants—from coffeehouses and casual eateries to upscale and ethnic hotspots. Try Hot Chocolate (1747 North Damen Avenue, 773-489-1747), an urban café featuring James Beard-nominated pastry chef Mindy Segal and her inspired desserts.
Andersonville
Andersonville started out as a Swedish community, which influenced its architecture, religion, cuisine, and lifestyle. Today, other diverse cultures have been folded in to create a prosperous community of local businesses, thriving Hispanic and Swedish communities, and neighborhood involvement and commitment. Some of the culinary highlights of Andersonville are the ethnic delis, bakeries, and food shops. For a hearty breakfast, try Svea (5236 North Clark Street, 773-275-7738).
Gold Coast
Like its name implies, the Gold Coast area has always been known for its luxurious digs, with its share of wealthy citizens and mansions gracing the neighborhood over the decades. Things haven't changed in that regard, as you can partake in upscale shopping at Barneys New York and Prada and cap it off with a hot night on Rush Street, which is packed with famous restaurants and bars. Try Le Colonial (937 North Rush Street, 312-255-0088) for a sultry French-Vietnamese dinner. 
Wicker Park
This area was home to Norwegian, German, Irish, and Polish immigrants who brought a boom to the local community with numerous businesses. Although Wicker Park experienced a decline through the mid-1900s, today it is enjoying a renaissance with an explosion of antique shops, boutiques, and restaurants. Try Mado Market & Eatery (1647 North Milwaukee Avenue, 773-342-2340) for modern farmhouse food.
Chinatown
While Chicago's Chinatown is not very big, it's vibrant, according to Ball. The first Chinese immigrants settled in Chicago around 1870, much later than West Coast settlements. Today, Chinatown's predominant attraction and business is the 40-odd restaurants. Check out the Phoenix Restaurant (2131 South Archer Avenue, 312-328-0848), voted Best Dim Sum 2007 by the Citysearch Chicago audience.
Albany Park
Albany Park went from a farming community to a dynamic urban area in the span of a single generation. Following a suburban exodus north, Albany Park fell into decline during the '70s, becoming a hotbed for drugs and crime, but redevelopment in the '80s and '90s turned the neighborhood around. Now the area hosts the largest Korean, Filipino, and Guatemalan populations in Chicago. Ball reports that the neighborhood comes together with a variety of fabulous ethnic foods—from Middle Eastern to Indian. A local favorite for Koreanized Chinese food is the Great Sea Chinese Restaurant (3254 West Lawrence Avenue, 773-478-9129).
Wrigleyville
Once known for estates and farms, this area in Lakeview is home to more than 600 shops, a plethora of bars and restaurants, and the Chicago Cubs' Wrigley Field. Wrigleyville's reputation slants more toward beer pubs, but you can make an evening out of a pit stop at Uncommon Ground (3800 North Clark Street, 773-929-3680) for a green jam session of local, sustainable, and organic food, as well as entertainment by local musicians.
Loco for Local
"Many city chefs are going to the markets every day. Rick Bayless, Paul Kahan, and Bruce Sherman, who is frequently compared to Alice Waters, are all out there shopping. We're right up there with the green, organic, sustainable movement," says Pollack.
"More restaurants are realizing that this is a great agricultural center. It used to be the bread basket of the nation, and the Chicago stockyards were here. More farms are springing up near the city, providing different products that the chefs need," says Ball.
Many Chicago chefs are dedicated to local, sustainable food. Ball reports that restaurants such as TRU display a culinary style similar to that of legendary Yountville, Calif., restaurant The French Laundry, with an attention to interesting uses of local, artisanal ingredients. "Vie [4471 Lawn Avenue, Western Springs, 708-246-2082], winning Best New Chef in Food & Wine a year ago, was really one of the first in Chicago to embrace local farms and sustainable agriculture and to catch on to this," says Ball.
If you want to sample the local, artisanal food scene, make a stop at Pastoral Artisan Cheese, Bread & Wine (2945 North Broadway, 773-472-4781) or visit one of the two farmers' markets: Oak Park Farmers' Market in the Village of Oak Park on Saturdays from 7 am to 1 pm and the Green City Market in Lincoln Park on Wednesdays and Saturdays from 7 am to 1:30 pm.
Culture Club
It's impossible to overestimate the impact of Chicago's surging, diverse population on the city's street-smart cuisine. "There is an increase in diversity in Chicago," says Pollack, who notes that Italian and Japanese are as common as American food. "Chicago is a test market for the U.S. We have a great cross-section of people in all walks of life. The first Starbucks outside of the Northwest is here. If you can get a product to work here, it'll work anywhere," says Kost.
If you feel like French, Kost recommends visiting the French restaurant that's been split in half to house Café Bernard, an authentic country French bistro, and the Red Rooster Wine Bar and Café, serving French provincial cuisine (2100 North Halsted Street, 773-871-2100) in Lincoln Park. Pollack favors the French-Mexican restaurant Mexique (1529 West Chicago Avenue, 312-850-0288).
Brazilian steakhouses are heating up in Chicago, according to Pollack, with several popular spots located throughout the city. Brazzaz (539 North Dearborn Street, 312-595-9000) is an editorial winner in Chicago Citysearch's Best Brazilian Food. 
And if you're in the mood to sample one of Chicago's finest Italian establishments, look no farther than James Beard award-winning Spiaggia (980 North Michigan Avenue, 312-280-2750). For simpler Italian fare, try Mia Francesca (3311 North Clark Street, 773-281-3310), recommended by Pollack. "There is a thin-crust pizza craze now—Neapolitan-style pizzas, made in wood-burning ovens, with a thin, chewy crust," says Pollack.
"There are more Polish here than outside of Warsaw, so try to take an opportunity to go to a Polish restaurant, market, or butcher shop. You will be amazed at the sausages, pickled herrings, and different styles of pork meat sold in dozens and dozens of ways. You will be overwhelmed—it's just so delicious," says Ball. Czerwone Jabluszko (Red Apple) Restaurant (3121 North Milwaukee Avenue, 773-588-5781) is a favorite local haunt.
"Chicago has the second-largest Latino population in the country," says Kost. "You can find everything from high-end Mexican fare at Frontera Grill [445 North Clark Street, 312-661-1434] to mom-and-pop restaurants." Adobo Grill (1610 North Wells Street, 312-266-7999) offers a fine Mexican food experience. Ball suggests Nacional 27 (325 West Huron, 312-664-2727) for an opportunity to sample "100 different tequilas and good, eclectic Hispanic food.
"The Hispanic sections of Chicago are large. In the North Park area, you can walk around to different Hispanic shops, markets, and restaurants. My favorite thing is to go in and order gorditas and sopas in Hispanic storefronts," says Ball.
Japanese and sushi restaurants abound in Chicago. Kamehachi, with five locations (www.kamehachi.com), is Chicago's first sushi bar. Sushi Wabi (824 West Randolph Street, 312-563-1224) and Mirai Sushi (2020 West Division Street, 773-862-8500) are also local favorites.
Regional American food has its own presence in Chicago. "There are many Southside soul food establishments that offer African American Southern-style soul food. A lot of these restaurants haven't changed for 40 to 50 years," says Ball. Army & Lou's (422 East 75th Street, 773-483-3100), with 60 years under its belt, serves award-winning Louisiana-style Southern food. "Chicago has lots of storefront diners," says Ball, who suggests White Palace Grill (1159 South Canal Street, 312-939-7167) as a local haunt with old-fashioned lunch counters and a diverse mix of guests. "Chicago has a huge concentration of steakhouses," reports Pollack. A virtual institution, Gene & Georgetti's (500 North Franklin Street, 312-527-3718) is one of the most talked-about steakhouses in town.
If you're in the mood for Indian food, take a ride to Veera Sway (844 West Randolph Street, 312-491-0844), one of Pollack's favorites.
It's impossible to list every cultural culinary treasure Chicago holds in its hands. "With tapas, sushi, Middle Eastern, and Indian food in nearly every neighborhood, 'What do you feel like eating?' You can find it in Chicago," says Pollack.
Street Staples
Putting chic city dining aside, there are some simple street foods that the hearty "town of big shoulders" is known for that might be worth noshing on if you get a chance. "There are two things that are pure Chicago, [one being] Chicago-style hot dogs that are different than anywhere else. They are on a poppy seed bun, with a pickle spear, no ketchup, mustard, spicy giardiniera, and celery salt sold in stands on every corner. Italian beef is a Chicago-style sandwich that is marinated sliced beef, beef gravy, and giardiniera," says Ball.
With so many culinary jewels waiting to be explored, one thing's for sure: You won't leave Chicago hungry.
— Sharon Palmer, RD, is a contributing editor at Today's Dietitian and a freelance food and nutrition writer in southern California.
Chicago Dining Made Easy
Check out these resources to help make your dining choices easy while visiting the Windy City.
The Best of the Best Dining in Chicago, www.bestofthebestdiningchicago.com
Chicago Food Planet Food Tours, www.chicagofoodplanet.com
Chicago Magazine, www.chicagomag.com
Chicago Sun-Times, www.suntimes.com
Chicago Tribune, www.chicagotribune.com
Chicago's Restaurant Guide, www.diningchicago.com
Metromix Chicago, http://chicago.metromix.com/restaurants
Time Out Chicago, www.timeoutchicago.com