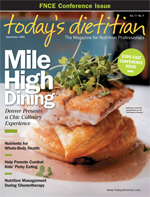 September 2009 Issue
Turn Over a New Leaf — Stevia-Based Sweeteners
By Chef Kyle Shadix, MS, RD
Today's Dietitian
Vol. 11 No. 9 P. 74
Stevia (Stevia rebaudiana) is getting a lot of attention lately as a hot "new" sweetener. Interestingly, this plant, which is native to Paraguay and Brazil, has been used safely as a dietary supplement for hundreds of years. However, crude stevia, which contains a mixture of many components of the stevia leaf, has not been widely embraced due to the bitter taste associated with components in the stevia plant.
Last year, new zero-calorie, all-natural sweeteners made with Reb A, a high-purity extract of the stevia plant, entered the scene. These sweeteners, such as Truvia and PureVia, are the first zero-calorie, natural sweeteners to obtain generally-recognized-as-safe status by the FDA.
Reb A, the sweetest steviol glycoside, is removed from the stevia leaf through an extraction process similar to brewing tea. It is then purified to remove the crude components of the plant. Lastly, water is removed and the product is crystallized, yielding 97% pure Reb A extract—without the bitter aftertaste often association with stevia. The extract is then blended with natural ingredients to give it a clean, sweet taste and the texture of sugar. Each packet is equivalent to the sweetness of 2 teaspoons of sugar, yet it contains zero calories and only 2 grams of carbohydrates.
Using Reb A sweeteners in beverages, cereals, and plain yogurt is a great way to naturally reduce calories.
— Chef Kyle Shadix, MS, RD, is director of Nutrition + Culinary Consultants, an advertising, marketing, and culinary full-service agency in New York City.
Blood Orange Iced Tea
Makes 6 cups
I
ngredients:
4 cups cold water
2 large cold brew tea bags
1⁄2 cup freshly squeezed blood orange (or regular juice, if blood orange is unavailable)
6 sticks PureVia sweetener
Blood orange slices
Lime slices
Directions:
Pour water into 1-qt pitcher; add tea bags. Let tea steep for 20 minutes. Add orange juice and PureVia. Pour into tall glasses filled with ice. Garnish with orange and lime slices.
Nutrient Analysis per cup:
Calories: 10   
Protein: 0 g    
Carbs: 2 g   
Total Fat: 0 g
Sat Fat: 0 g  
Cholesterol: 0 mg   
Sodium: 0 mg   
Fiber: 0 g
Cinnamon Hot Chocolate

Makes 2 cups
Ingredients:
2 cups fat-free milk
2 (3-inch) cinnamon sticks
2 T unsweetened cocoa
2 sticks PureVia sweetener
Topping:
6 T chilled whipped cream (optional)
Cinnamon
Directions:
Place milk in a 4-cup glass container; add cinnamon sticks (remove before serving). Microwave on high for about 2 minutes until milk is warm. Add cocoa and PureVia sweetener; whisk until well blended. Heat liquid in microwave for 2 to 3 minutes on high until hot. Serve with whipped cream; sprinkle with cinnamon.
Nutrient Analysis with whipped cream (without whipped cream in parentheses):
Calories: 118 (96)
Protein: 10 g (9)    
Carbs: 16 g (15)  
Total Fat: 3 g (1)
Sat Fat: 2 g (1) 
Cholesterol: 12 mg (5)   
Sodium: 116 mg (104)   
Fiber: 1 g (1)