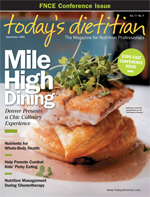 September 2009 Issue
Mile High Dining — Denver Presents a Chic Culinary Experience
By Sharon Palmer, RD
Today's Dietitian
Vol. 11 No. 9 P. 34
Headed to the ADA Food & Nutrition Conference & Expo this fall? An exciting culinary adventure awaits you in the "Gateway to the Rockies."
You might not put Denver on the short list of America's finest food cities, which includes the likes of San Francisco, Chicago, and New York City, but give it time. Denver is on course to become one of the country's great food towns.
There is a perfect culinary storm brewing over the Mile High City. At its historical core, Denver is an established hub for high plains agriculture and ranching. With 300 days of sunshine per year, the local farming scene is robust. A gaggle of award-winning chefs are making headlines. And the people of Denver are a sophisticated, educated, and well-traveled lot. In fact, you might credit Denverites as the impetus for driving culinary excellence in their hometown. The proof is in the numbers. This year, Denver restaurant week broke records, serving 84% more meals than it did in 2008. So much for a recession in the dining world of Denver.
"There is an incredible growth of restaurants in the dining scene itself; it has exploded. It used to be that you went out to dinner to eat steak, but now you can get any cuisine—Ethiopian, Moroccan, noodle bars. You can get everything here that you might find in other major cities," says Amanda Faison, food editor at 5280: Denver's Magazine, recognized as one of America's top five city magazines. "The cuisine is reflective of the people here. We have an influx of people from other parts of the country and world. They come here and expect to see the same level of cuisine."
"It is a super-sophisticated city. People think it's a meat-and-potatoes town and, in fact, it was and is. You can still get a phenomenal steak, if that's what you want. We have an agricultural past in Colorado. Our economic history has been involved with mining, and when that declined, agriculture and tourism took its place. We have some of the best chefs, a good wine scene, and good ethnic restaurants," says Claire Walter, a Colorado-based, award-winning travel, food, and snow sports writer and blogger. Walter is also the author of Culinary Colorado.
Culinary Superstars
The Denver dining scene hasn't suffered from the glowing light bestowed on the city's high-profile chefs. "In the last several years, we've seen a lot of celebrity chefs, which is very exciting. We eat three times a day, so to know the person at the restaurant is great. He or she is not just a nameless face; it's important to know who is behind the restaurant," says Faison.
This year's James Beard Award nominations included three Denver superstars. Frank Bonanno of the Italian restaurants Mizuna (225 East 7th Avenue, 303-832-4778, www.mizunadenver.com), Luca D'Italia (711 Grant Street, 303-832-6600, www.lucadenver.com), and Osteria Marco (1453 Larimer Street, 303-534-5855, www.osteriamarco.com) was nominated for Outstanding Restaurateur. Yasmín Lozada-Hissom of Duo Restaurant (2413 West 32nd Avenue [at Zuni], 303-477-4141, www.duodenver.com), famous for its dedication to seasonal foods, was nominated for Outstanding Pastry Chef. And Alex Seidel of Fruition Restaurant (1313 East 6th Avenue, 303-831-1962, www.fruitionrestaurant.com), which serves sophisticated comfort food, was nominated for Best Chef: Southwest. Faison believes you'll hear more about these masterful chefs, too.
Locals are excited about other promising culinary stars. Jennifer Jasinski of Bistro Vendôme (1420 Larimer Street, 303-825-3232, www.bistrovendome.com), a classic French neighborhood bistro, and the Mediterranean-inspired Rioja (1431 Larimer Street, 303-820-2282, www.riojadenver.com) was named Best New Chef and Rising Star in Restaurant Hospitality, Nation's Restaurant News, the Denver Post, and 5280. Keegan Gerhard, named one of the nation's top 10 pastry chefs in 2002 and 2004 by both Chocolatier and Pastry Art & Design magazines, is the executive pastry chef at D Bar Desserts (1475 East 17th Avenue, 303-861-4710, www.dbardesserts.com), along with his side gig of appearing on the Travel Channel, the Food Network, the Discovery Channel, and CNN.
Acclaimed chef John Broening teams up with his award-winning pastry chef wife, the aforementioned Lozada-Hissom, at Duo and their newer venture, Olivéa (719 East 17th Avenue, 303-861-5050, www.olivearestaurant.com), serving new Mediterranean fare.
Lachlan Mackinnon-Patterson of Frasca Food and Wine (1738 Pearl Street, Boulder, 303-442-6966, www.frascafoodandwine.com) trained with The French Laundry's Thomas Keller before going on to win many awards of his own, including Food and Wine Magazine's Best New Chefs and the 2008 James Beard Foundation Best Chef: Southwest award.
Chef Hosea Rosenberg of Jax Fish House Boulder (928 Pearl Street, Boulder, 303-444-1811, www.jaxfishhouseboulder.com) was the winner of season five of Bravo's Top Chef television program. And speaking of the locally revered Jax Fish House, Sheila Lucero is an up-and-coming female chef to watch out for at Jax Fish House Denver (1539 17th Street, 303-292-5767, www.jaxfishhousedenver.com).
Setting the Denver dining scene wouldn't be complete without mentioning Kevin Taylor, the force behind the Denver restaurants in the Kevin Taylor Restaurant Group (www.ktrg.net). In 1987, at the age of 25, the self-taught chef opened Zenith: An American Grill (1750 Lawrence Street, 303-820-2800), which was hailed as one of the top three Denver restaurants within six months. A boatload of national accolades soon followed, which helped put Denver on the culinary map. His restaurants include Palettes (100 West 14th Avenue Parkway, 303-534-1455), which dishes up contemporary cuisine at the Denver Art Museum. Showing up on the best of Denver dining lists, the award-winning Restaurant Kevin Taylor (1106 14th Street, 303-820-2600) is located in Hotel Teatro, Denver's first luxury boutique hotel positioned in the Theatre District. Prima Ristorante (1106 14th Street, 303-228-0770), also located inside Hotel Teatro, offers fresh, light Italian fare. Within the Denver Center for the Performing Arts Complex, Kevin Taylor's at the Opera House (1000 14th Street, between 14th and Curtis Street, 303-640-1012) serves contemporary American cuisine in an opulent dining room, and Limelight Supper Club & Lounge (1335 Curtis Street, 720-227-9984) offers casual, quick pre- and post-theatre cuisine. Kevin Taylor STEAK, a modern American Steakhouse, is slated to open in May 2010.
Dining Par Excellence
There's a certain je ne sais quoi about Denver fine dining. Tucker Shaw, Denver Post food editor, calls the Denver restaurant world "fearless." During an interview he gave to VISIT DENVER, The Convention & Visitors Bureau, Shaw said, "Our cooks are audacious and creative, but their restaurants are very accessible—no foodier-than-thou attitude here. We have a young city, which is reflected in the restaurant scene. Denverites won't let a restaurant rest on its laurels, so the cooks are energetic and smart, always changing up the game."
The unique Denver culinary spirit is a theme echoed by local food experts. "The restaurants more often have smaller dining rooms as opposed to gargantuan spaces. It feels more like a neighborhood or a community. I am thrilled to see this trend," notes Faison. "You get world-class cuisine, but the dress is casual—everything from jeans to full suits and everything in between," says Liz Marr, MS, RD, a Colorado-based communications consultant and the chair of the Food and Culinary Professionals Dietetic Practice Group. "There is a pretty strong southwest influence, a little flair of new West cuisine with wild game, and a blend of cultures. It's a melting pot."
In addition to the aforementioned star chef hot spots, the list of Denver's fine dining favorites is lengthy. The northern Italian cuisine of Barolo Grill (3030 East 6th Avenue, 303-393-1040, www.barologrilldenver.com) has made it a local legend and inductee into the 2009 Fine Dining Hall of Fame. Twelve Restaurant (2233 Larimer Street, 303-293-0287, www.twelverestaurant.com) serves modern American food with an emphasis on seasonal monthly menus, which are reflected in the restaurant's name. Table 6 (609 Corona Street, 303-831-8800, www.table6denver.com) is a warm American bistro with a dynamo wine list. Voted best restaurant for both ambience and first dates by 5280 readers, Vesta Dipping Grill (1822 Blake Street, 303-296-1970, www.vestagrill.com) allows diners to interact over dipping sauces.
A Health Haven
Health is also in the air in Denver, dubbed the "Gateway to the Rockies." In a state famous for its pristine mountains and waters that inspire myriad outdoor activities such as skiing and kayaking, it's only natural that you'd find its capital pulsing with active, health-seeking adventurers. In fact, Denver was on the Top 10 list in The Centrum Healthiest Cities Study, based on U.S. city health report cards that included key factors of health status, nutrition and exercise, mental health, and life balance.
"There is definitely a healthy cuisine trend in Denver. It goes along with local, organic food. People are interested in eating that way; it is based on our demographics. Many vegetarian options are available. Diners can find a lot of other useful information on menus like wheat free or gluten free. There are lots of dietary requests in Denver," says Marr.
Many restaurants focus on lighter fare, emphasizing seasonal produce and game meats prepared with a Mediterranean or Asian flair. And even though you're right in the middle of ranch country, you can find vegetarian restaurant gems such as WaterCourse Foods (837 East 17th Avenue, 303-832-7313, www.watercoursefoods.com), where you'll savor comfort food classics for the herbivore, such as portobello po boy sandwiches.
Local, Sustainable Denver
"We have a vibrant slow food movement. Many restaurants are buying local Colorado foods from organic farms or natural ranches. There are 60 to 70 vineyards and wineries here. You can really have an all-Colorado meal here," says Walter.
"Local, sustainable food is such a trend now. There is a reason lots of our restaurants are embracing it—we are surrounded by farmland. There are orchards with cherries, peaches, and apples. There are cattle and bison, grass fed and raised in a progressive way on small ranches. This trend extends from high-end restaurants to burger spots," says Faison.
You can even find local grass-fed meat at the farmers' market, according to Marr, who believes that the big focus on sustainable, organic food originated with the concentration of Colorado-based organic and natural product companies and has trickled down to the restaurant scene. A number of cage-free, naturally fed poultry farms abound as well. Chefs are partnering with local ranches to raise special meats, and menus often call out these ranches by name.
Chefs can't resist the abundance of seasonal produce spilling out of local farms. "It's a trend that lots of chefs are partnering with farmers, even purchasing or renting land to grow their produce on. They are working hand-in-hand with farmers," says Faison. "Rooftop gardens are a huge deal here, too. The produce tastes better, and there is more control. Our seasons are relatively mild."
A thriving artisanal movement is also a facet of the local culinary magic. "There are many hand-crafted items in restaurants, such as homemade yogurts, cheeses, breads, gelato, and dressings. People cure meats in house. There is a movement toward making everything in house that can possibly be done. It's really exciting because the food is healthier, it tastes better, and the chefs really take pride in taking it to the next level," says Faison. Bistro One (1294 South Broadway, 720-974-0602, www.bistroonedenver.com) takes the cake; they bake all of their own breads, cure their own meat, and boast a rooftop garden.
Which restaurants are at the cutting edge of the slow foods movement? At Fruition Restaurant, the dedication to seasonal foods inspires what Faison calls "beautiful cuisine with simple, fresh food that doesn't need to be multilayered." A favorite dinner consists of a Salmon Creek Farms grilled pork chop, fennel sausage and yellow corn spoonbread, marinated fennel, and cipollini onion and pistachio vinaigrette. Twelve Restaurant plans the menu around the 12 months of the calendar. Faison calls the cuisine "a refreshing way to serve local, sustainable, organic, seasonal food. It's so pared down and simple." A June dinner course of beef short rib, red chard, Yukon potato purée, and horseradish gremolata speaks for itself. The earth-friendly garden setting of Gaia (1551 South Pearl Street, 303-777-5699, www.gaiabistro.com) wouldn't be the same without Patrick Mangold-White's farm, which supplies his restaurant with the fixings to make menu items such as organic buckwheat crêpes with creamed spinach, artichoke hearts, Swiss cheese, and eggs.
Culture Club
A budding culinary city has to have an ethnic food culture to thrive—and Denver's got it. "We have ethnic communities here. There is a huge Latino influence, especially from Mexico and South America. There is an Italian community and Asian community. Denver has minidistricts of many cuisines," says Faison.
Walter adds, "We have everything from a hole-in-a-wall Mexican restaurant with grandma in the kitchen to incredibly sophisticated Mexican restaurants. There are dim sum places that rival Chinatown in New York or San Francisco. There is very good Thai and Vietnamese. There are tons of Asian restaurants that are modest and low key but are really strong."
Casa Vallarta Restaurant (4002 South Parker Road, Aurora, 303-617-4957, www.casavallartarestaurant.com), a casual Mexican restaurant loved by the locals, serves up simple fare such as margaritas and enchiladas. Los Cabos II (1525 Champa Street, 303-595-3232, www.loscabosii.com), a Westword Best of 2008 Winner, showcases Peruvian cuisine such as Peruvian shrimp chowder. Ya Hala (2100 South Colorado Boulevard, 303-758-9376, www.yahalagrill.com) may not look like much on the outside, but inside you can savor authentic Syrian kebabs and falafels.
If you're craving Vietnamese, check out Kim Ba Vietnamese Cuisine (2495 South Havana Street #F31, Aurora, 303-745-1637, www.kimbavietnamese.com), winner of the Best of Denver award for five years running. If you have a dim sum fetish, you might want to take in Café Star (3201 East Colfax Avenue, 303-320-8635, www.cafestardenver.com). Sushi lovers will be impressed with Sushi Den (1487 South Pearl Street, 303-777-0826, www.sushiden.net), a cool, hip place to sample hamachi and bonito. Sae Jong Kwan (2680 South Havana Street, Aurora, 303-752-1338) dishes out familiar tabletop Korean barbeque and authentic Korean soups and dishes.
The beloved Star of India (3102 South Parker Road, #A-10, Aurora, 303-755-1921, www.starofindiadenver.com) lives up to its name, serving up fine Indian cuisine in a family-owned restaurant. Denver even sports an American Indian restaurant. Tocabe: An American Indian Eatery (3536 West 44th Avenue, 720-524-8282, www.tocabe.com) offers up cool Native American food such as Indian fry bread, medicine wheel nachos, and buffalo tacos.
Walk on the Wild Side
By now, you've probably noticed a recurring theme in Denver cuisine: Game meat is where it's at. "Game is a big part of our dining. You can find ostrich, elk, and venison on the menu. Many restaurants pretty heavily showcase game meats that are raised here. People are very health focused and athletic, and these meats are very lean and rich in iron," says Faison.
Walter adds, "Try buffalo and bear. They are fairly easy to find, and they are raised in our community. The National Bison Association is located in Colorado."
Media outlets have called The Fort (19192 Highway 8, Morrison, 303-697-4771, www.thefort.com) a "must-stop for out-of-towners," "the real taste of Colorado," and "best dinner destination." Set in a replica of an historic fort featuring wonderful artifacts, the award-winning restaurant features a menu of old and new foods from the early West such as beef, buffalo, game, and seafood. The Fort sells more buffalo steaks than any other independently owned restaurant in the country.
Everyday Dining, Denver Style
The most growth is occurring in casual dining, according to Faison, who adds, "Artisanal, thin-crusted Neapolitan pizzas are popular, and the burger trend is out of control. Burgers can be so pedestrian and happy-mealish, but these burger places are serving grass-fed beef on a homemade bun that fits people's budget."
The über-popular Park Burger (1890 South Pearl Street, 720-242-9951, www.parkburger.com) serves natural beef and bison burgers for under $7, not to mention hand-cut potato and sweet potato fries and soft-serve milk shakes. Marco's Coal-Fired Pizzeria (2129 Larimer Street, 303-296-7000, www.marcoscoalfiredpizza.com) brings old-world Neapolitan pizza right to Denver, relying on artisanal, Italian ingredients and a 1,000˚F hickory-fired oven to make it happen.
Denver's Boroughs
Denver is a masterpiece of urban planning. It is the tenth largest downtown area in the nation. And did I mention the breathtaking views of the Rocky Mountains? "What's nice about Denver is that there are so many great restaurants with great nightlife concentrated in the downtown area where the hotels are. There is the 16th Street Mall, the Colorado State Capitol, art museums, Coors Field, restaurants, jazz clubs, microbreweries, and Denver Center for the Performing Arts all right there. There is a thriving night scene, and it's easy to get around," says Marr.
Downtown is divided into two regions: the contemporary, skyscraper-strewn east and the historic lower downtown (LoDo to the locals) nestled between Coors Field and the Pepsi Center. With 90 bars and pubs, LoDo is where you head for the nightlife.
Adventures extend beyond Denver's downtown area. "Denver definitely has little pockets of neighborhoods that all have distinctive restaurants. Locals drive to other neighborhoods to frequent them," says Faison. The Highlands neighborhood (not to be confused with Highlands Ranch) has undergone revitalization, turning the borough into a chic place to dine in charming restaurants, sip martinis, gaze at Victorian architecture, and shop in boutiques. Home to Scottish, German, Italian, and English immigrants during the early 19th century, the 250-acre neighborhood is demarcated by West 38th Avenue, Zuni Street, West 32nd Avenue, and Federal Boulevard. Old South Pearl Street, a nine-block strip of quaint houses, shops, and eateries, rests between East Evans Avenue and Buchtel Boulevard. The posh neighborhood of Cherry Creek, just southeast of downtown, offers forested bike paths, outdoor markets, designer shops, cafés, and gourmet food shops.
Denver's High Spirits
Just in case you haven't heard, beer is a big deal in Colorado. First off, the world's largest single brewery in the world, MillerCoors Brewery, is located 12 miles from downtown. Secondly, Denver is home to America's largest beer festival, the Great American Beer Festival, which is held in September. Thirdly, Denver boasts two of the largest brew pubs in the nation. And lastly, amazing microbrewery tasting opportunities await you in Colorado.
"The Colorado Front Range is the Napa Valley of beer, as described by Time magazine. You know beer is important to Denver if the people elected a brew pub owner as mayor," laughs Marr. Indeed, one can fully appreciate the merits of a fine beer in the same manner as one might fine wine. You can sample beer with The Food and Culinary Professionals Dietetic Practice Group at its beer and food pairing during FNCE. (Check out www.foodculinaryprofs.org for more information.)
The quintessential Denver brew pub experience is at the Wynkoop Brewing Company (1634 18th Street, 303-297-2700, www.wynkoop.com), Colorado's oldest brew pub, founded in 1988 by Denver's current mayor, John Hickenlooper. Housed in the historic J. S. Brown Mercantile Building, one can enjoy a brew and pub food under pressed tin ceilings and timber pillars. Rock Bottom Brewery (1001 16th Street, Unit A-100, 303-534-7616, www.rockbottom.com) sports an outdoor café with jazz groups situated on the stage above the beer-brewing kettles. Adjacent to Coors Field, Breckenridge Blake Street Pub (2220 Blake Street, 303-297-3644, www.breckbrew.com) is the perfect place to catch a game, down an ale, and grab some pub food. Falling Rock Tap House (1919 Blake Street, 303-293-8338, www.frth.com) carries about 150 beers from all over Colorado and the world.
If you're not in the mood for beer, you can enjoy a new take on the old-fashioned cocktail at hot spots such as Osteria Marco, an Italian tavern where bartender Adam Hodak works with housemade infusions, bitters, and cellos as unusual bases for cocktails. Try his refreshing Cucumber Di Neve, a drink with house-infused cucumber rum, peach vodka, fresh basil, and mint topped with San Pellegrino.
True Experience
Whatever you do, make time during FNCE to get into the Denver groove. Try a local dining hot spot, sample some game meat, taste the local produce harvest, and sip a beer. And let the locals' zest for health rub off on you—get outside and enjoy that good Rocky Mountain air.
— Sharon Palmer, RD, is a contributing editor at Today's Dietitian and a freelance food and nutrition writer in southern California.
Denver Dining Resources
Culinary Colorado by Claire Walter,
http://culinary-colorado.blogspot.com
Denver Dining & Nightlife,
www.denver.org/dining-nightlife
The Denver Dining Guide Network,
http://denver.diningguide.com
Denver Post on Food,
www.denverpost.com/food
Denver Westword Restaurants,
www.westword.com/restaurants
Denver.com Restaurants,
www.denver.com/restaurants
5280 Denver's Magazine,
www.5280.com/restaurants.php
Restauranteur: Interactive Dining Guide for Colorado, www.restauranteur.com/co/dnv