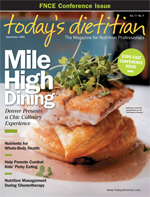 September 2009 Issue
Smart Savings
By Becky Dorner, RD, LD
Today's Dietitian
Vol. 11 No. 9 P. 20
Recently, I received a call from an owner who needed help reducing costs in his nursing facilities' dietary departments. I started thinking about how the typical consultant may go about trying to help these facilities control their costs. Many consultants tell me that while they are well trained in the clinical aspects of their work, their skills are weaker when it comes to foodservice—and especially cost control.
This article is intended to assist you with determining how to help a facility decrease its costs. Step by step, I will review the budget, purchasing procedures, menus, and other considerations using these facilities as a case study.
The owner who called me initially explained that he purchased the facilities 1 1⁄2 years ago. He had recently discovered that his food costs were running $7.50 per resident day (PRD). He pressured the staff to decrease costs and was able to reduce the figure to $6.95 PRD, but his goal was $5.30 PRD, a reasonable objective for his geographic area. He owns three facilities, two of which share a main kitchen. One facility has 90 beds, another has 74 beds, and the third has 100 beds.
Since the owner is not involved in the day-to-day operations, he referred me to his director of operations to get the details. The following are some of the questions I asked and possible suggestions that can help save money. Please note: There is more to learn about cost control, and this column can provide only a brief overview. But it will get you started on your way to saving your facilities large amounts of money.
Budget
Is the dietary manager involved with the budget?
There is no real budget available for dietary. The kitchen supervisor logs in the total dollar amounts every time she places an order, but this is just total dollars spent with no breakdown of food categories.
Do you track what you are spending in each food category?
No, we track total dollars spent by vendor.
Possible solution: A dietary manager cannot be expected to control costs with no guidelines to follow. If you are starting from scratch and have no budget to start with, begin by tracking dollars spent in major food categories: meat/center of the plate*, produce*, dairy*, bread/bakery, staples, coffee/tea, supplements (chemicals, paper items, etc should also be tracked). Use this information to begin formulating a budget for future use.
*These items can consume up to 70% of your budget, so have some good controls in place.
Do you provide employee and guest meals for free?
Maintenance workers (about five people) eat for free. In addition, all kitchen staff eat for free. And there are a few guests who also eat for free.
Possible solution: Track the number of meals that are provided to staff and determine the cost involved in providing "free" meals. In these facilities, we estimated the cost of a meal at $2.50 for raw food alone; add in labor and supplies, and it is probably closer to $5 per meal. We estimated that 20 people eat two meals each day, which equals 40 meals per day at $5 per day, for a grand total of $200 per day to provide free meals. There may be additional costs going out the door. Unfortunately, if kitchen staff eat for free, this can encourage overproduction of food, and this administrator assumed that the kitchen staff overcooked food and took it home with them.
Purchasing
Who handles the purchasing in your facilities?
We have a purchasing agent who places the orders online once every two weeks. The dietary managers provide information for the orders. The purchasing agent doesn't have time and doesn't want to do this part of the job.
Possible solution: This warrants further investigation. Unless the dietary managers have a very organized system in place, I would question whether this could work efficiently. My assumption is that the dietary managers would over-order to make sure they had enough food on hand, since orders are placed only every two weeks. In addition, if the purchasing agent does not want to do this work and does not have time to devote, he may not do a good job.
Do you use a group purchasing organization (GPO) or a prime vendor program?
We have GPOs available for our use, but I'm not sure anyone is using them.
Possible solution: Simply using a GPO can save a facility 5% to 15% without implementing any other significant changes. The typical 100-bed nursing home purchases $120,000 of food each year. Saving 5% is equivalent to $6,000 per year. If your facility has access to a GPO, make sure it is taking advantage of the cost savings provided.
Theft
Do you have any concerns about theft?
The kitchen is in the basement. The food comes from the back of the building and through elevators to which anyone has access. There are no controls in place, and there are no cameras for monitoring. The storeroom doors are supposed to remain locked during the day, but this does not happen on a regular basis. They are usually left open.
Possible solution: Help keep honest people honest by putting some controls in place. Cameras may help, but you need to have supervisors or managers whom you can trust to keep the storerooms locked and hold people accountable for the food in storage. If you have an organized production system in place, staff should have to obtain food from the storage areas only a few times per day. Inventory controls are also essential.
Don't allow staff to use the back doors by the kitchen to exit the building (for breaks or to leave for the day). They may be tempted to carry food to their cars.
Menus and Production
Are menus, recipes, and portion sizes followed?
Staff follow the menus, but I'm not sure if they follow the recipes or portion sizes. They do have a production guide that is generated from their menu system.
Are there many leftovers? If so, for what are the leftovers used?
The kitchen staff have been told to reduce leftovers to no more than 10 portions over the census. This food is used for the maintenance and kitchen staff meals. But they probably take some of the food home.
Possible solution: Overproduction is the single largest reason for out-of-control food costs. Standardized recipes are essential for good cost control. Provide standardized recipes and ensure they are followed.
Portion control is another major factor. Ensure that proper portioning tools are available and portion sizes are followed. Production sheets should be used to adjust the number of portions prepared based on census and acceptance of menu items. Menus should be adjusted based on acceptance of food items as well.
Additional Information Provided
The director of operations also told me that the facilities do two activities per month as fund-raisers, and the dietary department purchases and prepares the food for these activities. The funds generated go to the activities department. Dietary is not credited for the dollars spent on purchasing and preparing these foods.
Possible solution: Always track the amount of money spent on food, labor, and supplies for activities. This should be accounted for in the food budget, and these dollars should not be included in the PRD calculations.

The same lesson should be applied to items that are purchased for nursing and housekeeping. This will help provide a much more accurate picture of where your dollars are going.
Hopefully, this case study provided a few helpful tips for those just beginning to learn about cost control. There is more to learn, but even these few suggestions can add up to large savings for your facilities—and your administrators will greatly appreciate your efforts.
For more information on how to control food costs, visit www.beckydorner.com/products/136 or www.beckydorner.com/products/137.
— Becky Dorner, RD, LD, is a speaker and an author who provides publications, presentations, and consulting services to enhance the quality of care for the nation's older adults. Visit www.beckydorner.com for free articles, newsletters, and information.