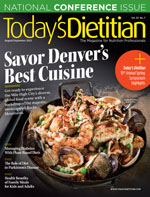 Savor Denver's Best Cuisine
By Carrie Dennett, MPH, RDN
Today's Dietitian
Vol. 25 No. 7 P. 20
Get Ready to Experience a Booming, Diverse Food Scene
If you're headed to FNCE®, peruse this dining guide for critically acclaimed, award-winning restaurants to visit that will satisfy a diversity of palates.
While Denver might once have been best known for green chiles and tacos, the city's culinary scene is on the rise and getting noticed, with James Beard Award–winning chefs, a diverse representation of global food cultures, a growing and committed farm-to-table movement, and more sophisticated diners demanding more of the same—if not better. Despite being landlocked, Denver's ability to quickly access fresh seafood from both coasts has become evident on many menus in delicious ways.
Denver dietitian Anita Bancroft, RD, CC, an ACF-certified culinarian and interim manager of the Community Nutrition Programs at the University of Colorado's Anschutz Health and Wellness Center, says, "The Denver food and dining scene is relatively new compared to some of the other larger cities across the United States. It offers a wide variety of cuisines and is continuously changing."
Bancroft's colleague Courtney Kiang, RD, says one of the marvels of the Denver restaurant landscape is the variety and volume of meals to try. "So many flavors, types of foods, owner's visions, ingredient sources. It feels impossible to try all the recommendations people toss around," Kiang says. "Honestly, after having kids, a Denver night out that includes a fancy restaurant is savored, so trying something new each time we venture into the city is something special."
If you're looking for a food experience that's historical and unique to Denver, Bancroft suggests Buckhorn Exchange (www.buckhorn.com, 1000 Osage Street, Denver, 303-534-9505). "It's Denver's oldest restaurant and bar, established in 1893, and located in Denver's oldest neighborhood," she says. "It has a rich history and has hosted numerous celebrities. They offer wild game meats along with other exotic meats. You can get your Rocky Mountain Oysters here, too!" She notes that Buckhorn is brimming with taxidermy, so it may not be for everyone.
Another unique Denver food experience is Casa Bonita (www.casabonitadenver.com, 6715 W Colfax Avenue, Denver, 303-232-5115; reservations likely necessary). "It's quintessentially Denver, as this historical restaurant was a part of many Coloradoans' lives," Bancroft says. "This was the place to go in the '80s and '90s for birthday parties and family fun, watching divers, playing games, and eating Mexican food." But there was one problem, she says: "Besides the sopaipillas, the food was barely edible." She's excited for the next stage of Casa Bonita's life. South Park creators Trey Parker and Matt Stone purchased the property in 2021 and hired two-time James Beard–nominated chef Dana "Loca" Rodriguez to overhaul the kitchen and the menu. Mexico City–born Rodriguez, who worked her way up the ranks at Rioja and Bistro Vendome (see "Award-Winning Chefs and Fine Dining" below) before opening her own Latin American restaurants, Work & Class (workandclassdenver.com, 2500 Larimer Street, Denver, 303-292-0700), Cantina Loca (www.cantinaloca.com, 2890 Zuni Street, Denver, 303-284-6738), and Super Mega Bien (supermegabien.com, 1260 25th Street, Denver, 720-269-4695), is sticking to her preference for simple, flavorful food. The new menu includes approachable but elevated Mexican specialties, served cafeteria-style. All dishes—such as roasted bone-in chicken with nutty mole negro or smokey chipotle sauce, slow-braised carnitas with house-made tortillas, or sauteed vegetables and roasted poblanos with a red chile–enriched sauce—come with chips and freshly made salsa, and sides of beans, rice, and salad with citrusy dressing. On the dessert menu, sopaipillas are joined by flan, a chipotle-spiced chocolate mousse, and a Mexican lime icebox cake. Craft cocktails are another new addition to this classic destination.
Neighborhoods of Note
One can assume correctly that restaurants don't exist in a vacuum—they live in neighborhoods. The convention center is in Denver's walkable lower downtown (LoDo)—home to the city's top chef-driven eateries and innovative craft breweries such as Jagged Mountain Craft Brewery (www.jaggedmountainbrewery.com, 1139 20th Street, Denver, 720-689-2337), Denver Beer Co. (denverbeerco.com, 1695 Platte Street, Denver, 303-433-2739), and Wynkoop Brewing Company (wynkoop.com, 1634 18th Street, Denver, 303-297-2700), founded by former Colorado Governor John Hickenlooper. Taste other local brews at Tap Fourteen (www.tapfourteen.com, 1920 Blake Steet, Denver, 303-297-8279), a rooftop bar and beer garden featuring 70 Colorado beers on tap, plus more than 50 Colorado whiskeys. "One of the most notable attributes for Denver is the city's craft beer culture, a major draw for food lovers and beer enthusiasts alike," says Tyson Marden, RDN, nutrition core manager and senior professional research assistant at the Colorado Clinical and Translational Sciences Institute, and a former fine dining chef. He likes Wynkoop Brewing Company and recommends three other notable Denver breweries in downtown's neighboring Five Points neighborhood: Goed Zuur (goedzuur.com, 2801 Welton Street, Denver, 720-749-2709), which specializes in sour and wild ales, cheese, and other nibbles; Great Divide Brewing Company (greatdivide.com, 2201 Arapahoe Street, Denver, 303-296-9460); and Ratio Beerworks (ratiobeerworks.com, 2920 Larimer Street, Denver, 303-997-8288).
Prefer wine over beer? Attimo Wine (www.attimowine.com, 2246 Larimer Street, Denver, 720-287-4988) is a working urban winery that ages, blends, and bottles wines from Northern Italy and serves them alongside authentic Italian snacks, such as marinated olives and charcuterie, Thursday through Saturday at its tasting room near Coors Field. A few blocks away, one of Denver's most iconic historic landmarks, Denver Union Station (www.denverunionstation.com, 1701 Wynkoop Street, Denver, 833-391-0338), a renovated 1914 Beaux-Arts train station, is home to 10 chef-owned restaurants and bars. (Tip: Taking the train from the Denver airport to Union Station puts you one mile from the convention center for a fraction of the cost of an Uber, Lyft, or taxi.)
Union Station is next to a Whole Foods (www.wholefoodsmarket.com/stores/unionstation, 1701 Wewatta Street, 720-572-8800, Denver) and sits at the north end of the 16th Street Mall (www.the16thstreetmall.com), a milelong pedestrian-friendly corridor, full of restaurants and shopping (served by free MallRide buses), which passes through the FNCE® hotel area. Restaurants include Blue Agave Grill (blueagavegrillcolorado.com, 1201 16th Street, Denver, 720-550-8389), featuring contemporary Southwestern cuisine with a large margarita selection, house-infused tequilas, and homemade sangria. MAD Greens (www.madgreens.com, 1600 Stout Street, Suite 101, Denver, 720-468-4173) offers salads, grain bowls, wraps, mac and cheese bowls, and juices. Colorado-based Modern Market (modernmarket.com, 900 16th Street, Denver, 303-534-0190) serves farm-to-table fare that can be ordered at the counter, including breakfast burritos, toasted sandwiches, brick-oven pizzas, fresh salads and bowls, and hearty soups.
Marden says one way Denver's dining scene continues to evolve and expand is through the "number of great food halls and markets popping up around the city, offering visitors and locals alike a vibrant and dynamic culinary experience." He points to The Dairy Block (dairyblock.com, 1800 Wazee Street, Denver, 303-309-4847), The Denver Milk Market (www.denvermilkmarket.com, inside The Dairy Block, 303-792-8242), and Stanley Marketplace (https://stanleymarketplace.com, 2501 Dallas Street, Aurora, Colorado, 720-990-6743) as a few notable examples.
North of downtown is one of Denver's oldest and most diverse neighborhoods, Five Points, which was once known as the "Harlem of the West" because it was a frequent stop for Billie Holiday, Louis Armstrong (Satchmo), Miles Davis, and other jazz greats. It has stately Victorian houses and restaurants serving up amazing Caribbean, soul food, catfish, and barbecue. Welton Street Café (weltonstreetcafe.com, 2883 Welton Street, Denver, 303-296-6602) is a soul food staple, offering Southern-style cooking with a Caribbean twist—from crispy fried chicken or catfish to smothered pork chops to smoked collard greens and black-eyed peas.
On the northwest edge of Five Points (and technically part of it) along the South Platte River, River North Art District (RiNo) is a blend of urban charm and industrial revival known for its street art, restaurants, and galleries. Historic warehouses and factories now house jazz bars, restaurants, craft distillers and brewers, winemakers, small-batch coffee roasters, art galleries, and working studios. RiNo is home to several indoor food halls and markets, including the Source Hotel & Market Hall (www.thesourcehotel.com/markethall, 3350 Brighton Boulevard, Denver, 720-443-1135), a highly curated European-style artisan food market in an iconic 1880s ironworks building, and the Marden-recommended Denver Central Market (www.denvercentralmarket.com, 2669 Larimer Street, Denver), showcasing some of Denver's top chefs and food purveyors.
North of RiNo, the Highland neighborhood features historic homes and buildings, lush gardens and parks, and innovative restaurants and bars. Marden and Kiang both recommend Avanti Food and Beverage (avantifandb.com, 3200 Pecos Street, Denver, 720-269-4778), a modern-day food hall inspired by European markets and food truck roundups. It features seven different restaurant concepts—each one housed in a modified shipping container—with affordable, chef-driven cuisine, plus two bars under one roof with communal dining. "It is a fun and inclusive dining experience," Kiang says. She also recommends Linger (www.ediblebeats.com/linger, 2030 W 30th Avenue, Denver, 303-993-3120), which categorizes its menu as cuisine by region, including Asia, the Americas and Europe, Africa, the Middle East, and India. "Linger has an upscale casual feel, and it used to be a mortuary," she says. "It's also conveniently located next to Colorado-only Little Man Ice Cream (www.littlemanicecream.com, 2620 16th Street, Denver, 303-455-3811) with vegan and classic ice cream options if you're looking for dessert."
Also known as North Capitol Hill, Uptown Denver, just east of downtown, is home to Restaurant Row, the stretch of E 17th Avenue running from Broadway to City Park, lined with cafes, bistros, pubs, fine dining, and LGBTQ-friendly bars—most of them with outdoor patios. Steuben's (www.steubens.com, 523 E 17th Avenue, Denver, 303-830-1101) merges a modern diner with a classic café—with 1960s flare—serving regional American fare, including lobster rolls, green chili cheeseburgers, fried chicken, ribs, and cupcakes. It's open for lunch, dinner, and weekend breakfast and brunch. Right next door is Ace Eat Serve (www.aceeatserve.com, 501 E 17th Avenue, Denver, 303-800-7705), which is part Asian eatery, part ping pong hall, and part indoor-outdoor bar that serves craft cocktails, a well-edited beer selection, and an extensive list of Japanese whisky. Executive chef Thach Tran's modern and exciting style of Asian cuisine explores authentically inspired Vietnamese, Chinese, Thai, Korean, and Japanese cuisine.
Plant-Forward Dining
Plant-forward eating is also a trend that continues to gain steam—in Denver and elsewhere—especially as innovative chefs and restaurants keep demonstrating how delicious plant foods can be. While many restaurants include appealing vegan options on their menus, for a full plant-based experience, Kiang suggests Watercourse Foods (www.watercoursefoods.com, 837 E 17th Avenue, Denver, 303-832-7313) or—for a must-taste food experience that's quintessentially Denver—City O' City (cityocitydenver.com, 206 E 13th Avenue, Denver, 303-831-6443), which share the same owner. "Whether you are vegetarian or not, delicious and innovative food comes out of that kitchen," she says. "It's the best vegan and vegetarian food in the city, no one will argue with this."
Vital Root (www.ediblebeats.com/vital-root, 3915 Tennyson Street, Denver, 303-474-4131) offers what the website describes as "a fast-casual approach to the Omnivore's Dilemma" with bright, nutrient-dense, plant-based meals, such as bahn mi tacos, cashew "queso" nachos, and root vegetable Reubens that are "99% vegan, 100% gluten-free, and 101% craveable." Marden recommends Bang Up to the Elephant! (banguptotheelephant.restaurant, 1310 N Pearl Street, Denver, 303-792-4949), which offers vegan food with a chill tropical vibe, including coconut curry, a seitan cubano, peas n' rice, and papaya slaw.
Farm to Table
Denver's farm-to-table scene also is increasing, in spite of a challenging growing season, with spring snowstorms, summer hail, and unexpected frosts. Many restaurants feature dishes inspired by what's seasonal and local, from produce to meat to grains. (If you're lucky, you'll get to taste Palisade peaches, grown in the town of Palisade—Colorado's fruit and wine country—along the Colorado River. They're known for being extra juicy and extra sweet, thanks to the long sunny days and cool summer nights.)
Marden says one of the most notable aspects of the Denver restaurant landscape is its focus on farm-to-table cuisine, with many restaurants incorporating locally sourced, seasonal ingredients into their menus. "This emphasis on fresh, locally grown ingredients has helped to support Colorado's thriving agricultural community and has led to a rich and diverse culinary landscape." He recommends The Wolf's Tailor (www.thewolfstailor.com, 4058 Tejon Street, Denver, 720-456-6705)—one of a handful of restaurants founded by James Beard–nominated Chef Kelly Whitaker—which offers a multicourse tasting menu showcasing the best wild, foraged, seasonal, and fermented products from its Colorado farmers and purveyors. The restaurant serves a seasonal tasting menu Tuesday through Sunday.
Kiang recommends Root Down (www.ediblebeats.com/root-down, 1600 W 33rd Avenue, Denver, 303-993-4200), an employee-owned restaurant that self-identifies the menu as "fresh from the Earth." The menu includes entrees such as bison with smashed fried sunchokes and harissa "tofu" tagine with charred cauliflower. (It also has an outpost at the Denver International Airport in Concourse C past security.) Kiang also suggests Point Easy (pointeasydenver.com, 2000 E 28th Avenue, Denver, 303-233-5656), noting that it's "upscale, lovely, and comfy." 303 Magazine calls the thoughtful menu of starters, pasta, small plates, and large plates, which includes food, wine, and spirits from 50 local purveyors, "rustic and approachable."
Coperta (www.copertadenver.com, 400 E 20th Avenue, Denver, 720-749-4666) works with Colorado's best farmers and ranchers to gather ingredients for its authentic Southern Italian, seasonally inspired dishes, with mainstays such as cacio e pepe and eggplant parmigiana, alongside seasonal offerings and specials. Start with the house-made garlic herb focaccia while perusing the wine list dedicated exclusively to Italy's central and southern regions. Alex Seidel, chef-owner of Mercantile Dining & Provision in Union Station (see "Award-Winning Chefs and Fine Dining" below), also founded Fruition Farms, a 10-acre plot southeast of Denver that grows vegetables and herbs for his restaurants.
Global Flavors
"Another key characteristic of the Denver dining scene is its eclectic mix of cuisines, with a wide range of international flavors and influences represented," Marden says. "There are very few 'native Denverites.' So many people move from all over the country and world to Denver, and we benefit from this as they bring their delicious cuisines to share with us. From traditional Mexican and Italian fare to more contemporary Asian and fusion cuisine, there are great cuisines from all over the world." Marden particularly recommends Café Brazil (cafebrazildenver.com, 4408 Lowell Boulevard, Denver, 303-480-1877), an off-the-beaten-path South American–inspired seafood restaurant.
A sister restaurant to The Wolf's Tailor (see Farm to Table above), BRUTØ (www.brutodenver.com, 1801 Blake Street, Denver, 720-325-2195), has a 15-seat chef's counter that offers a multicourse, omakase-style dinner tasting menu (Tuesday through Sunday) inspired by traditional ingredients grown and found around Latin America, Mexico, Texas, and Colorado, and revolving around local grains, fermentation, and chiles. Bancroft likes the "delicious plates and cocktails at El Five (www.ediblebeats.com/el-five, 2930 Umatilla, fifth floor, Denver, 303-524-9193), a tapas restaurant with Mediterranean cuisine focusing on regions such as Spain, North Africa, and the Middle East. She also likes the view: "The restaurant sits high on the fifth floor and has an incredible view of the Denver skyline."
Domo Japanese Country Restaurant (domorestaurant.com, 1365 Osage Street, Denver, 303-595-3666). "This is one of my all-time favorite restaurants in Denver," Bancroft says. Chef-owner Gaku Homma closed the restaurant in 2021 after a viral TikTok video led to long lines of people that made social distancing impossible but is reopening the restaurant with a smaller focus. "The food is amazing, and they have a beautiful Japanese garden you can sit in." She also recommends Star Kitchen (starkitchenseafooddimsum.com, 2917 W Mississippi Avenue, Denver, 303-936-0089). "If you're a fan of dim sum, this restaurant is worth the wait!" Bancroft says. "They have some of the best dim sum in town, and people line up around the corner to get into their first seating of the day." Vinh Xuong Bakery (vinhxuong.square.site, 2370 W Alameda Avenue, Denver, 303-922-0999) is Bancroft's favorite place to get a bahn mi. The menu includes vegan and gluten-free options.
Cuba Cuba Cafe & Bar (www.cubacubacafe.com, 1173 Delaware Street, Denver, 303-605-2822) offers authentic Cuban cuisine and craft cocktails—accompanied by salsa music—in two adjacent historic turquoise bungalows with a palm tree out front. Sip a mojito and crunch on some plantain chips and dips before enjoying empanadas, ropa vieja (shredded flank steak prepared with a Creole sauce), or camarones con coco (pan-seared shrimp sautéed with a French-style sofrito, garlic, ginger, and coconut milk over creamy mash potato). No reservations; first come, first served.
Award-Winning Chefs and Fine Dining
Conde Nast Traveler proclaimed Denver an official food city in 2018, in part because of Tavernetta (www.tavernettadenver.com, 1889 16th Street Mall, Denver, 720-605-1889), an Italian hot spot founded by James Beard Award winners Bobby Stuckey and Lachlan Mackinnon-Patterson, in the Limelight Hotel. At Tavernetta, handmade pastas shine, but so do dishes such as milk-braised rabbit with morels, lentils, and gremolata, and veggie-forward sides such as grilled rapini with smoked ricotta and garlic. Another stellar hotel restaurant—this one in the Thompson Denver hotel—is French brasserie Chez Maggy (www.chezmaggydenver.com, 1616 Market Street, Denver, 720-794-9544), where Michelin-starred French chef Ludo Lefebvre creates a unique approach to French cuisine using elements and ingredients native to Colorado. Look for mussels frites, trout almandine, Colorado lamb chops, and French wine.
Kiang likes The Capital Grille (www.thecapitalgrille.com, 1450 Larimer Street, Denver, 303-539-2500), a classic steakhouse with some twists, and Ocean Prime (www.ocean-prime.com, 1465 Larimer Street, Denver, 303-825-3663), which is like a steakhouse with a strong seafood emphasis. "Both are Denver staple restaurants in Larimer Square, which was Denver's first block, its first commercial district, home to its first residence and first city hall, and was the city's first designated historic district."
Bancroft suggests The Mercantile Dining and Provisions (www.mercantiledenver.com, 1701 Wynkoop Street #155, Denver, 720-460-3733), located in Union Station and featuring creations from chef-owner Alex Seidel, a James Beard Foundation Award winner for Best Chef Southwest 2018. "It's great for a nice, sit-down meal or grabbing some quick snacks from the market side." She also likes the food and wine selection at Rioja (www.riojadenver.com, 1431 Larimer Street, Denver, 303-820-2282), which offers fine dining specializing in seasonal Mediterranean Spanish cuisine in Larimer Square, with ingredient-driven dishes featuring fresh fish, pastas, and local meats. Chef Jennifer Jasinski won the James Beard Foundation Award for Best Chef Southwest 2013 and was a semifinalist for Outstanding Chef 2016. Other Jasinski restaurants include Ultreia (ultreiadenver.com, 1701 Wynkoop Street, Denver, 303-534-1970), which offers shared plate pinxtos (pronounced peen chos), and tapas—including ham croquettes, bacon-wrapped dates, tinned fish, roasted garlic soup, and Moorish spiced ribs—inspired by Spain and Portugal, right in Union Station. Also in Union Station is Jasinski's Stoic & Genuine (stoicandgenuine.com, 1701 Wynkoop Street, Denver, 303-640-FISH), a multicoastal seafood house and oyster bar.
Chef Jasinski's fourth offering is Bistro Vendome (bistrovendome.com, 2267 Kearney Street, Denver, 303-825-3232), a secluded bistro offering an approachable French menu—think onion tart, seafood stew, steak frites, roasted beets in tarragon vinaigrette—in a charming garden setting in Park Hill, a neighborhood east of downtown and the massive City Park. For more great French food, Marden recommends Brasserie Brixton (www.brasseriebrixton.com, 3701 N Williams Street, Denver, 720-617-7911). The tightly curated menu includes bouillabaisse, coq au vin, steak frites, and a gruyere cheeseburger.
Casual but Tasty Eats
Of course, fine dining isn't the only way to find great food. If your tastes—or budget—lean toward more casual dining, right next to Brassiere Brixton is The Yacht Club (yachtclubbar.com, 3701 N Williams Street, Denver, no phone), which Marden says has great cocktails and hot dogs. He also suggests RiNo's Mister Oso (misterosotacos.com, 3163 Larimer Street, Denver, 720-677-6454), which has made several "best of" lists for its playful menu of tacos, cebiche, and interesting salads—for example, the Brussels sprout salad with avocado, dried cantaloupe, cotija, almonds, quinoa, and creamy tomatillo dressing—and snacks, including many vegetarian options. Chef and Colorado native Blake Edmunds has worked at Michelin-starred restaurants in California, New York, and France.
Other eateries making numerous "best of" lists (including Travel + Leisure's "The Very Best Breakfast Spots in the U.S.") is one of Kiang's picks: Onefold (www.onefolddenver.com, 1919 19th Street, Denver, 720-788-7550). She suggests trying the Union Station location of this breakfast and lunch restaurant so you also can browse the shops inside the historic landmark after you tuck into chilaquiles, congee, crepes, duck fried rice, or a barbacoa chicken bowl. Or head to Fox Run Café (www.foxruncafe.com, 3550 E Colfax Avenue, Denver, 303-537-4594), which also has enticing breakfast and lunch options, such as lemon ricotta pancakes, whipped feta toast, and a tahini Caesar salad. Two more early-in-the-day Kiang picks are Rosenberg's Bagels (rosenbergsbagels.com, 725 E 26th Avenue, Denver, 720-440-9880) in Five Points for "fresh ingredients and the best bagels in the city"—grab a bagel and coffee or go for one of the delightful bagel sandwich options—and Denver Biscuit Company (www.denbisco.com, multiple locations, including 3237 E Colfax Avenue, Denver, 303-339-3977), which she describes as "Southern comfort meets the Mile High City." There are biscuit sandwiches, biscuits and gravy, shrimp and grits in a biscuit bowl … or a house-made granola bowl if you prefer.
If dinner is what you're after, Kiang suggests Reckless Noodle House (www.recklessnoodlesdenver.com, 800 N Sherman Street, Denver, 720-734-2518) for its "quality ingredients, fun flavor combos, and, in their words, 'chill vibes.'"
Whether you go for simple or fancy, plant based or meat and seafood forward, Denver restaurants have something for everyone. So, if you're headed to FNCE®, plan carefully, don't fill up on Expo hall snacks, and be ready to savor the experience. Bon appétit!
— Carrie Dennett, MPH, RDN, is the nutrition columnist for The Seattle Times, owner of Nutrition By Carrie, and author of Healthy for Your Life: A Non-Diet Approach to Optimal Well-Being.
Dining Resources
Eater Denver: https://denver.eater.com
Denver Tourism: https://www.denver.org/food-drink/restaurants/must-try-restaurants
303 Magazine: https://303magazine.com/category/food-and-booze
5280 Magazine:
https://www.5280.com/category/eat-and-drink