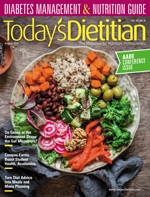 August 2018 Issue
Ask the Expert: What's the Deal With Carrageenan?
By Toby Amidor, MS, RD, CDN
Today's Dietitian
Vol. 20, No. 8, P. 10
Q: Lately, there's been a great deal of controversy around carrageenan. What is it, why is it a contentious topic, and is it safe to eat?
A: Carrageenan is a food gum that's been used for decades as a food additive. There's been much controversy on its use and safety, with some in vitro studies showing harm at certain levels of exposure, and many consumers have called for its removal from food products. That said, long-standing research shows that carrageenan is safe for human consumption.
What Is Carrageenan?
Carrageenan is derived from red seaweed and is used as a thickener, emulsifier, and stabilizer in a wide variety of foods including ice cream, chocolate milk, infant formula, and plant-based milk alternatives such as soy, almond, coconut, and hemp. In certain vegan foods, it's used as an alternative to animal-derived gelatin. It has no nutritive value.
Controversy and Safety Profile
Many regulatory agencies have deemed the use of carrageenan as a food additive to be safe, including the FDA, European Commission Health & Consumer Protection,1 and the Joint Food and Agriculture Organization of the United Nations/World Health Organization Expert Committee on Food Additives.2 Since 1970, the expert committee has assessed the safety of carrageenan eight times. In its latest review, the committee reviewed 77 studies and didn't find evidence of any toxicological concerns. One of the most recent studies on carrageenan, published in Food Toxicology and Chemistry, found that carrageenan doesn't cross the intestinal epithelium, induce oxidative stress, nor cause intestinal inflammation.3
However, many food companies are choosing to remove carrageenan because of consumer demands based on fear of carrageenan's lack of safety. These fears are rooted in several studies that challenge its safety, some of which have concluded that it contributes to fasting hyperglycemia,4 inflammation, and cancer.5 However, a 2017 review of carrageenan's safety published in Nutrition Today states, "It is important to recognize that data obtained from in vitro cell-based models stimulated with an artificially high or unnatural exposure of the compound in question cannot be equated with in vivo human health."6 The review provides an in-depth look at the several studies claiming carrageenan's harmful effects and provides a biochemical explanation as to why each doesn't apply to carrageenan when used as a food additive. The researchers further concluded, "The energy from debate over its possible health risks illustrates how important it is to understand how laboratory and translational research are conducted, linked with public health policy and regulations, and translated to practical nutrition and health messages."
Although carrageenan has been repeatedly deemed safe for use as a food additive, consumers continue to demand its removal from food products. In addition, the National Organic Standards Board has recommended its removal from the organic food supply (though the USDA ignored this recommendation), giving credence to consumers' fears. Unfortunately, finding a replacement that acts like carrageenan is no easy feat and may lead food manufacturers to use less-researched food additives for which long-term safety and appropriate use levels are unknown.
Recommendation for Clients
Today, consumers are questioning every ingredient that goes into a food, and practitioners should expect clients to challenge ingredients' safety. In the case of carrageenan, there's a lack of applicable scientific evidence supporting its purported harmful effects. However, not all clients will be convinced of its safety. For those who wish to reduce intake or exclude carrageenan from their diet, recommend they purchase fewer packaged foods, check ingredient lists, and/or consume less food in general (if healthful for the client). In addition, if clients can grow and preserve their own food, they can reduce their intake of carrageenan.
— Toby Amidor, MS, RD, CDN, is the founder of Toby Amidor Nutrition (http://tobyamidornutrition.com) and a Wall Street Journal best-selling author. Her four cookbooks are Smart Meal Prep for Beginners, The Easy 5-Ingredient Healthy Cookbook, The Healthy Meal Prep Cookbook, and The Greek Yogurt Kitchen. She's a nutrition expert for FoodNetwork.com and a contributor to US News Eat + Run, Muscle&Fitness.com, and MensJournal.com.
References
1. European Commission Health and Consumer Protection Directorate — General. Opinion of the scientific committee on carrageenan. http://www.zusatzstoffe-online.de/pdf/scf_carrageen.pdf. Published March 5, 2003.
2. Food and Agriculture Organization of the United Nations; World Health Organization. Safety evaluation of certain food additives. http://apps.who.int/iris/bitstream/handle/10665/171781/9789240693982_eng.pdf;
jsessionid=F279EDA856DF8F4CF400CFDCC9BCD470?sequence=3. Published 2015.
3. McKim JM Jr, Baas H, Rice GP, Willoughby JA Sr, Weiner ML, Blakemore W. Effects of carrageenan on cell permeability, cytotoxicity, and cytokine gene expression in human intestinal and hepatic cell lines. Food Chem Toxicol. 2016;96:1-10.
4. Bhattacharyya S, Feferman L, Unterman T, Tobacman JK. Exposure to common food additive carrageenan alone leads to fasting hyperglycemia and in combination with high fat diet exacerbates glucose intolerance and hyperlipidemia without effect on weight. J Diabetes Res. 2015;2015:513429.
5. Bhattacharyya S, Dudeja PK, Tobacman JK. Tumor necrosis factor alpha-induced inflammation increased but apoptosis is inhibited by common food additive carrageenan. J Biol Chem. 2010;285(50):39511-39522.
6. Clemens R, Pressman P. Food gums: a primer on carrageenan. Nutr Today. 2017;52(5):258-260.