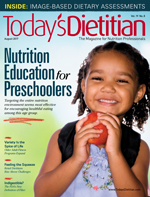 August 2017 Issue
Focus on Fitness: Exercise is Medicine — An Initiative Moving Full Speed Ahead
By Jennifer Van Pelt, MA
Today's Dietitian
Vol. 19, No. 8, P. 50
The American College of Sports Medicine (ACSM) published its top trends in fitness for 2017 in late 2016. It ranked a recent initiative called Exercise is Medicine (EIM) at number seven.1 This global health initiative actually is managed by the ACSM itself; its inclusion in the 2017 top trends isn't surprising, given that the list is based on a survey sent to ACSM health and fitness professionals. I hadn't heard of EIM before the release of the ACSM's top trends list, and I hope that its ranking in the top 10 increases its visibility—its mission is an important one.
According to the ACSM, EIM focuses on encouraging health care providers, especially primary care physicians, to include exercise in treatment plans for their patients and refer them to EIM-credentialed programs and fitness professionals. The ACSM launched EIM with the American Medical Association in 2007 with the initial goal of promoting scientifically proven benefits of exercise using evidence-based strategies within the US health care system. In 2009, global public health, scientific, and medical organizations asked the ACSM to expand EIM internationally. EIM is now a multinational collaborative effort that includes seven regions and 43 nations. Each region has a national task force consisting of representatives from that region's national primary care organizations, other health care specialty organizations (eg, cardiology, sports medicine, endocrinology, nutrition/dietetics, physical therapy), physical education and fitness, academic institutions, and, if possible, government. Task forces are responsible for public messaging about EIM, identifying barriers to implementation and facilitating systemic changes to overcome them, and coordinating clinical and community efforts in their regions.2,3
The ACSM based the EIM initiative on the belief that exercise is a key component in preventing and treating diseases and that a patient's physical activity should be regularly assessed and prescribed, just like other treatments. On the EIM website, the ACSM states, "Prescribing physical activity in the right dosage is a highly effective prescription for the prevention, treatment, and management of more than 40 of the most common chronic health conditions encountered in clinical practice. The goals of the EIM initiative are to encourage health care providers, regardless of their specialty, to take the EIM Pledge to assess and record physical activity as a vital sign during patient visits and to conclude each visit with an exercise prescription." Given that more than 50% of US adults don't meet recommended levels of exercise, physical inactivity is now considered the leading cause of death in the United States, and its associated health care costs exceed $100 billion annually. Therefore, effectively integrating exercise prescriptions into primary care is essential.2-4
Specifically, EIM envisions that the following practices will become standard of care in the clinical setting2,3:
• Health care providers will assess each patient's exercise habits at every visit and determine whether the patient meets established guidelines for recommended physical activity level.
• Patients will be provided with counseling at the visit to help them meet exercise guidelines or will be referred to medical or community-based resources for further counseling and assistance in increasing their physical activity.
• Health care providers will partner with EIM-credentialed fitness professionals to facilitate exercise counseling and prescription for their patients.
In addition to this clinical component, EIM includes a community component as well. To support health care providers, a community referral network is being developed. EIM likens this network to community-based pharmacies. Physicians will have several community EIM-credentialed fitness professionals to refer patients to for exercise counseling and activity guidance, much in the way they send patients to pharmacies for medication prescriptions.3
The ACSM recently introduced its EIM credential for certified or degreed exercise professionals who wish to collaborate with health care providers, guiding those with acute and chronic diseases to make maintainable behavioral and lifestyle changes to incorporate exercise into their treatment plans. Three levels are available, depending on the health status of patients one wishes to work with and existing fitness certifications and education. All levels require a National Commission for Certifying Agencies (NCCA)- or American National Standards Institute/International Organization for Standardization-accredited fitness professional certification and exercise science degree. Levels 1 and 2 allow the EIM-credentialed professional to work with patients who have been cleared for exercise by a medical professional. Level 3 requires a master's-level education in exercise science or a bachelor's degree with 4,000 hours of work in a clinical exercise setting and allows work with patients who require clinical monitoring. An EIM credential training course and credential examination are required for all levels.2
The ACSM has dubbed the EIM initiative "the solution to the greatest public health problem of the 21st century" and issued a critical call to action to health care providers, policy makers, fitness professionals, communities, workplaces, and schools to prioritize physical activity as essential to global health and well-being. The EIM website has numerous resources, including supportive evidence, media kits, action and promotion guides, credentialing guides, workshops, community resources for colleges, and information for industry and others wishing to partner with EIM.2 By providing these resources, the ACSM hopes that more health care providers will sign on with the EIM initiative. However, barriers exist: about 40% of US primary care physicians don't meet recommended exercise guidelines themselves and are ill prepared to counsel patients about exercise. The ACSM notes that inactive physicians aren't credible role models for patients and are less likely to provide exercise advice. Only about one-third of US adult patients reported receiving exercise counseling at their last medical visit.4 The EIM initiative is actively courting the next generation of physicians and developing EIM-specific training for use in medical curricula.5
Currently, the EIM initiative is in its early stages, with clinical and community infrastructures still being developed. For nutrition professionals who also are certified in fitness (NCCA-accredited, such as American Council on Exercise or ACSM), pursuing the EIM credential now will allow for more opportunities to expand health care collaborations and clinical work.
— Jennifer Van Pelt, MA, is a certified group fitness instructor and health care researcher in the Reading, Pennsylvania, area.

References
1. Thompson WR. Worldwide survey of fitness trends for 2017. ACSMs Health Fit J. 2016;20(6):8-17.
2. Exercise is Medicine website. http://exerciseismedicine.org/
3. Lobelo F, Stoutenberg M, Hutber A. The Exercise is Medicine Global Health Initiative: a 2014 update. Br J Sports Med. 2014;48(22):1627-1633.
4. American College of Sports Medicine. Exercise is Medicine fact sheet. http://exerciseismedicine.org/assets/page_documents/EIMFactSheet_2014.pdf. Published 2014.
5. Hill LL, Nichols J, Wing D, Waalen J, Friedman E. Training on Exercise is Medicine within an integrative medicine curriculum. Am J Prev Med. 2015;49(5 Suppl 3):S278-S284.