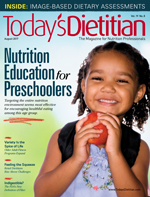 August 2017 Issue
The Retail RD: Promoting Health in the Checkout Lane
By Barbara Ruhs, MS, RDN, LDN
Today's Dietitian
Vol. 19, No. 8, P. 10
Food products sold at the point of purchase at supermarket checkout areas are becoming more healthful. Typically stocked with candy and sugary drinks and dreaded by shoppers with young children, retailers are responding by going candy-free and stocking these areas with more nutritious and healthful choices.1 As health and wellness continues to trend with shoppers2 and retailers face continued pressure from public health and childhood obesity advocates, supermarkets are experimenting with new ways to maintain the high volume of sales and impulse purchases generated in this section of the store. In addition, food manufacturers pay large placement fees to gain access to this prime merchandising space that's trafficked by every shopper visiting the store. Profitable solutions are necessary to influence supermarket retailers to revise existing checkout areas. This article will highlight financially viable and successful examples of what retailers are doing to help shoppers stay healthy and avoid nutrition pitfalls in the checkout lanes.
Learning From Abroad: Candy-Free Checkouts
In 2015, the Center for Science in the Public Interest (CSPI) published a report in 2015 entitled, "Temptation at the Checkout: The Food Industry's Sneaky Tactics to Sell More," to create national attention to inspire US supermarket chains to adopt candy-free checkouts.3 In this report, CSPI chronicles the success of more healthful checkouts in the United Kingdom in 2014 after Parliament and the media made checkout lane offerings part of a national conversation about childhood obesity. Lidl, a large Germany-based retailer with 600 stores in the United Kingdom, piloted the impact of 100% candy-free checkouts in its stores and experienced a 20% increase in foot traffic in the candy-free checkouts as compared with traditional checkouts. Soon afterwards, Tesco, a competitor and the largest grocery chain in the United Kingdom, made the bold move to implement universal candy-free checkouts in its stores as well. Aldi, a European-based supermarket chain, recently announced plans to implement more healthful checkout lanes in all of its US stores. As momentum for the movement is catching on across the country, CSPI has referred to 2017 as "the year of the healthy checkout."4
The following are some examples of retailers committed to improving the health and well-being of their customers through more healthful checkout lanes.
Lowe's Market Promotes Produce
Working with Rob Ybarra, the director of produce at Lowe's Market, a family-owned grocery business based in Littlefield, Texas, New Mexico State University Business School Professors Collin Payne, PhD, and Mihai Niculescu, PhD, conceptualized and tested a unique research project in three grocery stores in Gallup, New Mexico, to increase produce sales. The project didn't involve removing any existing unhealthful items at the checkout but rather focused on increasing the visibility and convenience of fresh produce by placing 99-cent produce "micro-packs," each of which included two fresh fruits or vegetables, on checkout aisle endcaps. Cashiers "suggestively sold" produce to all customers as they came through the checkout, asking the customers if they'd like to purchase one of the micro-packs. Compared with a control store where micro-packs were simply sold in the produce section, both test stores significantly increased their sales of the micro-packs. The success of this test has led to Lowe's committing to sell these micro-packs on grocery checkout aisle endcaps in all of its 150 stores. In addition, Lowe's has created a simple technology that allows cashiers to view balances remaining on WIC fresh fruit and vegetable cash value vouchers so the chain can continue to help customers in need to maximize their fresh produce benefits and prevent fruit and vegetable cash value voucher funds from being wasted. In coordination with the New Mexico State WIC Department, New Mexico State University researchers are testing the impact of this type of retail-based strategy to boost produce purchases at the checkout.
Harmons Healthful Checkouts Feature Fresh Food and Nonfood
Harmons Neighborhood Grocer, a chain with 17 locations and based in West Valley City, Utah, has implemented highly successful healthful checkout lanes featuring refrigerated items, healthful beverages, nonfood items, and positive magazines. Nonfood items have the benefit of not contributing to childhood obesity; trinkets and toys may still be a headache for parents, but they won't ruin a child's diet or spoil their next meal. Harmons' checkout lanes also include nutrition education materials. A team of six dietitians offers customer nutrition education, provides input on signage for healthful foods, and works together to establish nutrition criteria for products featured as part of their "Dietitian's Choice" program. In addition to increasing sales by 10% over the previous year due to the implementation of the more healthful checkout program, Harmons allows vendors with qualifying better-for-you products to purchase display space to be a part of this impactful merchandising program in stores. Laura Holtrop Kohl, MS, RDN, a Harmons dietitian, who was featured in a video produced by CSPI to highlight the success and impact of healthful checkouts, says that the customer feedback has been extremely positive, and healthful items are trending upward. CSPI's video on healthful checkouts, which is set to release this month, features both Harmons and Northgate Markets and shares data from their December 2016 nationally representative online poll of 1,024 adults, which found 79% of respondents agreed that supermarkets should do more to make it easier for people to eat healthfully. In addition, more than three-quarters of people think soda and candy should be sold in the soda/candy aisles rather than at the checkout.5
Coborn's Healthful Checkouts Focus on Sugar and Sodium
Emily Parent, RD, LD, is one of three supermarket dietitians for St. Cloud, Minnesota-based Coborn's Supermarkets. Coborn's started with a pilot program in three stores and then expanded the concept of its healthful checkout lanes to all of its 29 locations throughout Minnesota and South Dakota, offering both perishable and nonperishable items such as fresh fruit, yogurt, 100% juice, kombucha, dried fruit, nuts, seeds, jerky, granola bars, and dark chocolate. Items were screened for nutritional value with a heavy focus on limiting added sugars and sodium (products have to contain less than 10 g sugar and less than 200 mg sodium).
Northgate González Markets Driven by Community Activism
In 2016, the Los Angeles County Department of Public Health's Choose Health LA Kids, an organization focused on reducing childhood obesity, approached Teresa Blanco, the wellness manager for Northgate González Markets, about healthful checkouts. As a retail leader and innovator in promoting health in the community, Northgate quickly jumped on board to test the concept of the healthful checkout by offering more nutritious options and tripled typical checkout sales volume in the first month. Since this pilot in 2016, Northgate has expanded the concept to more than 10 stores in Los Angeles County and Orange County, citing community involvement as a key to its success.6 They're planning to expand to 20 to 25 stores by year's end. ChangeLab Solutions, a nonprofit that oversees the National Policy and Legal Analysis Network to Prevent Childhood Obesity, published a "Model Healthy Checkout Aisle Ordinance" in July 2015 to help local communities, like LA county and retailers like Northgate Markets, create change by offering a model ordinance that provides retailers with information on how to select more healthful items for the checkout lane.
Conclusion
Supermarkets continuously evolve as a means of business survival, and the checkout area of the store is one that appears to be driven heavily by customer demand and activism.7 Now, in addition to "express" and "self-service," look for "healthier" checkouts to become commonplace in supermarkets of the near future.
— Barbara Ruhs, MS, RDN, LDN, is a retail health expert to supermarkets and food companies and founder of the Oldways Supermarket Dietitian Symposium. Follow her @BarbRuhsRD.

References
1. Barker DC, Quinn CM, Rimkus L, Mineart C, Zenk SN, Chaloupka FJ. Availability of healthy food products at check-out nationwide, 2010–2012. http://www.bridgingthegapresearch.org/_asset/821r1p/BTG_healthy_checkout_brief_Nov2015.pdf. Published November 2015.
2. Capitalizing on health & wellness trends. Neilsen website. http://www.nielsen.com/us/en/insights/reports/2017/capitalizing-on-health-and-wellness-trends.html. Published February 22, 2017. Accessed May 20, 2017.
3. Almy J, Wootan MG; Center for Science in the Public Interest. Temptation at the checkout: the food industry's sneaky strategy to sell more. https://cspinet.org/sites/default/files/attachment/report.pdf. Published August 2015.
4. Rudavsky S. Why the grocery store checkout is changing. Indy Star. February 17, 2017. http://www.indystar.com/story/marketplace/2017/02/17/why-grocery-store-checkout-changing/97940654/. Accessed June 5, 2017.
5. Center for Science in the Public Interest. Consumer perceptions of retail checkout. https://cspinet.org/sites/default/files/attachment/hco-poll-fact-sheet.pdf
6. Parents push for healthy food at supermarket. ChangeLab Solutions website. http://www.changelabsolutions.org/publications/parents-push-healthy-food-supermarket. Accessed June 2017.
7. Powlowski, A. Supermarket tests 'relaxed' checkout lane for special customers. TODAY. February 14, 2017. http://www.today.com/health/supermarket-tests-relaxed-checkout-people-dementia-t108187
FAST FACTS
Forty-six percent of impulse purchases occur in the checkout lanes.
Supermarket checkout lanes bring in $5.5 billion in sales of drinks, foods, and other products.1
Ninety-seven percent of supermarkets promote candy, and 93% are selling sugar-sweetened beverages at the checkout in their stores.3
Approximately 80% of shoppers said they'd prefer stores to offer more healthful items at the checkout.5
In 2017, the innovative "relaxed" checkout (ie, a slower checkout lane) was introduced for customers with, for example, dementia or learning disabilities, who might need more time and a lower-stress environment in which to check out.7
— BR
---
HEALTHFUL CHECKOUT OPTIONS
Whole, fresh fruit: apples, bananas, clementines, berries
Precut fresh fruits and vegetables: melons, carrots
Dehydrated and freeze-dried fruits: apricots, figs, strawberries
Unsweetened applesauce, fruit cups, fruit leathers
Nuts and seeds: almonds, peanuts, sunflower seeds, pumpkin seeds
Hummus and peanut butter
Noncaloric beverages: water, seltzer
* If you're a retail RD seeking help in developing nutrition standards or policies or want more resources on healthful checkout implementation from the Center for Science in the Public Interest, visit: https://cspinet.org/protecting-our-health/nutrition/unhealthy-checkout.
— Source: Center for Science in the Public Interest. Rethink Checkout. https://cspinet.org/resource/rethink-checkout