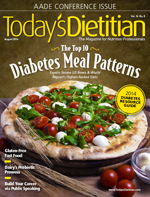 August 2014 Issue
Sweet Corn — It's What's for Breakfast
By Grace Dickinson
Today's Dietitian
Vol. 16 No. 8 P. 66
As a child, I would have told you that corn should be eaten solely on the cob. A quarter of its kernels should be smeared across your face and hands, and if you were lucky, you'd look like a Dalmatian pup because of the char marks left on your face from the grilled kernels.
Some of my fondest summertime childhood memories stem from corn on the cob. I remember helping my dad lug large buckets of ice water up the grassy hill near our charcoal grill. He'd soak the ears of corn then throw them on the hot grates, letting me play basketball while they cooked. As the corncobs steamed in their husks, I'd either beg my dad to join me in a game of hoops or ask him every two minutes how much longer did I have to wait until dinner was ready. I was a typical impatient kid with an atypical appetite for corn on the cob.
Inherently sweet, corn is the veggie version of candy, from the kernels down to the sugary cob, on which I often found myself chewing. At dinnertime, I'd frequently eat five cobs of corn served alongside nothing else but a pat of butter and salt.
I cherish these childhood memories, but I'm all grown up now and would rather not have a bunch of kernels lodged in my teeth and smeared across my face. Now I even conjure up ways to go beyond single-ingredient meals and have a desire to use corn's sweetness to compliment other flavors in a recipe. These days, I find myself using seasonal ingredients for inspiration to create a complete meal.
The following breakfast taco recipe is a good example of this and has become an annual summertime favorite. Keeping it relatively simple, fiber-filled corn teams up with buttery squash, a bit of feta, and vine-ripened tomatoes. All the ingredients take corn's sweetness to another level, and with the help of a few fluffy eggs, this dish becomes a well-balanced meal.
For added flavor, grill your corn ahead of time, and add it in with the first tomato. If you're like me, you'll end up munching on a cob for old time's sake while you prepare the meal.
— Grace Dickinson is a photo enthusiast, food blogger, and recipe developer for FoodFitnessFreshAir.com.
Summer Squash and Corn Breakfast Tacos
These breakfast tacos are perfect for all meals. If you don't have a gas stove, warm the tortillas by placing them in a dry (no oil) stainless steel skillet over medium heat for about 30 seconds on each side.
Serves 4
Ingredients
2 T extra-virgin olive oil
1 medium white onion, diced
1 serrano pepper, minced
2 small summer yellow squash, julienned into 2-inch strips
2 ears of corn, kernels sliced from the cob
Salt and pepper, to taste
2 medium tomatoes, diced
6 large eggs
2 T milk
8 (6-inch) soft white corn tortillas
5 oz feta cheese, crumbled
1/2 cup cilantro, chopped
Hot sauce, optional
Directions
1. In a large sauté pan, heat oil over medium-high heat. Add onion and serrano pepper, and sauté for 2 minutes. Stir in yellow squash and corn, and sauté for another 3 minutes. Season with salt and pepper. Add one tomato and continue to cook until onion and squash are tender, stirring regularly, about 5 minutes.
2. In a small bowl, whisk eggs with milk and a dash of salt and pepper. Pour them into the pan with the vegetable mixture. Cook, stirring occasionally, until eggs are fluffy and cooked through, 2 to 4 minutes.
3. Using tongs, place corn tortillas over a gas flame for 30 seconds on each side to slightly char the outside. Place on a plate and top each tortilla with a spoonful of the egg mixture. Crumble feta on top, and sprinkle with cilantro and the remaining chopped tomato. Serve, with a side of hot sauce, if desired.
Nutrient Analysis per serving
Calories: 420; Total fat: 10 g; Sat fat: 4 g; Trans fat: 0 g; Cholesterol: 300 mg; Sodium: 415 mg; Total carbohydrate: 30 g; Dietary fiber: 5 g; Sugar: 5 g; Protein: 9 g