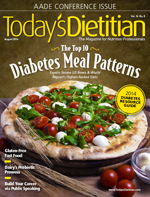 August 2014 Issue
Gluten-Free Fast Food — May I Take Your Order Please?
By Lindsey Getz
Today's Dietitian
Vol. 16 No. 8 P. 28
In an effort to stay abreast of the latest trends, some of the nation's fast-food chains have introduced gluten-free menus or menu items to cater to customers. Like the large numbers of sit-down restaurants that offer gluten-free foods, fast-food chains are finding that the demand for such fare continues to rise, and they're attempting to deliver. But there are some important things clients and patients must know if they plan to eat gluten-free fast food.
Burgeoning Trend
As the general population and the medical community become more educated about celiac disease, an increasing number of people are being diagnosed. That's driving a trend of increased demand for gluten-free food options. "Restaurants are getting on board with this trend because of the fact that one out of 133 Americans [1% of the population] is estimated to have celiac disease," says Jim White, RDN, ACSM HFS, owner and president of Jim White Fitness & Nutrition Studios in Virginia Beach, Virginia, and a spokesperson for the Academy of Nutrition and Dietetics (the Academy).
Joy Dubost, RD, PhD, CSSD, an experienced food scientist and the director of nutrition and healthy living at the National Restaurant Association, says there's no question the demand is there. "Eating a gluten-free diet has become very popular for many reasons. People think they can lose weight or feel healthier, and restaurants are in the business of providing what customers want," she says.
White agrees that celiac disease isn't the only reason many Americans have chosen the gluten-free route; weight loss and overall health are two motivators. "Diet trends including Paleo, low carb, and antiwheat have all driven the trend of gluten-free dining at restaurants," he says.
For many, it's become a lifestyle choice. Unfortunately, that choice sometimes is based on misinformation. "As much as 30% of the population reports eating gluten-free," says Rachel Begun, MS, RDN, CDN, a food and nutrition consultant and the author of The Gluten Free RD blog. "Of this 30%, more are eating gluten-free for nonmedical reasons than those who have to eat gluten-free due to celiac disease or nonceliac gluten sensitivity. I attribute this to the health-halo effect."
Begun says that because celebrities and professional athletes have endorsed a gluten-free diet for everything from weight loss to improving athletic performance and even overall health, the trend has really taken off. But she says there's no evidence to prove that removing gluten from the diet helps with any of this, and those who jump on the gluten-free bandwagon for one of these reasons alone may not be eating a healthier diet at all. The whole health-halo effect of the term "gluten-free" often misleads people to assume they're eating a healthful diet when they're not, Begun says. "Just because it's gluten-free, doesn't mean it's healthful," she adds.
And that's certainly the case for fast food. Although fast-food restaurants now are touting more gluten-free choices, it doesn't mean the food is healthful. But many consumers are duped into thinking that's the case simply because of the association between gluten-free and the idea of good health. This is an important area in which dietitians can educate clients and patients.
In addition, there are safety concerns of which clients need to be aware. There's always a risk of cross-contact when restaurants are handling both gluten-free and gluten-containing foods.
Safe Eating
Maintaining a strict, gluten-free diet isn't always easy for clients, particularly if someone else prepares their food. "If you're eating gluten-free for a medical reason, such as celiac disease, you have to be very careful any time you dine out," says Marlisa Brown, MS, RD, CDE, CDN, president of Total Wellness in Bay Shore, New York, and author of Gluten-Free Hassle-Free and Easy Gluten-Free. "A salad might be advertised as gluten-free, but what if the person who handled your salad forgot to change his or her gloves after handling a sandwich [that contained gluten]?"
White agrees there's always the risk of cross-contact or cross-contamination when dining out. But in fast-food restaurants, it might be an even higher risk. Factors such as a large amount of employee turnover and the hiring of younger, less experienced food handlers can prevent consistency in food preparation. "In fast-food restaurants, it's likely that the workers haven't had training on how to avoid contamination," he says. "My best advice would be to keep the order simple and be very explicit in your instructions."
Brown says that when it comes to fast-food dining, she advises against the drive-thru and urges individuals with celiac disease to go inside the restaurant and order their food. The drive-thru poses more possibility for cross-contamination to go unnoticed. "With fast food, you often can watch it being prepared because you can see the kitchen, and you can ask questions face to face," she says. "But that's only if you go inside. Obviously that takes away a little from the convenience factor, but it's important to protect yourself."
Going inside the restaurant also allows clients to use common sense. "If you go through the drive-thru, you never get a look at the inside of the place," Brown says. "But if you walk inside, and the restaurant is very poorly kept and you can see that the kitchen area is a wreck, common sense dictates that they're probably not going to do the best job taking all the precautions with your food. That would be a good time to choose a different restaurant."
In addition to scrutinizing the prep area, Brown says it's important for people to communicate their needs with restaurant staff members in advance and not wait for them to make a mistake before speaking up. "Explain that you will become ill with the smallest amount of gluten, and ask that the food handler change his gloves," she advises. "Actually speaking to someone in person is going to be your best chance of having a safe experience. Trying to talk to someone through a drive-thru window isn't good enough."
Dubost agrees that communication is key any time clients dine out. "Go inside and talk to a manager or server to ensure they're fully aware of your needs," she says. "But also have a plan before you even get there. Look at their menu online and know what gluten-free options are available."
Although reading menus ahead of time and going inside the restaurant vs. using the drive-thru seem to defeat the purpose of fast food, these are important steps for clients to ensure safety. Brown says doing advanced planning is easier than ever before with advances in technology and the many gluten-free menus available online. "There are now apps available that can help you find restaurants with gluten-free options even when you're out and about," she says. "An app allows you to look things up quickly and still get the convenience factor of eating on the go. It's not like you have to do your research at home. Smartphones make it a lot easier to eat gluten-free on the road."
Consumers who eat fast food need to remember that even if they did their homework about a restaurant in the past, they'll need to do it again because menus are subject to frequent changes. This is why some fast-food restaurants don't commit to offering gluten-free food. "Some restaurants such as McDonald's don't have a gluten-free menu because they frequently change their ingredients," White says. "It's always a good idea to check the websites the day you're going somewhere in order to make sure that what you're selecting truly is gluten-free."
Cindy Goody, PhD, MBA, RDN, LDN, senior director of the nutrition/menu innovation team for McDonald's USA, says the chain always encourages diners to visit its website for the most current information available, particularly since ingredients periodically change. At this time, Goody says the chain doesn't offer a gluten-free menu or list of items but does encourage customers to do their own research. "By accessing the ingredient statement listing on our website, individuals can determine if there are any ingredients or food allergens to which they're personally sensitive," she says. "But we also want you to know that despite taking precautions, normal kitchen operations may involve some shared cooking and preparation equipment, areas, and utensils, and the possibility exists for food and beverage items to come into contact with other food products, including allergens."
Choosing a Restaurant
The potential for cross-contamination is a common scenario. Begun says that many restaurants offer gluten-free items on their menu but aren't taking the extra steps needed to separate gluten-free food preparation areas from the general preparation areas. However, there are some restaurants that take serving gluten-free foods seriously. They go the extra mile to train employees about preventing cross-contact in the kitchen and front of house. The fact that a restaurant trains its employees in this regard may not be advertised, but according to Begun, it's easy to determine. "To the person that has to avoid even the smallest amount of gluten, it's usually pretty obvious if the restaurant associates have been trained," she says.
Which restaurants have the best employee training programs varies, but in general, Angela Lemond, RDN, CSP, LD, a wellness coach in Plano, Texas, and spokesperson for the Academy, says specialty restaurants may know more about their ingredients if they make foods from scratch because they know exactly what's in them. Of course, that's not the case with fast-food restaurants. "In general, chain restaurants have a tendency to have more premarinated or preseasoned foods that just need to be heated up, and those foods will have many more questionable ingredients," she says.
However, one positive about fast-food menus is the consistency of ingredients from chain to chain. "Chains may have more of a universal ingredient menu produced from a national headquarters, which is helpful in determining what's in a menu item," she adds.
Of course, Lemond notes that it ultimately comes down to the people working at a particular restaurant, as they determine whether individuals who must avoid gluten can safely eat there. "The bottom line is that having a successful dining-out experience is largely impacted by the individuals willing to work with you at the specific restaurant you go to," she says. "They need to have the knowledge to decipher their own menu's ingredients."
Some fast-food restaurants do a better job of promoting their gluten-free message than others and therefore are more popular with people who have celiac disease or nonceliac gluten sensitivity. But even that doesn't always mean they're doing a better job of preparing gluten-free items. Diners who must eat gluten-free still need to do their homework and ask the right questions.
White says that Wendy's appears to be a popular choice for gluten-free dining, and the chain has done a good job promoting their gluten-free items. "According to Wendy's, their trademark baked potato is gluten-free as well as their chili and the popular chocolate and vanilla Frostys," White says. "The salads can be ordered without the croutons, although for true celiac patients this may not be good enough. Most of their salad dressings are also gluten-free."
What Lies Ahead
While the gluten-free food trend is booming, Dubost says when the FDA begins enforcing regulations surrounding the definition of gluten-free this month, the number of restaurants boasting these options may decrease. "They will have to comply with strict regulatory definitions, and for some, that simply may not be worth the risk," she says. "It's not easy for restaurants to ensure a gluten-free dining experience. They can work with their suppliers and their ingredients, but there's also prep and handling to worry about. Those that continue to offer gluten-free options are going to be those that are truly committed."
— Lindsey Getz is a freelance writer based in Royersford, Pennsylvania.
Gluten-Free Offerings at Fast-Food Chains
Burger King
Four years ago, Burger King revealed a gluten-sensitive list as part of its BK Positive Steps campaign to provide more nutrition information on the chain's menu items. The company also switched ingredients to make its fries gluten-free. Although celiac disease patients have several choices, ranging from the Whopper patty to the Tendergrill chicken filet, the chain does note that fried items may still be fried with gluten-containing ingredients. Clients can find the full list at www.bk.com/cms/en/us/cms_out/digital_assets/files/pages/MenuGlutenFree.pdf.
Chick-fil-A
Chick-fil-A has provided information about allergens and its gluten-free offerings on its website (www.chick-fil-a.com/Food/Allergen-Gluten-Diabetic). Gluten-free diners can choose the Chargrilled chicken filet (no bun) or nuggets and several sides to avoid eating gluten. However, the chain makes it clear that it doesn't have a gluten-free prep area in its kitchens.
KFC
Known for its fried chicken, individuals with celiac disease and nonceliac gluten sensitivity will find it difficult to eat at KFC because all of the fried chicken items and the sandwiches contain gluten. Diners may be able to choose from the side dishes or salads. The information is available online at www.kfc.com/nutrition/pdf/kfc_allergens.pdf.
McDonald's
McDonald's doesn't offer a gluten-free menu nor does the chain list gluten-free menu items. The chain encourages customers to visit its website and review all ingredients, since they change periodically. McDonald's also urges customers to seek physician guidance due to the "individualized nature of food allergies and food sensitivities." Ingredient information can be found at www.mcdonalds.com.
Taco Bell
Taco Bell has information listed on its website under the "Food Allergens & Sensitivities" tab (www.tacobell.com/nutrition/allergens). A few of the gluten-free choices are the Cantina Bowls and sides. Like other chains, Taco Bell warns that gluten-free food may be prepared on the same equipment as gluten-containing food.
Wendy's
Wendy's publishes a link to its gluten-free menu on its website (www.wendys.com/redesign/wendys/pdf/en_US_gluten_free_list.pdf). Its signature sides such as chili and the baked potato both are on the list as well as several salads and meats.
— LG