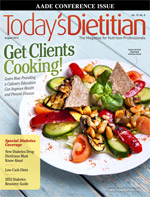 August 2013 Issue
Leeks — A Dirty Little Secret (Ingredient)
By Bryan Roof, RD, LDN
Today's Dietitian
Vol. 15 No. 8 P. 74
If you don't already know, leeks are those seemingly oversized scallions—oft neglected in the produce section—that are related to onions and garlic. They're notoriously filled with dirt because of how they're grown and grow. Most farmers employ a technique known as blanching for growing leeks, whereby the soil is pushed up high around the stalk of the plant to keep it white (read: more tender) as it grows. Leeks also grow in layers, so as each new layer forms, it covers the underlying layer along with any accumulated dirt that may be there.
To be properly cleaned before cooking, leeks must be topped and tailed (roots discarded, dark-green parts removed), and the white and light-green parts sliced thin and left to swim in a water bath so as to encourage the removal of any clinging dirt. Even before slicing, I'll often remove the two outer layers of a leek because they tend to be more fibrous than the inner layers, and they often harbor a fair amount of dirt.
After soaking the leeks in water for about 5 minutes (sometimes in multiple changes of water), I remove the leeks to a colander to drain completely. It's important to note that you should never pour the leeks and soaking water through the colander together, lest you dump the dirt back over them (and risk upsetting me if I'm your guest for the evening).
So why then, you ask, if they're such a pain to clean (and even cost more than onions and scallions combined), do I still insist on eating leeks? Because their flavor is distinct—even irreplaceable—in stocks, soups, stews, casseroles, pastas, dumplings, and tarts. Leeks offer a unique grassy-yet-sweet flavor that's less sharp than onions or shallots and also tamer than scallions. In my early restaurant days, I admit, I questioned their necessity, but now I frequently reach for a leek in place of an onion, shallot, or scallion.
And that's the clean truth.
— Bryan Roof, RD, LDN, is a chef, dietitian, and food writer living in Boston. Follow him on Twitter @bryanroof.
Leek and Shiitake Tart
Serves 6 as an appetizer
Ingredients
Dough
1 1/2 cups all-purpose flour
2 T cornstarch
1 T sugar
1/2 tsp fine sea salt
8 T unsalted butter, cut into 1/4-inch pieces and chilled
5 to 6 T ice water
Topping
1 lb leeks, white and light green parts only, washed thoroughly, halved lengthwise, sliced thin crosswise
4 oz shiitake mushrooms, stemmed and sliced thin
1 cup low-fat ricotta cheese
1 T plus 1 tsp extra-virgin olive oil
1/2 tsp fine sea salt
Ground black pepper
1/4 cup plain fat-free Greek yogurt
1/4 cup fresh basil leaves, sliced thin
Directions
1. For the dough: Process flour, cornstarch, sugar, and salt in a food processor until combined, about 3 seconds. Add butter and pulse until butter is in pea-size pieces, about 10 pulses. Add 5 T water and pulse until the dough just comes together, five to 10 pulses. Add remaining tablespoon of water if needed. Turn dough onto lightly floured counter and form into 5-inch square. Wrap in plastic and refrigerate for at least one hour.
2. For the topping: Meanwhile, combine leeks, 1 T oil, and 1/4 tsp salt in 10-inch nonstick skillet and cook, covered, over medium-low heat until tender, 7 to 10 minutes. Season with pepper to taste; set aside to cool. In now-empty skillet, sauté mushrooms in remaining 1 tsp oil over medium-high heat until their moisture evaporates and they begin to brown. Season with remaining salt and add pepper to taste.
3. To assemble and bake the tart: Adjust oven rack to lower-middle position and heat oven to 400˚F. Roll dough into 14- by 11-inch rectangle and transfer to parchment-lined baking sheet. Dollop ricotta evenly over dough, then top with leeks and mushrooms, leaving a 1/2-inch border around tart edge. Bake until crust is well browned, 45 to 50 minutes. Let cool completely on sheet. Dollop with yogurt and sprinkle with basil. Cut into 24 equal pieces. Serve.
Nutrient Analysis per serving
Calories: 380; Total fat: 21 g; Sat fat: 12 g; Trans fat: 0 g; Cholesterol: 55 mg; Sodium: 500 mg; Total carbohydrate: 40 g; Dietary fiber: 2 g; Sugar: 5 g; Protein: 10 g