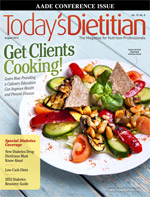 August 2013 Issue
Get Clients Cooking!
By Sharon Palmer, RD
Today's Dietitian
Vol. 15 No. 8 P. 28
Sadly, Americans are staying out of the kitchen, which makes it challenging to eat healthfully. Learn how providing a culinary education can inspire people to don their aprons again.
"I have the diet for you. It's short and it's simple. Here's my diet plan: Cook it yourself. That's it. Eat anything you want—just as long as you're willing to cook it yourself." — Michael Pollan, The New York Times, August 2, 2009
Despite farmers' markets, celebrity chefs, the Food Network, and best-selling cookbooks, many people don't—and even worse, can't—cook. The old ideal of families gathered around the dinner table for a wholesome, home-cooked meal seems to have gone by the wayside, as people lead busier lives and no longer relish the art of cooking.
According to a 2010 Harris Interactive poll of 2,503 adults, 14% said they don't enjoy cooking and 7% said they don't cook at all; only 41% said they prepare meals at home five or more times per week.1 Older adults aged 65 and older said they cook more often than younger adults, indicating that the prospects for cooking may only get worse in the future.1 Moreover, researchers from North Carolina found that the proportion of women cooking has declined from 92% in 1965-1966 to 68% in 2007-2008, and those who do cook spend less time doing so (112.8 min/day in 1965-1966 to 65.6 min/day in 2007-2008).2
To make matters worse, many people who cook meals at home aren't really cooking, per se; they're merely heating up convenience foods and calling it cooking. About 90% of Americans purchase convenience foods, and nearly 25% use more time-saving convenience foods today than in 2001.3 So it's no wonder that the convenience food industry is burgeoning.
While food companies have made great strides in creating more healthful convenience food products, made from whole-food ingredients and without added sugar, salt, or preservatives, many convenience foods don't measure up and hardly help people meet their goals for a healthful eating pattern, such as the DASH eating plan or Mediterranean diet. It's easy to find convenience products with more than 1,000 mg of sodium per serving, yet there are fewer products that include desirable ingredients, such as whole grains, vegetables, and legumes—the ingredients dietitians encourage clients and patients to consume.
And when people aren't eating convenience foods, many are eating out. In fact, as of 2011, people are spending 48.7% of their eating dollars on foods consumed outside the home, such as from drive-thrus, coffee shops, cafeterias, and restaurant take-out menus.4 In particular, people are spending their money on fast food. On average, 11.3% of American adults' total calorie intake between 2007 and 2011 came from fast food.5
What's so bad about eating out all the time? Several studies have found that eating out more often is linked to higher body fat, body weight, and obesity. In particular, dining on fast-food meals is associated with consuming more calories, fat, saturated fat, and sugary soft drinks, and fewer fruits, vegetables, and milk servings.6
"Even with nutritional knowledge, few know how to shop for and prepare healthful yet delicious foods. Culinary literacy is at an all-time low," said David Eisenberg, MD, an associate professor of medicine at Harvard Medical School, during Healthy Kitchens, Healthy Lives, a conference held at The Culinary Institute of America (CIA) in St Helena, California.
"Americans spend less time cooking than many other countries. There are lower rates of obesity observed in countries where individuals spend more time preparing foods," said Sanna Delmonico, MS, RD, an adjunct instructor at the CIA, who also presented at Healthy Kitchens, Healthy Lives.
Why Are People Leaving the Kitchen?
Today people are busier than ever, juggling long commutes and workdays with kids' carpool and sports schedules, and also are plugged into social media 24/7. As a result, more people snack and skip meals. In fact, one-fourth of daily calorie intake comes from snacks, according to Laura Hershey, MBA, RD, health and nutrition manager for Daisy Brand Cottage Cheese, who reported on eating trends at the Supermarket RD Symposium in Dallas in February.
At the same time, more places, ranging from car washes to train stations to bookstores, offer food choices, making eating away from home an even easier alternative. Top it off with the fact that cooking education is all but nonexistent in American schools and it stands to reason why people have ditched mixing bowls and wooden spoons in lieu of simpler solutions.
"Home economics has been taken off the curriculum at most of the middle schools and high schools in the country, so kids are not learning how to cook," Delmonico said. "People are interested in the food system and where food comes from and everyone watches the Food Network, but who's cooking dinner?"
Health Care Professionals Learning to Cook
More and more, health care professionals are recognizing that it's impossible for their patients to meet their goals—a healthy weight; normal lipid, glucose, and blood pressure levels; and chronic disease prevention—if they're not eating home-cooked meals. In fact, this is the theme of the Healthy Kitchens, Healthy Lives conference organized by the Harvard School of Public Health and the CIA.
Every year health care professionals, including physicians, dietitians, and nurses, attend this conference in droves to learn how to help their patients find optimal health through the power of cooking. Over the three-day conference, they watch James Beard award-winning chefs prepare flavorful, healthful meals inspired by the cuisines of Italy, Greece, Mexico, North Africa, and other countries. They even get a chance to acquire skills in the CIA classroom alongside professional chefs. The goal of Healthy Kitchens, Healthy Lives is to inspire health care professionals to bring back their newly found talents to their practices at home.
"At Healthy Kitchens, Healthy Lives, a health care professional can master a few recipes and then go home and make them, feel confident and competent, and impress friends and family," said Amy Myrdal Miller, MS, RD, director of programs and culinary nutrition for the CIA and co-course director of Healthy Kitchens, Healthy Lives. "Mentioning this information to patients is really powerful. Saying 'eat more salads' isn't as powerful as telling a patient your favorite salad recipe. Speaking from your own personal experience can engage people and be very beneficial."
Healthy Kitchens, Healthy Lives is Eisenberg's dream child, as he's passionate about the power of cooking in disease prevention. He's on a mission to put culinary education front and center in health care as well as in education and the workplace. He envisions a world that finds hospitals, schools, and worksites equipped with teaching kitchens—places where individuals can learn nutrition facts, basic shopping and cooking skills, personalized instruction in exercise, and mindfulness alongside health care professionals who serve as role models and teachers.
In March, Eisenberg posed important questions about public health at the conference: "How best can we translate a half century of nutrition science and combine this with many centuries of culinary arts to improve the ways we relate to and enjoy food? How shall we and our families and patients learn to avoid processed, unhealthful, 'foodlike' substances and replace them with a diet closer to that of the Mediterranean diet? What if parallel educational programs with culinary literacy training were developed at major colleges and K through 12 schools throughout the US? What if teaching kitchens were as essential as computer labs for the next generation of college students?"
Eisenberg believes culinary education has many rewards: "Book knowledge is insufficient. Behavioral change, especially as applied to eating, is complicated. Habits, once learned, are like crazy glue. They're very difficult to unlearn. Hands-on training and role modeling are essential."
Reinforcing the 'Healthy Is Delicious' Message
Consumer surveys repeatedly indicate that taste is king when it comes to consumer food selections. However, for too many years, nutrition messages have not favored delicious food. Thanks to the Mediterranean diet, there's new recognition that healthful foods—olive oil, flavorful herbs and spices, and delicious ingredients such as avocados, nuts, dates, and wine (in moderation)—are delicious.
"We've made mistakes when we talk about 'healthy food'; the consumer 'clicks' off and they're not interested," Myrdal Miller said. "We have to sell them on flavor rather than only health. The Mediterranean diet and other food cultures around the world show that traditional, plant-based diets are healthful and flavorful."
She adds that nutrition by the numbers isn't always the best approach. Instead, it's better to focus on dietary patterns, whole foods, fat quality instead of quantity, and reducing sodium by consuming fewer processed foods and cooking with whole foods and a moderate amount of salt.
"Dietitians may be seen as the food police," Delmonico notes. "We need to be positive about food if we want people to listen; people aren't motivated by shame and negativity. Delicious should be everyone's focus."
Dietitians' New Role in Culinary Education
"Dietitians have a role in cooking education," Delmonico continued. "We're a bridge between the health community and the culinary community—between MDs who may not have much nutrition training and chefs who have food training but may not have much health knowledge. Dietitians have training in both areas, so we're uniquely qualified to be that bridge. We could have tremendous impact if we teach cooking. Some of the most rewarding experiences I've had as a dietitian are the times when I've demonstrated and participated in making food with people; the nutrition message is much more compelling when it's multisensory."
Of course, not all dietitians have acquired excellent culinary skills as part of their education. Many would agree they could benefit from additional culinary education to move toward the goal of educating patients. "In the world of food, there's so much to learn," Myrdal Miller said. "Individual ingredients can change based on producer, seasons, and growing conditions, for example, and there are many cuisines in different parts of the world. You can take cooking lessons and practice by cooking for friends or family. There's an endless amount to learn."
Resources such as the CIA and the Food and Culinary Professionals Dietetic Practice Group (www.foodculinaryprofs.org) may be helpful for RDs as they incorporate culinary education into their practices. But make no mistake, whatever your scope of care—whether you're a diabetes educator, clinical dietitian, or you work in a long term care facility—you can help make your mark on public health by helping people find their way back into the kitchen.
Motivating Clients
If you're inspired to pay it forward and help the world master healthful cooking techniques, practice these strategies in your own professional setting:
1. Start small. If people have little experience in the kitchen, take baby steps toward getting them cooking, such as teaching them how to make a simple vinaigrette, cook whole grains, and make a vegetable soup.
2. Create a guide to local cooking resources. Make a list of free cooking classes in your community at various organizations, supermarkets, and community centers to distribute to clients.
3. Develop a top 10 recipes list. Create a list of your best recipes divided into food categories, such as salads, side dishes, entrées, and desserts, as a resource for clients.
4. Provide cooking tips. Tell clients how to prepare grilled chicken breast and whole grain pasta tossed with tomatoes and olive oil, for example.
5. Teach clients to spice it up. Some of the best ingredients to have in any kitchen are various herbs and spices that can add flavor and health benefits to foods. Teach clients how to incorporate these seasonings into their everyday meals.
6. Schedule a cooking demo. You don't need a cooking facility, overhead mirrors, and fancy lighting to do a cooking demonstration. A blender, hot plate, or even a cutting board will suffice. Even if you don't have a place to host a demo at work, you can volunteer to conduct one at your local community center, church, or after-school program.
7. Host an ingredient tasting. If you don't have the resources to conduct a full-on cooking demo, you may want to consider an ingredient tasting when people can sample and compare foods such as olive oils or leafy greens.
8. Demonstrate simple produce preparations. Budding cooks can learn how to prepare fruits and vegetables, especially those that may be a little complicated, such as artichokes, mangos, and avocados, or those that are unfamiliar, such as kohlrabi, bok choy, and kumquats.
9. Discuss menu planning. This is a fundamental tool that can help people get dinner on the table quickly after a hectic day. Meal planning education should include teaching about menus, shopping lists, pantry staples, and easy recipes.
10. Nurture intuitive cooking. When your grandmother cooked meals three times a day, she didn't have an iPad or Whole Foods around the corner. She simply looked in her pantry or kitchen garden and made something from what was available. Teach this skill by putting a bag of groceries on the counter and showing people how to make a meal out of it.
11. Explore healthful cooking on a budget. Dispel the myth that healthful cooking is expensive by teaching people about wholesome, economical cooking that includes grains, legumes, and seasonal produce.
— Sharon Palmer, RD, is a Los Angeles-based food and nutrition writer. She's the author of The Plant-Powered Diet, the editor of Environmental Nutrition, and a contributing editor to Today's Dietitian.
Italian Grilled Vegetable Chicken Salad
Serves 4
Ingredients
5 T extra virgin olive oil
3 garlic cloves, minced
2 tsp chopped fresh rosemary
Salt and pepper
1 lb chicken breast, cut into 1-inch pieces
1 red bell pepper, stemmed, seeded, and cut into 1/2-inch slices
1 eggplant, sliced thin
2 zucchini, sliced thin on bias
1/4 cup fresh basil leaves
2 slices of whole wheat pita bread, quartered
Directions
1. Combine oil, garlic, rosemary, and 1/4 tsp salt in liquid measuring cup. Combine chicken and half of oil mixture in bowl, and let marinate for 30 minutes. Toss vegetables with remaining oil mixture in separate bowl.
2. Grill chicken and vegetables over a medium-hot fire until chicken is cooked through and vegetables are well-browned and tender, 8 to 12 minutes, flipping often.
3. Arrange chicken and vegetables on serving platter. Garnish with basil. Season with salt and pepper to taste. Serve with warmed pita bread.
Nutrient Analysis per serving
Calories: 419; Total fat: 20 g; Sat fat: 3 g; Trans fat: 0 g; Cholesterol: 66 mg; Sodium: 258 mg; Total carbohydrate: 31 g; Dietary fiber: 8 g; Sugar: 6 g; Protein: 32 g
— Recipe courtesy of Bryan Roof, RD, LDN
Forbidden Rice With Beluga Lentils and Mushrooms
Serves 5 to 6
Ingredients
1 cup black (Forbidden) rice (may substitute brown rice)
1 cup beluga (small black) lentils
3 cups water
1/2 tsp salt, divided
1 T grapeseed or canola oil
1/2 cup shallots or red onion, very finely minced
1/2 lb domestic or cremini mushrooms, wiped clean, stemmed if necessary, finely minced (can use a food processor)
1/2 tsp garlic, minced or crushed
1 T fresh lemon juice
Ground black pepper as desired
Lemon wedges or extra lemon juice for sprinkling on top (optional)
White truffle oil (optional)
Directions
1. Combine the rice, lentils, water, and 1/4 tsp of salt in a medium saucepan. Bring to a boil, lower the heat to a simmer, cover, and cook undisturbed (with a heat diffuser underneath, if you have one) for 40 minutes. If the rice isn't tender enough at this point, pour in up to 1/4 cup of additional water and cook it a little longer. (The lentils will remain somewhat al dente.) When it's done to your liking, turn off the heat and fluff with a fork to let steam escape.
2. Meanwhile, heat a large 10- to 12-inch skillet over medium heat for about a minute, then add the oil and swirl to coat the pan. Toss in the shallots or onion and cook, stirring, for 5 minutes. Stir in the mushrooms and garlic with 1/4 tsp of salt, and cook for 5 minutes, stirring often. Add the lemon juice and continue to cook for just a few minutes longer, or until the liquid evaporates and the mushrooms are nicely dried out and beginning to brown, sticking slightly to the pan. Mix from the bottom of the pan, scraping up and including whatever may be stuck there (always the most flavorful part) and turn off the heat.
3. Transfer the cooked rice and lentils to the mushroom mixture, stirring and fluffing it with a fork. Add more salt, if necessary, and add black pepper to taste.
4. Serve hot or warm, with lemon wedges tucked in, if desired. You also may want to pass around some white truffle oil to drip delicately on top. This will keep for several days in a tightly covered container in the refrigerator. It reheats well, covered, in a 250˚F oven or toaster oven or in a microwave.
Nutrient Analysis per serving
Calories: 370; Protein: 16 g; Carbohydrate: 68 g; Fiber: 11 g; Sat fat: 0 g; Poly fat: 1 g; Mono fat: 1.5 g; Trans fat: 0 g; Cholesterol: 0 mg; Sodium: 216 mg; Potassium: 377 mg
— Recipe courtesy of Healthy Kitchens, Healthy Lives
Whole Wheat Couscous Salad With Dried Fruit and Fresh Herbs
Serves 6

Ingredients
3 cups chicken stock or water
3 T canola oil
1 1/2 cups Fantastic whole-wheat couscous
1/4 cup parsley, chopped
1/2 cup mint, chopped
1/4 cup cilantro, chopped
8 to 10 dried apricots, diced
5 dried figs, diced
1/4 cup currants or dried cranberries
1/4 cup pistachios, toasted
1 lemon, zest and juice
Kosher salt to taste
Freshly ground black pepper to taste
Directions
1. Heat the chicken stock or water to boiling. Add 1 T canola oil and salt to taste. Pour in the couscous, gently stirring. Simmer, covered, on low heat for 2 to 3 minutes. Turn off the heat and let sit for 10 minutes. Gently fluff with a fork. Set aside.
2. Add remaining ingredients to couscous and adjust seasonings. Serve.
Nutrient Analysis per serving
Calories: 319; Protein: 10 g; Carbohydrate: 51 g; Fiber: 8 g; Sat fat: 1 g; Poly fat: 3 g; Mono fat: 6 g; Trans fat: 0 g; Cholesterol: 13 mg; Sodium: 235 mg; Potassium: 283 mg
— Recipe courtesy of Healthy Kitchens, Healthy Lives
Persian-Style Spinach
Serves 8
Ingredients
2 lbs fresh spinach
3 T mild extra-virgin olive oil
1 large yellow onion, chopped
6 garlic cloves, finely minced
6 T fresh mint, chopped
6 T toasted walnuts, chopped
2 cups Greek yogurt (optional)
Directions
1. Cut off the stems on the spinach, chop the leaves coarsely, and wash them well in a few changes of water to remove all sand, then drain.
2. Heat the oil in a very large sauté pan over moderate heat. Add the onion and cook a few minutes. Add the garlic and spinach leaves; cook in their own moisture, stirring often until the spinach wilts. Add the mint, mix well, and season to taste with salt and pepper. Top with chopped walnuts and yogurt.
*As a salad variation, chill the cooked spinach mixture and fold in the yogurt after the mixture is cold. Top with the chopped walnuts and mint.

Nutrient Analysis per serving
Calories: 160; Protein: 6 g; Carbohydrate: 10 g; Fiber: 4.5 g; Saturated fat: 1.5 g; Poly fat: 4.5 g; Mono fat: 5.5 g; Trans fat: 0 g; Cholesterol: 0 mg; Sodium: 123 mg; Potassium: 951 mg
— Source: Recipes courtesy of Healthy Kitchens, Healthy Lives
References
1. Three in ten Americans love to cook, while one in five do not enjoy it or don't cook. Harris Interactive website. http://www.harrisinteractive.com/NewsRoom/HarrisPolls/tabid/447/mid/1508/articleId/444/ctl/
ReadCustom Default/Default.aspx. July 27, 2010. Accessed April 5, 2013.
2. Smith LP, Ng SW, Popkin BM. Trends in US home food preparation and consumption: analysis of national nutrition surveys and time use studies from 1965-1966 to 2007-2008. Nutr J. 2013;12:45.
3. Harris JM, Shiptsova R. Consumer demand for convenience foods: demographics and expenditures. J Food Distrib Res. 2007;38(3):22-36.
4. Food expenditures. USDA Economic Research Service website. http://www.ers.usda.gov/data-products/food-expenditures.aspx - 26634. Accessed April 5, 2013.
5. Fryar CD, Ervin RB. Caloric intake from fast food among adults: United States, 2007-2010. NCHS Data Brief. 2013;2(114):1-8.
6. Schmidt M, Affenito SG, Striegel-Moore R, et al. Fast food intake and diet quality in black and white girls: the National Heart, Lung, and Blood Institute Growth and Health Study. Arch Pediatr Adolesc Med. 2005;159(7):626-631.