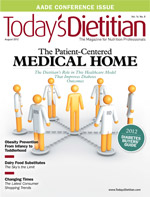 August 2012 Issue
Diabetes in the Spotlight
By Judith Riddle
Today's Dietitian
Vol. 14 No. 8 P. 6
If summer is your favorite season, you may be feeling somewhat sad since it's August already and the cooler weather is just around the corner. But take heart: This month marks an especially exciting time for dietitians and certified diabetes educators (CDEs). You have the chance to raise public awareness about diabetes and learn more about how to prevent, treat, and better manage the disease.
We all wish the number of new diabetes diagnoses was dwindling, but that's not the case. There are 1.5 million new diabetes diagnoses in this country each year. The American Diabetes Association reports that more than 23 million children and adults in the United States are living with diabetes. And 79 million people have prediabetes, the disease state characterized by elevated blood glucose, placing them at a high risk of developing diabetes if drastic lifestyle changes aren't made.
To hinder the growth of this epidemic, new federal standards for school nutrition and menu labeling laws for restaurants were recently introduced. And the medical community has been test-driving a fairly new model of healthcare delivery to better manage the disease. This healthcare system and the positive impact it's had on diabetes care is the focus of our cover story, "The Patient-Centered Medical Home." This healthcare model is of great interest because RDs and CDEs have a significant role to play. To learn more about this, turn to page 26.
Even more exciting is that you get to attend the American Association of Diabetes Educators Annual Meeting & Exhibition from August 1 to 4 at the Indiana Convention Center in Indianapolis. There, you'll sit in on many educational sessions, explore the exhibit hall, and network with colleagues. And if you arrive on Tuesday, July 31, you'll get to hear The View cohost Sherri Shepherd discuss her very personal journey with type 2 diabetes and deliver words of wisdom. If you're attending, we'd love to see you. Drop by booth 1211 and say hello. We welcome your feedback about Today's Dietitian and the topics you'd like us to cover in the future.
Please enjoy the issue!
TDeditor@gvpub.com