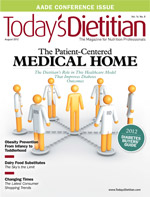 August 2012 Issue
Changing Times
By Sharon Palmer, RD
Today's Dietitian
Vol. 14 No. 8 P. 44
Learn about today's hottest consumer shopping trends from the Oldways Supermarket Dietitian Symposium.
The food shopping experience is as dynamic as ever. From the rise of nontraditional food sources (hello Dollar General stores!) to new attitudes about health and wellness, things have changed.
When I was a girl, there was only one supermarket in my neighborhood, and I loved accompanying my mom on her weekly shopping excursions. I knew exactly where to find the rows of canned fruits and vegetables—as well as the boxes of sugary breakfast cereals she wouldn't let me have. The food products lining the shelves were as solid and familiar as an old family friend. Little did I know that the retail food industry would eventually explode.
Over the past several decades, my hometown—like most neighborhoods—has seen various food stores sprout up and display a plethora of new products, giving people many more options for how and where to spend their food dollars. Consumers have changed dramatically, too. Now, they have much more than the dinner menu on their minds. As they shop, they're thinking about health, wellness, value, and sustainability.
Dietitians who keep their fingers on the pulse of consumer food shopping trends will be in the best position to help clients meet their daily nutrition goals. In this article, Today's Dietitian reports on the trends highlighted during the Oldways Supermarket Dietitian Symposium in Savannah, Georgia, discussing some of the latest developments to help RDs determine how best to serve their clients so they can live healthier lives.
Where the Food Dollars Are Spent
According to the USDA, the nation's 210,000 traditional food stores sold $548 billion of retail food and nonfood products in 2009. Yet a wider variety of stores other than supermarkets now sell food, including club stores, natural food stores, gourmet shops, discount stores, department stores, drugstores, and convenience stores. Unfortunately, the expanding number of supermarkets hasn't occurred in many low-income neighborhoods, which have been referred to as "food deserts" because of their poor access to food. A recent study found that in the United States, 23.5 million people live in low-income neighborhoods and have poor access to nutritious food.1
Michael Crouse, vice president and general manager for supermarkets at Frito-Lay North America, spoke on supermarket consumption trends at the Oldways symposium. He reported that people are spending a larger part of their food-shopping dollars outside of the traditional supermarket. "There's fierce competition with Costco, CVS, Target, Dollar General—which is really exploding—Wal-Mart, and Amazon."
The rise of food purchasing at Dollar General shouldn't be a surprise. With 9,813 stores in 38 states (more stores than any other American discount retailer), Dollar General stores are becoming a one-stop shopping destination for everyday necessities, such as food, health and beauty products, paper and cleaning products, pet supplies, and apparel. Their appeal is targeted at "in-between-paycheck" shopping instead of dedicated "stocking up" shopping. With its prices, convenient locations, and quick in-and-out times (the average shopping trip takes 10 minutes), it's no wonder that even Warren Buffet has invested in Dollar General stock.2
Department stores are making a serious push to provide groceries, moving along the one-stop shopping trajectory. "Shoppers are going to grocery retailers that offer something else—gas, in-store banking, in-store child care while you shop, pharmacy services, in-store clinics, and extensive floral, plant, or garden products," said Barbara Ruhs, MS, RD, LDN, a supermarket dietitian for Bashas' Family of Stores and organizer of the Oldways symposium.
Wal-Mart has grown from one retail store in Arkansas in 1962 to the largest food retailer in the United States in 2010, with an estimated $188.3 billion in total food/consumable sales. Wal-Mart opened larger Hypermart USA stores in 1987, which combined a grocery store, a merchandise market, and other services such as restaurants and video rental stores. In 1993, Wal-Mart introduced its private label Great Value line, which is the largest food brand in the United States in sales and volume. Now Wal-Mart's grocery category is the largest of the company's six merchandise units.3
"Big-box stores such as Costco, BJ's, and Price Club also are very popular. More shoppers are stocking up on items that may or may not be better values but are perceived as better values. Shoppers are then shopping less at traditional grocery stores for pantry items, such as toilet paper, canned goods, health and beauty items, and dog food," Ruhs said.
Tough Economic Times for Food Shoppers
High unemployment, rising food and gasoline prices, and consumer fears took their toll on American food shoppers over the past few years. "The bad economy is forcing consumers to be more careful with their spending. In the past, proximity to a store would dictate largely where a person shopped. Although it's still a consideration, low-price leaders tend to draw shoppers from a larger radius now," Ruhs said. "There's more cherry picking; shoppers come in and buy the things that are on sale and then go somewhere else to find other bargains. And it's more common than ever to have someone save $50 or more with coupons."
Indeed, one-third of consumers felt their financial situation would worsen in 2011. However, the good news is that more families returned to the kitchen, preparing just over seven in 10 meals in the home in 2011 and increasing purchases of basic food ingredients. In 2010, 55% of grocery shoppers prepared more meals at home than in 2009, approaching a 20-year high. Restaurant sales in the United States have fallen over the past few years; 18% of meals were purchased at restaurants in 2011.
With more people eating in, the sales of take-home foods increased in the center of the supermarket, which houses many of the grocery stores' fastest-growing categories in unit sales such as ready-to-drink tea and coffee, snack/granola bars, and dried meat snacks. The fresh and frozen foods departments also posted above-average growth, led by frozen vegetables and refrigerated lunches.4
Fast Times at the Supermarket
Convenience still reigns supreme when it comes to making food-purchasing decisions, from the overall shopping experience right down to the food selections. According to Crouse, people are spending more time quick-shopping the perimeters rather than stocking up in the center of the store. The retail food industry has access to an unprecedented amount of data on food shoppers' purchasing habits. For instance, they can measure heat maps of the supermarket to better understand where people spend most of their time—and it's hands down on the store perimeter.
"Vendors are spending millions on packaging displays and planograms of shelves [a visual representation of the store's products] in order to offer as many categories on the shelves to cause co-purchases," Crouse said. For example, if a perimeter display features pasta with pasta sauce, Parmesan cheese, garlic butter, and French bread, increased total sales of all these items will occur.
"There's a demand for more convenience items, such as ready-to-eat meals; kid-friendly, healthier lunch box items such as hummus and baby carrots; and healthful microwave meals," Ruhs said. Data show that growing categories include heat-and-eat meat and poultry; fresh-cut vegetables; foods that can be cooked in small appliances; frozen ingredients such as chicken, fish, shellfish, and vegetables; and foods with simple instructions, pop-up timers, and serving suggestions.4
New Attitude About Health and Wellness
Tamara Barnett, director of strategic insights at The Hartman Group, reported at the symposium, "We are in the midst of a cultural shift from health towards quality of life. Ten years ago, wellness was defined as 'not being ill.' Now the shift is more toward an interest in quality of life; now it includes issues like the environment and sustainability. It's a broader notion of quality of life that's more positive than perfunctory. We are in a new era of wellness, and indulgence is also a part of it." Barnett noted that we're moving away from the idea of health as a quick fix in reaction to a crisis or treatment for an illness toward the notion that health centers on prevention, vitality, long-term solutions, and even fun. Shoppers want food that's good, not just good for them.
Barnett referred to consumer research data from The Hartman Group that categorizes consumers into various "worlds of health and wellness": "In the periphery, there are 25% of consumers who are the least involved in wellness. At the midlevel, there are 62% of consumers who are not as intensely involved in wellness as the core but exhibit some characteristics of wellness. This area is a big opportunity. At the core, there are 13% of consumers—a small group—that's most intensively involved.
"The grocery store is the No. 1 destination for health and wellness; the midlevel consumer is hungry for knowledge and wants to experience more. Nutritional scoring programs aren't being noticed; people are too busy, and they don't understand them. The core people notice them the least, and only a very small segment of consumers are interested in them," Barnett said. Nutritional scoring programs such as NuVal, which rates foods based on specific criteria for nutrients, are appearing on more and more supermarket shelves in an effort to guide consumers to make healthier choices.
Better Nutrient Quality in the Cart
So how are shoppers doing when it comes to choosing more healthful foods, such as fruits and vegetables? Elizabeth Pivonka, PhD, RD, president of the Produce for Better Health Foundation (PBH), reported at the symposium that there are both good and bad trends in fruit and vegetable consumption: Kids younger than 12 and adults aged 45 to 65 are eating more, but teens as well as adults aged 65 and older are eating less. "On average we're eating 1.8 cups of fruits and vegetables per day," Pivonka said.
PBH is currently working to help consumers understand how MyPlate applies to nontraditional meals, such as breakfast cereal, mixed dishes, sandwiches, and eating on the run, through pictorial representations. PBH also is educating the public through its All Forms Matter campaign, which teaches that fruit and vegetable consumption doesn't have to be limited to only fresh varieties—frozen, canned, dried, and 100% juice count, too. Pivonka added, "Consumer research shows that moms feel guilty if they're not feeding their families fresh fruits and vegetables. Consumers don't think canned fruits and vegetables are good for them."
According to Tres Bailey, director of federal government relations at Wal-Mart Stores, Inc, "Customers are hungry for information; they want to know how to put healthful food on the table, but they don't know how. The reality is that when customers are in the store, other decisions are made. There's limited time to shop and prepare meals, and people are on tight budgets recovering from the recession. One of our goals is that, since the customer doesn't have time, we will decrease the amount of sodium and sugar in our foods. We want to encourage simple, incremental, easy-to-make changes."
Bailey reported that the top item purchased at Wal-Mart through the Supplemental Nutrition Assistance Program is a good choice: bananas. They're followed by private-label whole milk, hot dogs ($0.92 for a six pack), and chicken-flavored ramen noodles ($0.25 per package)—not-so-good choices.
"There are opportunities. We need to make meals more nutrient dense. We need to encourage people to eat more healthfully by adding more fruits and veggies to their diets. The reality is that our customer base is the last generation of cooks, and they have very low nutrition literacy. We need to get nutrition information to the masses," Bailey said.
Social Shopping Experience
Social networking sites, including Facebook, Twitter, and Pinterest, as well as a multitude of smartphone apps and websites, have made a definite impact on consumers' food choices. Food companies, retailers, and experts increasingly use these resources as a tool to communicate with the public. Facebook now has reached 900 million users worldwide, more than one-half of whom log on to Facebook daily. Twitter has about 500 million registered profiles (100 million in the United States alone), collectively sending out 175 million tweets every day. Pinterest has grown by 400% in the last quarter. And that's not counting all the websites, blogs, and apps that plug people into an increasing array of social discussions about what they put on their dinner plates.
"Supermarkets are using Twitter in a number of ways, including creating services; problem solving; issuing food recalls and safety alerts; promoting sales; providing information; recipe ideas; links to websites, blogs, and Facebook; and posting notices for events," said Leah McGrath, RD, a supermarket dietitian at Ingles Markets.
Ruhs said there's an app for just about every possible function in the supermarket, adding, "Now you can compare prices using a smartphone, look up nutrition facts, find healthier alternatives, log into a food diary app, or compare what you're eating with someone else."
Impacting Nutrition
Many of today's hottest shopping trends directly influence consumers' health. If people shift more food purchases to nontraditional food retailers, they may be missing out on the necessary ingredients to create a balanced diet. While some stores, such as Target, Wal-Mart, and Costco, offer more nutrient-rich food choices, including fruits, vegetables, low-fat dairy, lean meat, legumes, and whole grains, other purveyors, such as drugstores, convenience stores, and discount stores, may be limited in these high-nutrient food choices. And the emphasis on cost savings may mean a further reduction in the number of healthful foods people purchase.
However, there are many positive trends of which dietitians can take advantage. A new positive spin on wellness means greater enthusiasm and opportunities to get people involved in making healthier food choices. A return to the kitchen to save dollars can mean opportunities to help consumers with simple, delicious, wholesome meals for the whole family. And the surge in social networking means that dietitians can get more involved with sending positive nutrition messages through blogs, recipe networks, tweets, and apps. The food shopping times are changing, and it's up to dietitians to keep up.
— Sharon Palmer, RD, is a contributing editor at Today's Dietitian, a freelance food and nutrition writer in southern California, and author of The Plant-Powered Diet.
References
1. Food marketing system in the U.S.: food retailing. The US Department of Agriculture Economic Research Service website. http://www.ers.usda.gov/Briefing/FoodMarketingSystem/foodretailing.htm. Updated November 17, 2010. Accessed May 15, 2012.
2. Marcial G. Discount retailer Dollar General taking away market share from No. 1 Wal-Mart. Forbes website. http://www.forbes.com/sites/genemarcial/2011/12/29/discount-retailer-dollar-general-taking-away-market-share-from-no-1-wal-mart. December 29, 2011.
3. Lepore M. Here's how Walmart became the #1 grocery store in the country. Business Insider website. http://www.businessinsider.com/walmart-biggest-supermarket-2011-2 - ?op=1. February 11, 2011.
4. Sloan AE. Top 10 food trends. Institute of Food Technologists website. http://www.ift.org/food-technology/past-issues/2011/april/features/food-trends.aspx?page=viewall. April 2011.