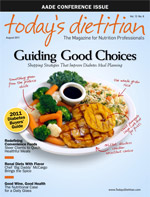 August 2011 Issue
Supermarket RD Insights — Symposium Highlights How to Inspire Healthful Customer Shopping Habits
By Maggie Moon, MS, RD
Today's Dietitian
Vol. 13 No. 8 P. 18
This spring, nearly 40 supermarket dietitians from leading U.S. and Canadian grocery retailers gathered in bucolic Santa Rosa, Calif., to exchange ideas and best practices on addressing the nation's health crises. The innovative RD symposium was planned by the nonprofit organization Oldways and hosted in partnership with Barbara Ruhs, MS, RD, LDN, of Bashas' Supermarkets, an Arizona-based family-owned and -operated grocery chain.
Working for grocery retailers is often cited as new territory for RDs, but it may feel familiar to community dietitians and nutritionists. Indeed, a common theme is a passion for public health. It may not be surprising that one of the major attractions to a career as a supermarket dietitian is a desire to work upstream with the potential to reach people before they end up struggling with a chronic disease or in the hospital. With that in mind, the goal of the Oldways' 2011 Supermarket Dietitian Symposium was to share ideas, spark new thoughts, and forge and strengthen relationships to keep learning from each other and improve public health through a community staple: the supermarket.
The symposium covered a range of topics—from shopper insights (what we know in the healthcare community as a needs assessment, or simply getting to know your client) to specific strategies to inspire customers to shop with health in mind.
Shopper Insights
Phil Lempert, the "Supermarket Guru" who appears regularly on NBC's TODAY show, kicked off the sessions with a talk on trends. He presented consumer research findings on top factors in food choice: taste, nutritional information, ingredients, health attributes, and brand name—in that order. When it comes to health benefits, the majority of respondents cared about products that offered claims such as no trans fats, low fat, no preservatives, low sodium, whole grains, and all natural. He also found that 72% of respondents expect they'll maintain money-saving techniques even after the economy recovers, showing that cost is still a big player in food choice.
Jenny Heap, MS, RD, representing the Almond Board of California, shared insights into shopping attitudes and behaviors based on a combination of qualitative and quantitative research. The qualitative findings were based on in-home interviews and shop-alongs with 20 Denver- and Chicago-based women aged 35 and older who were the primary household shoppers. The quantitative research involved 1,500 consumers aged 18 to 65 with primary or shared grocery shopping responsibilities.
The majority of respondents (82%) reported writing a list before going grocery shopping, and most (79%) also checked circulars and ads before shopping; even those without a physical list made mental lists. While it's encouraging that planning is a big part of the food shopping process, many respondents (73%) reported going up and down every aisle, with 45% saying they would get new recipe and meal ideas while shopping.
Indeed, 54% said they often buy a lot more than what was on their list. At the checkout, about 80% of the cart's contents came from the list. The remainder of the cart contained items not on the list but that had been purchased in the past (15% of cart) and a smaller number of completely new products (5%). The opportunity to introduce new foods exists but is relatively small. Further, new products were often variations of familiar products (eg, a whole wheat version of a cracker the shoppers had purchased before).
In the Almond Board survey, respondents' most important reasons to buy were taste, value, nutrition, lowest price, and brand. The most important nutrition claims among respondents were low/no trans fat, high fiber, heart healthy, most nutrients, natural, low sodium, low/nonfat, and no added sugar. Not surprisingly, nutrition was a more important reason to buy when shopping for items such as cereal, granola, and energy bars; it was less important when shopping for foods such as ice cream, chocolates, or pastries.
David R. Just, PhD, an associate professor and director of graduate studies at the Charles H. Dyson School of Applied Economics and Management at Cornell University, presented surprising information on marketing nutrition and behavioral economics. He noted that individuals make 200 to 300 food decisions daily, rendering deliberate choices nearly impossible and leading people to rely on rules of thumb and habit.
He described two main decision-making mechanisms: hot-state and cold-state decisions. The hot-state decision prioritizes taste and convenience and will most often favor large sizes, respond to visual appeal, and make hedonic choices. Stress can lead to hot-state decisions. The cold-state decision considers prices and health information, taking smaller portions and making rational choices.
Just also spoke about how perception drives behavior. In one experiment, he found that a drink by a smaller-sounding name (eg, "half" vs. "regular" or even "regular" vs. "double") resulted in 140 more kcal being consumed despite all options being the same physical size. In terms of grocery store shelf tags, he found they were most effective when a rating was surprising. That is, if a food was rated unexpectedly well, shoppers would buy more of it; if it was rated unexpectedly poor, shoppers bought less of it.
Nine Ways to Inspire Customers to Shop for Health
Supermarket dietitians are in the business of helping customers shop for good health. Below are highlights of nine winning strategies shared at this year's symposium.
1. Culinary demos and sampling: Demos can be conducted in stores, out in the community, or even on television. For in-store culinary demos, some RDs use a special stand-alone cart with power for cooking. For straight demos (eg, for broadcast), top advice included being well practiced in the food prep of the recipe used in the demo, making several versions of your dish at different stages for easy show-and-tell, and bringing your own equipment.
2. Media presence: RDs are increasingly interacting with their clients and the community through social media, and supermarket RDs are no exception. They're active on company blogs, Facebook, and Twitter as well as on local television channels and in magazines and newspapers. Top tips from the conference included guiding the interview, asking to review quotes before they go to print, pitching your next idea when prompted for final thoughts, and offering to fact-check statements you're not 100% sure about during the interview. People told cautionary tales about inconsistent pitching, not taking enough control over the interview, being satisfied with "close enough" depictions of what had been said, and not keeping track of when a story might be released.
3. Promoting produce year-round: Supermarket RDs do a great job of promoting fresh produce when it's in season and therefore high quality and more affordable. They also find value in promoting frozen and canned fruits and vegetables when they might not be available in peak form as fresh, which also addresses the shopper who is reluctant to stock up on fresh produce because of shelf life. The goal is to increase fruit and vegetable intake in ways that work for a variety of lifestyles.
4. Promoting local farmers: Many stores promote their locally sourced perishables. They tell the farmers' stories throughout the store. Other stores host farmers' markets on their premises or even run community-supported agriculture programs using the grocery store as the central pickup location.
5. Connecting pharmacy and nutrition for the customer: It makes a lot of sense for stores with pharmacies to link services with grocery store RDs. For example, a customer may come in for blood pressure medication and leave with his or her medication plus a guided tour of foods and meal ideas that promote healthy blood pressure. There is a built-in referral system that offers the customer a convenient service.
6. Labeling programs: There are many out there—from front-of-pack programs to the American Heart Association's Heart-Check Mark program to shelf talkers that score products on a scale from 1 to 100 (NuVal) or highlight specific nutrient selling points (eg, high fiber). RDs are using these tools to help educate and guide shoppers toward more healthful choices.
7. Built environment: A store's layout and how departments are set up can also inspire more healthful choices. Ideas include having an inviting produce display that greets customers and encourages them to linger; dedicating more real estate to the seafood counter with colorful, inviting signage; and designing shopping carts with built-in areas for produce.
8. Community engagement: The basics of being a community dietitian or nutritionist never go out of style. Supermarket RDs often find themselves presenting nutrition education in schools, online, and internally at their company. Reaching a range of people helps amplify RDs' messages.
9. Promoting traditional diets: Everything old is new again, and Oldways is leading the way in providing to supermarket RDs resources on traditional diets. They are best known for their work in promoting the Mediterranean diet, which the 2010 Dietary Guidelines for Americans considers a healthy diet. They promote and provide food guide pyramids for numerous traditional diets, including Mediterranean, Latin American, vegetarian, and Asian. They are currently working on one that includes African food traditions.
Keep Learning
In the ever-evolving world of nutrition, RDs are constantly learning. Supermarkets are just one of many new areas in which dietitians are working to improve public health. To benefit from the insights of leaders in this area, explore some of the following resources:
• Food & Culinary Professionals Dietetic Practice Group supermarket resource page: www.foodculinaryprofs.org/fcp.cfm?page=subgroup_resources; 
• Oldways 2011 Supermarket Dietitian Symposium presentations: www.oldwayspt.org/2011-supermarket-dietitian-symposium;
• Refresh, a blog covering supermarkets, wellness, and sustainability: http://whrefresh.com;
• Supermarket Guru: www.supermarketguru.com; and
• Supermarket News Health & Wellness column: http://supermarketnews.com/health_wellness.
— Maggie Moon, MS, RD, is a nutrition writer based in New York City who also works as a supermarket RD, consultant, and guest speaker.