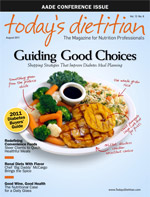 August 2011 Issue
Healthful Vending in Today's Schools
By Lenora Dannelke
Today's Dietitian
Vol. 13 No. 8 P. 12
The junk food image of vending machines is getting a healthful makeover in the nation's schools due in large part to the Healthy, Hunger-Free Kids Act, which is part of First Lady Michelle Obama's Let's Move! initiative to fight childhood obesity. This legislation expands the authority of the U.S. Secretary of Agriculture to regulate nutrition standards beyond the lunchroom to all foods and beverages sold on school campuses, including the vending machines that have long been favored by principals and organizations as an easy fund-raiser, mainly in middle and high schools.
Of course, states and individual school districts previously had the ability to tighten standards and in some places progressive guidelines similar to the new federal measures were already in place. Dora Rivas, RD, executive director of food and nutrition for the Dallas Independent School District, notes that the commissioner of agriculture had done so in Texas about five years ago. High schools in her district do not allow food sales outside the cafeteria during the lunch periods.
"The wellness policy committee determined it was important not to compete against lunches being served and to encourage students to have a selection of healthy choices from the dining room," she says.
Several vending companies have already improved the nutritional content of their offerings, making them appropriate not only for healthful snacking but compliant with USDA reimbursable meal guidelines, so these high-tech machines can complement lunchroom choices. One example of the new generation of smart machines is Vend-ucation's MAX, which allows students to select—only at the appropriate times—complete government-approved breakfasts or lunches a la carte and accepts cash or student IDs to deduct from lunch accounts, tracking whether the reimbursable meal for the individual is free, reduced, or regular price.
One company devoted exclusively to the sale of good-for-you foods is Healthy Vending. Schools selecting snack or meal menus have an array of 5,000 products that can be tailored to meet both nutritional requirements and the taste preferences of students, although this specialty was not initially an easy sell.
"We were doing this before any of the current legislation came about. People were looking at us cross-eyed, like what are you talking about? Who wants healthy foods in a vending machine?" says cofounder Sean Kelly.
Customizable planogram menus suited to different markets simplify the task of choosing from the company's huge variety of inventory and can be easily altered as demands change. Remote sensors automatically keep track of the inventory reorder items as needed. Though temperature-stable snacks are the most popular items, the machines can accommodate chilled and frozen items.
These innovative, interactive h.u.m.a.n. (helping unite man and nutrition) machines that have been developed for Healthy Vending enhance the appeal the products they contain. "They're not just cool but necessary to be successful," Kelly says. "Now we have digital LCD screens that educate people at the point of sale with nutritional information."
The machines can be programmed to display educational information about individual products, such as whether an item is good for sustained energy in the middle of the afternoon or whether a product has a higher glycemic level and is recommended to be eaten with other specific items containing complex carbohydrates and proteins or immediately after a workout.
Random health tips can also be displayed, such as reminders for students to drink water throughout the day and asking, "Hey, did you know that water is incredibly important to your memory?" General information for the school, from pep rally notices to weekly cafeteria menus, can also be displayed.
"Because these machines are connected to the Internet and have an internal PC, that allows us to upload content whenever we want," Kelly says.
More sophisticated machines help alter the perception of vending—what Kelly describes as the psychological connection people have with vending—by moving away from being the traditional source of salty and sugary snacks to being a supplier of premium foods. "In order to change the experience and change what people are willing to buy from machines, it needs to look different; it needs to be inviting and service needs to be better," he continues.
The Florence Unified School District in Arizona recently incorporated this new approach to vending into a multifaceted plan to improve their students' health. "We've been able to implement 30 minutes of required structured physical activity daily in grades K through 5 and have met the gold level standard of the U.S. Healthier Schools Challenge. We're working to promote a culture of health and wellness districtwide. Healthy Vending has been the tool to help make that happen," says Chris Lineberry, PhD, principal of the Florence Virtual Academy. "Principals were skeptical about whether kids would want to purchase foods that were labeled and marketed as being healthy and weren't sugary candy bars and that kind of stuff. What we've seen is that kids are excited about it. They love the machines."
Another leader in the nutritionally sound vending field is Fresh Healthy Vending, a company launched in 2010 by Jolly Backer, who reports that demand for natural and organic products is growing very quickly, especially for grab-and-go items such as snack bars and juices. "And then there are best sellers like popchips and Robert's Pirate's Booty that taste like they're unhealthy. Although they taste less than healthy, these are healthy, better-for-you products that have no chemicals or preservatives. Basically, health products taste better these days than they did 10 years ago," he says.
Fresh Healthy Vending's school vending selection of 400 products includes probiotic yogurt, soy pudding, smoothies, pita and vegetable chips, and packages of apple slices and baby carrots offered with and without dip. The machines accommodate a mix of ambient temperature and chilled items, offering maximum flexibility in selection, and all items are easy to see.
"People might not always know what the products are, so you can't put them in blind machines," says Backer. "We provide the options you'd find at stores like Whole Foods, Fresh Market, or Trader Joe's—our machines are like a mini store." The machines are placed outside the cafeteria in alternative locations throughout the school where students can used them before, during, or after school. "It's all about access," Backer adds.
Recognizing that kids may be reluctant to try unfamiliar foods, sampling events are encouraged to introduce these new tastes in a fun way. "When people try something they can become regular users," Backer says. And forming healthier preferences early can lead to lifelong improvement in eating habits.
— Lenora Dannelke is a freelance writer in Allentown, Pa.