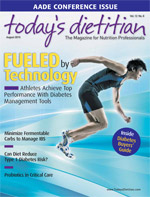 August 2010 Issue
Tips for Eating Green When Eating Out
By Densie Webb, PhD, RD
Today's Dietitian
Vol. 12 No. 8 P. 46
Eating green is a high-priority pursuit for those who take environmentally conscious living seriously. A recent National Restaurant Association survey of chefs revealed sustainability and local food sourcing to be among the hottest culinary trends. When you mention "eating green," buying organic, shopping at local farmers' markets, and buying produce that's in season and not imported or shipped from across the country are the behaviors that usually come to mind. But there's much more to it than that when you dine out. With issues relating to recycling, energy conservation, water usage, environmentally friendly building materials, and cleaning products, there's a lot to consider before a restaurant can deem itself "green."
So can you truly stay environmentally responsible and eat away from home? The short answer is yes. The long answer is it's not easy, but it's getting easier all the time, thanks to a growing awareness of the importance of environmental matters and the increasing demand from consumers for more environmentally friendly dining options.
Green Certification
The easiest way to eat green when you eat out is to choose a restaurant that is certified green. The oldest and largest certifying organization is the Green Restaurant Association, based in Boston, which currently certifies the sustainability efforts of about 700 restaurants in the United States. While most are concentrated in New York and California, green-certified restaurants can be found scattered across the country in places such as Chattanooga, Tenn.; Ketchum, Idaho; and North Rim, Ariz.
"We evaluate and rate restaurants based on six out of seven categories, including water efficiency, waste reduction and recycling, sustainable furnishings and building materials, sustainable food, energy, disposables, and chemical and pollution reduction. We want them to be green across the board," says Colleen Oteri, senior communications manager of the Green Restaurant Association. If you see its green seal in a restaurant window, you can rest assured the establishment is green from A to Z. You can search for green-certified restaurants in any city at www.citysearch.com.
There is also the Green Seal certification, another national certification organization, which started out as a certifier of green products and developed its own set of restaurant standards in 2009. And the National Restaurant Association has begun a sustainability initiative that restaurateurs can turn to for online help, but as of now, the organization has no national green certification program.
Citywide programs, such as the Green Chicago Restaurant Co-Op (GCRC), also provide a unique stamp of approval for restaurants that have gotten third-party certification. According to Andrew Weithe, assistant director of environmental affairs for the GCRC, the organization helps restaurants obtain sustainable products at more competitive prices and helps market their green status in places such as Chicago Magazine and city and state tourism sites. As of June, the GCRC logo (a green fork sprouting three leaves and the slogan "Guaranteed Green") appeared in 20 Chicago restaurants.
Even college students eating at on-campus dining facilities can stay green and know they're making a difference. At Emory University, for example, a university-appointed committee developed guidelines for making the foodservice facilities greener, and the facilities are moving to even-more-stringent green goals for 2015. They, of course, include guidelines for purchasing foodstuffs locally and buying compostable materials. But the university takes its green initiative one step further. According to Patricia Ziegenhorn-Erbach, senior director of foodservice administration at Emory, campus shuttle buses run on biodiesel fuel produced from fats and oils collected and refined from 16 university- and four hospital-affiliated dining facilities. She says many students are very environmentally aware and appreciate the efforts being made.
A green logo in the window, whether it's at a French restaurant, a diner in North Rim, Ariz., or a university dining hall, certainly makes it easy to eat green when you're eating out, but even the Green Restaurant Association has, so far, certified only 700 restaurants nationwide. According to the National Restaurant Association, as of 2009, there were more than 578,000 restaurants in the United States. That's a sizable green gap.
Going Eco-Friendly on Your Own
Don't let those numbers discourage you or your clients, though. It's still possible to make meals eaten away from home more environmentally friendly. With a little forethought and consideration, you can "green up" almost any restaurant meal. Remember: Green restaurant dining encompasses more than just ordering organic food. Follow these suggestions when you decide to eat out and you will have done your part:
• Walk, take public transit, carpool, or dine at a restaurant close to your home or office.
• Carry pocket-size guides to sustainable seafood, such as the ones from Blue Ocean Institute (www.blueocean.org/seafood/seafood_guide), to help you make smart seafood choices.
• Bring your own mug for coffee. Remind staff to make your drink in the cup you bring, not in a to-go cup.
• Consider menu items lower on the food chain. According to the Environmental Defense Fund, chicken has a lower environmental impact than beef, sustainable seafood has a lower impact than chicken, and vegetarian and vegan items have the lowest of all.
• Bring your own reusable container and offer it to your server when you ask to take leftovers home.
• Avoid the drive-thru. Cars that sit idling for long periods of time waste gas and the service is often wasteful by providing things you don't want or need, such as napkins, ketchup, plastic knives and forks, and even the bag itself.
• Drink water instead of soda.
• If you drink an alcoholic beverage, opt for one that is produced locally or at least domestically.
• Choose a restaurant that uses locally grown produce.
• Ask restaurants and coffee shops if they serve Rainforest Alliance-certified coffee. The alliance seal is a guarantee that the coffee is grown on farms where forests are protected; rivers, soils, and wildlife are conserved; and workers are treated with respect, paid decent wages, properly equipped, and given access to education and medical care.
• Order small portions of food. Throwing out parts of larger portions is wasteful.
• Order produce that is in season. The Environmental Defense Fund offers an interactive state-by-state online guide to help people keep track of what's currently in season (www.eatwellguide.org/i.php?id=Seasonalfoodguides ).
• If organic choices are limited, go organic for those foods with the highest pesticide risk and so the most likely to pollute the environment if grown conventionally. The top 10, according to the Environmental Defense Fund, are celery, peaches, strawberries, apples, blueberries (domestic), nectarines, sweet bell peppers, spinach, kale/collard greens, and cherries.
— Densie Webb, PhD, RD, is a freelance writer, editor, and industry consultant based in Austin, Tex.
Guidelines for Restaurants
To help dining managers address the most important environmental impacts of their operations, the Environmental Defense Fund and Restaurant Associates partnered to develop the Green Dining Best Practices, a comprehensive set of cost-effective, science-based recommendations for the foodservice and dining industry. According to the Environment Defense Fund, early testing of the best practices has shown measurable environmental improvement, improved customer satisfaction, and cost savings at participating facilities.
The Green Dining Best Practices fall into 12 key categories: meat, dairy, and eggs; produce; seafood; food transport; coffee and tea; bottled beverages; cleaning chemicals; cooking and refrigeration equipment; dishwashing and water use; facility construction and design; serviceware; and waste and recycling. Find detailed information at http://innovation.edf.org/page.cfm?tagID=34864.
— DW
Help Restaurants Lower Their Environmental Impact
If you have a favorite restaurant that you would like to see go green, you can help make that happen. The Green Restaurant Association offers suggestion cards on its website that can be downloaded, printed, and mailed or left with the check with a message encouraging the establishment to contact the association to learn how to lower its environmental impact and become a Certified Green Restaurant. Download and print the card from http://dinegreen.com/customers/go-green.asp.
— DW