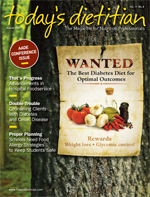 August 2009 Issue
Mainstream Mojito
By Chef Kyle Shadix, MS, RD
Today's Dietitian
Vol. 11 No. 8 P. 74
The traditional Cuban cocktail that became popular globally in the early '90s has become a favorite flavor profile beyond bar drinks. Characterized by its unique flavor combination of rum, lime, and mint, it has worked its way onto restaurant menus and into food magazines and is now appearing in beverages, desserts, and even grill marinades available at retail locations. It is so mainstream today that Pillsbury has a recipe on its Web site for Creamy Mojito Pie, made with rum and mint extracts. Recently, I even came across a Chocotini-bar, a Mojito-flavored dark chocolate bar.
A mojito is traditionally made with five ingredients: rum, sugar, lime, carbonated water, and mint. The refreshing citrus and mint combination is fantastic, and this flavor profile is one that is here to stay.
Now, new opportunities are emerging that allow us to experience the mojito without the alcohol. Here is my own recipe for Mojito Limeade, essentially a delicious and easy "mocktail" the whole family can enjoy.
— Chef Kyle Shadix, MS, RD, is director of Nutrition + Culinary Consultants, an advertising, marketing, and culinary full-service agency in New York City.
Alcohol-Free Mojito Limeade
Ingredients:
1 cup plain granulated sugar or 1 cup granular Splenda
3/4 cup tap water
1/2 cup freshly squeezed lime juice
Zest of two limes
1 bunch fresh mint, stems discarded
Club soda
Directions:
Bring water to a boil and stir in sugar or Splenda. Reduce heat to medium and stir constantly until sugar completely dissolves. Remove from heat and allow to cool for at least 15 minutes.
Add lime juice, lime zest, and fresh mint. Gently mash mint leaves to release essential oils. Allow to rest until completely cooled.
Pour syrup through fine mesh strainer and store in a container in the fridge. To serve, fill a glass with a splash of syrup, depending on your personal preference. Add ice and fill glass with club soda. Garnish with a fresh lime wedge and experience refreshment.
Nutrient Analysis per 2 T of rum-free mojito syrup:
Calories: 48 calories per serving with sugar; 6 calories per serving with Splenda
Protein: 0 g
Carbs: 12.5 g
Total Fat: 0 g
Sat Fat: 0g
Cholesterol: 0 mg
Sodium: 0 mg
Fiber: 0 g