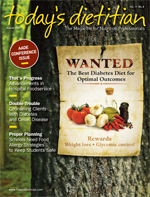 August 2009 Issue
Proper Planning — Schools Need Food Allergy Strategies to Keep Students Safe
By Lindsey Getz
Today's Dietitian
Vol. 11 No. 8 P. 44
If today's districts were graded on their readiness to handle food allergy emergencies, some would receive failing marks and others high honors for their efforts. Fortunately, RDs can provide valuable assistance no matter their degree of preparedness.
Food allergies are on the rise among children. According to The Food Allergy & Anaphylaxis Network (FAAN), approximately 3 million children currently live with a food allergy, the eight most common culprits being milk, eggs, peanuts, tree nuts, wheat, soy, fish, and shellfish.
As children gear up to head back to school, what schools should be doing to protect their students has become a hot topic. Nationwide, many RDs are partnering with local schools to provide support and counseling. Whether or not you see patients with food allergies, the fact that allergies seem to be on the rise encourages all RDs to be educated on how to handle these cases.
Back to School
A new school year—whether it's the child's first time entering the school system or he or she is simply returning from a summer's break—is always a stressful time for parents of children with life-threatening food allergies. Parents realize there are many possible opportunities for an allergic reaction to occur—from students eating snacks on the bus to lunch in the cafeteria to treats at birthday parties and other events in the classroom.
Debbie Engel, a mother from the Chicago suburbs, says her 14-year-old daughter has never eaten food from the school cafeteria. The family decided it wasn't worth the risk, as the teenager has milk, egg, peanut, and tree nut allergies. "Making her lunch at home has been an easy solution," says Engel. "There are some parents who are intent their child should get to eat out or from the cafeteria, but I believe there are so many battles, and you have to pick and choose which to fight. I think this is easier than trying to get people to comply with me."
Many parents feel the same way and are unwilling to put their child's safety in the trust of the school system. It's one reason why some are pushing for legislation that would require all schools to adopt allergy plans, or action plans, on how to handle a food allergy emergency. Many believe precautionary procedures should also be standard in all schools. Preventive procedures may include measures such as hand-washing policies and nut-free zones in the food preparation area and even in the dining areas.
Despite the talk about these issues, many schools remain unprepared. In 2008, a survey conducted jointly by the International Food Information Council (IFIC) Foundation and the School Nutrition Association (SNA) found that 21% of surveyed schools reported not having any plan to address food allergic reactions. An additional 13% said they were unsure what to do in response to an allergic reaction.
U.S. Sen Chris Dodd of Connecticut recently introduced legislation that pushes for uniform allergy plans in schools nationwide. The issue is close to his heart, since his daughter, Grace, is allergic to peanuts, tree nuts, shellfish, sesame, and tropical fruits. He and his wife had to personally educate Grace's school and teachers about her food allergies because the school did not have a plan in place. Dodd recently told Congress, "Without federal guidance, a child's health and safety may be protected in one school but not in another."
"On a national level, there is no policy or regulation requiring schools to do anything when it comes to food allergies," says Katie Wilson, PhD, the SNA's president. "Even though it's a very serious subject, a lot of schools believe an emergency won't happen to them. And some districts only operate once an emergency happens. They are reactive instead of proactive."
Wilson, who is also the nutrition director of the Onalaska School District in Wisconsin, adds that many districts may be resistant to creating a plan because they don't see a need. "Schools will argue they don't have any students with life-threatening allergies, but are they positive?" she asks. "Sometimes you don't know. Or maybe you have a guest visiting. That's why allergy education is so important, no matter what."
FAAN has created a two-sided action plan form that schools can print and file for every student with known food allergies. It includes a place for a photo, signs and symptoms of an allergic response, a place for individualized information on that child (allergies to certain ingredients), treatment protocol, and emergency response information. "It can be photocopied and given to all staff members likely to come into contact with that child," says Chris Weiss, director of legislative and regulatory research for FAAN. "It's crucial that this information is communicated to the school prior to the school year even starting."
Action Through Education
Of course, some schools are already taking action. One way is by becoming nut free. But this can be tricky to enforce, considering students may snack on the bus or bring in candy on holidays such as Halloween. Others are designating at least one or two tables in the cafeteria as nut free. But Wilson says her district doesn't believe this is the answer. "We have a very comprehensive wellness committee, and it includes a pediatric allergist," she says. "He thinks peanut-free schools or tables give a false sense of security. A student could sit at the peanut-free table every day and then come into contact with someone eating a particular food on the bus, and it wouldn't matter that they were safe in the cafeteria."
Instead, Wilson says, the focus is on education. "We teach awareness of the symptoms," she says. "I train my staff in the cafeteria to know exactly what symptoms to look for because with food allergies, time is of the essence, and they need to react fast."
Wilson says there are other procedures in place in her school district. Tables are always thoroughly sanitized, and students with an allergy take a clean, flat tray to lay on the table before putting their lunch tray on top of it. In the kitchen, peanut butter and jelly sandwiches and any other peanut products are handled in a separate area. Staff are trained on cross-contamination and use different cutting boards and plastic gloves when handling these foods.
Kerry Robinson, RD, program coordinator for food safety with the IFIC Foundation, agrees that education is a key part of the solution and shouldn't stop in the cafeteria, since there are many places a child can be exposed to food. "An allergy plan should be a multidisciplinarian, team approach," she says. "It should involve foodservice, teachers, custodians, transportation, and, of course, the school nurse or medical staff."
"Food allergies are certainly not confined to the cafeteria," agrees Weiss. "They can occur in any number of locations throughout the school." In fact, Weiss continues, recent data collected by the Massachusetts Department of Public Health and the New York Statewide School Health Services Center found that of 650 cases examined in which students' allergic reactions required the administration of epinephrine, only 15% of those reactions were triggered in the cafeteria. Nearly one half (48%) were triggered in the classroom, 10% outside (a playground or sports field), 10% in the health office, and the remaining percentage in various other locations, such as on a school bus or in the hallway.
Because reactions can occur anywhere, Robinson believes that schools should provide in-service education about food allergies to all staff members, which would be a great opportunity for dietitians to get involved. Many schools already have dietitians on staff, but even those that don't could turn to local RDs for consultation.
Nicole Meadow, MPN, RD, a pediatric dietitian and the owner of NutritionWise in Encino, Calif., has been trying to help educate area schools about recognizing and dealing with food allergies. Along with her business partner, Patricia Novak, MPH, RD, CLE, a pediatric dietitian, Meadow has been participating in in-service training for schools in the greater Los Angeles area. "We offer training to help schools who want to go nut free but don't know how and to schools who don't want to go nut free but want to keep their students safer," she says. "There's been an increasing interest in this education, and we're responding to that need."
Meadow and Novak are also offering training to parents. "We offer something called Allergy Boot Camp, which provides allergy education for parents of children transferring to a new school or maybe entering school for the first time," says Meadow. "Some are even parents of kids going to college who are now responsible for their own safety. We talk about the letters that should be written and sent to other parents, teachers, and administration of the school. We want these kids to be able to go to school and still feel included, not feel like they have to be left out of everything."
Dietitians who are helping parents write letters and teaching them how to better communicate with schools may want to consider including a copy of a sample action plan with their letters. FAAN's two-sided allergy action plan is downloadable for free as a printable PDF on its Web site at www.foodallergy.org.
With counseling, such as the boot camp that Meadow and Novak run, RDs can help parents learn how to deal with their schools so that they can feel confident in sending their children to school every day. Dietitians may also want to create support groups so that other parents can lean on and learn from one another. RDs can help counsel those parents who need education on better handling their child's food allergy at home. "I was working with one child and found out that the parent limited their food so much they were taking food from other kids at school," says Novak. "So parents have to be realistic. If they become too hyperrestrictive, that can be a problem, too. It's important to work with parents on coming up with alternatives that their child can have so the focus isn't always on what they can't have."
And teaching kids directly is important, too. "I think it's important to start early with education," says Meadow, whose own son has an allergy to peanuts, soy, and melon. "Children need to understand their allergy to be aware of what they can and can't eat."
The RD's Role
Dietitians who do not see patients with food allergies may not be educated on the topic, but with the issue becoming more prevalent, it makes sense to become familiar. Even if you don't currently have clients with food allergies, you may in the future. "The first step is to educate yourself, and fortunately there are so many credible resources out there like FAAN and SNA," says Robinson. "It's about teaching your clients emergency planning, meal planning, and label reading—and empowering them to create an awareness among the people they'll be dealing with at school and in everyday life. It's an important role [for the dietitian], but food allergies are one area where I believe the resources available are really helpful."
In some cases, a dietitian may be the first one to suspect and even diagnose a food allergy, so it's important to be aware of the signs and symptoms. "It's a mistake to get complacent and only look for the common symptoms like hives, eczema, itchiness, and vomiting," warns Novak. "There are subtler signs like constipation or food refusal. Maybe the child can't quite pinpoint where their discomfort is but they know it comes from eating, so they are refusing to eat. It's important to look for these types of indications that there may be a food allergy."
But even if a child is regularly meeting with an allergist, it's important for a dietitian to be involved in his or her treatment. "With a food allergy, you end up having to avoid certain foods, and that means creating gaps in specific nutrients that are important to growth and development," says Robinson. "The registered dietitian's role is in analyzing the diet for adequacy and making sure nutritional needs are still being met. RDs can also provide how-to strategies for eating outside of the home and can make sure the child is getting variety in their diet."
As mentioned previously, dietitians may also need to form a relationship with their clients' schools. "To best serve the child, there may need to be a partnership between the dietitian, the allergist, and the school," says Meadow. "The dietitian can back the parent up by also sending letters to the school administration, helping keep everyone aware of the child's condition. The key is to make sure the child is still included and doesn't start to feel left out."
Wilson says she is regularly in touch with the dietitians of any students in her district who have food allergies. "I always call the dietitian to find out any specifics of how to best meet the needs of that child," she says. "If the school isn't reaching out to the dietitian, he or she should take the initiative to call the school and find out what procedures they have in place for dealing with allergies." She adds that the dietitian doesn't need to identify the student but can simply call to get this information and then discuss it with the parents.
A dietitian's involvement can be crucial. Adds Meadow: "With a child that has food allergies—especially multiple food allergies—there's definitely a lot to think about. It requires meeting the child's nutritional needs while avoiding certain foods, keeping them safe but still involved in school, and, of course, helping manage both the child and the parents' anxiety over these issues. All of these factors are what makes the dietitian's support so important."
— Lindsey Getz is a freelance writer based in Royersford, Pa.