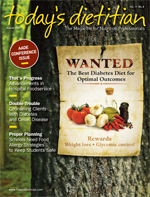 August 2009 Issue
That's Progress — Advancements in Hospital Foodservice
By Maura Keller
Today's Dietitian
Vol. 11 No. 8 P. 28
Today's successful programs are catering to patients' unique needs and safety, using technological innovations to streamline processes and personalize meal selection.
New technologies and innovative products can keep any industry fresh, and the hospital foodservice industry is no exception. Medical facilities, both large and small, are embracing technological advancements in food preparation, distribution, and safety. By doing so, they are impacting the health and well-being of their most important customers: the patients.
Current Trends
Gone are the days of paper menus on which patients, with pencil in hand, would "check" their menu choices. These days, hospitals are increasingly taking a more personalized approach to menu selection, preparation, and distribution. That's because in a rapidly changing foodservice environment where products and merchandise can quickly become obsolete, staying on top of technology and trends is vital to the success of a foodservice program. Changes in the products, advances in technology, a focus on healthy living, and advancements in food safety can contribute to a profound shift in the way hospital chefs and dietitians operate their programs.
According to Sharron Lent, RD, vice president of patient and clinical services for ARAMARK Healthcare, the industry is seeing dining trends that are based on providing freshly prepared items, which are driving hospital foodservice operations to migrate from more batch-style cooking to models such as room service. This, in turn, is designed to allow patients to order what they want to eat, when they are ready to eat.

"This shift to a more individualistic foodservice delivery model has improved the quality, freshness, and convenience of hospital foodservice," Lent says. "From an ARAMARK Healthcare perspective, our recipes were developed in partnership with The Culinary Institute of America, our internal culinary design team, and chefs across the country working in our partnering facilities to meet the special nutritional requirements of respective patient diets."
Montefiore Medical Center in Bronx, N.Y., has recently started an a la carte food cart that plates and serves food right on the unit. "We offer breakfast, lunch, and dinner at alternating units," says Chris Trivlis, director of foodservice at Montefiore Medical Center. "Our breakfast cart includes the preparation on the floor of fresh waffles, fresh fruit, hot cereals, eggs, French toast, bacon, and sausage. The smells are incredible."
At Montefiore Medical Center, a foodservice advocate visits patients on special diets to try to customize their wants to the nutritional guidelines—in other words, giving them something more palatable within their dietary restrictions.
"Over the past few years, our operation has evolved from room service to what I call 'a la carte service,'" says Stephen Bello, CEC, CCA, AAC, certified culinary administrator at South Nassau Communities Hospital in Oceanside, N.Y. "Our menu has numerous offerings, such as ethnical cuisine, comfort foods, and wholesome selections. All of our soups are prepared with the freshest ingredients using garden-fresh, local ingredients. When approaching special diets, our philosophy is simple: fresh, homemade selections minimizing the use of fat and sodium. We want our patients to taste the food. All of our deli and salad offerings are made to order. All menu selections come to the kitchen electronically. This system optimizes freshness and minimizes waste."
Embracing Technology
High-end computer technologies are having a powerful impact on today's hospital foodservice. For example, ARAMARK Healthcare has partnered with software companies to develop applications to manage the entire food production process—from ordering and receiving food to producing a final product. "This technology enables us to better manage cost, quality, and nutritional content of the food we are preparing," Lent says.

The production system that ARAMARK Healthcare uses is designed to manage cost, quality, and nutritional outcomes and is integrated with their room service model. "To accommodate a room service approach, more and more hospitals are redesigning their back-of-the-house kitchen, moving away from the traditional timed assembly system to prepare meals more like a hotel does," Lent says.
More of the kitchens at ARAMARK Healthcare's partner hospitals are designed so that meals can be cooked to order and delivered when the patient wants to eat. Traditional kitchens prepare fixed menus in large quantities and serve to patients during fixed delivery periods, from 11 am to 1 pm.
"With the traditional model, if the patient is at a test or happens to be resting, they may not have a great meal experience," Lent says. "With a room service approach, they can order when they like and have a fresh meal cooked to their liking and have it delivered when they want it."
Montefiore Medical Center has a computer program that converts the doctor-prescribed diets for each patient into a menu. The meals are delivered to the floors on a specially designed cart that is heated on one side and refrigerated on the other. "This way, the foods stay hot and stay cold without blending temperatures on one tray," Trivlis says.
Going one step further, South Nassau Communities Hospital's delivery system has the ability to electronically track food from the time it leaves the kitchen to its delivery to the patient. "So if Mrs. Smith calls and wants to know where her food is, we have the ability to identify the tray's location," Bello says.
According to MaryPat Wais, RD, LDN, an ARAMARK foodservice manager at Central DuPage Hospital in Winfield, Ill., the hospital is providing patients with a room service menu that is available from 6:30 am to 6:30 pm. "Patients can call the room service call center anytime based on hunger, treatment schedules, their usual home routine, etc," she says. "It allows patients to have control over their care and decisions."
This has allowed for less wasted food because patients are calling when they desire the meal, not a day or hours before. In turn, Central DuPage Hospital can spend the extra food cost dollars on better quality and variety.
"The menu allows for over 33 options, and there are 12 different menus available to meet the specific needs of patients with diet restrictions," Wais says. "The room service software allows the call center to take the order, the software interfaces with the hospital's medical record system to ensure proper diet restrictions, allergies, and patient preferences are compliant. It then prints the ticket in the kitchen at three places, so the meal can be freshly made to order by the production staff. This ensures the meals are freshly prepared and reduces waste."
What's more, Central DuPage Hospital is using an automated robotic TUG, partnering with the company Aethon, to deliver meal trays to the patient unit. As Wais explains, a hostess receives the tray from the robot and delivers it to the patient. Aethon's TUG Robotic Automated Delivery System is utilized to deliver meals between various locations within a hospital. The TUG's computer has onboard maps with dedicated pathways and waypoints that the TUG uses to travel between two locations. While en route to a destination via these pathways, the TUG travels through hallways and utilizes an elevator to travel between floors.
"This technology has allowed the hostess more time to assist patients, improving the meal experience," Wais says.
Advancements in Food Safety
If you've worked elsewhere in the foodservice industry—flipping burgers, tossing pizzas, or creating four-course meals—you know the important role cleanliness plays in creating a quality product. Just like you would never cook a fresh burger on an uncleaned fish grill, you also should never improperly store, cook, or handle food. Of course, food safety is a top priority for foodservice industry professionals within the medical industry. And technological advancements in refrigeration, preparation, and allergy indicators make hospital food safety a whole lot easier.
For example, the management of a hospital diet office is linked with ARAMARK Healthcare's food management software, which enables them to integrate with the patient's electronic medical records to manage nutrition care orders and take into consideration food allergies, which enhances patient safety.
"The advancements have enabled us to manage quality, nutritional value, safety, and costs more closely," Lent says.
Likewise, Montefiore Medical Center has redesigned the trayline for maximum tray accuracy and temperature control. "The census increases dramatically at certain times due to such things as 'swine flu,' and we have to be able to feed all patients on a timely basis," Trivlis says. Montefiore also continually monitors temperatures, proper food handling, and overall food safety from delivery to preparation to serving the patient.
While food safety is a priority for any foodservice facility, foodservice employees' safety is also vital. "In 2008, my team and I started a program called Culinary Ergonomics. The program assessed all areas of the operation and concerns relating to physical repetitive trauma," Bello says. "My philosophy was that if an athlete prepares himself before the big game, then why wouldn't members of my cooking team prepare themselves physically to meet the demands of foodservice? Since then we have evolved; we have specific stations in the kitchen where employees can take a short window of time and stretch before or during their shift." Team members who have become ambassadors of this program wear the ergonomic "patch" on their uniforms.
As part of the hospital foodservice industry, you know how critical cleanliness is to patients' health. Unswept floors, soiled tables, and employees with poor hygiene can have a dramatic effect on all facets of a foodservice operation. The same can be said for the food safety equipment. While patients may not see how clean a hospital's foodservice equipment is, they can certainly taste it.
Currently, South Nassau Communities Hospital's foodservice department has implemented Anamac humidity control systems in its refrigeration and freezer units. "This technology has reduced airborne bacteria, reduced compressor run times, and increases the shelf live of food 100%," Bello says. "The system also reduces the risk of employee slips and falls associated with wet floors."
On the Horizon
Improved efficiencies in nutrition, foodservice technology, and patient satisfaction is the "name of the game" for hospitals.
"Hospital food programs have improved with new delivery systems, new computer programs, and new products from different vendors," Trivlis says. "I envision meals on demand similar to hotel room service."
Other facilities have embraced additional ways to facilitate their operations from a technological and environmental perspective.
Last year, Bello developed a program called Culinary Organizational Objectives Through Knowledge, or COOK for short, whereby each month someone from his culinary team presents to the group a technique, cuisine, regional ingredient, etc. "This avails members of the team to hone in on their presentation skills, as well as the sharing of knowledge," Bello says. "Many of the presentation ideas have been incorporated into patient specials."
Bello also developed an initiative called Controlling Our Spending Through Stewardship, or COSTS. Every week, he presents to the department a specific area of the food market that is volatile. "This knowledge gives our frontline employees a better understanding of costs at work and at home," he says.
From a technological and ecological perspective, Bello's kitchen has spearheaded the hospital's green initiative. "Things like recycling paper, bottles, cans, shrink wrap, cardboard, and paper have proven to eliminate excess tonnage from the waste stream," Bello says. "And our 'Power Up Power Down' energy awareness campaign has been contagious. Great things are happening at South Nassau Communities Hospital, thanks to the vision of our president and chief executive officer, Joseph Quagliata, and administration. They truly understand that food plays a major role in the recovery of our patients. They have and continue to support technology, education, and all of our wonderful initiatives."
Speedy Solutions
With the hectic pace of the medical industry, speed-scratch cooking is one of the hottest cuisine trends. Speed scratch is, by definition, a system of combining value-added food products with fresh fruits, vegetables, and other components to create unique, signature dishes. Value-added products can be anything from preportioned cuts of veal to premade sauces to frozen dough products.
The concept of using convenience food products to enhance dishes is not revolutionary; home cooks have been using packaged mixes for gravy and canned soups in casseroles for decades. But what is new is the growing acceptance by medical foodservice personnel of using value-added products to cut prepping and cooking times. And in an industry where good help is hard to find, using convenience products to lessen the labor and time involved in food preparation makes sense.
Today's marketplace allows hospital foodservice operators to choose exactly what level of value-adding they want—from recipe-building sauces and seasonings to fully prepared meal components. Popular examples of commercial ingredients used in speed-scratch cooking include frozen pastas, seasoned rice, packaged sauces, canned tomatoes, and bread and pizza dough.
With the right ingredients and proper preparation, speed-scratch cooking offers an ideal way to integrate value-added ingredients with fresh foodstuffs to create unique, flavorful menu options. Together with some of the latest technologies, foodservice entities within the medical industry are making significant strides in food handling and overall nutritional options for patients.
— Maura Keller is a Minneapolis-based writer and editor.