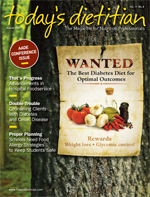 August 2009 Issue
Healthy Change for Hypertension
By Becky Dorner, RD, LD
Today's Dietitian
Vol. 11 No. 8 P. 20
Hypertension affects more than 65 million, or one in three, American adults.1 In addition, 59 million people aged 18 and older have prehypertension, which increases the risk of heart disease and stroke.1 Often dubbed "the silent killer," hypertension can be present in asymptomatic individuals and left untreated can lead to potentially fatal myocardial infarction and/or cerebral vascular accident and kidney failure.2
The prevalence of hypertension among adults aged 65 and older is high. One estimate indicates that more than one half of all older adults have hypertension.2 According to the National Heart, Lung, and Blood Institute, for those people who have normal blood pressure at the age of 55, the chance of developing hypertension is 90% over their lifetime.1
Approximately 90% to 95% of people with hypertension have primary hypertension (or essential hypertension), for which the cause cannot be determined.2 The other 5% to 10% of cases are considered to be secondary hypertension. Although there is no actual cure for hypertension, lifestyle management can decrease incidence and/or manage hypertension and resultant disease progression.
Risks and Identifiable Causes
Overweight or obesity, being physically inactive, high sodium intake, low potassium intake, excessive alcohol consumption, and diabetes may increase one's risk for developing hypertension. Identifiable causes of hypertension include sleep apnea, drug-induced or drug-related factors, chronic kidney disease (CKD), primary aldosteronism, renovascular disease, chronic steroid therapy and Cushing's syndrome, and thyroid and parathyroid disease.3
The higher a person's blood pressure level, the higher the risk for developing complications such as target organ damage (ie, left ventricular hypertrophy, chronic heart failure, stroke, kidney disease, retinopathy, peripheral artery disease).2 For each 20/10 mm Hg incremental increase in blood pressure above 115/75, the risk for cardiovascular disease (CVD) doubles.3
Treatment
Adherence to prescribed treatment is essential for controlling hypertension and preventing complications. The goal for individuals with prehypertension who have no other health conditions is to lower blood pressure to a normal level using healthy lifestyle changes. Individuals with hypertension and no other compelling conditions should achieve a blood pressure of less than 140/90 mm Hg. Patients with hypertension in combination with diabetes or CKD should achieve a blood pressure of less than 130/80 mm Hg.3 The overall goal of therapy is to reduce CVD and renal morbidity and mortality. The primary focus is on attaining the goals of systolic and diastolic blood pressure as noted previously.3
In addition to lifestyle modifications, most patients will require two medications to reach their blood pressure goals.3 The accompanying table reviews the treatment approaches for each blood pressure classification.
Essential Steps for Controlling Hypertension
There is a substantial amount of evidence to support healthy lifestyle changes as a means of reducing the incidence of hypertension and also reducing complications for those who already have hypertension. Counsel patients/residents to follow these guidelines:
1. Maintain a healthy weight. If on a weight loss plan, monitor blood pressure at least once per week and discuss the need to alter medications as needed with the physician.1
2. Follow a healthy diet that balances variety, calorie control, and foods that are lower in sodium and higher in potassium. The Dietary Approaches to Stop Hypertension (DASH) diet is highly recommended. Research indicates that the DASH diet can help patients decrease systolic/diastolic levels by as much as 6 to 11 mm Hg and 3 to 6 mm Hg, respectively.2 Note that patients with end-stage renal disease should not follow the DASH diet due to its high levels of potassium, phosphorus, and protein.
3. Be moderately physically active on most days of the week. Patients should always consult their physician before starting any exercise program.
4. Consume alcohol in moderation. Those who choose to drink alcoholic beverages should do so sensibly and in moderation (up to one drink per day for women and up to two drinks per day for men).
5. Take any prescribed medications as directed.
Patient Adherence to Prescribed Treatments
Adherence to lifestyle and medication treatments is essential to adequately control blood pressure and reduce the risk of complications. An estimated 50% of patients do not adhere to prescribed treatments and therefore do not receive the full benefits. This may be particularly true of older patients who have to make a financial choice between buying food and purchasing medication.
Adherence may be improved by using simplified treatment plans when possible, asking the individual about adherence at every visit, involving the individual and/or family in the care planning process, tailoring the program to the individual, providing clear written instructions, and providing strategies for reminders or cues (eg, to take pills, follow diet).4
— Becky Dorner, RD, LD, is a speaker and an author who provides publications, presentations, and consulting services to enhance the quality of care for the nation's older adults. Visit www.beckydorner.com for free articles, newsletters, and information.
Classification and Management of Blood Pressure for Adults

Blood Pressure Classification

Systolic Blood Pressure
(mmHg)

Diastolic Blood Pressure
(mmHg)

Lifestyle Modification

Initial Drug Therapy

Without Compelling
Indication

With Compelling Indications

Normal

< 120 and

< 80

Encourage

Prehypertension

120 to 139 or

80 to 89

Yes

No antihypertensive drug indicated

Drug(s) may be necessary *

Stage 1
hypertension

140 to 159 or

90 to 99

Yes

Thiazide-type diuretics for most; may consider ACEI, ARB, BB, CCB, or combination

Drug(s) may be necessary *

Stage 2
hypertension

> 160 or

> 100

Yes

Two-drug combination for most (usually thiazide-type diuretic and ACEI or ARB or BB or CCB)

Other antihypertensive drugs (diuretics, ACEI, ARB, BB, CCB) as needed
*Compelling indications include heart failure, ischemic heart disease, chronic kidney disease, recurrent stroke, diabetes mellitus, and high coronary disease risk
References
1. National Heart, Lung, and Blood Institute. Your Guide to Lowering Your Blood Pressure With DASH. Bethesda, Md.: National Institutes of Health; 2006. NIH Publication No. 06-4082.
2. Mahan LK, Escott-Stump S, eds. Krause's Food & Nutrition Diet Therapy, 12th edition. Philadelphia: W. B. Saunders and Co; 2008.
3. National Heart, Lung, and Blood Institute National High Blood Pressure Education Program. The Seventh Report of the Joint National Committee on Prevention, Detection, Evaluation, and Treatment of High Blood Pressure. Bethesda, Md.: National Institutes of Health; 2004. NIH Publication No. 04-5230.
4. National Heart, Lung, and Blood Institute. Prevent and control America's high blood pressure: Mission possible. Available at: http://hp2010.nhlbihin.net/mission. Accessed June 9, 2009.
©2009 Becky Dorner & Associates, Inc. Excerpted from Implementing Successful & Effective MNT for Hypertension ©2008 Becky Dorner & Associates, Inc. To see the full 32-page document, visit www.beckydorner.com/membersonly and sign up for the free membership to obtain 4 CEUs for this program.