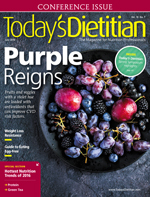 July 2016 Issue
Culinary Corner: Beef Days of Summer
By Jessica Fishman Levinson, MS, RDN, CDN
Today's Dietitian
Vol. 18 No. 7 P. 66
Pair lean beef with seasonal fruits and veggies for light, nutritious fare.
Summer grilling season is in full swing and so are the hot days that come along with it. As you and your clients look for lighter meals that don't require much time in a hot kitchen, consider summer salads that are full of flavor and nutrition. Personally, I love grilling fish, chicken, and lean beef and pairing these protein choices with a side of grilled vegetables or a colorful salad. Each of these meals makes a quick, easy, nutrient-rich, and delicious dinner for warm summer nights.
Grilled steak is one of my favorite salad toppings. It takes less than 10 minutes to cook on a heated grill, has a rich umami flavor, and is full of nutrients. Recommendations for consuming red meat are hotly debated, and research has shown both benefits and risks of eating beef. Potential benefits of consuming 4 to 6 oz of lean beef daily within calorie goals include improved metabolism, blood pressure, and weight management.1 On the other hand, some research shows risks of red meat consumption, especially fatty cuts and processed red meat, which include increased cancer risk and cardiovascular disease.2,3
If clients enjoy eating beef, help them include it in their diets in a healthful way by educating them about lean cuts like sirloin, strip steak, flank steak, tenderloin, and 93% lean ground beef, and how much is an appropriate portion. A 3-oz serving of lean beef is an excellent source of protein, vitamins B12 and B6, selenium, and zinc, and a good source of iron, choline, and phosphorus.4 Pair lean beef with vegetables, fruit, and whole grains for a balanced and satiating meal. This Summer Steak Salad With Champagne-Shallot Vinaigrette is a perfect example of enjoying beef in a healthful and flavorful way.
— Jessica Fishman Levinson, MS, RDN, CDN, is a New York-based nutrition consultant, writer, and recipe developer, and the founder of Nutritioulicious (www.nutritioulicious.com).


References
1. Roussell MA, Hill AM, Gaugler TL, et al. Effects of a DASH-like diet containing lean beef on vascular health. J Hum Hypertens. 2014;28(10):600-605.
2. Wang X, Lin X, Ouyang YY, et al. Red and processed meat consumption and mortality: dose-response meta-analysis of prospective cohort studies. Public Health Nutr. 2016;19(5):893-905.
3. Kaluza J, Åkesson A, Wolk A. Long-term processed and unprocessed red meat consumption and risk of heart failure: a prospective cohort study of women. Int J Cardiol. 2015;193:42-46.
4. United States Department of Agriculture. National Nutrient Database for Standard Reference. Release 28. https://ndb.nal.usda.gov/. Accessed May 5, 2016.

Recipe
Summer Steak Salad With Champagne-Shallot Vinaigrette
Umami-rich grilled flank steak tops a bed of baby spinach, crisp green beans, and sweet strawberries in this light summer salad drizzled with a sparkling, tangy champagne shallot vinaigrette.
Serves 4

Ingredients
Champagne-Shallot Vinaigrette
1/4 cup Champagne vinegar
2 tsp whole-grain Dijon mustard
3 T minced shallots
1 clove garlic, minced
1 T lemon juice
1/4 cup extra-virgin olive oil
1/2 tsp kosher salt
Freshly ground black pepper
Steak Salad
6 oz green beans, trimmed
Cooking spray or oil for grill grates
1 lb flank steak
6 oz baby spinach
1 cup quartered strawberries
1 cup thinly sliced radishes
1/4 cup sliced almonds, toasted
Directions
To make vinaigrette:
In a small food processor, combine all vinaigrette ingredients and purée until smooth and emulsified.
To make salad:
1. Bring a small pot of water to boil; add green beans and cook for 30 seconds to 1 minute until bright green. Drain and run green beans under cold water or shock in a bowl of ice water.
2. Spray grill grates with nonstick cooking spray or brush grates with oil. Heat grill to 500° F.
3. Place steak on the grill and cover to cook, flipping once, 3 to 5 minutes per side for medium rare.
4. Transfer steak to cutting board and let rest for 5 minutes. Slice the steak against the grain.
5. Drain green beans and pat dry. In a large bowl, toss together baby spinach, blanched green beans, strawberries, radishes, toasted almonds, and just enough of the shallot vinaigrette to coat lightly. Portion onto four plates, top with sliced steak, drizzle with additional vinaigrette, and serve.
Note: To toast almonds, heat in a dry skillet over medium heat, stirring occasionally, until lightly browned and fragrant.
Nutrient Analysis per serving
Calories: 385; Total fat: 25 g; Sat fat: 6 g; Trans fat: 0 g; Cholesterol: 74 mg; Sodium: 400 mg; Total carbohydrate: 13 g; Dietary fiber: 4.5 g; Sugars: 5 g; Protein: 28 g