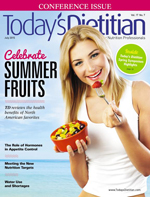 July 2015 Issue
Today's Dietitian's 2nd Annual Spring Symposium: An Amazing Time Had By All
By Judith Riddle
Today's Dietitian
Vol. 17 No. 7 P. 32
A buzzing crowd of dietitians and other nutrition professionals descended on the steep escalator leading to the Trinidad reception lobby of the Tropicana Las Vegas, eager to kick off the second year of Today's Dietitian's annual Spring Symposium, held May 17 to 20.
RDs, certified diabetes educators, DTRs, dietetics students, and student volunteers bustled with excitement as they received their badges and program guides at the reception desk before attending the day's continuing education sessions presented by their critically acclaimed peers. They looked forward to enjoying networking opportunities, poster sessions, food tastings, exercise classes, a chance to enter flash drawings to win prizes, and the entertainment and sights of Las Vegas.
Almost 400 nutrition professionals, sponsors, presenters, and volunteers came to this year's event from Arizona to New England, and from Canada, Trinidad, Germany, Mexico, the Cayman Islands, and Iran. First-time and second-time attendees said the symposium was unlike other nutrition conferences they'd visited in the past and couldn't say enough good things about it. Many said they're already looking forward to next year's event. "The symposium exceeded my expectations," says Celine Heskey, DrPH, MS, RD, an assistant professor of nutrition at Loma Linda University School of Public Health in California. Heskey says she has attended larger conferences in the past, but during the symposium she received more practical, take-home information she can apply directly to her students. "I think as more people find out about the symposium, it's going to keep growing."
"What I liked about the symposium was the fact that it's a smaller meeting," says Sonia Whig, MS, LDN, who works at the VA Office of Inspector General in Baltimore. "And I'd like to attend next year."
Karen Hudson, RDN, who works in long term care at the Jewish Home of Greater Harrisburg, in Pennsylvania, says, "I liked the fact I only needed to choose between three sessions per segment each day."
Poolside Smorgasbord
Like last year, Today's Dietitian welcomed attendees with a lavish spread of hors d'oeuvres and desserts so they could enjoy a two-hour reception poolside at the Tropicana Beach Club. Attendees lined up for soft drinks and cocktails and served themselves an array of cheeses, hearth-baked breads and lavosh, dried fruits, roasted nuts, seasonal fruits, roasted vegetables, crab cakes, lobster poblano mac and cheese pops, steamed vegetable potstickers with assorted dipping sauces, southwest spring rolls, and more.
Attendees sat on couches or stood around tall tables inside or outside by the pool while laughing and conversing with old friends and making new acquaintances. Desserts such as mesquite honey apple tarts, sarsaparilla whipped chocolate toffee pie, cotija cheesecake, dulce de leche dark chocolate tacos, and fruit salsa lemon tarts were displayed on a table against the backdrop of a cavernous waterfall display. Everyone raved about the food and the friendly atmosphere. "The welcome reception was fabulous," Hudson says. "The food was the best I've had at a conference."
Jake Yarberry, RD, a dietitian at Aid for AIDS of Nevada, in Las Vegas, appreciated the networking opportunity, saying "I loved the networking the welcome reception provided. Getting around food helps with the networking."

Debra Tacad, RDN, LD, a graduate assistant and instructor for the nutrition center at the University of Nevada, Las Vegas (UNLV), says, "The food was great, and it was nice to network with everyone without [the reception] being formal."
And the Winner Is …
The next morning, the grand prize winner of Today's Dietitian's Share Your Story Essay Contest, Rabiya Bower, RD, LD, an in-store dietitian at GIANT Food Stores in Flourtown and Exton, Pennsylvania, presented her winning essay on why she became a dietitian and what happened along her journey. Bower won a complimentary registration to the symposium and a three-night stay at the Tropicana Las Vegas. Dietitians can read her inspirational story in the May issue of Today's Dietitian.
Olympic Gold Keynote
One of the most memorable highpoints of the conference was keynote presenter Summer Sanders, the two-time Olympic gold medalist and health and fitness champion. Sanders, an International Swimming Hall of Fame inductee, engaged the crowd with her enthusiasm and humor as she described her incredible journey to Olympic gold from childhood to young adulthood. She shared many examples of how she incorporated healthful eating into her life and the lives of her children, and discussed the importance of protein during training and postworkout recovery, which she said she wished she'd learned about earlier in her journey to becoming an Olympian. Sanders dazzled the crowd with her accomplishments as a swimmer, winning two gold medals, one silver, and one bronze in the 1992 Olympic Games, and a gold, silver, and bronze medal in the 1991 World Championships. She talked about her love of marathon running and how she juggled training with her busy family life. Following her retirement from swimming, Sanders pursued a successful television broadcasting career, serving as correspondent, cohost, and host for various sports programs on NBC, Nickelodeon, The Today Show, and Good Morning America. One of Sanders' take-home messages to dietitians who want to be successful in their careers was "If it scares you, you should do it."
"I loved Summer Sanders," Hudson says. "She was a really good speaker." Tacad agrees: "Summer Sanders was really great. What she said was really wonderful. I liked the takeaway about doing something you're afraid of. Nice message for a young RD." After the presentation, Sanders greeted many dietitians who lined up to meet her, and later she tweeted with many attendees about her keynote and the symposium.
Top-Tier Presentations
Following the keynote, several highly acclaimed nutrition professionals began presenting an impressive lineup of continuing education sessions that covered a wide range of hot topics and the latest research in the fields of diabetes, cancer, heart disease, men's health, culinary trends and recipe development, career advice, retail dietetics, professional writing, weight management, and social media. "The speakers and the topics were excellent. You learned something new and exciting no matter what session you chose," Hudson says.
Tacad agrees: "I liked all the sessions."
One of the most popular was "The Biggest Loser Unplugged: The RD Behind the Camera," presented by Cheryl Forberg, RD, the dietitian for NBC's The Biggest Loser—the popular weight loss competition TV show featuring overweight contestants who work with fitness trainers to lose weight and contend for the title of Biggest Loser and a large cash prize. Forberg was engaging and humorous as she discussed the weight loss plan she developed for the show's contestants, the necessary elements of an accelerated weight loss program that dietitians can use in practice, and how RDs and doctors can work together to combat overweight and obesity—often leaving the audience smiling, laughing, and clapping. "This presentation was so fascinating," says Shelby Shanaberger, RDN, LD, a contract dietitian for S&S Nutrition Network, Inc, at Saint Alphonsus Health System in Meridian, Idaho. "I loved hearing about Hollywood's integration of dietitians in TV. Forberg covered meal plans, and I loved how she discussed her follow-up with participants."
According to Kristie LeBeau, MPH, RN, RDN, a clinical dietitian at Arrowhead Regional Medical Center in Colton, California, "The Biggest Loser Unplugged" was an "excellent presentation—one of the most memorable of the entire Spring Symposium."
The presentation "Dietary Fats" by Jill Weisenberger, MS, RDN, CDE, FAND, was another standout. "This was by far one of the most informative presentations I attended at the symposium," says Alaxandria Neiswonger, RDN, LD, a dietitian at Cleveland Clinic's North Coast Cancer Center in Avon, Ohio.
Elise Fultonberg, MS, RDN, a certified yoga instructor and owner of Nutrition With a Twist, a nutrition counseling company in Superior, Colorado, says it was an "excellent presentation—organized and filled with useful information. Jill is skilled in translating the research into useful everyday recommendations."
Yarberry says he "loved the session on dietary fats. I liked the way Jill Weisenberger went deeper into the science. And I liked 'The Biggest Loser Unplugged.' I'm a huge fan of journaling and calorie counting, which Forberg talked about."
What stood out for Heskey was the presentation "Who Feeds America?" by Sharon Palmer, RDN. "Palmer discussed the treatment of farm workers, social injustice and the environment, and modern-day slavery," she says.
Other popular presentations covered important topics such as heart disease and cancer; diabetes and weight loss; dietary targeting of inflammation; culinary techniques for RDs; food and beverage pairings; writing articles, blogs, and books; creating a powerful personal brand; healthy aging strategies; nutrient analysis and recipe development; dietary needs of men; nutritional needs of the plant-based family; turning career dreams into reality; supermarket dietetics; mastering cooking demonstrations; and social media.
"I really enjoyed the session on heart disease and cancer," Whig says. "Karen Collins provided lots of new information. She explained the subject matter really well. That was my favorite."
Many appreciated the presentation "Man-Eater! The Dietary Needs of Performance-Driven Men" by David Grotto, MS, RDN, LDN. "Really loved [Grotto's] enthusiasm for his topic," says Suzanne McKeever, MS, RD, LDN, a private practitioner in Huntingdon Valley, Pennsylvania. "He was also quite funny and entertaining."
As was Kyle Shadix, CRC, MS, RD, FAND, while presenting "Food and Beverage Pairings."
"Kyle was fantastic and engaging!" says Jena Wood, RD, LDN, a retail dietitian at ShopRite of West Chester in West Grove, Pennsylvania. "His knowledge of food pairings makes me want to spend even more time in the kitchen experimenting."
Books, Products, and Food Samples Galore
During breaks between sessions, attendees entered the Trinidad Pavilion where Today's Dietitian hosted a Book and Product Showcase. Sponsors displayed their products and provided samples of food, snacks, and smoothies and other beverages, and presenters signed and sold their books to conferees. In addition, attendees enjoyed various poster sessions from UNLV students, and participated in raffle drawings to win prizes.
Sponsors
Today's Dietitian's sponsor companies—a2 Milk Company, Almased, American Pistachio Growers, Diabetes Sentry Products, Enu Nutritional Shakes, Good!Greens, GO Veggie!, Jamba Juice, the National Certification Board for Diabetes Educators, Nature's Legacy, Omax3 Ultra-Pure, Organic Valley, Soy Connection, StarKist, SunFiber, and Zing Stevia Sweetener—showcased a variety of products and offered food and beverage samples for attendees to try.
StarKist's pizza slices and avocados stuffed with albacore Caribbean tuna salad were a great hit, as were GO Veggie!'s cream cheese spreads and crackers; Jamba Juice's smoothies made with kale, peaches, pumpkin seeds, and lemon; Almased's cinnamon roll, chocoshake, and orange creamsicle smoothies; Organic Valley's lactose-free and omega-3 fortified milks, soymilks, and high-protein milkshakes; American Pistachio Growers' single-serve pistachio packs; Nature's Legacy's pasta salad; and Good!Greens' 100% fruit and vegetable bars. "I enjoyed the Book and Product Showcase," Whig says. "It was well represented, and the avocado stuffed with the tuna salad was awesome. The Jamba Juice smoothie was great, and I received a free T-shirt."
Elizabeth Berry, MS, RDN, a private practitioner in Phoenix says, "The Book and Product Showcase was great. I now know where to purchase organic milks, and we had enough breaks to talk to everybody."
Book Signings
Amid the food and beverage sampling, Toby Amidor, author of The Greek Yogurt Kitchen: More Than 130 Delicious, Healthy Recipes For Every Meal of the Day; Becky Dorner, author of the Diet and Nutrition Care Manual, Policy & Procedure Manual, e-books, and various other continuing education resources; Forberg, author of A Small Guide to Losing Big; Palmer, author of The Plant-Powered Diet and Plant Powered for Life; Weisenberger, author of The Overworked Person's Guide to Better Nutrition, Diabetes Weight Loss — Week by Week, and 21 Things You Need to Know About Diabetes and Your Heart; and Dana Angelo White, MS, RD, ATC, author of First Bites: Superfoods for Babies and Toddlers, discussed, signed, and sold their books and all were impressed with the great turnout and the attendees' interest.
Poster Sessions
Eighteen undergraduate and graduate students from the UNLV nutrition sciences department presented poster sessions on topics such as gestational diabetes, type 2 diabetes, chronic kidney disease and dialysis, inflammatory bowel disease, cholesystitis, weight management, pediatric gastroesophageal reflux disease, AIDS, esophageal cancer, PKU, renal disease, and bariatric surgery. Attendees could claim up to one CPEU for visiting and reviewing the posters displayed. "The poster session had a nice variety of clinical case studies that were presented—the students and interns did a great job with the session," says Betty Trounson, RDN, LD, a consultant dietitian for Long Term Care Nutrition Consulting, LLC, who's currently working at St. Luke's Heart Health and Rehabilitation Center in Idaho. Julie Smith, RD, a dietitian in Shelton, Washington, agrees: "It was great to meet some of the students, and totally exciting to see the research efforts and expand my knowledge."
Flash Drawings
To boost the fun and excitement during break hours and for conferees to enjoy more of what the host hotel had to offer, Today's Dietitian handed out raffle tickets and held flash drawings. The lucky winners received various prizes such as gift cards for a free one-hour massage at the Glow Mandara Spa, tickets to the Laugh Factory, the New Illusions magic show, and Raiding the Rock Vault, a two-hour rock 'n' roll concert featuring hit music from the '70s and '80s.
Networking Dinners
Today's Dietitian wanted to offer attendees even more networking opportunities outside of regular conference hours for RDs traveling alone, and to give everyone a reason to enjoy the host city, so we reserved space at the Mandalay Bay's Border Grill, known for its Meatless Monday menu options and its focus on sustainability, and MGM Grand's Wolfgang Puck Bar and Grill, famous for its close proximity to the Tropicana and its Wolfgang's Eat, Love, Live, or WELL, philosophy toward responsible dining.
Exercise for the Body, Mind, and Spirit
In addition to the educational sessions, networking opportunities, great food and camaraderie, poster sessions, and Las Vegas entertainment, Today's Dietitian offered attendees the chance to get their bodies moving and their hearts pumping to burn some calories and jumpstart their day. The symposium began with an early morning 50/100-rep workout with celebrity trainer Joel Harper. The workout was based on timed intervals to improve lung capacity and burn fat for all fitness levels. On day two, attendees joined yoga teacher and dietitian Silke Ullmann, MPH, RD, RYT, for a hatha yoga workout in the Trinidad Garden where they stretched and strengthened muscles while getting in touch with their body, mind, and spirit before the day's educational sessions. In addition, Sonia Pessoa, RD, a sports dietitian and professional samba dancer and instructor for Sambart Entertainment in Washington, D.C., led an evening samba class that involved smooth dance moves and fancy footwork that attendees enjoyed.
Closing Remarks
"For a conference to provide breakfast, lunch, exercise, and long continuing educational sessions in which presenters really got into their content, you can't ask for anything more," Berry says.
Presenter Tamara Jeffries, MFA, an assistant professor of journalism and media studies at Bennett College in Greensboro, North Carolina, says, "I had a wonderful experience at the symposium. I was thoroughly impressed with how well planned and organized the event was. I felt thoroughly taken care of from the planning stage and all throughout. I heard many compliments about how useful this symposium was for dietitians in practice. You can count the event as a success. Thanks for letting me be a part of it."
The staff of Today's Dietitian thanks all of the presenters, attendees, sponsors, and student volunteers who made the symposium such a success. And we look forward to seeing you next year in sunny Orlando!
— Judith Riddle is editor of Today's Dietitian.